Looking for simple DIY desk plans to fill in the workspace at home or in the office? If so, continue reading on to get some of the best ideas and designs that you can make on your own.
Some people might be asking, why bother trouble yourself if you can buy a ready table?
Well, buying an office desk in offline stores can be expensive. However, building your own set is not easy either.
Therefore, these easy and simple DIY desk plans are great for beginners. Not only can it save some budget, but people can also adjust the table as they need.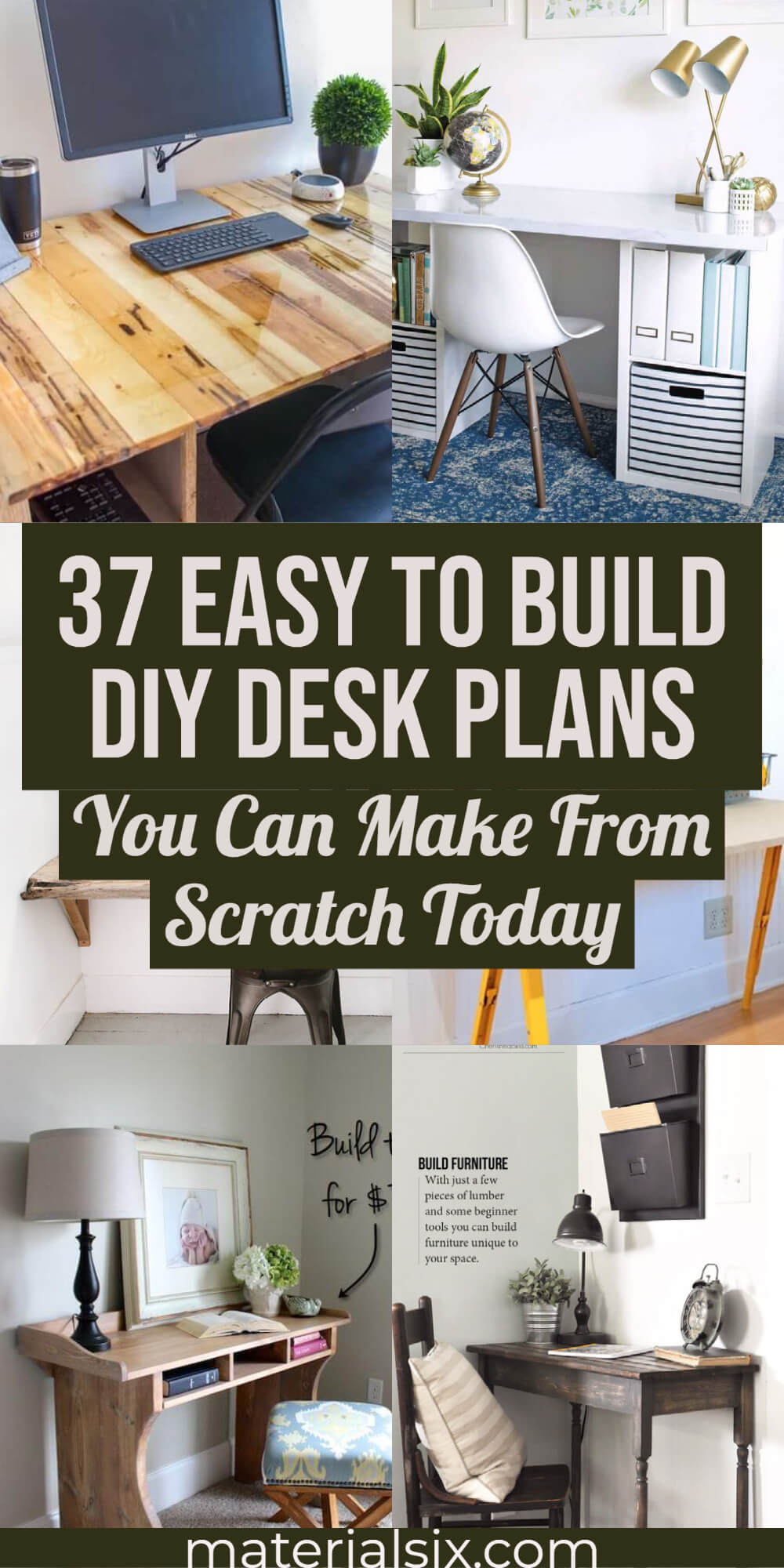 32 Free Desk Plans That'll Save You Hours of Planning
Building an office setting is not an easy job. However, there are many DIY desk plans available in this article that are suitable for all kinds of crafters, from beginners to intermediate workers.
So, whether you like your desk big or small, here are some ideas that to choose from:
1. Pretty Desk from Old Barstools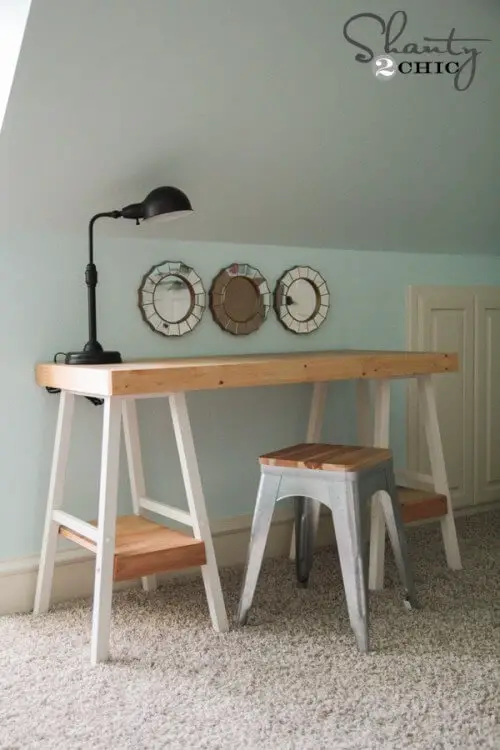 If you have an old barstool that is just filling the space in your house, then why not reuse it for something useful like this pretty desk.
A great advantage about reusing these kinds of things is that you do not need much repair or rebuilding. Just repaint the whole barstool and get additional space by adding extra wood underneath the table.
2. Pallet Desk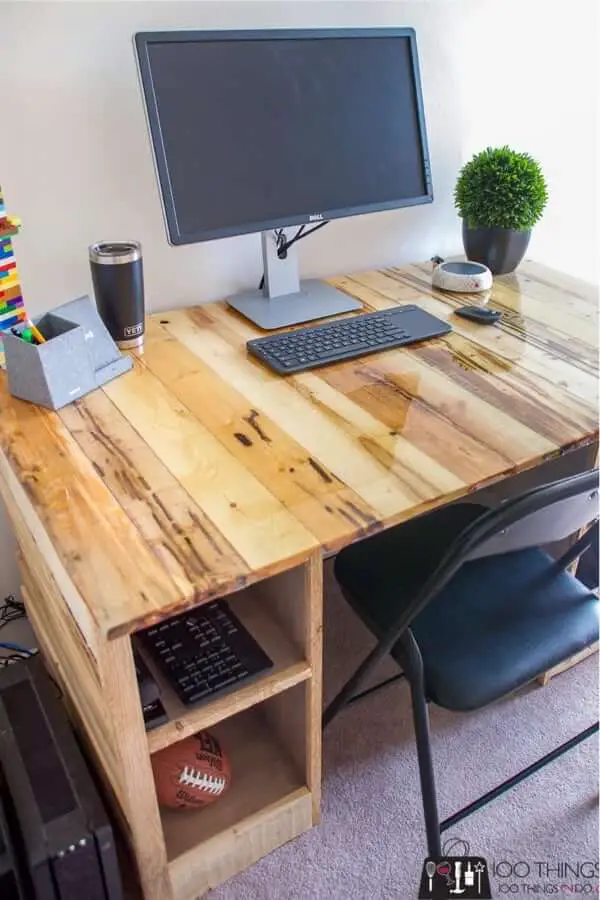 For those with a limited budget, try making this simple desk. This project requires some leftover pallets as the material.
Then, with your magic hand, repaint and repair the parts so they look new.
To attach each part of the board, use some glue and pin nails. And if you feel that the surface is just too rough, then rub on some resin to make it look and feel better.
3. U Desk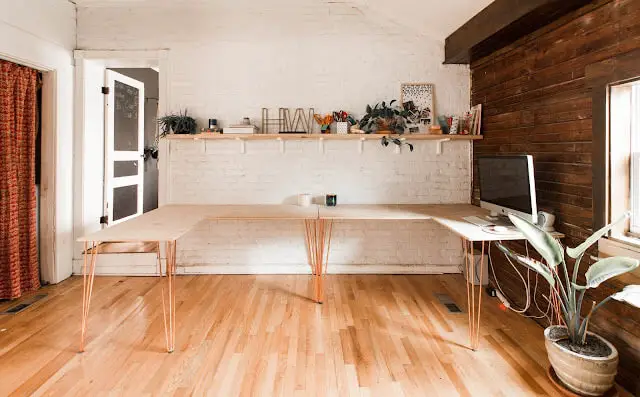 Another DIY desk that is simple yet very useful is this L-table set. This kind of design is great for those who need a lot of space to put their belongings but have limited room.
If you want to make your deck look modern, then add some hairpin leg for the bottom part. Not only are they strong but it also makes the table look better!
4. Farmhouse Desk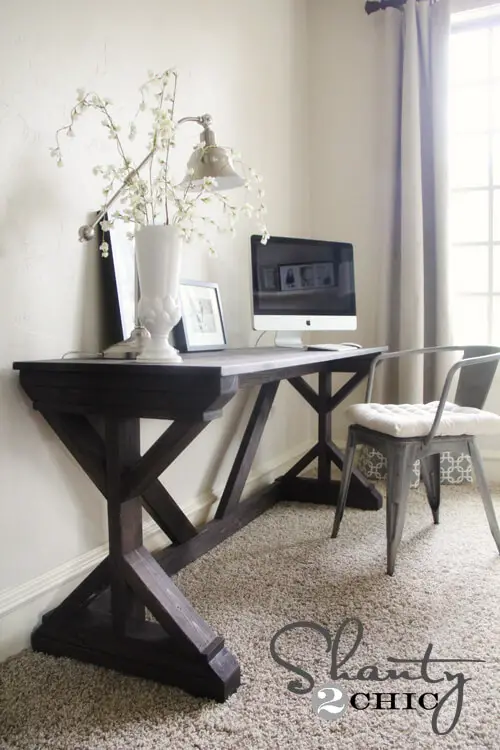 If you want a desk that can also be a table for the living room, then this farmhouse design is a great choice.
This farmhouse design will make your house look more rustic yet pretty. However, try not to put too much stuff on top of it so it can still seem proper for the living room.
5. Large DIY Desk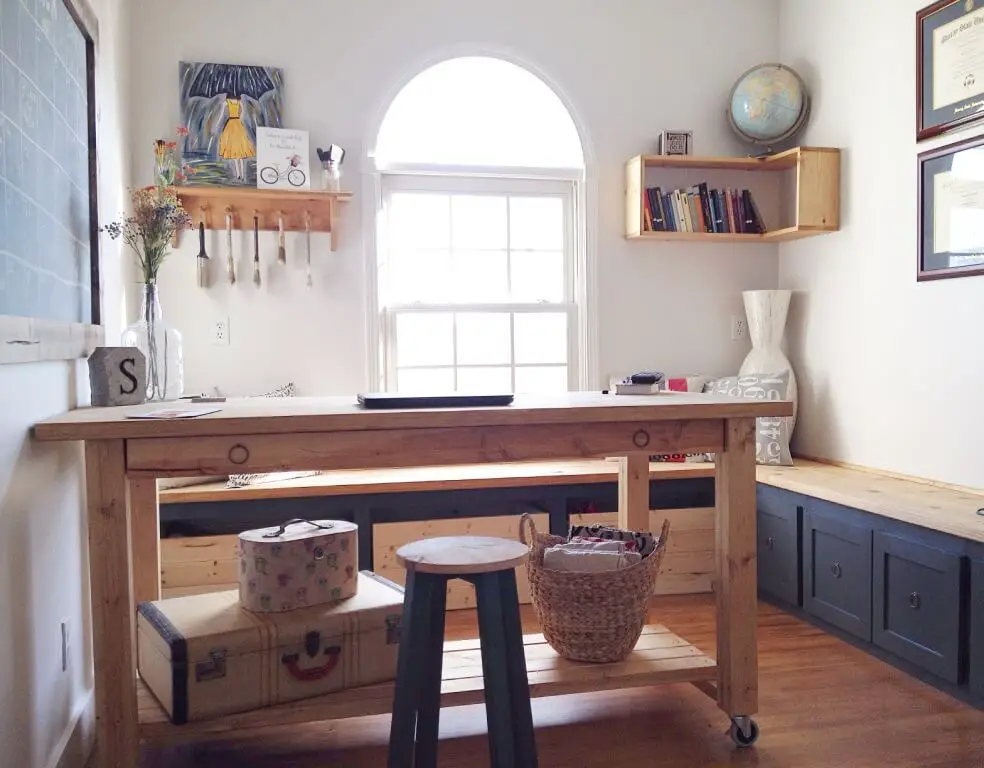 This large design is great for those looking for a big and spacey DIY office desk. It has so many spaces that you can put almost any on top or below it.
To help you move the desk, add some wheels underneath the legs. So, even though the table is big, people can easily push it around without too much effort.
6. Hair Pin Desk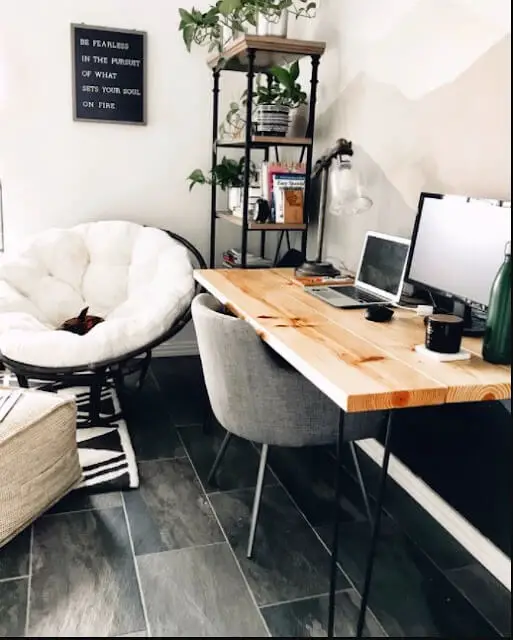 Here is another example of a minimalist DIY desk plan that is great for beginners. The simple design brings a different ambiance to the room.
For the top part of the desk, people can three pieces of wood that are merged. However, if you want a cheaper material, pallets can be an option.
7. Floating Desk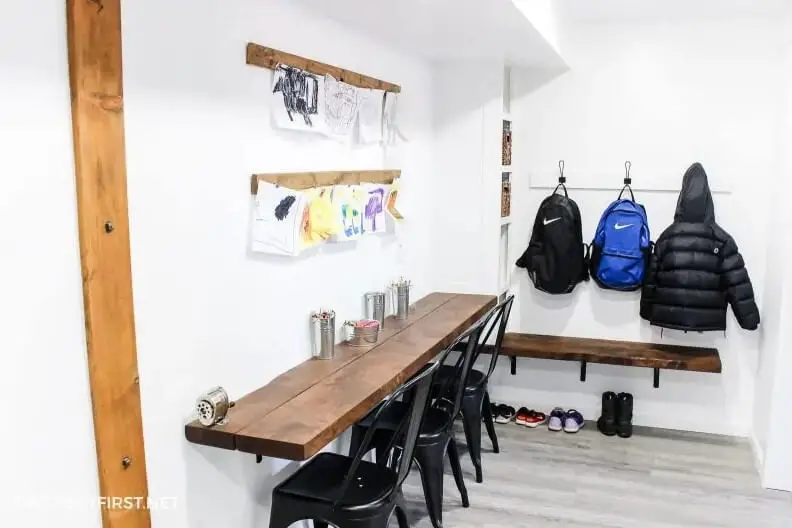 For those with limited space in the house, one of the best DIY desk plans to make is surely this floating design.
The floating desk does not take much space. Interestingly, it also gives a modern touch.
On the other hand, to make sure that this desk is strong enough, get metal and heavy-duty shelf brackets for the bottom part.
Ensure that you install the brackets correctly, so they do not fall easily.
8. A Simple Frame Desk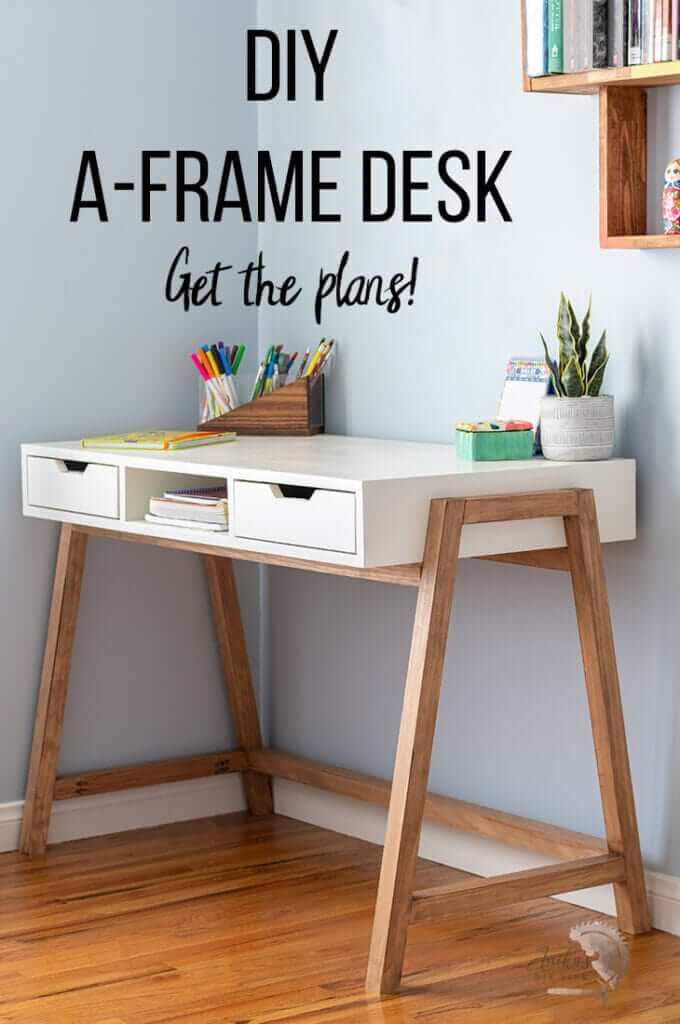 This is one of the simple desk plans that are suitable for your kid's bedroom. The design is modern, chic yet functional.
To make this design all you need is a sheet of plywood, some boards for the surface, and drawers. Imagine that all these materials only cost around $100.
9. Industrial Desk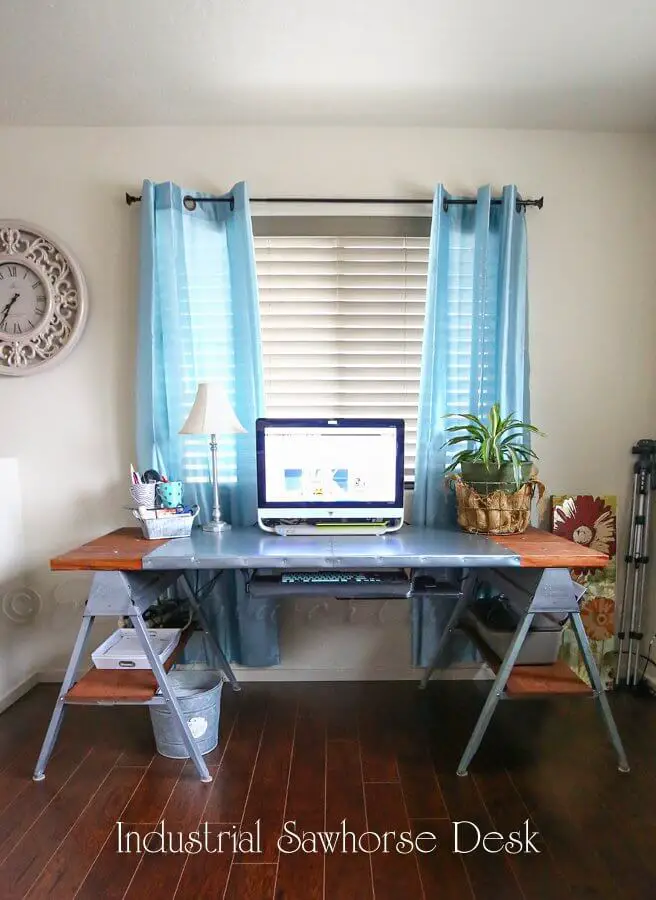 If you are looking for a unique but strong design, then check out this industrial desk. Rather than just using wood for the surface, there are also metal sawhorses to make it tough and different.
Unfortunately, this project might hurt little kids, so keep it away from them. Hence, while making this desk, make sure that every edge of the table is punched inside perfectly.
10. Mounted Wall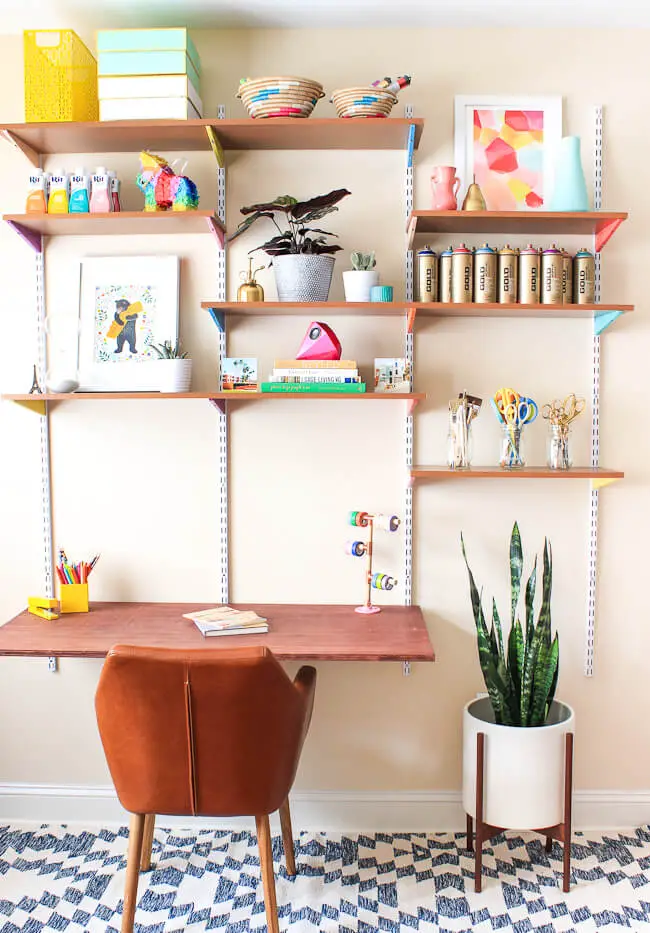 Another great DIY desk plan for those with limited space is this mounted wall.
Likewise, its concept is similar to the floating table. However, this kind of desk can give you more space and storage because it goes up the wall.
While building this deck, just make sure not to go too high as it can be dangerous.
11. Edge Wood Desk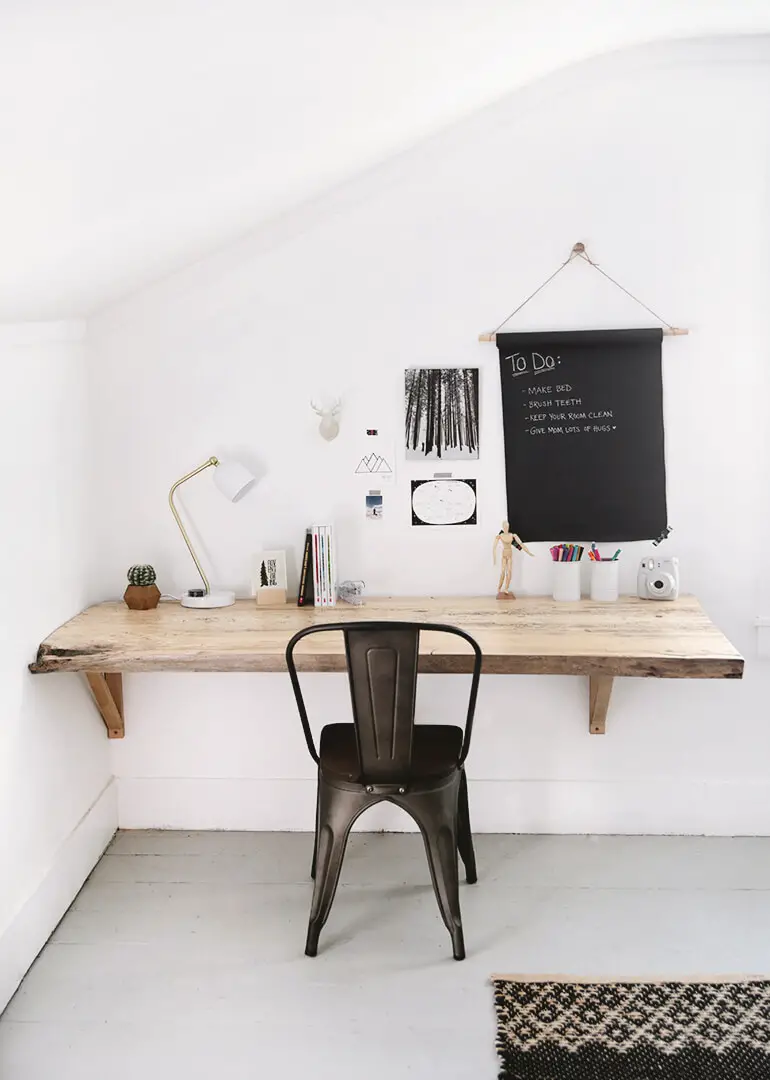 Putting your desk in the corner or edge of the wall is also a great tip to make your room look bigger. Just look how this big piece of wood stands without having to take too much space inside.
12. Longwood Desk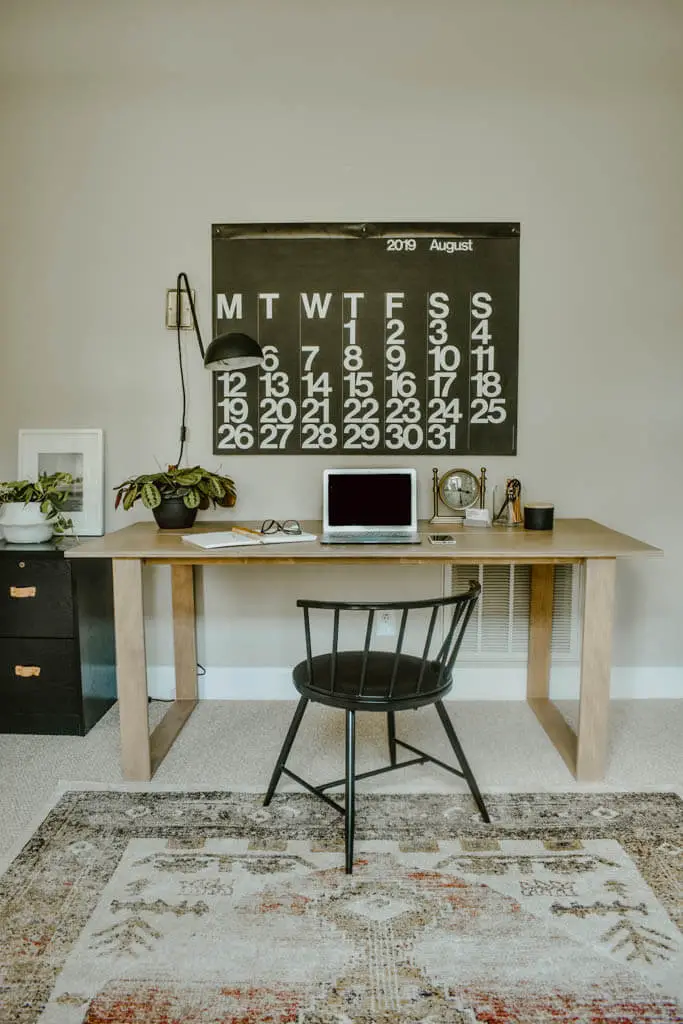 This Longwood desk is the perfect choice for those looking for a spacey and modern table for their workspace.
As there are no drawers, make sure to put your belongings neatly.
13. Desktop with Floating Shelves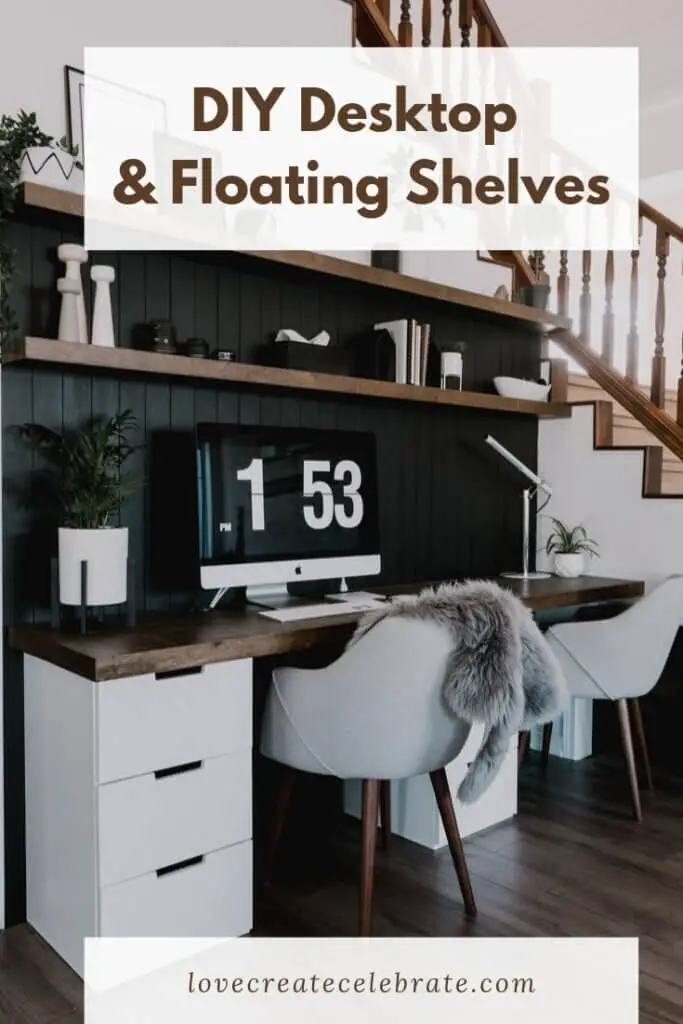 If you want a desk that has many space and storage, then this design will be perfect for your needs.
With this design, you will not only get one desk but also some shelves where to put all your belongings. The best part is, it is cheap and only costs around $100 in total.
14. Plywood Desk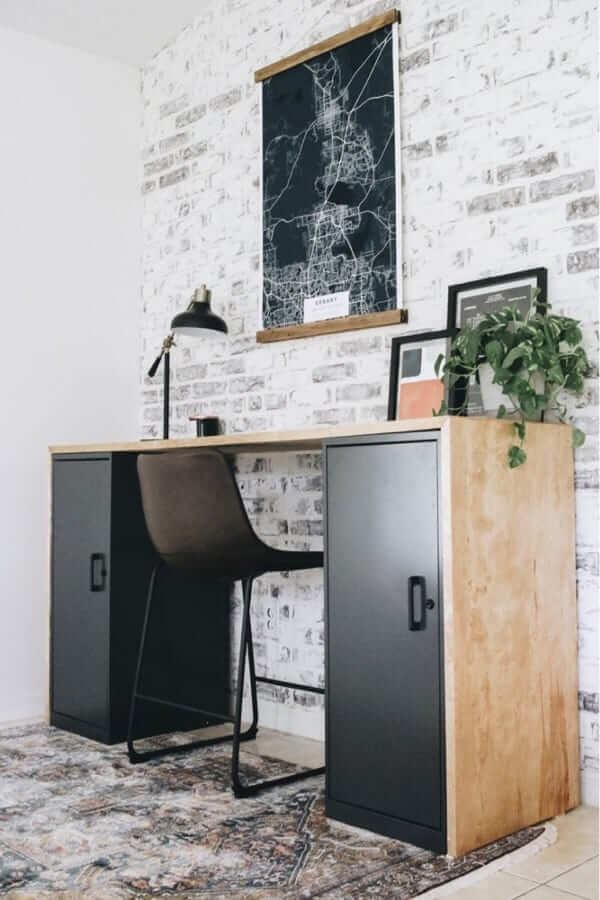 If there is a small cupboard that you are not using, then take advantage of it by making it into a desk. The only thing to do is add small plywood to the surface of the table.
15. DIY Pipe Desk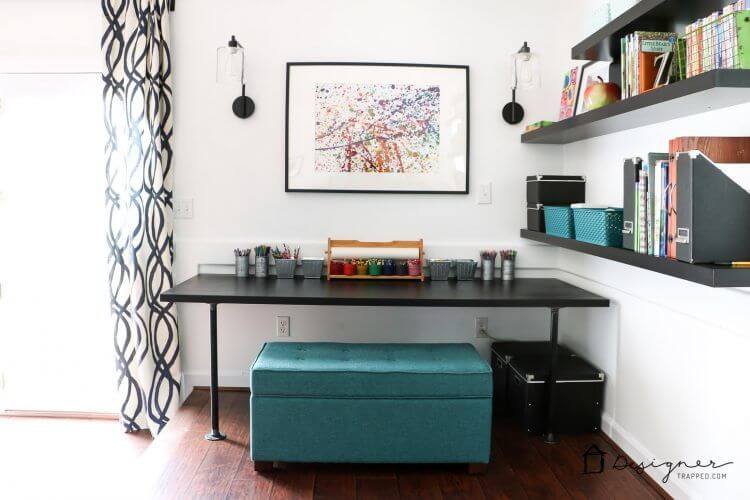 Metal pipes are also a great alternative to use if hairpin legs are too expensive. Not only are they cheaper, but stronger and can fit any kind of material.
16. Wood Corner Desk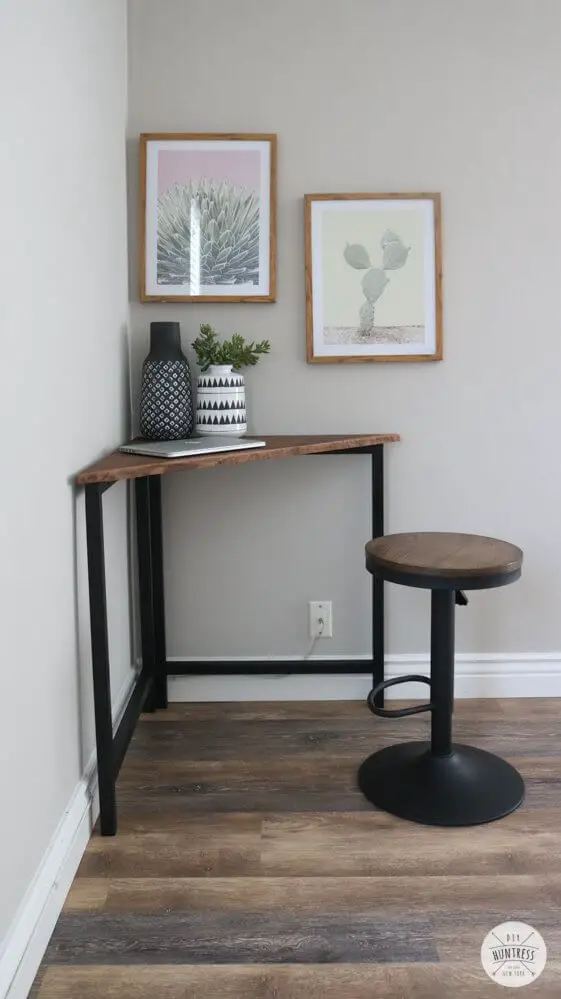 Make a small workspace inside your living room by putting a small desk in the corner. You can either put metal legs or just use floating shelves like before.
When you are not working, just put some plants and pictures on top of it to make it look pretty.
17. Antique Farmhouse Table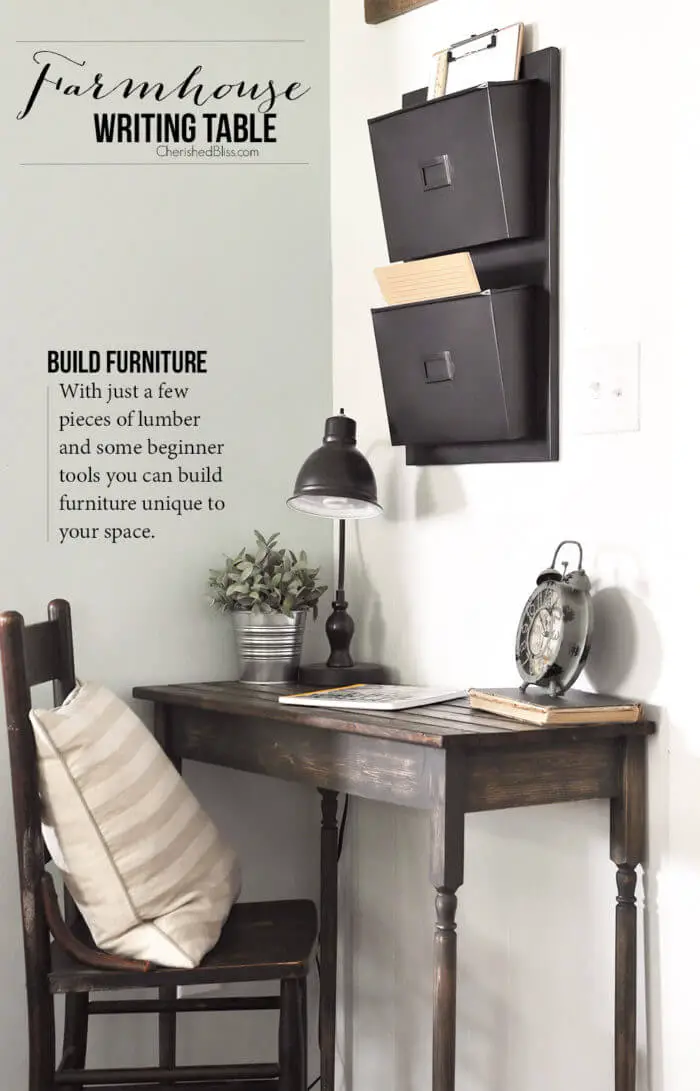 This kind of DIY design is perfect for those who like something antique and rustic. Just put it in your living room to offer a different look.
18. IKEA Hack Desk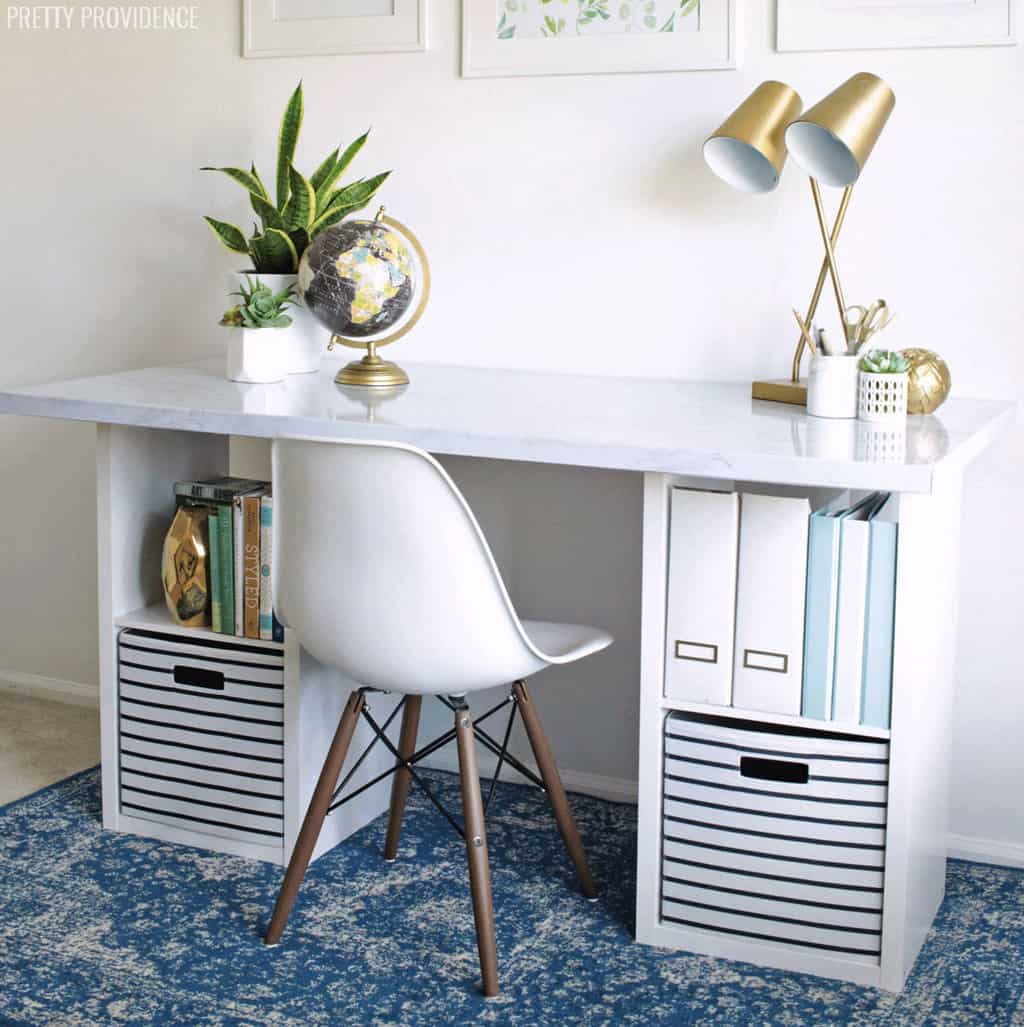 Buying a desk at IKEA can be expensive. So rather than getting one, try this table hack by using two basic bookshelves.
Then put them together and put metal or wood on top of it, to make it look like an IKEA desk.
19. Industrial Computer Desk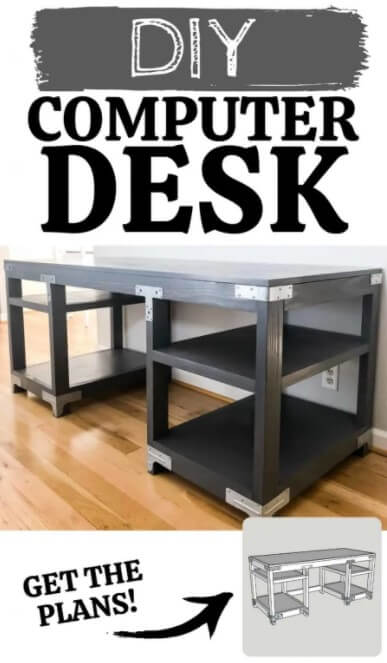 This industrial computer desk consists of many shelves, storage, and a place to put your computer. However, the design looks better since you do not need full wood to make it.
20. Industrial Farmhouse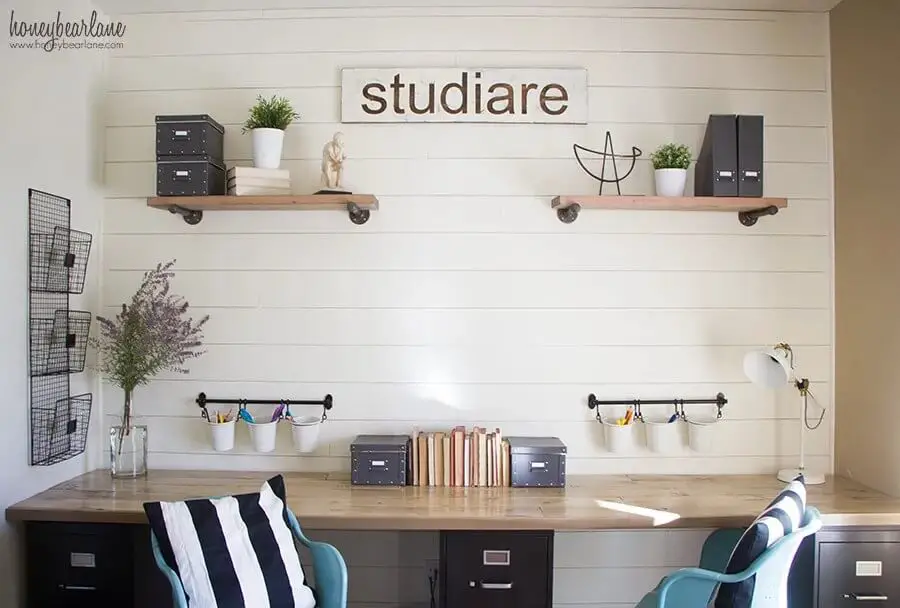 Make a working desk just by using some cabinets and bulky wood.
You can use the cabinets as the legs of the desk and the storage too. Whereas the bulky wood will be the surface of the table.
21. School Desks for the Kids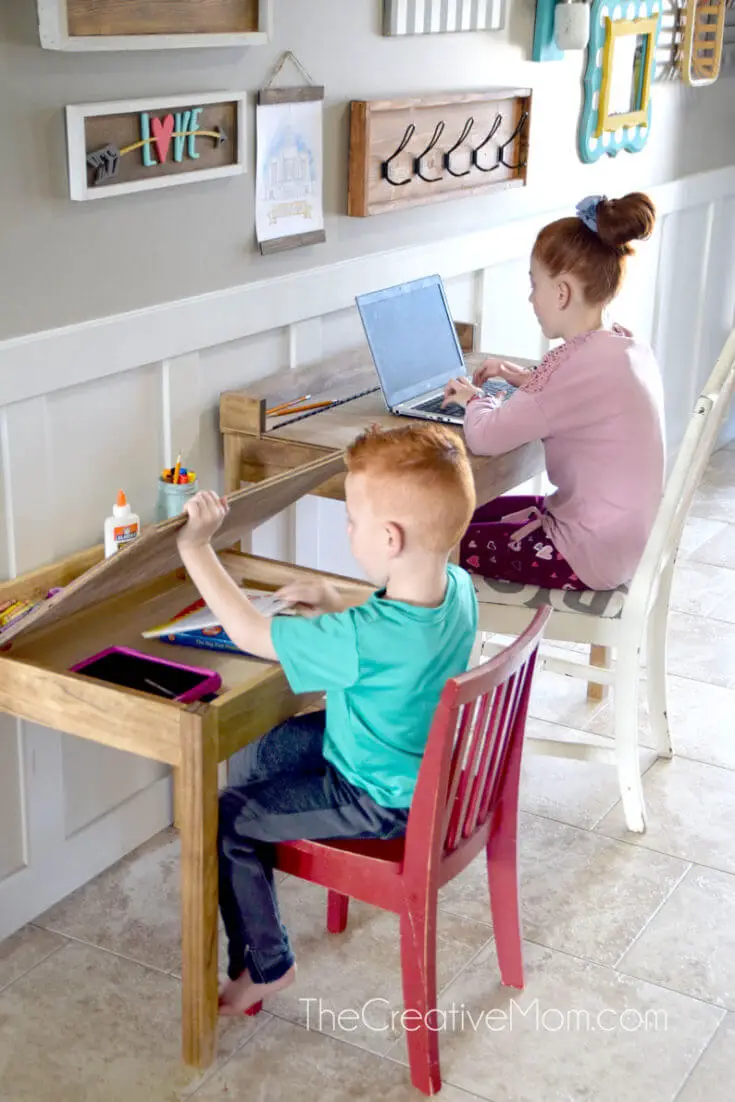 Having a small desk is a must when it comes to children. So, create a mini table that is the same as the one at school.
Do not forget to make small storage so they can put their belongings neatly. If there is not much space left, then design it inside the table.
22. Block Desk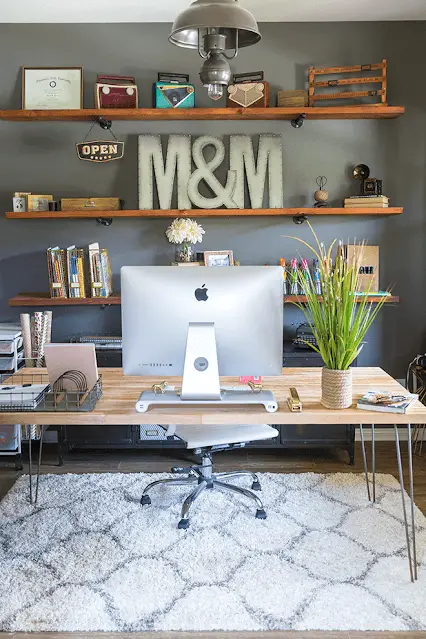 One of the office desk plans that is suitable to have in your workplace is this block design. Yes, from the name of the design people can see that the size of this table is big and wide.
Another great thing about this desk is that it simple and sleek!
By putting on some hairpin legs, the table will seem more modern and look like the ones in a furniture catalog.
23. Block-Cabinet Desk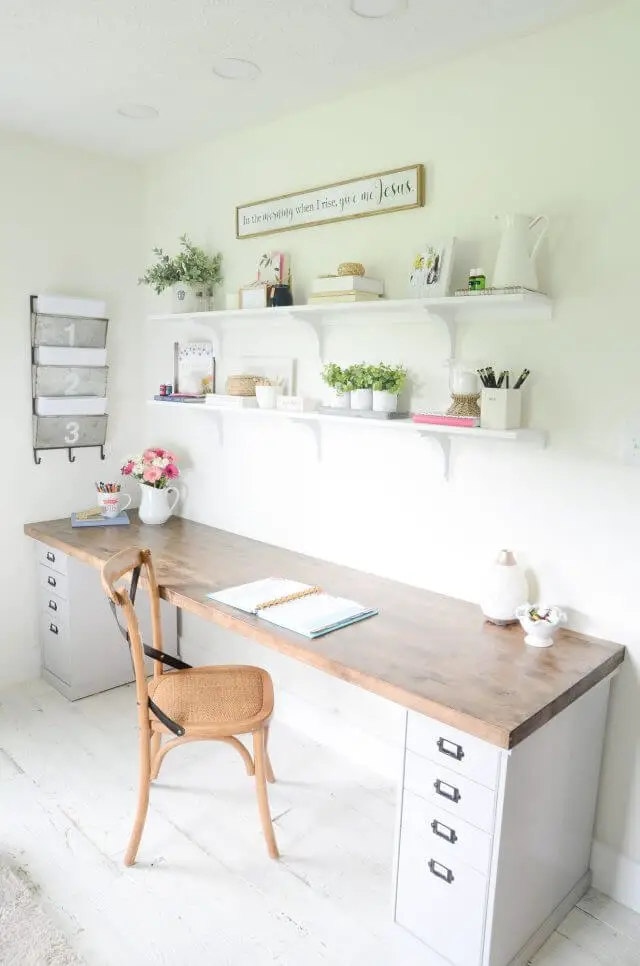 The concept of this design is almost the same as the one before. However, rather than using hairpin legs, people can use white cabinets for the bottom part.
This will give people some space for their belongings and make the table look neater.
24. Ikea Standing Desk Hack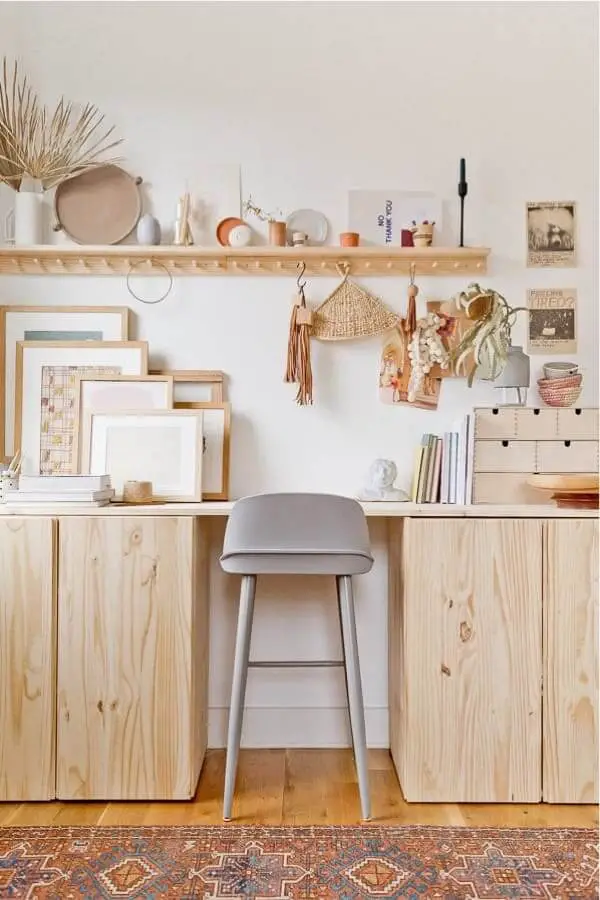 For those who adore IKEA tables, then this is another hack that you can try. Even though it is a DIY project, look how neat and similar it is with the real ones?
25. Desktop Hairpin Desk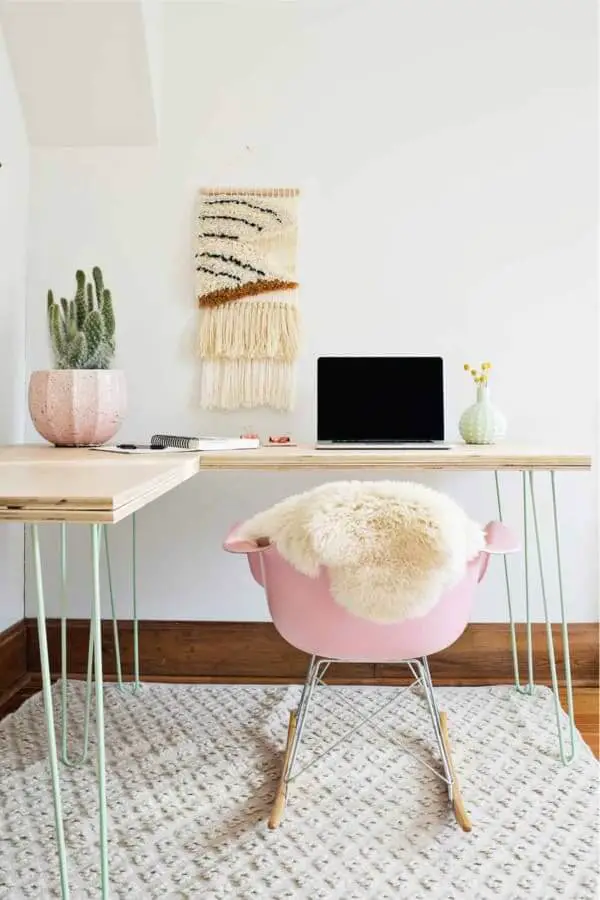 One of the DIY wood desks plans that you can copy and will also make your look minimalist is this desktop hairpin table.
Not only is it simple but also cheap to make!
If you think one table is too small, then combine more than one piece of wood. After that, place the desk in a nook so that it does not take too much space.
26. DIY Chippendale Desk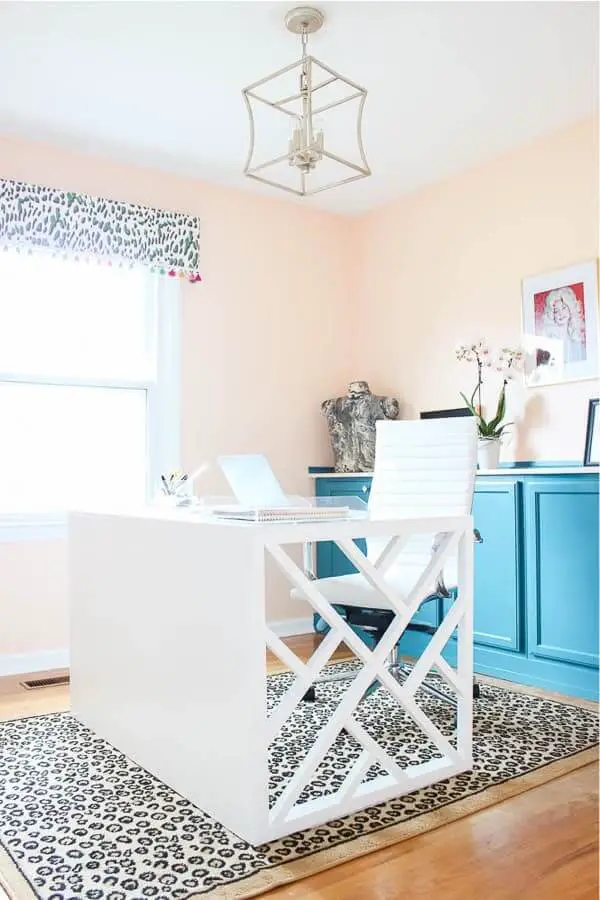 This pretty Chippendale desk is one of the great DIY desk plans that you can try out if you are looking for a unique design.
Its size is neither too big nor small that making it perfect for a workplace.
The desk blueprints may seem hard and a bit complicated. But do not worry because the instructions here are complete and detailed!
27. Crafting Desks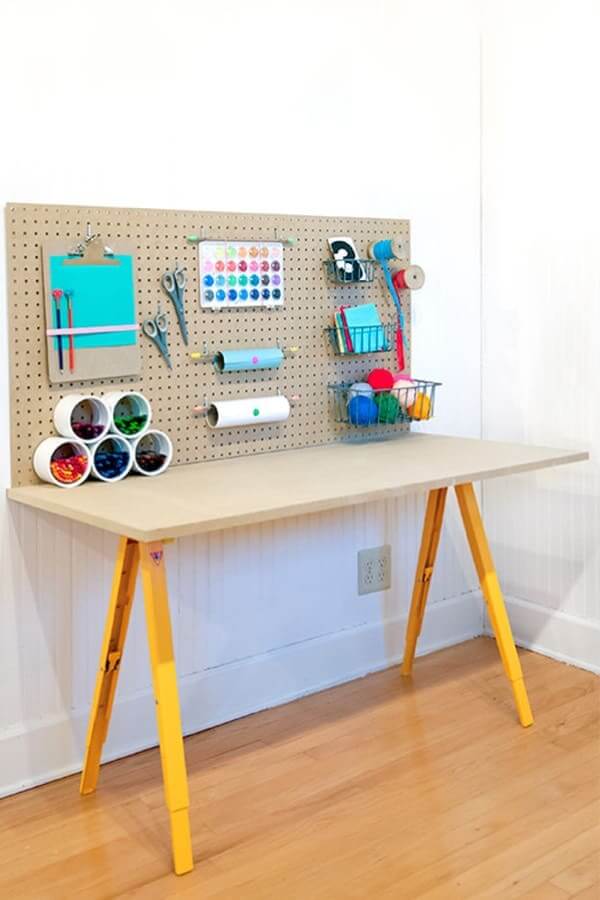 If your husband has an unused workshop desk, then repair it a bit and make it a desk for the little ones. You can even use the hangers as storage.
28. Standing Wall Desk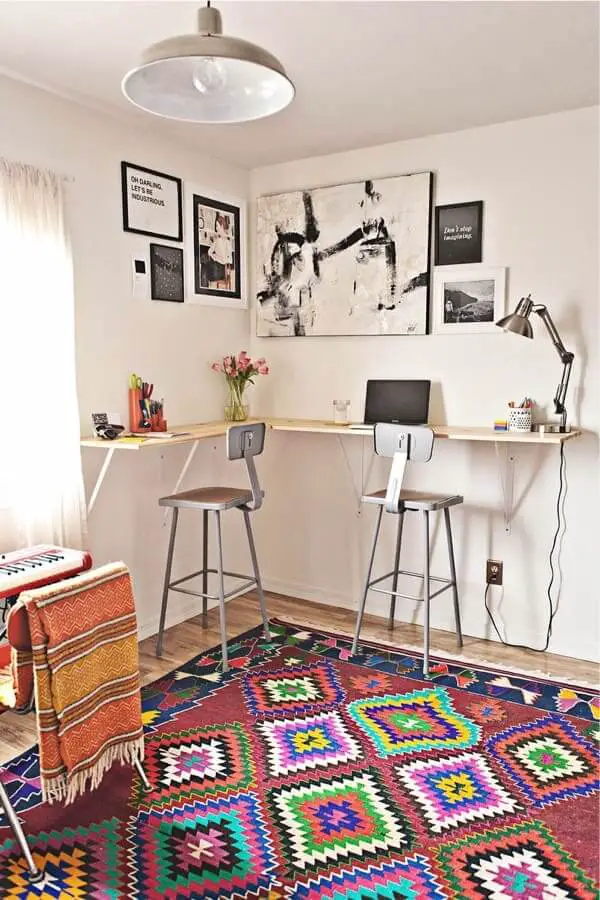 For those who want to work and take care of their health, then try out this standing desk. If you happen to feel tired, then bring up a highchair to sit.
The concept of this desk is almost the same as floating shelves. However, the height is taller, and it is not too wide.
Therefore, to reach the table, people must stand up.
29. A Modern Metal – Wood Desk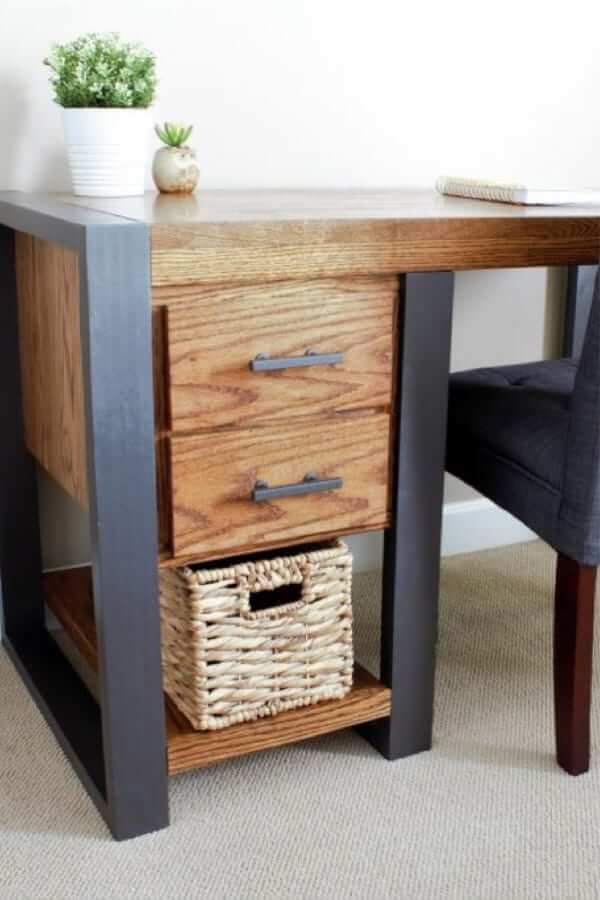 Make a strong and industrial desk by combining metal and wood. This combination is great because it looks good and is easy to make even if you are a beginner!
30. Cheap Computer Table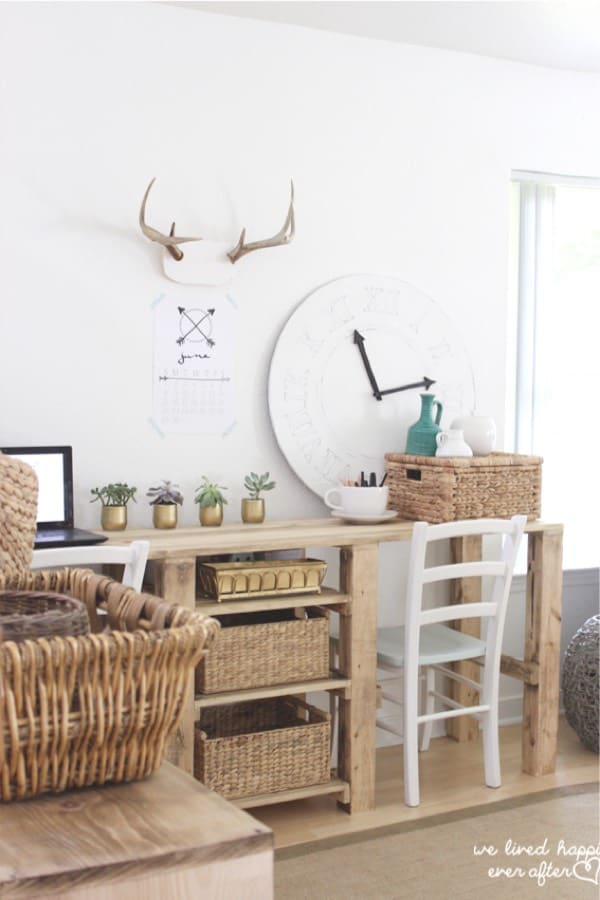 One of the plans for a wood desk that is simple yet functional is this computer table set. The concept of this design is great because you can use it as a working place or storage for your belongings.
31. Simple Wood Desk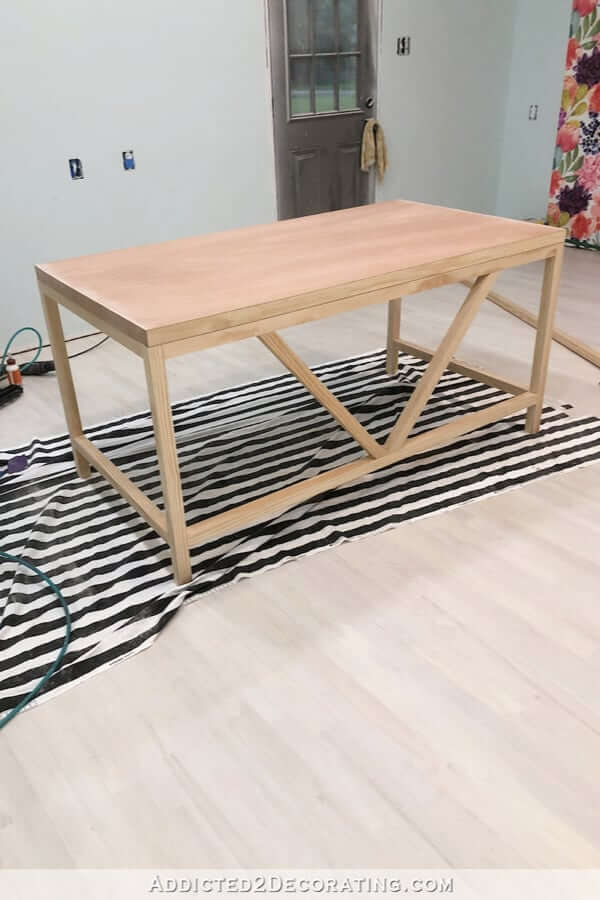 This is surely one of the simplest DIY desk plans on the list. There is not too much design or ornaments on the table, so it is easy to make.
However, if you want to make it a bit more interesting, paint the base and stain the desktop.
32. 12-Foot Double Desk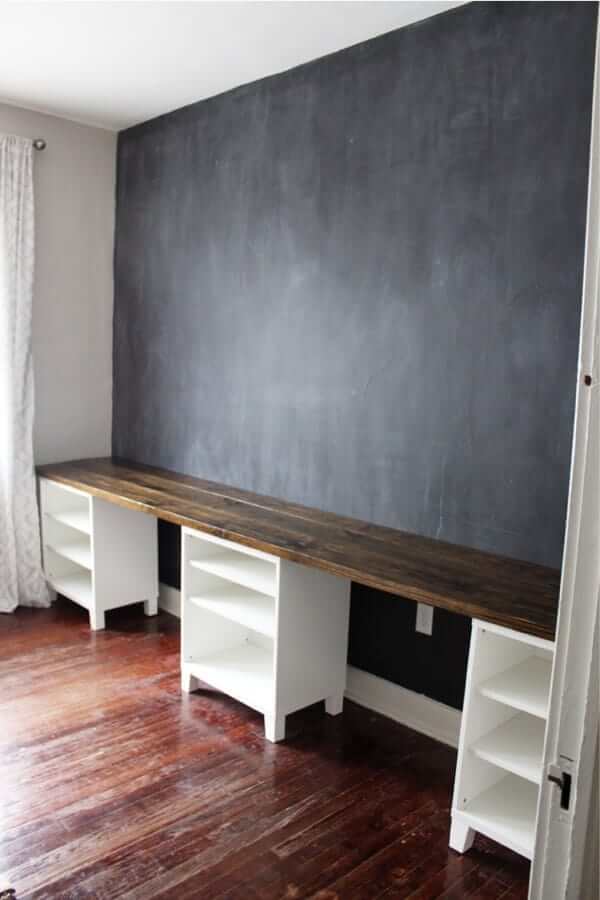 If you have no extra space or budget to make a new desk, then use the equipment there is at home.
Some equipment you can use to make a DIY desk is some bulky wood, bookshelves, or plywood. Combine these materials and create a functional table.
33. DIY Farmhouse Desk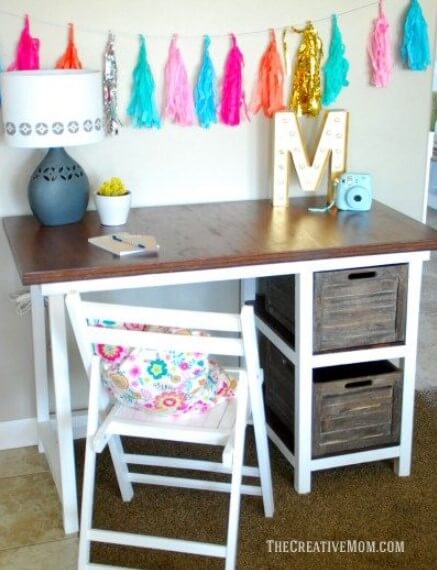 Farmhouse desk design is a favorite to many people! Not only because it is rustic, but they are suitable for any kind of room design.
Now for this design, rather than building drawers which can be difficult, use crates instead.
34. Office Farmhouse Desk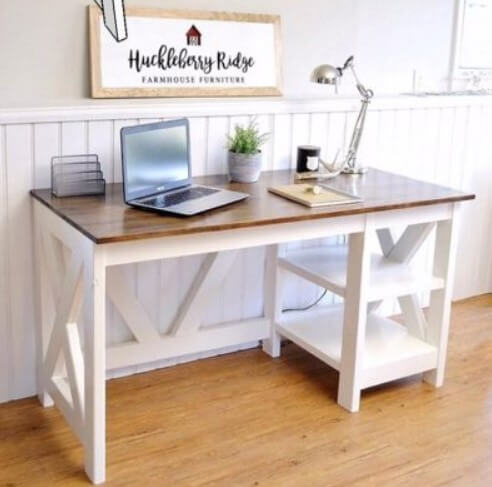 The concept of this desk is almost the same as the one before. However, to make it look professional use simple and neutral colors such as white or brown.
35. Husky Dining Table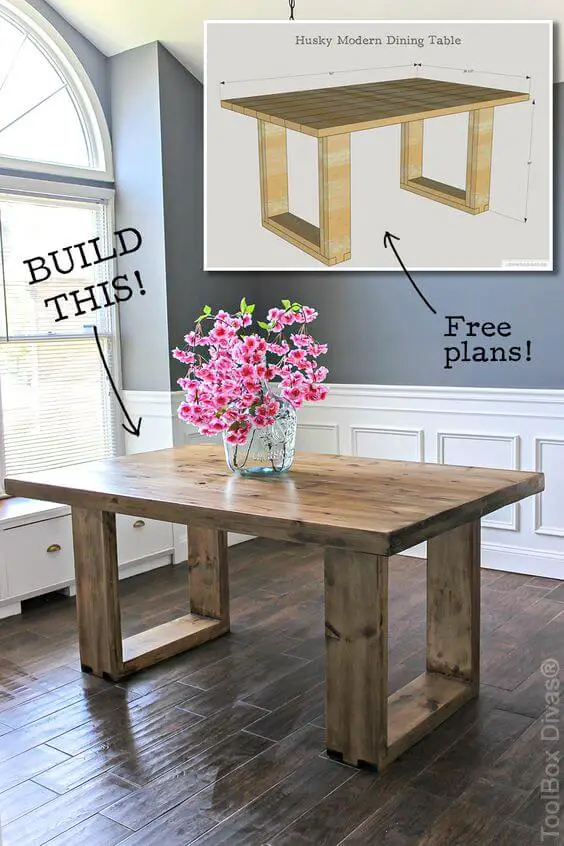 This husky table is normally made for a dining room. However, when you are not using it, use it as a working desk rather than a place to eat.
36. Sicily Writing Desk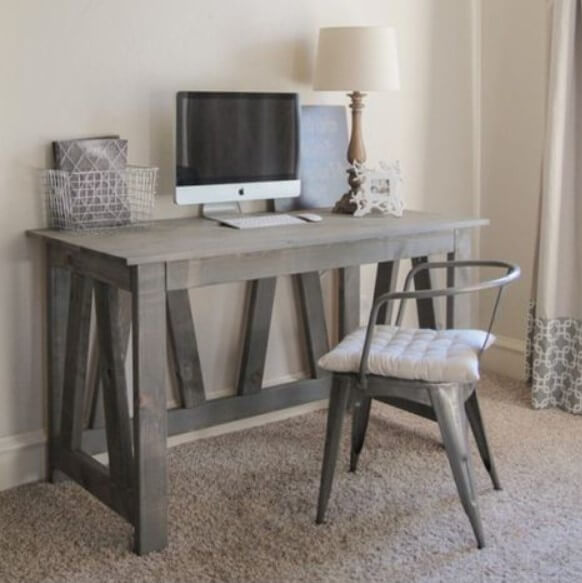 Normally a Sicily desk is used for living rooms rather than a working desk. However, you can make it multifunction by putting in some extra storage.
37. Chick Style Desk Set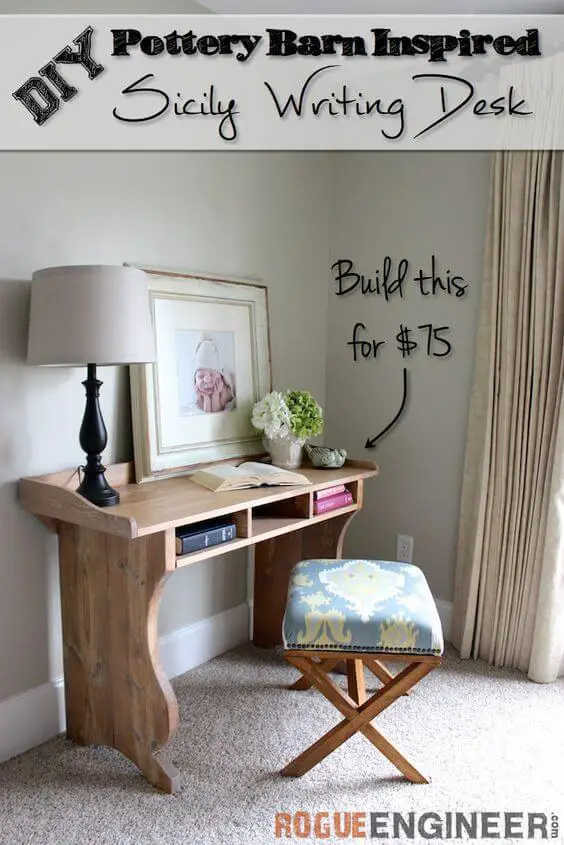 Look how beautiful this desk set is! Even though it is all made from plain wood, users can still make it interesting by painting it with the right colors.
You can also add some shelves beside it to get more storage.
Conclusion
In conclusion, you should be able to find a plan that you're excited about, whether it's something you can afford or not. So make sure you choose one that will provide you with the most flexibility. If you decide to go with a DIY desk plan, make sure that it will provide you with the most flexibility when it comes to customizing your desk.
For example, you want to be able to easily move it around your home or office so you don't have to worry about making a mess. You also want to be able to modify your desk and create a workspace that suits your personal style.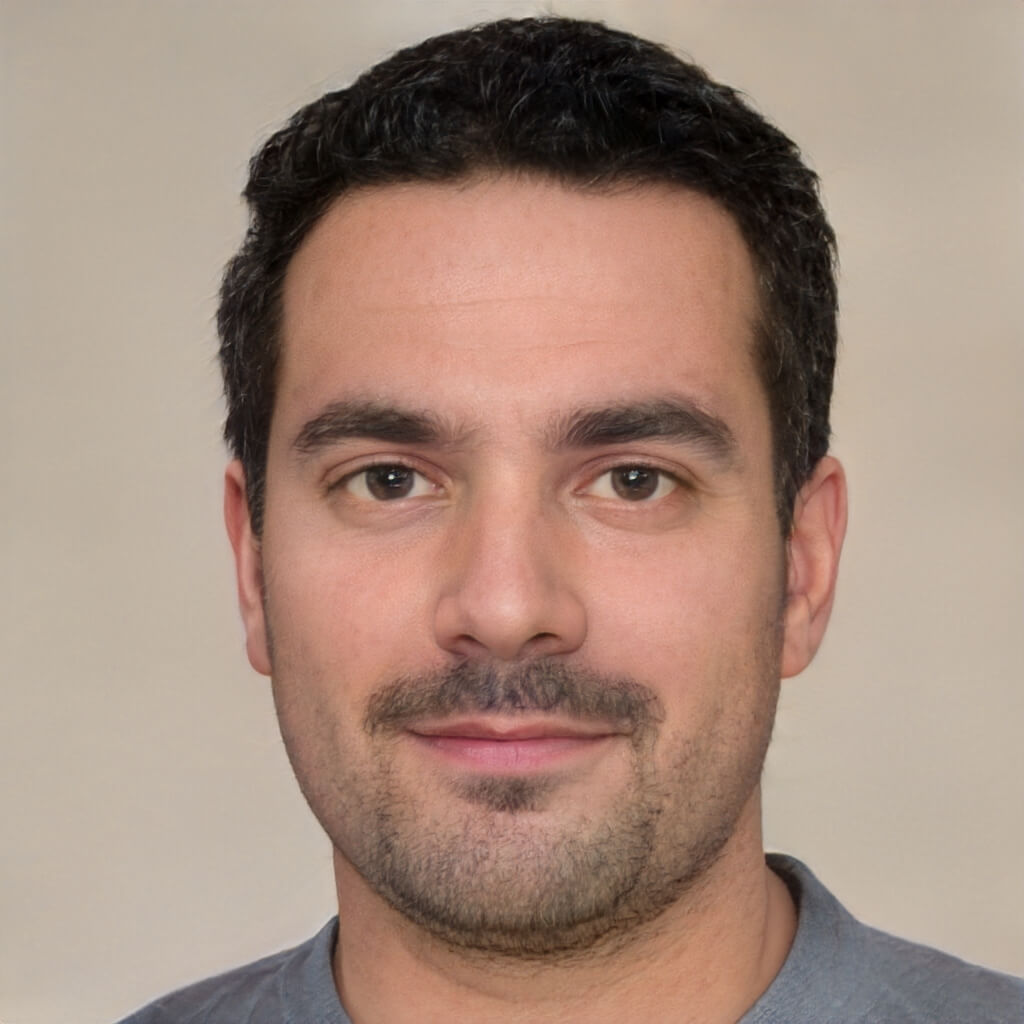 I'm a passionate home and garden enthusiast and the founder of Materialsix Home. With over 10 years of experience in the field, I've cultivated a deep love for all things related to home improvement, gardening, and interior design.