If you are a female worker that works from home, it is essential to set up comfortable home office ideas for women.
Therefore, in this article, we provide you with the ideal concepts of working from home with all the layouts, furniture, and decoration.
Interestingly, it will be helpful for female workers to work in a comfortable way inside their house.
Moreover, this article focuses on modern home office ideas. So, all of the designs here would be easy to replicate. Without further ado, let's get to it.
1. Modern Office Set with Houseplant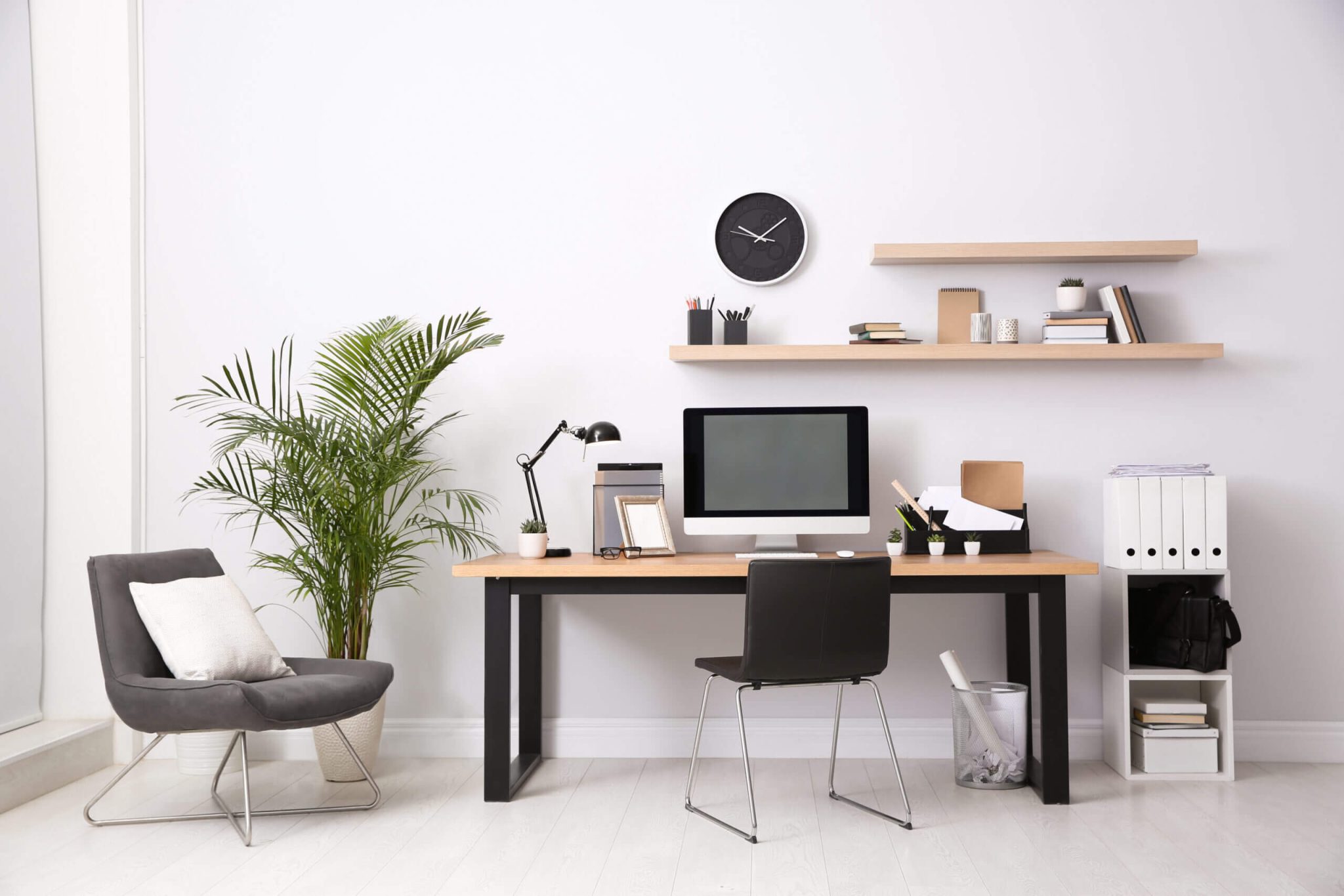 In your simple, modern home office design, you can add a tropical houseplant right beside the desk, for example. Hence, it would set up a nice natural feeling for the area.
2. Narrow Office Space At Home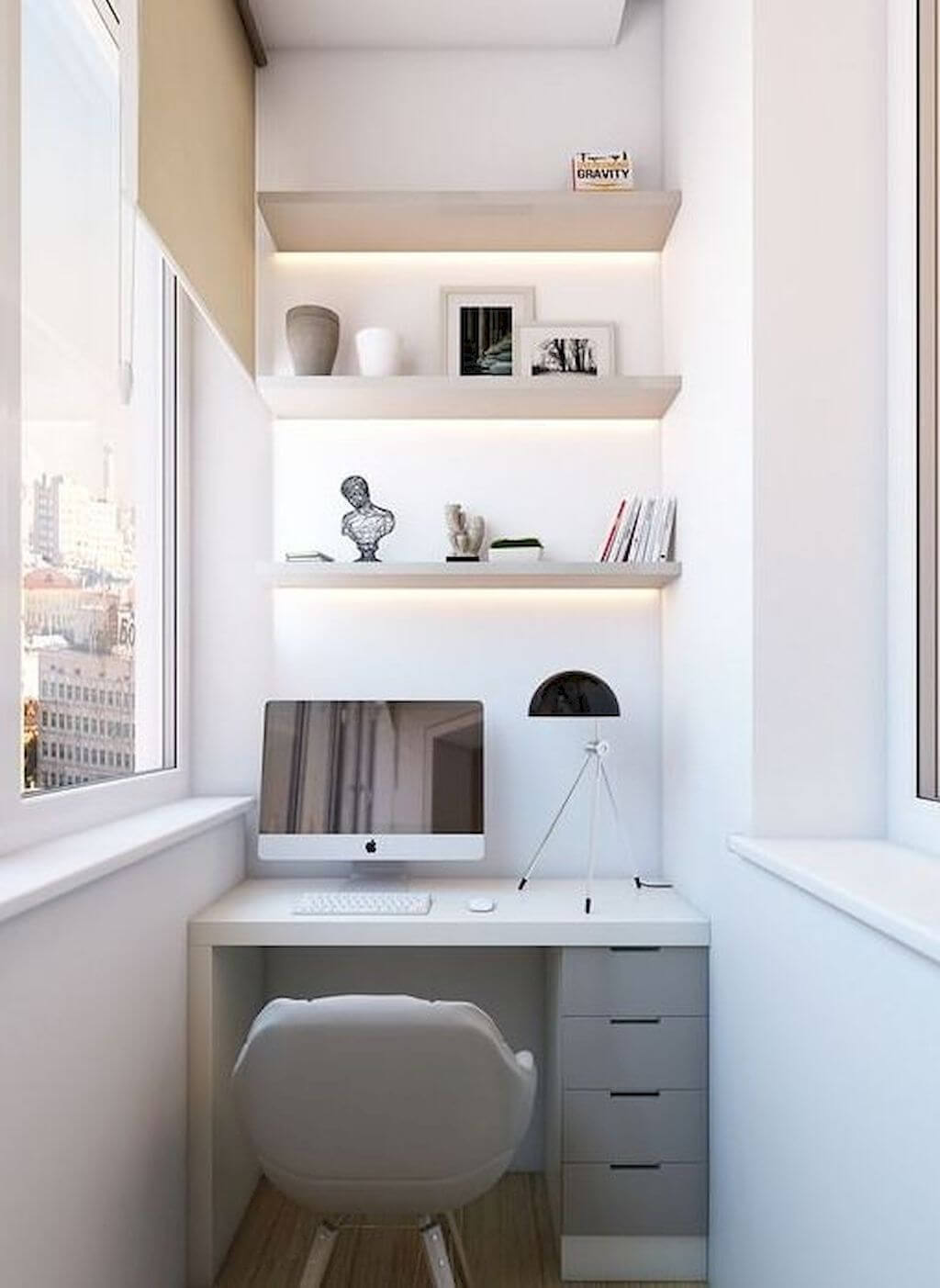 Thankfully, there is a feminine taste in this narrow home office. Likewise, the greyish earthy tones and large glass walls make the space perfect for working in peace.
3. Scandinavian Style of Home Office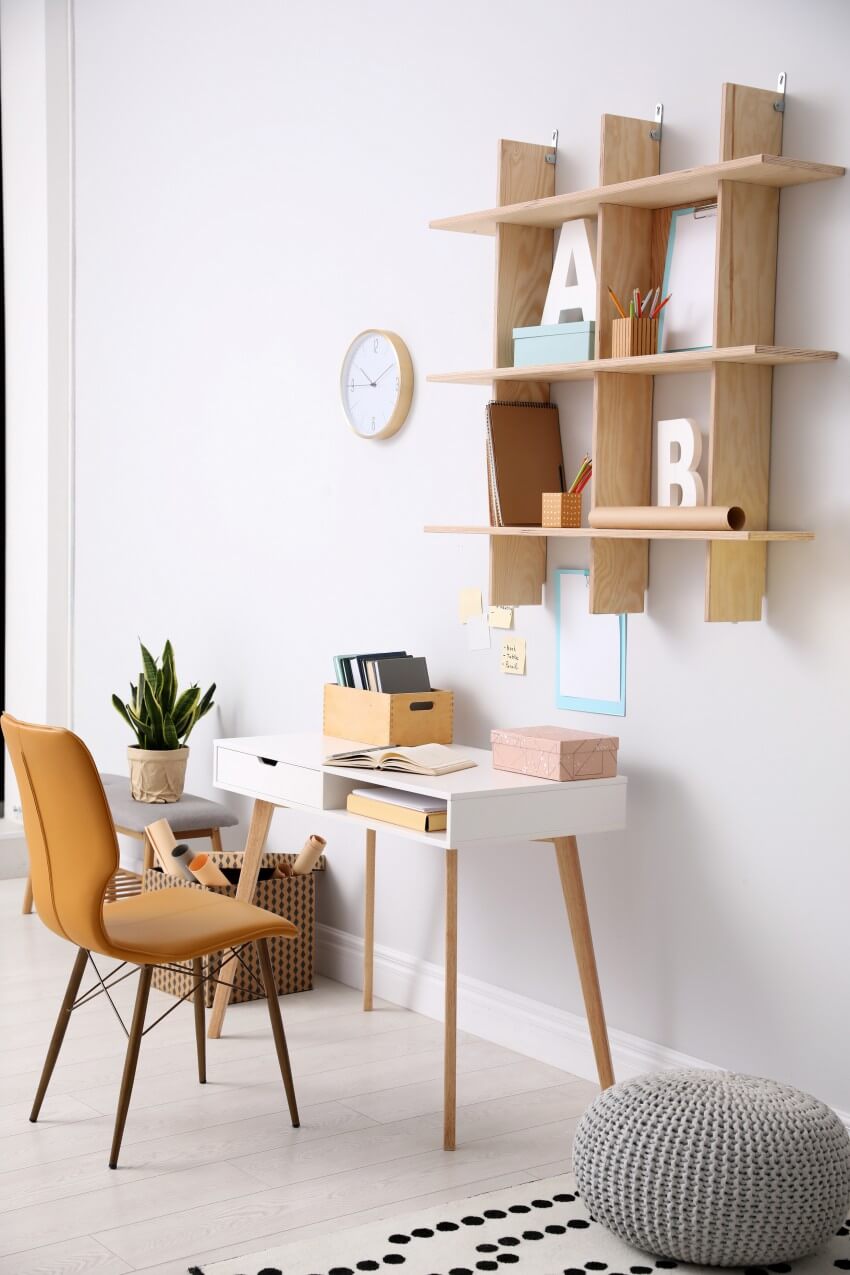 Indeed, Scandinavian is one of the most favorite modern designs. Thus, it is a perfect choice for your minimalist lifestyle.
Also, the chair and desk look so well together. Furthermore, instead of having a cabinet, a simple wall shelf would save a lot of space.
4. Comfy Soft-Pink Home Office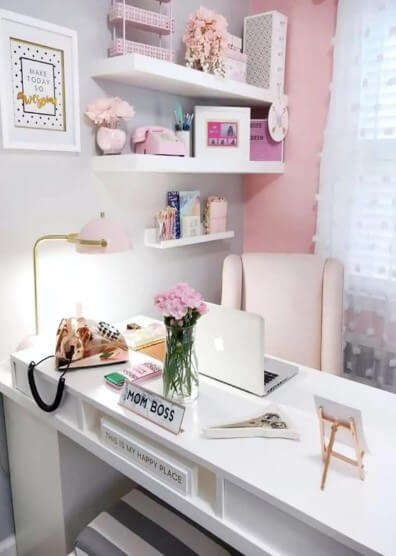 The combination of white and soft pink certainly sets up a pleasing atmosphere in this office room. However, you do not need to have a large space to set up a relaxing environment.
Additionally, play with soft and girly colors like this one.
5. Wall-To-Wall Desk for Working Station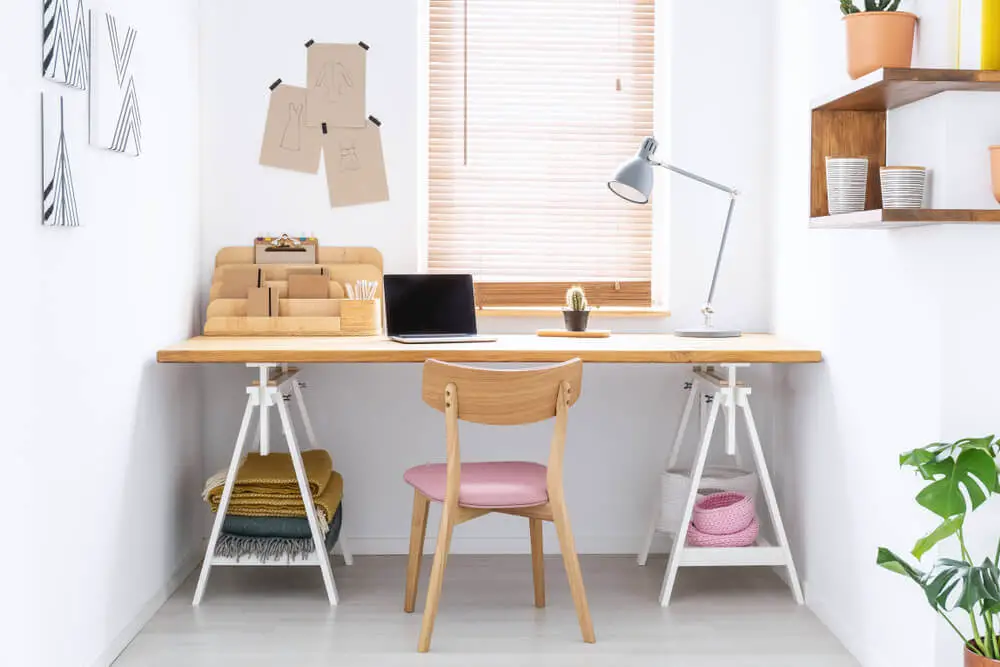 Interestingly, the entire space of the room from wall to wall is for the desk. Wherefore, you will have a comfortable wide space on the table to support the workflow.
Then, check out the lamp, its minimal design provides a functional use and also decoration for the station.
6. Woman Artwork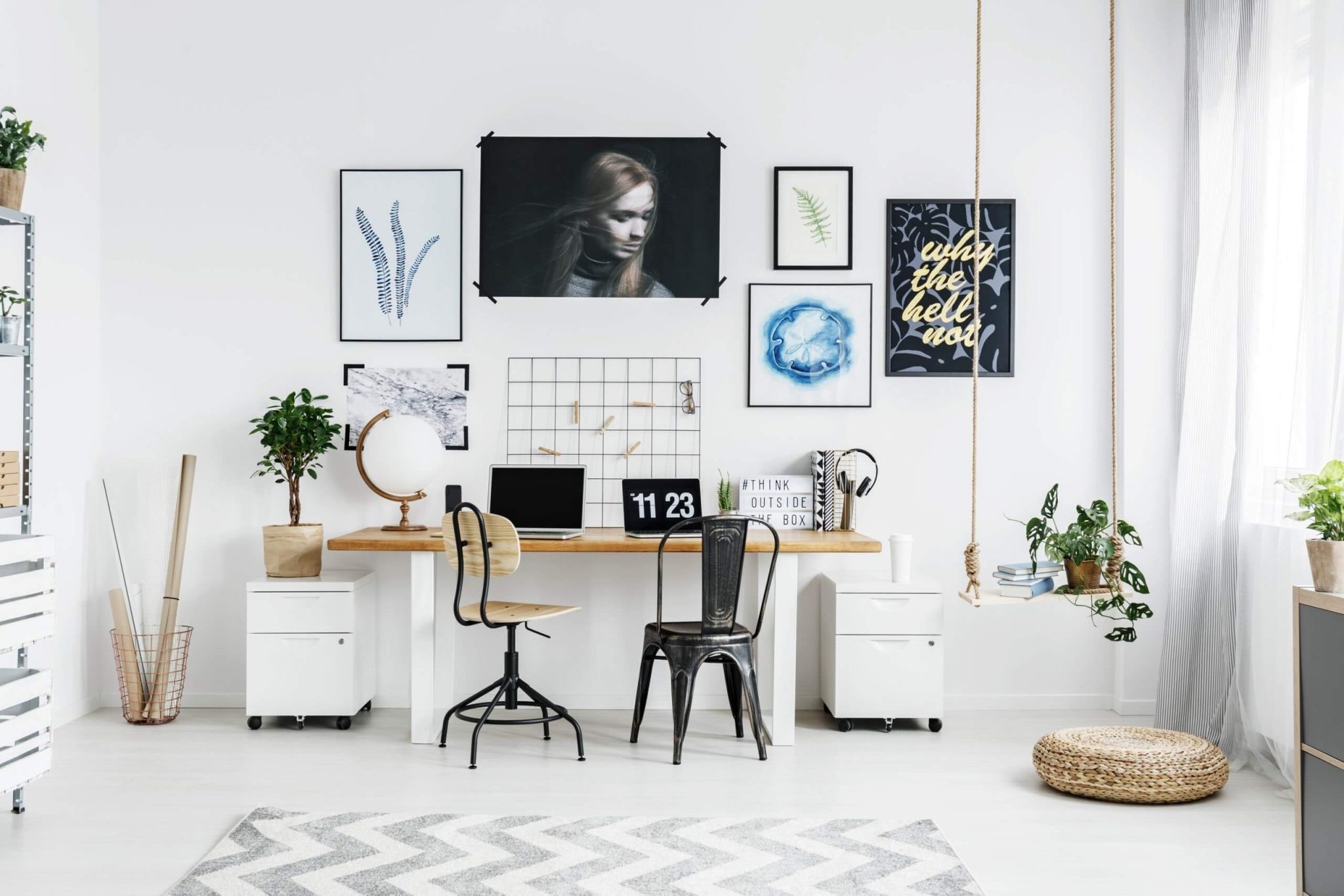 This stunning home office idea for women comes with some feminine decorations. One of them is a big image of a woman on the wall.
Furthermore, that is really the indication that this setup is designed for her.
7. Swinging Working Station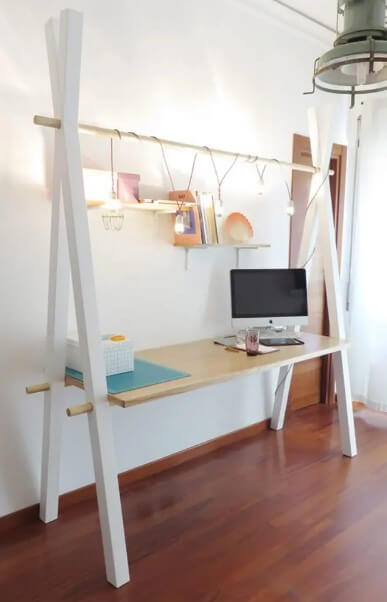 The desk looks like a swing, right? Well, this amazing DIY furniture can be a great inspiration for your home office design.
Likewise, it is a great office decor for women. That string light above the table is just lovely.
8. Modern Office in Rustic Space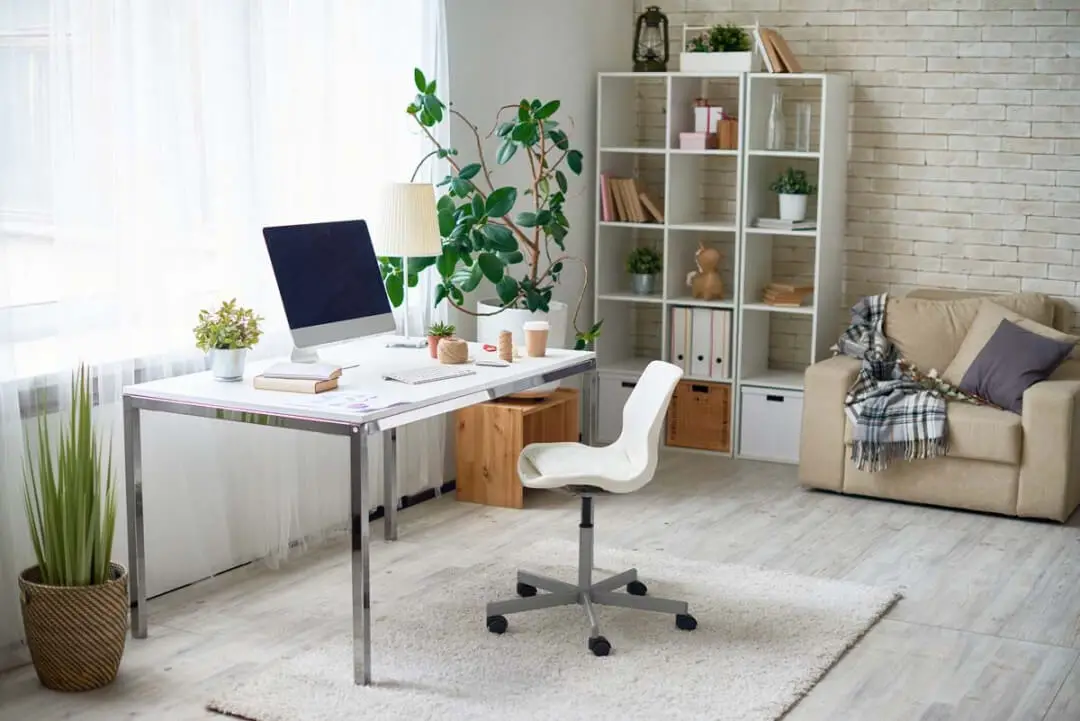 This room has a rustic style. Also, you can see it from the choice of color scheme, and the brick wall over there. Additionally, add some houseplants to balance them.
9. Working Station with Brick Wall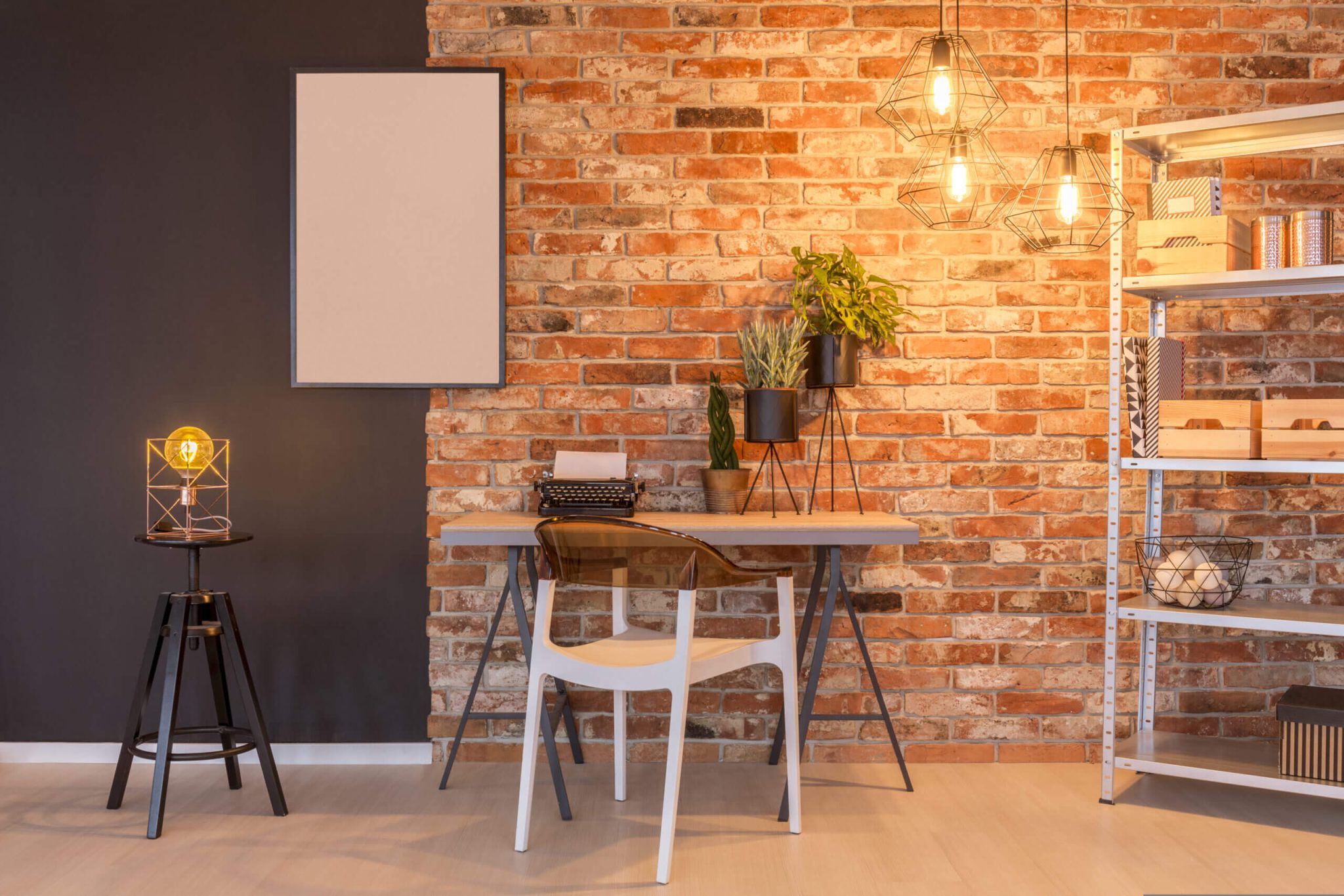 A working woman will certainly adore this design. It is one of the home office ideas for her that has rustic space. Moreover, decorate the room with houseplants and pendant lamps.
10. Cork Wall in Office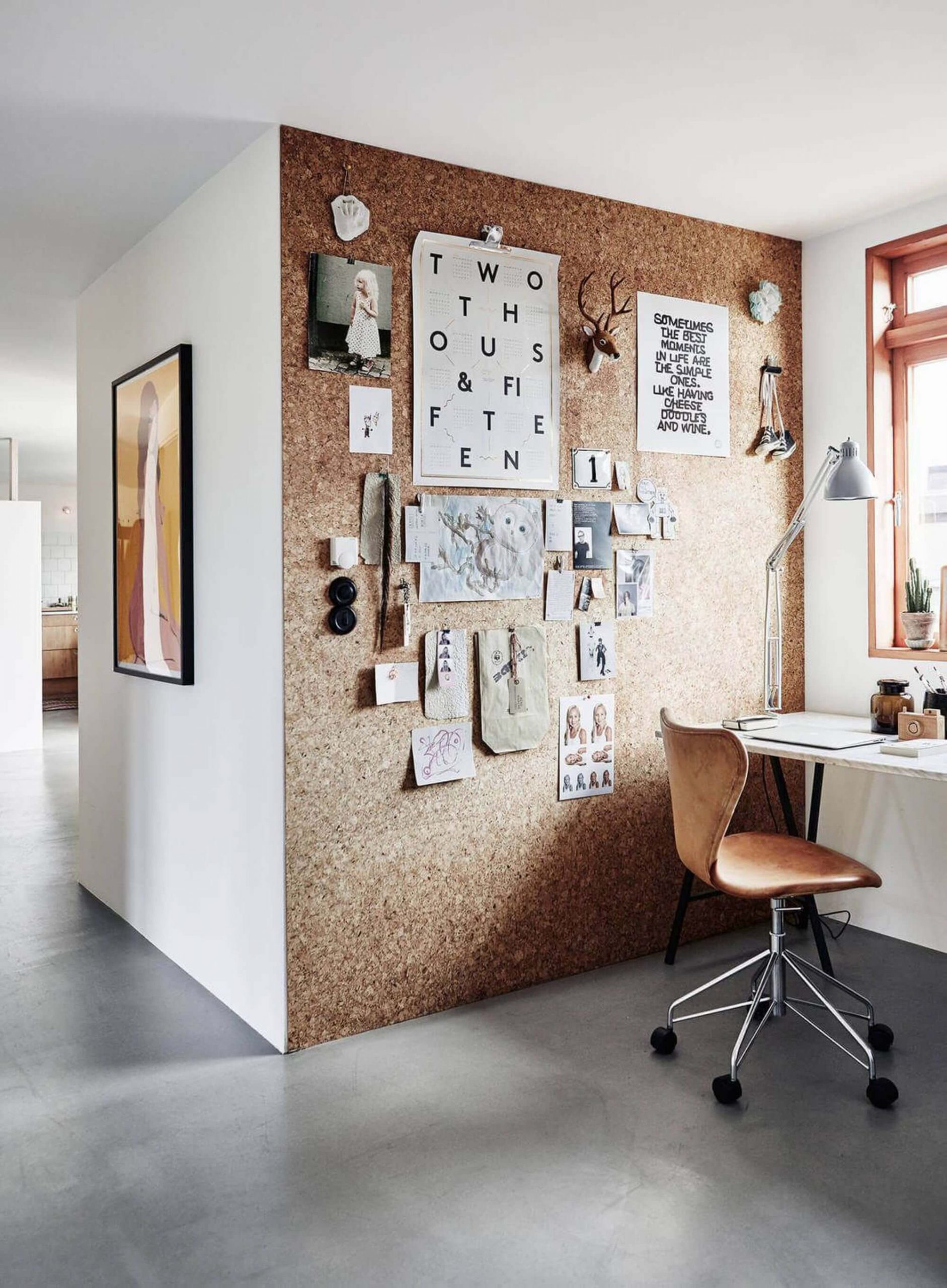 The cork wall is a functional element with a classic touch. Also, it makes a perfect bulletin board for women's stuff.
11. Cat Artwork on The Wall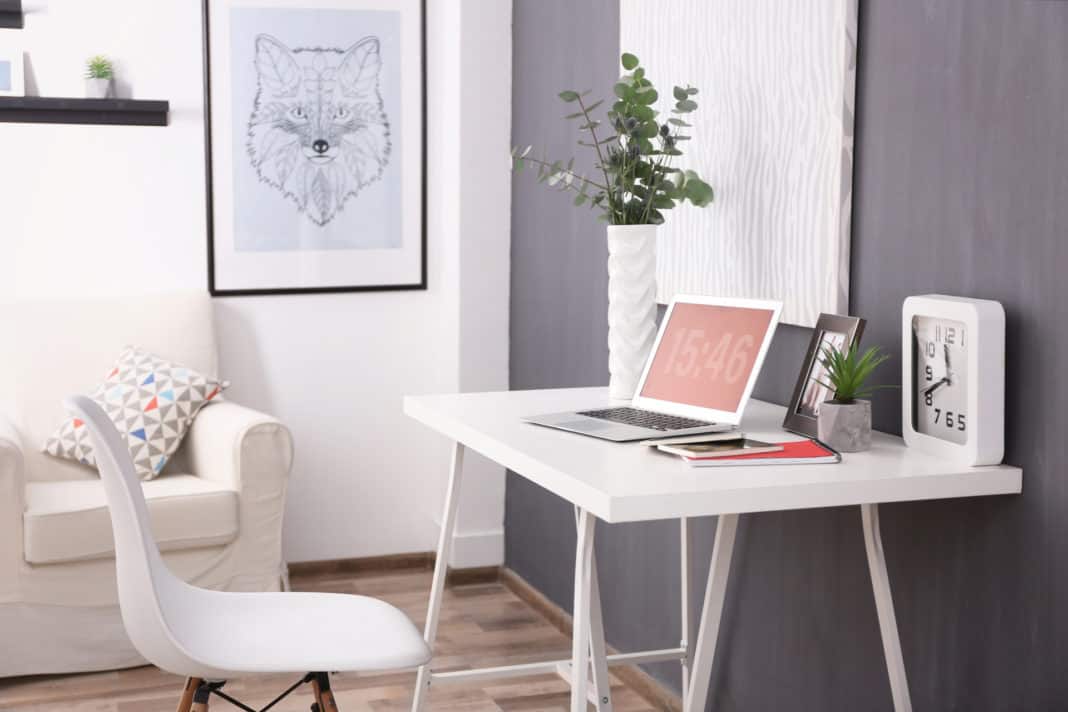 Most women really love cats. So, making it as part of the decoration in a home office for female workers is the right choice.
12. Standing Work Station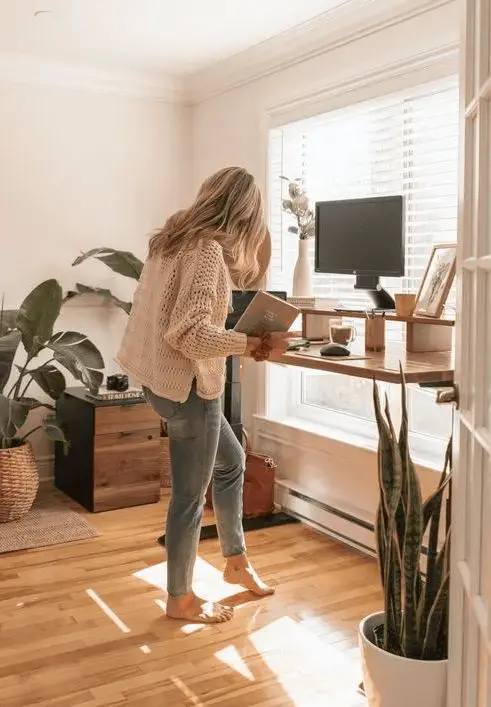 Instead of working while sitting, you can just get rid of the chair or seating. Then, do the work as you stand.
Some models of this desk are adjustable. So, you can set it up both for sitting and standing.
Related: How to Make a Desk Taller – (5+ Easy Solutions)
13. Feminine Home Office in Bedroom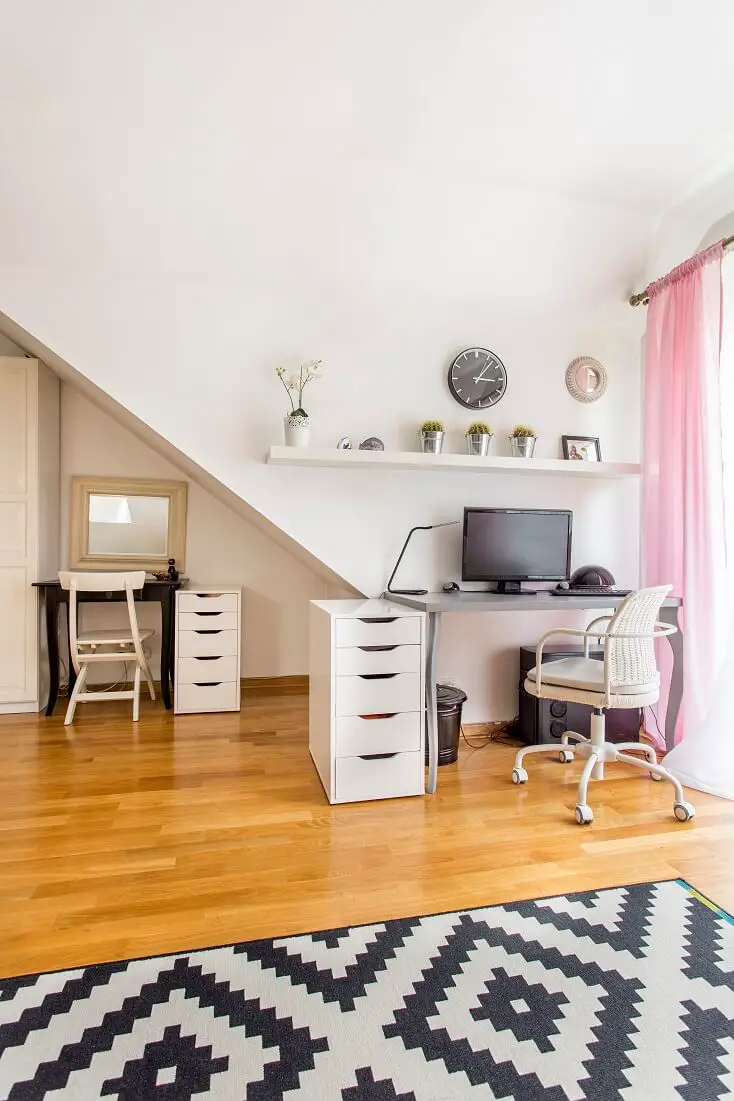 It is one of the feminine home office Ideas that have a simple and beautiful look. Also, check out that patterned carpet and pink drapery.
14. Minimalist Home Office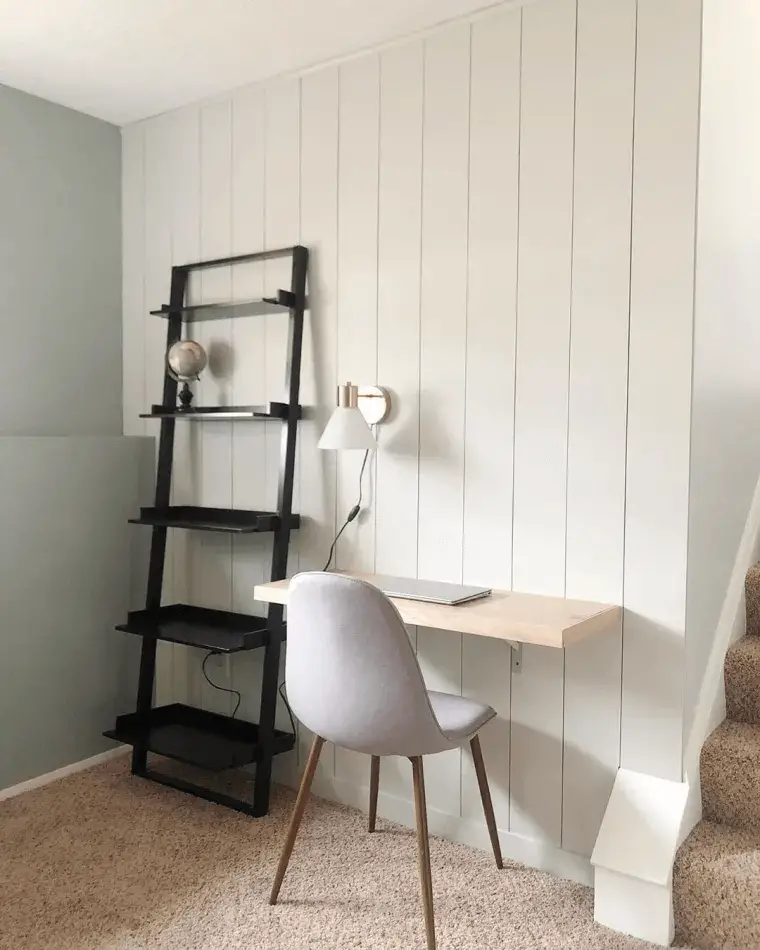 For women who opt for a simple and minimal design, this is the idea to apply. Further, it only needs three main elements of the office, a table, chair, and shelf. Well, that is all you need.
15. Modern and Classic Home Office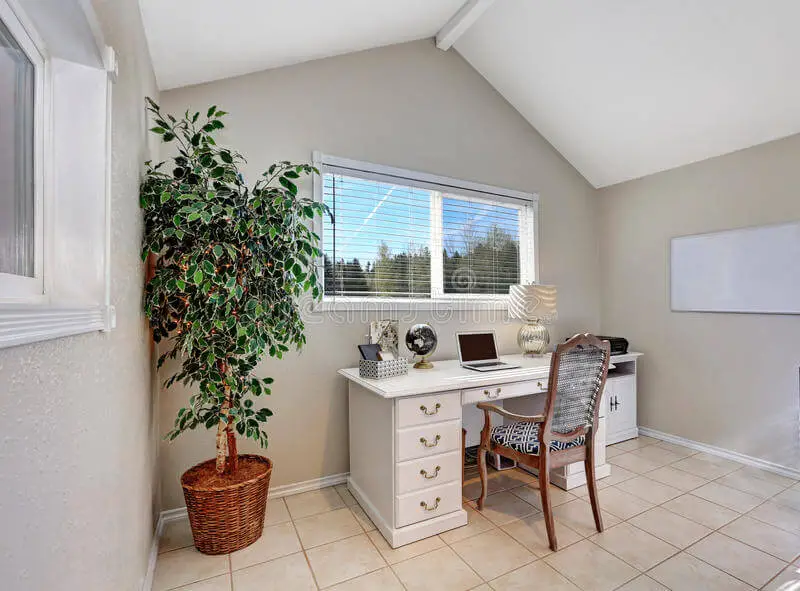 The combination of the modern scheme with classic furniture would be a great inspiration to have. Also, that vintage desk is full of storage. Thus, it would really support your working stuff.
16. Chalkboard Wall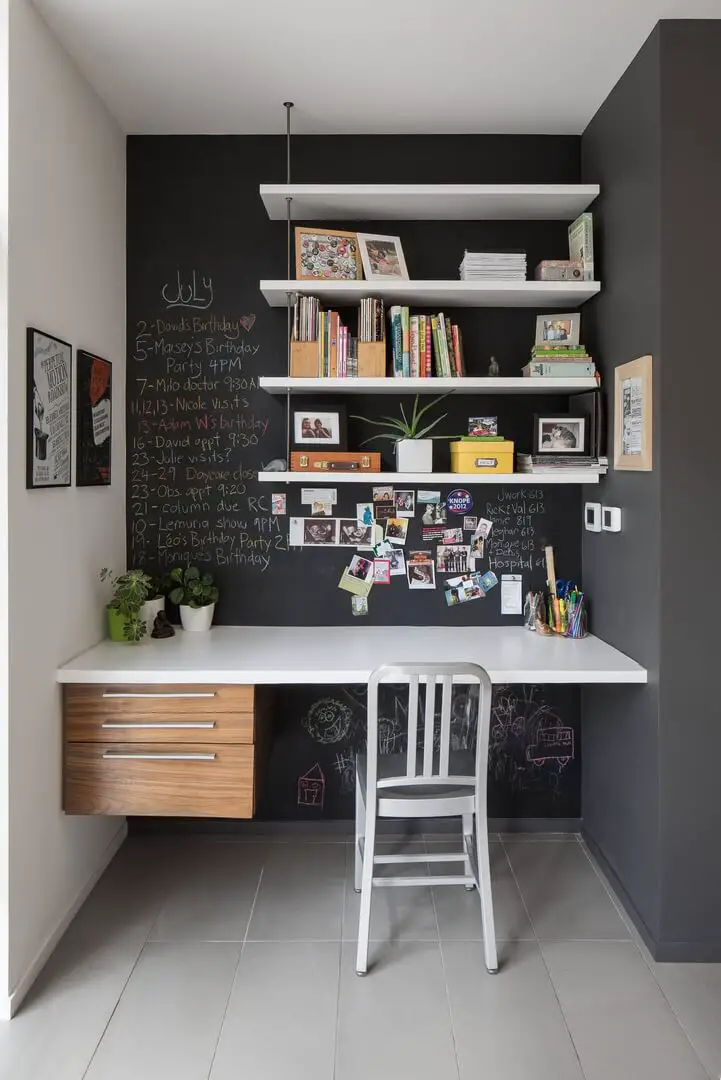 Are you a fan of chalkboard walls? Then, this design would make a great home office idea for you. Meanwhile, the floating desk and a small chair match the scheme completely.
17. Working on a Bench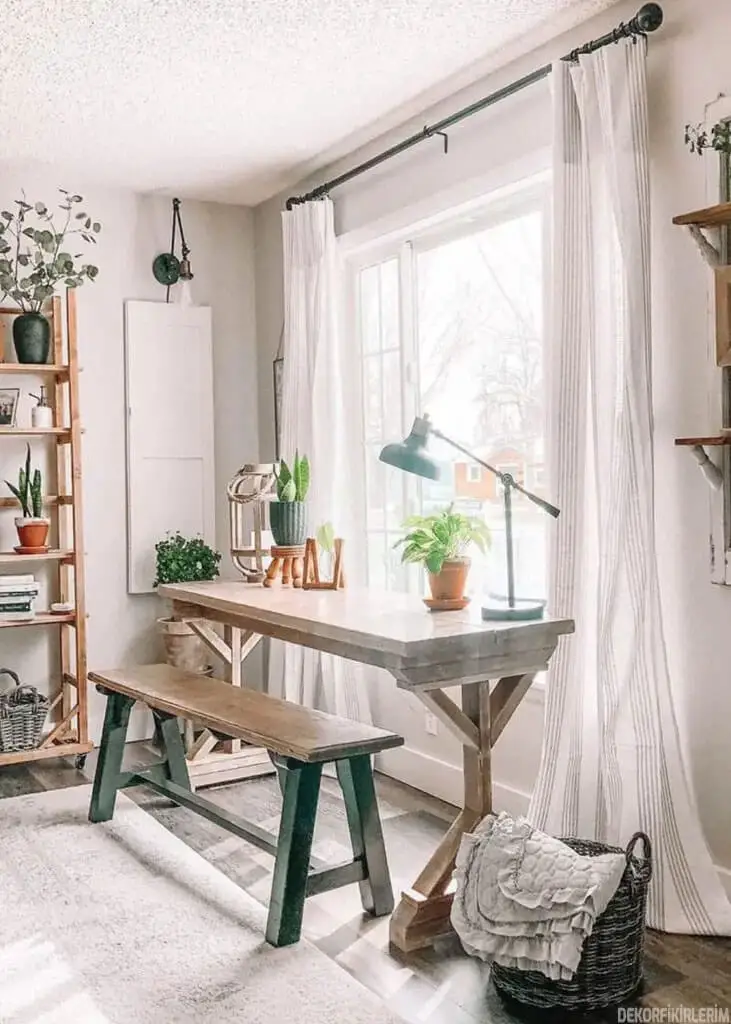 How about using a bench as the seating of the home office? Well, you should also use the longer size of a table. Hence, there will be wider space on the desktop. It must be so enjoyable.
18. Black Wall and White Furniture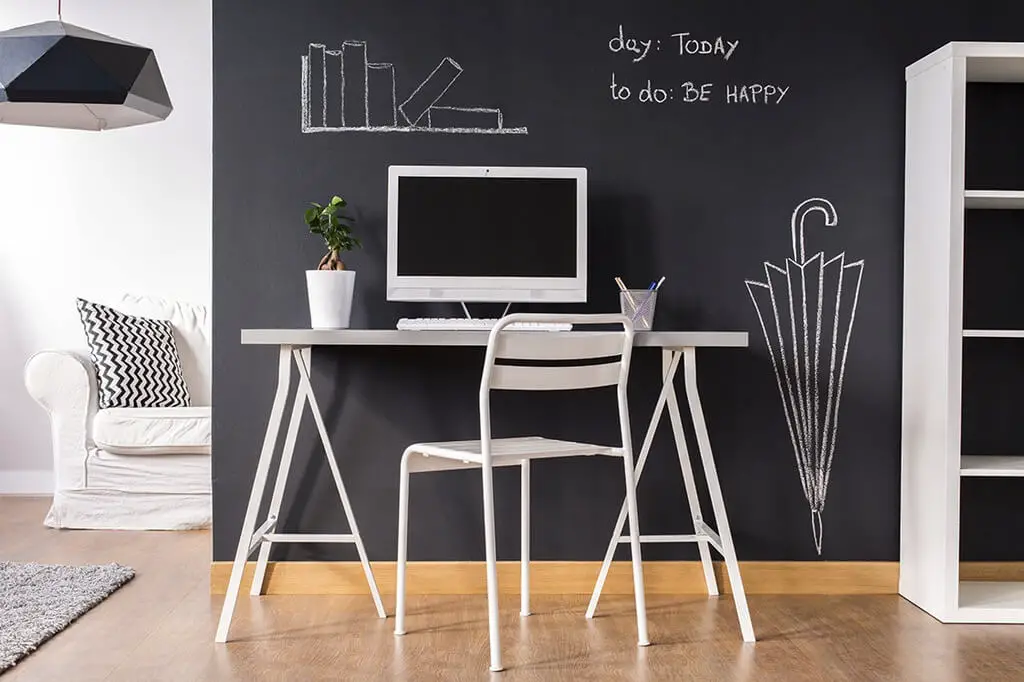 Black and white is an easy combination to go with. Therefore, you can just paint the whole wall black and fill the space with an all-white office set.
19. Light Blue Office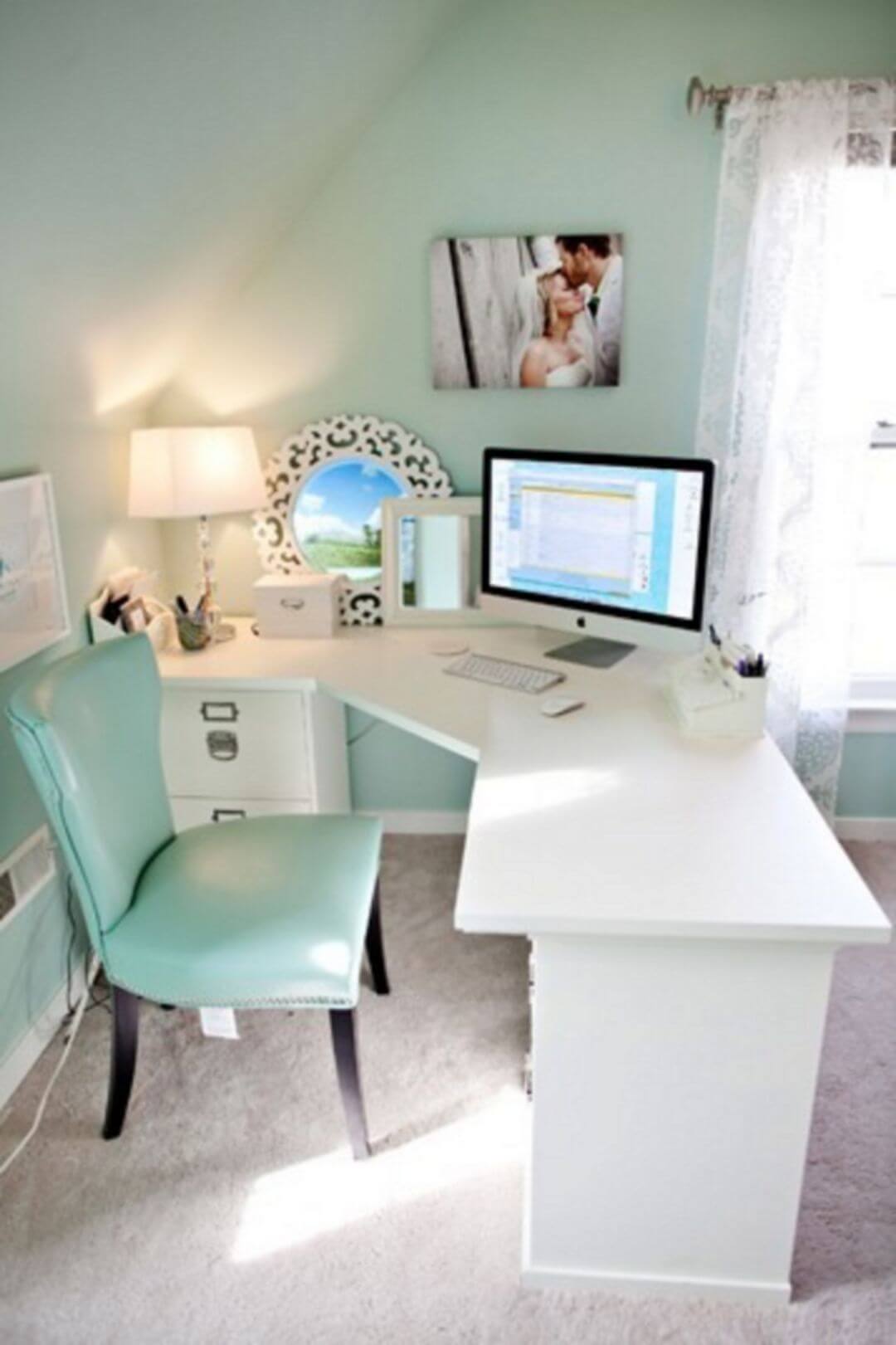 This small workstation consists of a light blue comfy chair and a white L-shaped desk.
20. Small Corner Station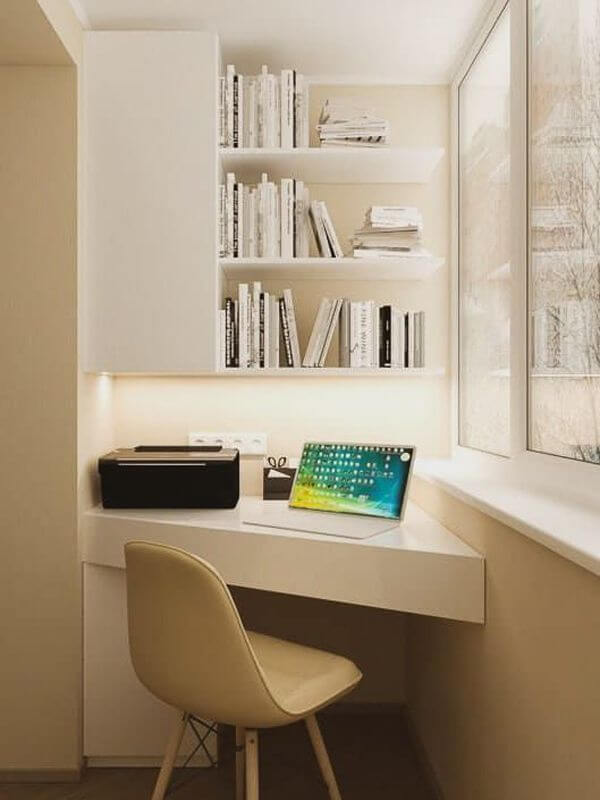 This built-in table is attached to the corner space. Hence, it is big enough for a small apartment.
Conclusion
After all, you do not have to look for home office ideas for women from other places, right?
Related posts: