Decorating a house is not merely about arranging your living room so that it looks clean and tidy. But also about creating a comfortable and pleasant personal space for your guests to sleep. That's why looking for some information about beautiful guest bedroom ideas won't go wrong.
Surely you don't want to make your friends cancel their overnight because the rooms are dirty and untidy, do you?
Thus, let's read this article until the end. That way, you will immediately get several unique and exciting guest bedroom ideas to try!
1. Simple Twin Bed with Industrial Table Lamp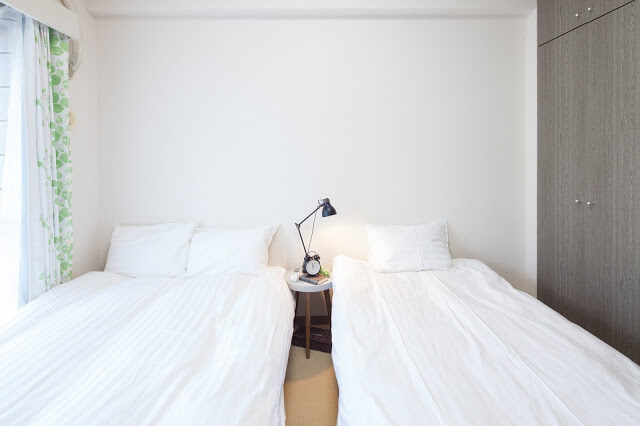 For the one who prefers a simple and affordable design, you can apply this concept in your guest bedroom.
Consequently, you need to set twin mattresses and give white sheets to make it look clean. Moreover, position a wooden stool right between them, then place an industrial desk lamp on it.
2. White King Bed with Wooden Floating Shelves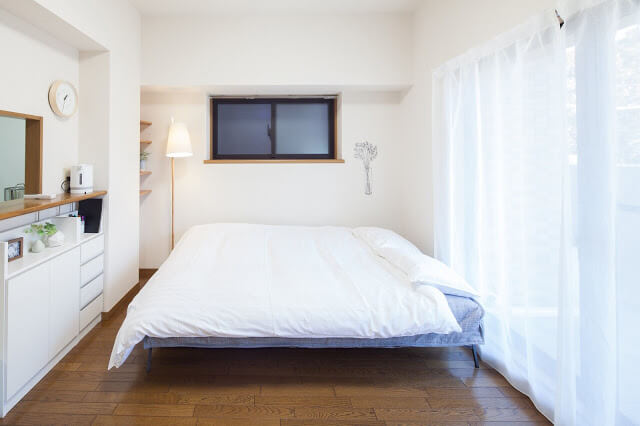 This combination of a white king bed with a wooden floor and floating shelves will not disappoint you. Moreover, this particular design will make your guest bedroom look natural.
3. Rustic Theme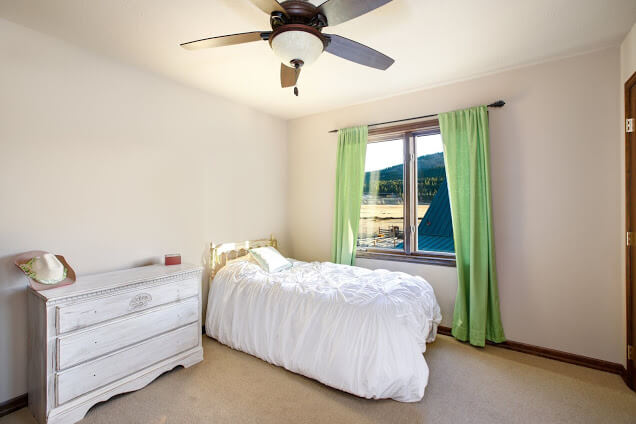 The rustic style is coming to town! Therefore, if you want to create a robust coastal vibe, you need to position your wooden bed and drawer close to the window.
That way, your guests can simultaneously enjoy the beautiful outdoor scenery in summer.
4. Cheerful Guest Bedroom Ideas in Yellow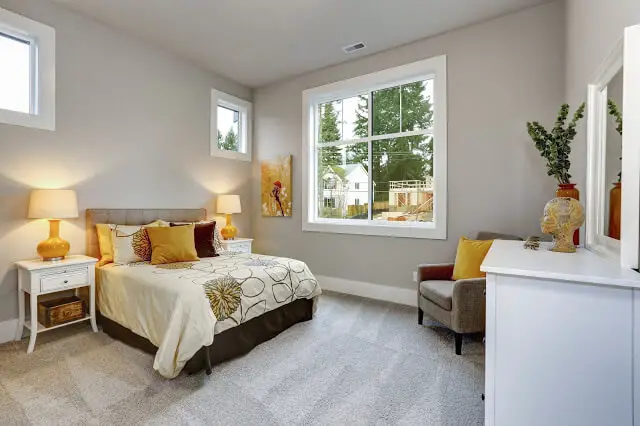 Give a touch of yellow and brown color on some items to create a cheerful look in your guest bedroom. Additionally, you can put a few ornaments on your dresser too.
5. Tufted Dark Brown Bed with Patterned Bedding Set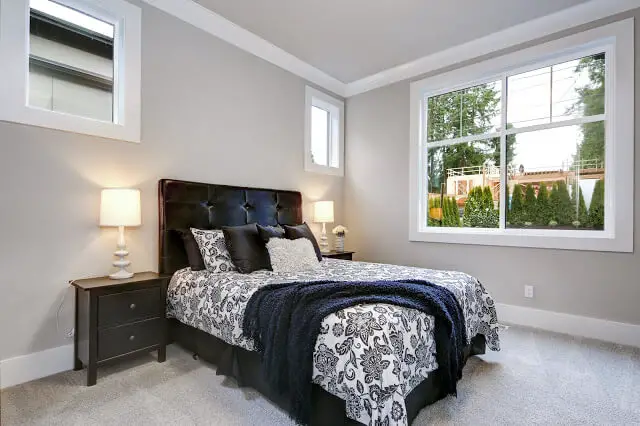 Do you aspire elegant guest bedroom ideas? Then, try this tufted leather bed frame concept. Color some of the furniture with dark brown, then leave the wall painted in light gray.
To strengthen the elegance vibe, you can also complete your guest bedroom with warm white table lamps.
6. Joyful Yellow Striped Twin Bed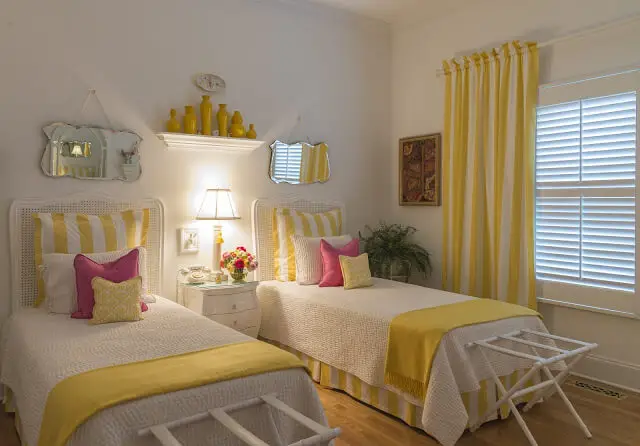 Besides adults, usually, you will also have teenage guests. Therefore, you can create a fun interior design with this yellow-white striped theme for teenagers.
To get the best guest bedroom wall decor, you can also hang two mirrors at the beds' top.
7. Display the Acrylic Painting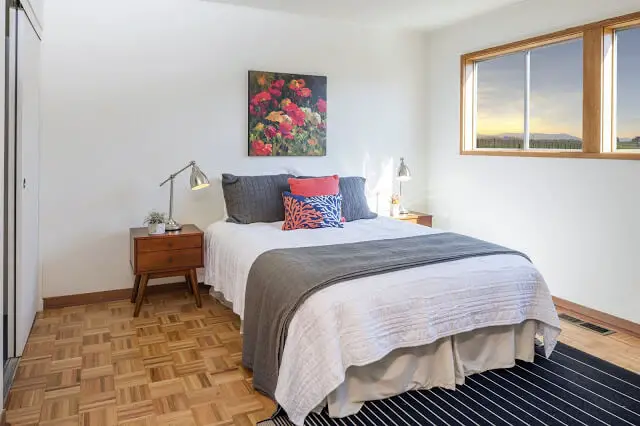 These guest bedroom ideas won't be complete without an accompanying artistic element. That's why you need to hang an acrylic painting so that your guests don't feel bored to stay in the room.
8. Give A Pop-Up Color & Mini Potted Plants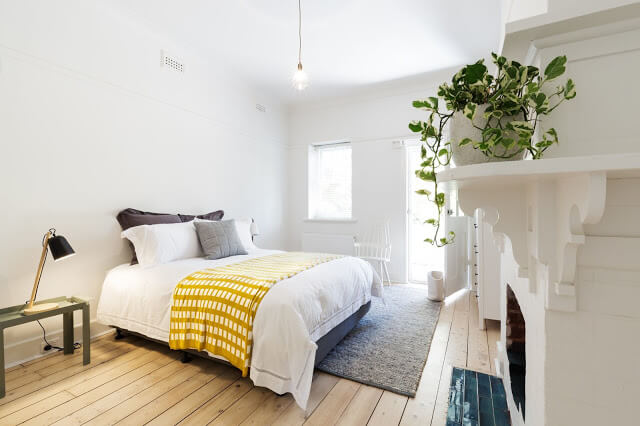 Everything in white and gray can never go wrong. However, it will be even more eye-catching if you give a pop-up color from your blanket and mini potted plants.
Read: Bohemian Bedroom Designs
9. Red and Blue Guest Bedroom Ideas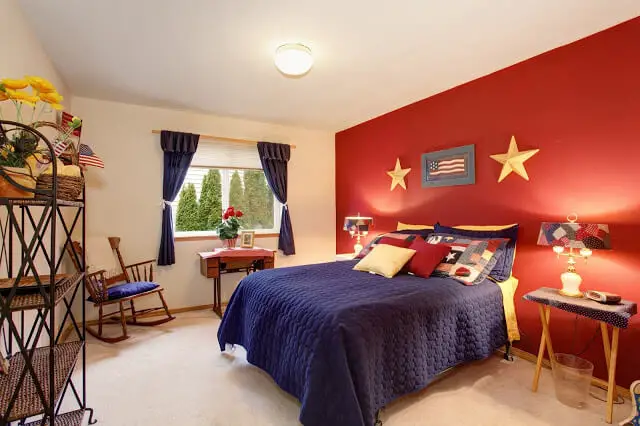 Accentuate your personality through wall paint in every room, including the guest bedroom.
Furthermore, by combining blue and red, your guests will know that you have a free personality. Additionally, you can also put some items that symbolize your favorites.
10. Guest Bedroom Ideas with Luxurious Look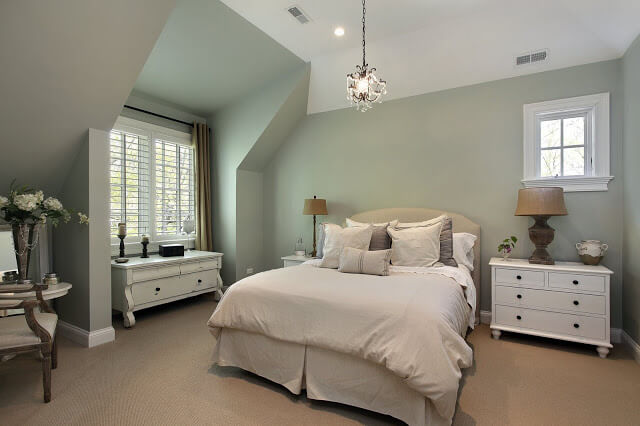 Create a luxurious atmosphere by adding furniture with classic designs and several items such as an antique pitcher, traditional pendant lamps, a big table lamp, and aromatic candles.
Read: Green Bedroom Ideas & Designs
11. Charming Peach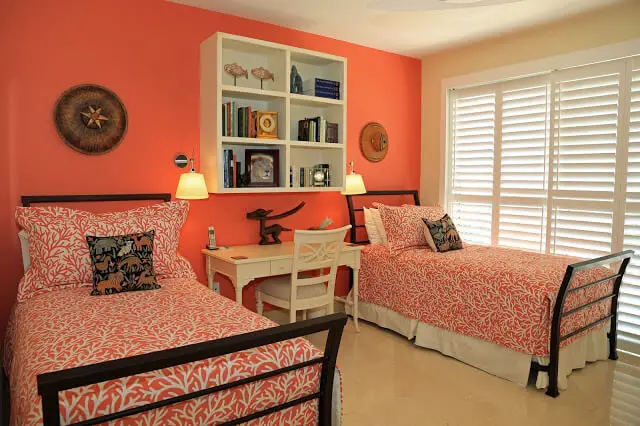 Paint your guest bedroom in peach and white. After that, install a white wooden wall shelf on one side of the room. As for your bedding sets, choose the color that matches the walls.
Ensure highlighting a few items, such as woven pillowcases with animal patterns or traditional carved wall decorations.
12. Vintage Metal Twin Beds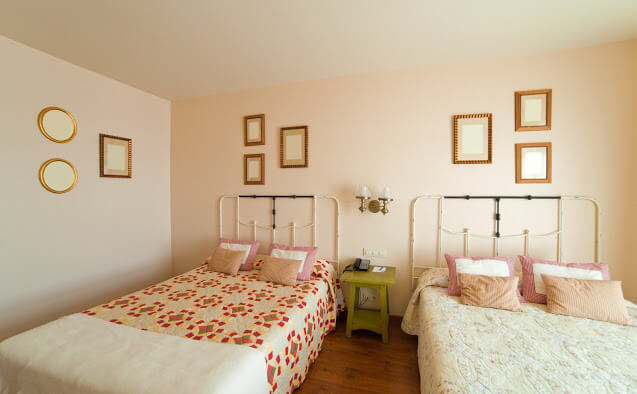 Many people ask, "how much guest bedroom ideas budgetthat needs to spend to make it as beautiful as desired?" Well, the answer is, it depends on your decision.
That is to say that you can create a beautiful and antique guest bedroom just by repurposing your old metal bed.
Moreover, by repainting its headboard in white and black, it will come back with a new look! Lastly, don't forget to hang some frames as decor.
13. Pink for Feminine Vibes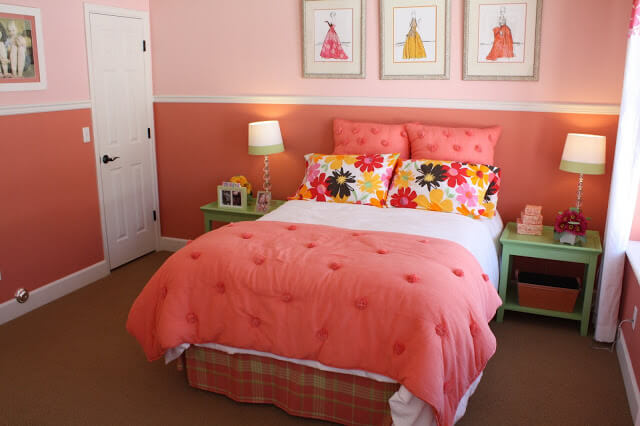 Looking for the guest bedroom ideas Pinterest inspired? Then use this interior design.
Firstly, you need to color the walls in layers with a pink gradient. But for those who like to sew, you can do your bedding set with the design you want.
Then, add small rose accents to the blankets and pillowcases to make it looks cute.
On the other hand, you can hang some frames that contain the dress design you drew as wall decor.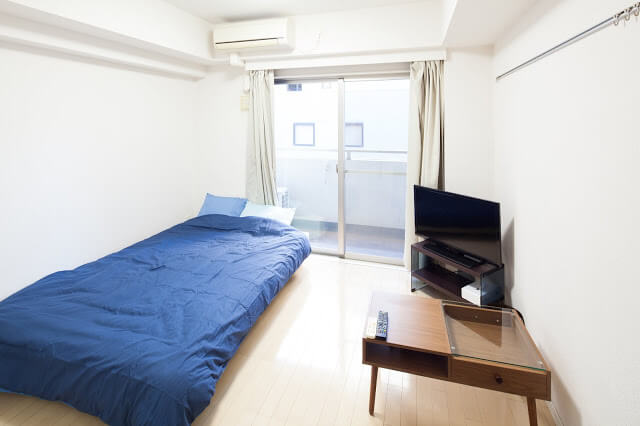 If you prefer a simple design, then choose a low platform bed to fill your guest bedroom. Additionally, you can pick coverlet in navy color to give a masculine vibe.
Also, to complete the interior, set a widescreen tv and a modern wooden desk.
15. Murphy Bed for Small Guest Bedroom Ideas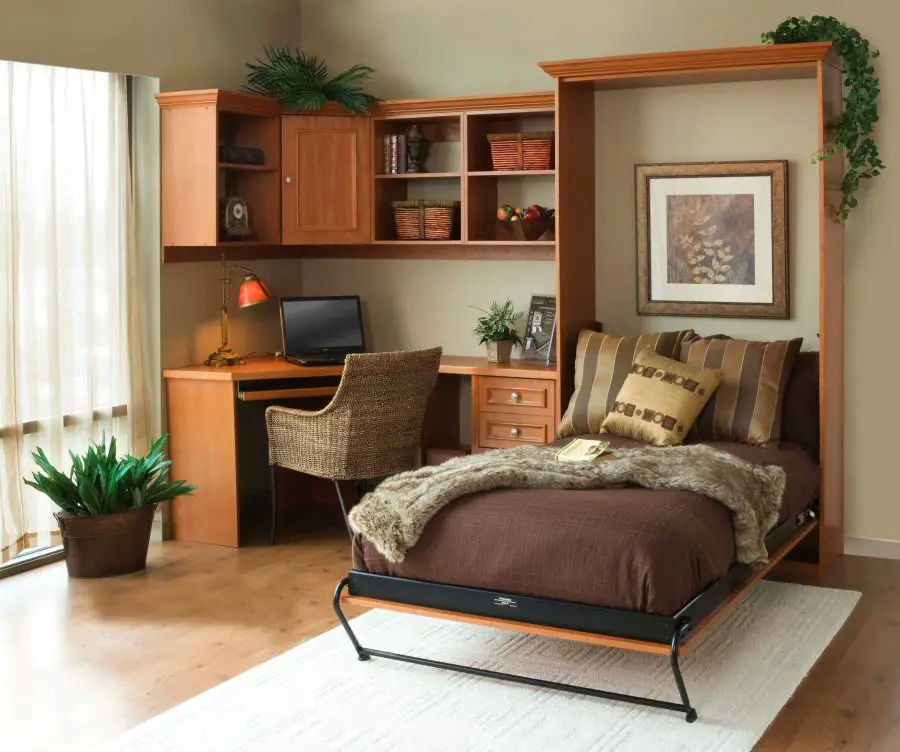 Are you curious about the guest bedroom essentials? Then, bear in mind that every bed-chamber needs a set of working desk.
But what if you have only a small space for it? As a result, you must install a murphy bed for your guest bedroom.
That way, your friends who plan overnight at your home get a perfect combo of sleeping beds and a working space at once.
Now that we've shared all about guest bedroom ideas, have you found your favorite?
Related:
PIN it for later!!