A hot tub is a luxurious way to cap off a long, tiring day. It's no wonder many homeowners are turning to spas nowadays.
But there's one question that stumps many prospective customers: what's the difference between 110v and 220v hot tubs?
Well, you've come to the right place!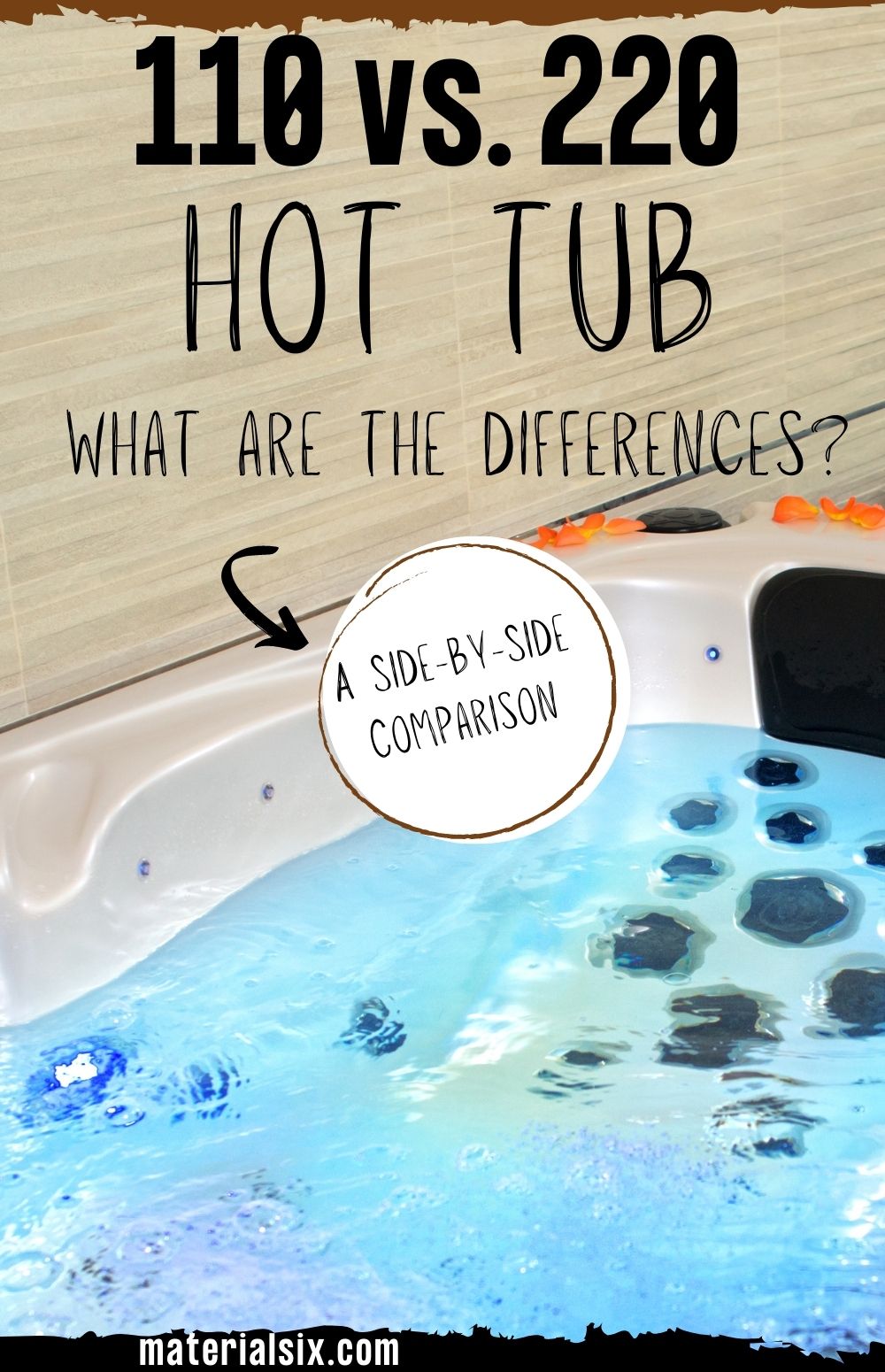 In this article, we tackle the difference between 110v hot tubs and 220v hot tubs to help you choose the right one for your needs.
110 Hot Tub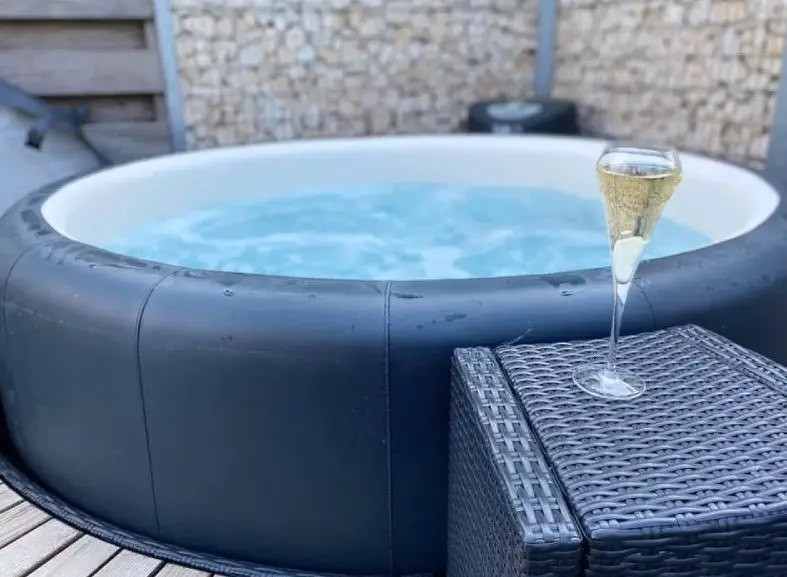 110v hot tubs are known as your standard hot tubs.
Typically referred to as plug-n-play hot tubs, you simply fill this 110-volt hot tub and plug it into a regular outdoor outlet.
Take your 110v hot tub with you and enjoy a spa experience ANYWHERE because you can easily move it between locations!
You can easily rearrange your backyard to fit a 110 hot tub.
Even if you're simply renting a house, you can enjoy a relaxing soak in your hot tub since you don't need to alter any electrical wiring.
110v hot tubs use as little energy as possible, making them relatively cheaper than 220v hot tubs.
Pros
Easy installation
Portable
Affordable price point
Compatible with standard US outlets
Cons
Longer heating time
Wears out more quickly
Not ideal for colder climates
Consumes more energy
Struggle with power features (e.g., lights, jets)
220 Hot Tub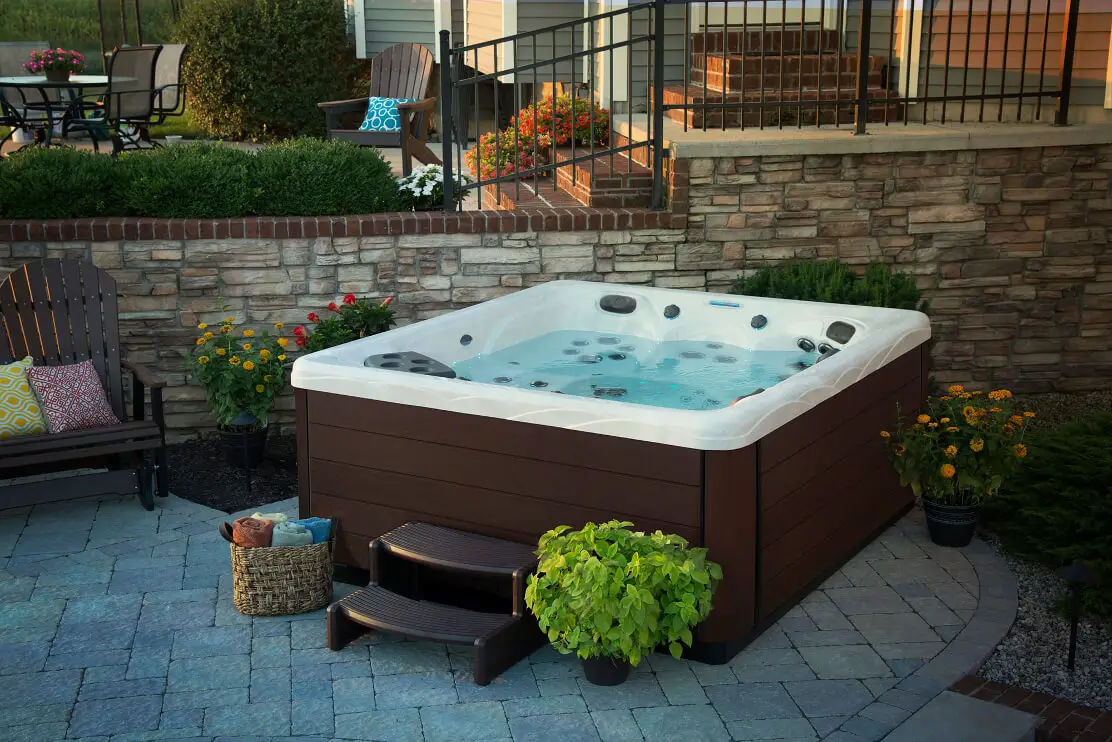 What if you convert a 110-volt hot tub to a 220-volt hot tub?
For starters, it will have twice the voltage power compared to a regular hot tub.
With more power comes a bigger hot tub! A 220-volt hot tub can accommodate large groups of about 5 to 6 people.
You can run a heater, massage jets, and multiple pumps SIMULTANEOUSLY with a 220v hot tub due to its higher voltage power.
It also means that a 220v hot tub has a larger heater, which can warm water faster and retains heat regardless if the jets are high or low.
You don't have to worry about your energy bills either!
This hot tub's large heater makes it more energy efficient.
It maintains high jet pressure and temperature at your desired level, so you can keep soaking as long as you want. Perfect if you live in a colder climate!
Converting into a 220v hot tub doubles the efficiency and performance of your spa.
Pros
Maximum heat retention
Energy efficient
Can run multiple features simultaneously
Allows Wi-Fi and Bluetooth connectivity
Cons
Expensive
May require additional electrical work
Higher installation costs
Not portable
110 vs. 220 Hot Tub: A Side-by-Side Comparison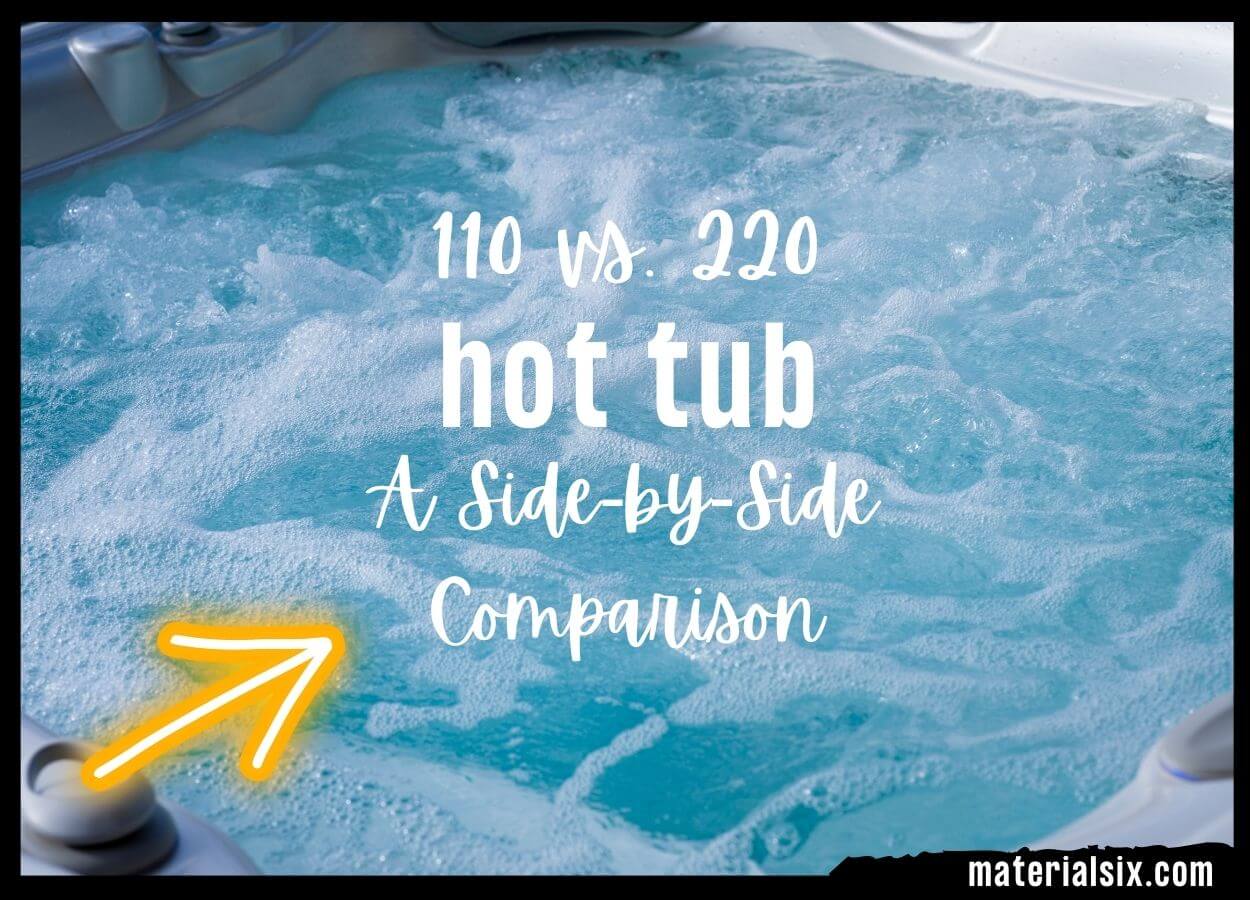 So, how do the 110v and 220v hot tubs stack against each other? Let's find out!
1: Cost
Hot tubs can cost between $3,000 to $10,000 on average. The price of hot tubs largely depends on size, quality, features, and design.
When we compare the size and features of both hot tubs, it's clear that 220v hot tubs are on the higher end of the pricing spectrum.
On the other hand, 110v hot tubs are comparatively smaller with fewer features. It's the more budget-friendly option between the two choices.
If you simply want a relaxing spa without leaving a hole in your wallet, a 110-volt hot tub will do just fine.
But if you prefer a hot tub with all the bells and whistles, be prepared to shell out for a 220-volt hot tub.
2: Installation
220-volt hot tubs require additional hardwiring by a licensed electrician. It needs to be hard-wired into your home's electrical system before you can use it.
As a result, they are quite difficult to move around.
110-volt hot tubs are called plug-n-play tubs for a reason.
With a plug-n-play spa, you get a fast set-up without needing a licensed electrician to hard wire your unit.
Just fill the 110-volt hot tub, plug it into a regular outdoor outlet, and play!
The 110-volt hot tub is ideal if you rent your home or live somewhere with many restrictions.
If you can use a 220-volt service wiring for your electrical appliances, you can opt for a 220-volt hot tub instead.
3: Jet Performance
The idea that modifying your spa to a 220v hot tub will give your tub powerful jets is completely false.
There is no effect whatsoever on the jet power, regardless of your chosen voltage. Whichever spa you choose, there's no difference in jet performance.
However, 110-volt hot tubs can struggle with maintaining jet pressure if you use it alongside other features simultaneously.
4: Heating
When you convert your spa to a 220 hot tub, your heater gains MORE power. Due to the added power, it can heat the water more efficiently.
Many 220-volt hot tubs come fully insulated, so your spa can keep water hot for as long as you want!
A 220 hot tub can heat water even with jets on high or low. Meanwhile, 110v plug-n-play hot tubs can only heat water while on low jet settings.
Because a plug-n-play tub has less power, it requires more electricity to heat water. It's actually less efficient than a 220v tub.
While a 220v tub can heat water faster, it's only a benefit when you're initially heating the water.
Both hot tubs can keep the water hot as long as you want.
Frequently Asked Questions
If you're still unsure which hot tub to get, below are related questions that may help you.
Are 220 Volts More Efficient Than 100 Volts?
Contrary to popular belief, there's no difference in energy usage between these two tubs. It's because an electric meter measures energy usage per watt-hour, not volts.
You still consume the same amount of power whether you're using a 220-volt or a 110-volt tub, just at different rates.
What Affects Electricity Cost When Using a Hot Tub?
What gets reflected on your electric bill depends on a few things:
Location

– Hawaii, New Hampshire, Connecticut, Massachusetts, and California are the top five states with the

highest residential electricity rates

in 2022

Climate

– Regions with colder climates incur higher energy costs due to heating demands, while temperate regions might need more cooling during hot weather

Tub insulation

– Poor insulation means more electric output is needed to keep water hot

Tub size

-A large-sized tub would require more water, which means it needs more electricity to heat up
Final Verdict: Which Should You Get?
If you want an affordable hot tub that you can simply fill up and plug, a 110v hot tub is your best bet.
However, if you're willing to spend on a hot tub with a large heater and all the additional benefits of an increased voltage, go for a 220v tub.
With a 220v tub, you can enjoy many features simultaneously without the long wait to heat water all the time.
Conclusion
When it comes to 110v and 220v hot tubs, it's all down to the wire.
110v and 220v tubs have strengths and weaknesses that may suit some people more than others.
Remember, a hot tub is a major financial investment.
Whether you plan on buying online or in-store, choose the right kind of tub for your needs. We hope this article has helped you make an informed decision.
More from Materialsix.com: