Do your family members want to comfortably enter a hot tub and relax during their free time?
Do you want to spend quality time with your partner in the convenience of your backyard?
A hot tub might be exactly what you need!
A hot tub offers several health benefits, such as muscle relaxation, pain relief, and improved sleep quality.
But what are the standard hot tub dimensions for 6 persons? We'll dive into all the details in this article, so read on!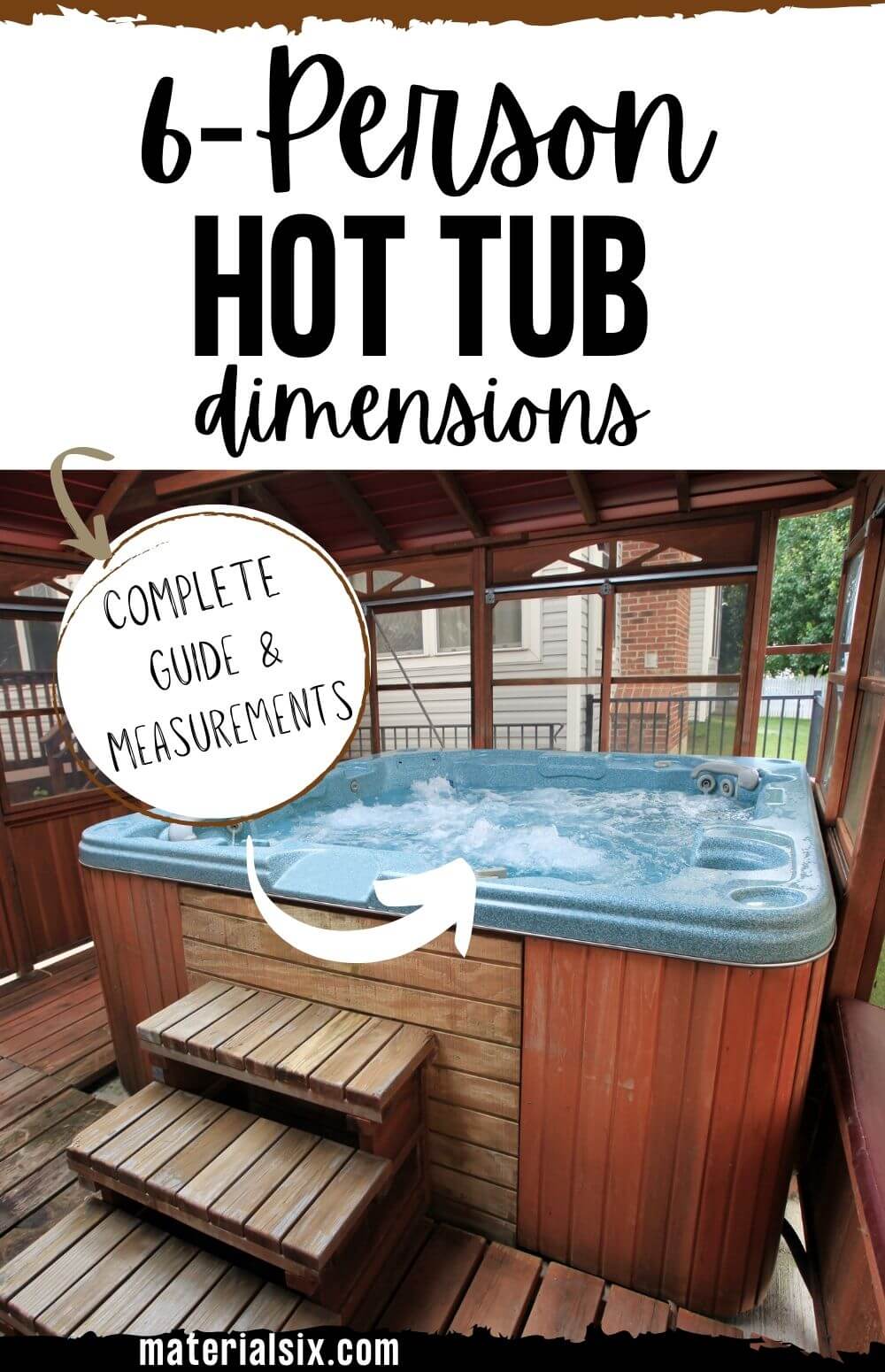 What Are the Dimensions of a Six-Person Hot Tub?
The common dimensions of 6-person hot tubs are the following:
Length:

7 to 9 ft

Width:

7 to 9.2 ft

Height:

3 to 3.2 ft
However, hot tubs vary depending on the models, and some might have a greater width and decreased length.
BUT! You don't have to worry because the dimensions mentioned above guarantee you can have fun with 6-8 friends on your patio.
A small-size hot tub is NOT ideal if your family consists of six, seven, or more people. With this, you must purchase a new hot tub that can cater to everyone and offers relaxation.
On top of having the right tub dimensions of an empty hot tub, you must consider how much room it has, if it is made of a concrete pad, and has comfortable seating options.
With this, you can comfortably fit and entertain your friends as you have the right hot tub size.
How Much Water Can a Six-Person Hot Tub Contain?
If you have a 6-8 person hot tub, you must consider how much water it would take to fill it. Unlike medium and small hot tubs, large hot tubs need TONS of gallons.
You might need 300 to 600 gallons of water for a six-to-eight-person hot tub. We know you might say it is exaggerated, but trust us if you want to entertain your visitors.
Additionally, a large hot tub is ideal for large spas. This is what many homeowners love because it offers enough space for much-needed de-stress sessions!
How Heavy Is a Six-Person Hot Tub?
Large hot tubs generally weigh 500 to 1000 pounds when empty but can weigh up to 5,000+ pounds when filled with water and visitors.
The weight of the hot tub is CRUCIAL, especially if you're planning to buy a spa. With this, you must consider the location of the spa ahead of time.
This will ensure your selected deck can support your spa!
How Much Space Do I Need to Set Up a Six-Person Hot Tub?
Having a large hot tub size means taking up too much space more than expected. Different building codes are needed to support the large hot tub.
Below are the needed space requirements for large hot tub sizes:
A flat space

– A flat space is an area designated for installing a surface pad to support the hot tub dimensions and weight capacity.

A space for the hot tub electrical panel

–

A 5 ft distance for the electric panel (heater) is also needed to ensure safety.

A space for proper drainage

–

An area for drainage is also essential if you have a hot tub. Working drainage lets you drain all the water when the hot tub is not in use.

Additional space for cover installation

–

It is suggested to have an extra foot to install the hot tub seat cover.
Also, you might need EXTRA space for a pump and filter if your hot tub doesn't have these features. Hence, it is vital to be keen on the spaces needed for hot tubs.
What Are the Different Layouts of a Six-Person Hot Tub?
You can lay out your six-person hot tub in different ways. The most common arrangement for hot tubs with bigger dimensions is jet seats in all four corners.
However, if you have a large hot tub, you can also have a lounge seat (jets) with two additional seats in each corner.
The hot tub's dimensions are vital for the layout as they will be the basis for arranging seats. Always remember to choose what offers you extreme comfort and convenience.
Other Hot Tub Sizes to Consider
There are also different hot tub sizes you can choose if you want to install a hot tub on your patio. Make sure to select the right size according to your preferences and needs!
Here are the three categories:
Small Hot Tubs

–

Small hot tubs are IDEAL if you have limited space, but they only have hot tub seats for 2-3 people at most. The dimensions of a small hot tub are

7ft x 5ft x 2ft.

A range of 250 to 300 gallons of warm water is only needed to soak your body fully. A small hot tub filled with water can weigh up to 500 to 1000 pounds.

Medium Hot Tubs

–

If you need enough hot tub seats for a medium-sized group, you'll need a bigger space than the small one. A medium-sized hot tub has dimensions of

7ft x 7ft x 3ft.

A medium hot tub is considered a 4- or 5-person hot tub and nothing more. A range of 300 to 450 gallons of water is needed.

Large Hot Tubs

–

If you want enough room for even more visitors (6-8 persons), larger hot tubs might be for you! It has a

max length and width of around 9 ft.

Standard large models require 375-600 gallons of water to fill the depth.
TAKE NOTE: The square footage of your backyard must be considered first before choosing a dimension for your hot tubs. With this, you won't encounter problems in building your spas!
How to Choose the Best Hot Tub Size for You
There are several factors you must consider if you are planning to purchase a hot tub:
#1 Seating Capacity
The question of "how many seats do I need for my hot tub?" is undoubtedly your main concern. Knowing how many people you need to accommodate is the first factor to think about before buying!
Choose small spas if you want two or three people to join in your hot tub. A two or three-seater is ideal for couples who want to have a romantic date night at the convenience of their home.
Also, two-person hot tubs are energy-saving because they only need one heat pump.
On the other hand, you can opt for a four-person hot tub model if you have a large friend group.
A four-person model is trendy on the market because it accommodates everyone and is energy-saving. A 4-person hot tub needs at least 50 to 60 jets, equating to 20 jets per person.
Finally, 6-8 person hot tubs are for you if you need to accommodate even bigger groups of family and friends.
#2 Shape
A hot tub spa comes in different forms and shapes. You can opt for a square, rectangular, round/circular, or triangle.
We suggest choosing the rectangular shape if you want more entry and exit points.
#3 Material
An important factor to consider when choosing the best hot tub spa is the material. Your hot tub model must have a STURDY foundation.
This ensures that the filled water and the people inside the hot tub can be supported.
We suggest purchasing a hot tub made with acrylic shells, as they can support the shape, the seat, and the people inside the tub regardless of weight.
#4 Installation
No one wants a hot tub that's hard to install.
With this, your hot tubs must have convenient installation technology so you won't have difficulty installing it or require much assistance.
Frequently Asked Questions
What Is the Standard Size of a Hot Tub?
The standard hot tub sizes on the market range from 6.5 to 7.8 feet in length and width.
The water depth and seat of the spa may vary according to its width.
How Many People Does a 7×7 Hot Tub Fit?
A 7×7 hot tub can fit 6-8 people on its deck. Because of its wide width, the spa has numerous seats that can cater to bigger groups of people.
What Is the Typical Lifespan of a Hot Tub?
Hot tub spas can last for 5 to 20 years, depending on how it's used. If the spa is well-taken care of and maintained, it can last longer than you think!
Conclusion
Hot tubs are the best option to de-stress after a tiring day. It offers hydrotherapy that allows your muscles to relax and ease joint pains.
Also, you can invite friends and spend time in the comfort of a hot tub seat!
If you're keen on buying for your home spa, make sure to consider how much space you have at home and choose the correct dimensions for your needs!
More from Materialsix.com: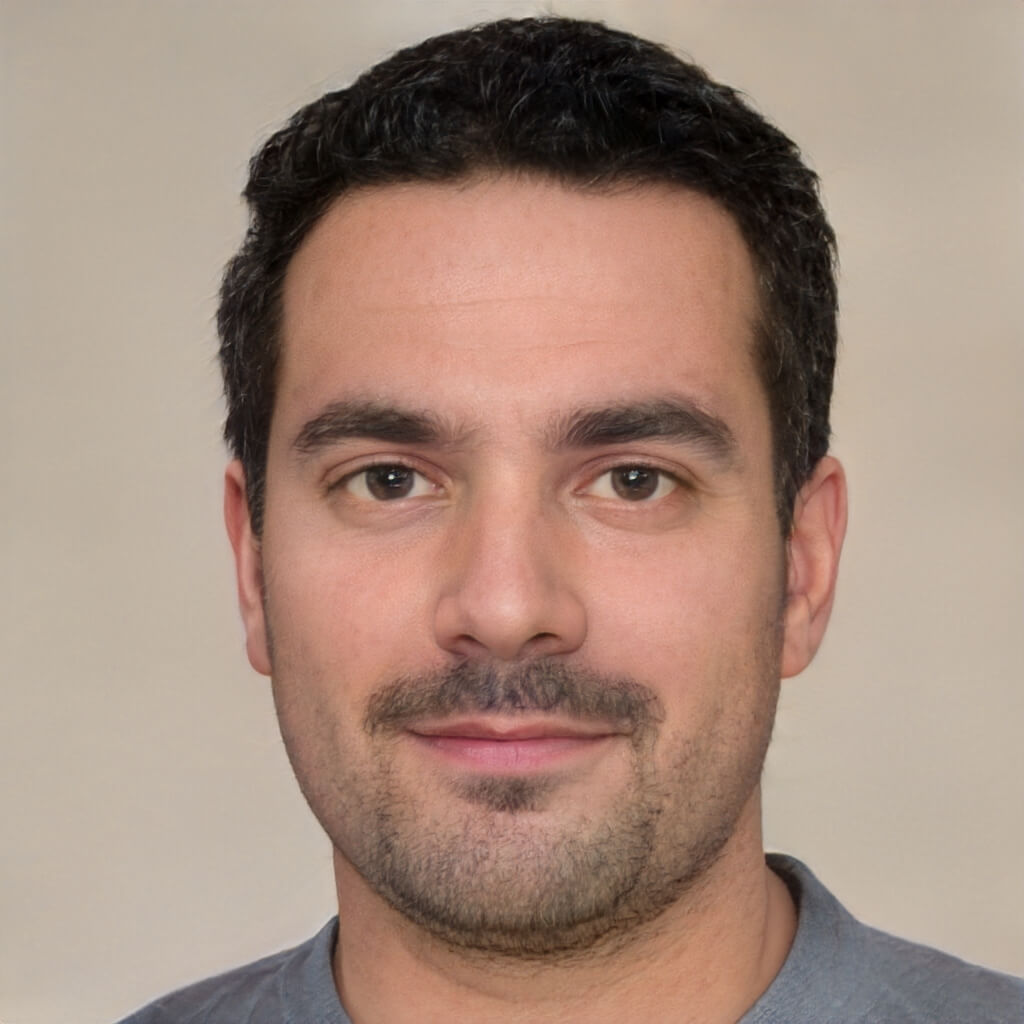 I'm a passionate home and garden enthusiast and the founder of Materialsix Home. With over 10 years of experience in the field, I've cultivated a deep love for all things related to home improvement, gardening, and interior design. Read more…