Before you pick up a new hot tub, you'll need to ensure you can install it properly first!
You've got a lot of choices when picking hot tub bases, but the classic concrete pad has the best and most solid base for hot tubs.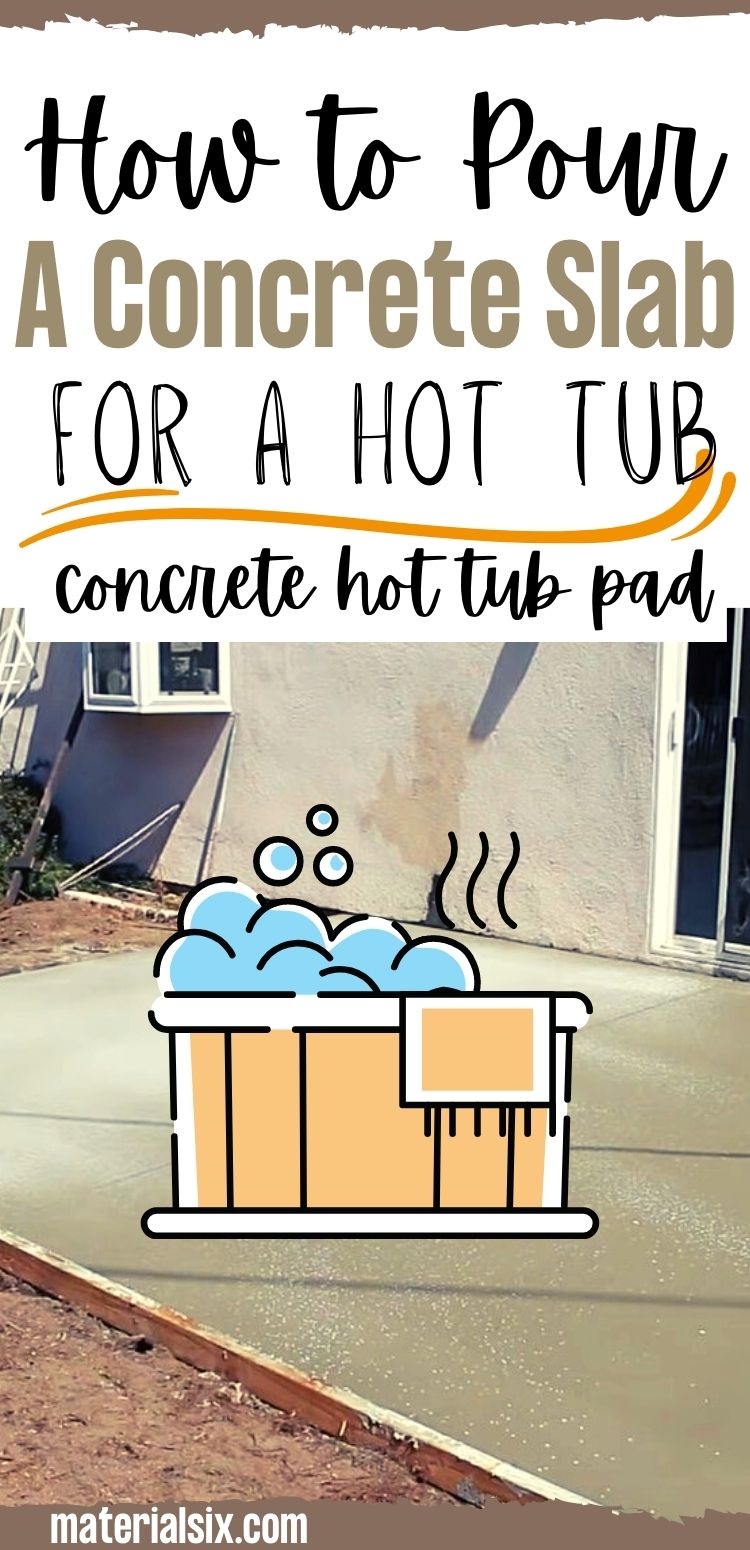 We're here to make hot tub installation easier!
6 Steps on How to Pour a Concrete Slab for a Hot Tub
Follow these tips to install a new hot tub safely!
Step 1: Scope Out a Location
The location of your hot tub base is just as important as the installation process. You can't just pick any old patch of ground and start pouring!
Ensure your hot tub has a base instead of putting it directly on bare grass so it won't sink or destroy the grass.
Do I Really Need a Base and Frame?
If you still want a hot tub but want to skip the hassle of digging out a frame and laying concrete, you can get an inflatable hot tub instead.
Otherwise, yes, you need a base and frame.
Step 2: Prep and Permits
Before you can create a hot tub base, check in with your local authorities for permission first. You may need a permit before your project can begin!
You'll need to finish site preparations before moving on to the first step of hot tub base installation. This means clearing the dirt of obstructions like large stones and tree roots.
Ensure that the site of your hot tub is perfectly level and prepared for a concrete pour. Check the ground for holes and fill out any you see with gravel or soil.
Step 3: Get Digging
It's time to dig out a patch of ground for your hot tub base. We recommend digging to a depth of 4-6 inches.
Don't dig too deep since your hot tub base still needs solid soil underneath it for more support.
Step 4: Wood and Gravel
Now you'll need wood boards to help your hot tub base keep its form. Be precise with the measurements of this frame, so you don't have to start over later!
Grab some wooden stakes and use them to stabilize your wooden frame, then grab a level.
Check that your hot tub base is even before you start pouring, then lay down 1-2 inches of gravel or sand for your hot tub base!
Step 5: Pouring and Flattening
Once you've got a layer of sand down, it's time to pour the concrete!
Ensure that your concrete fills out each edge of your hot tub base. Spread it into the corners if necessary and get any air bubbles out.
Flatten the surface of your hot tub base with a trowel or a wooden beam. Either will work. Your concrete slab needs a level surface to support your hot tub base properly.
Step 6: The Waiting Game
After pouring out your concrete slab, cover it properly and let it sit for a few weeks as it solidifies and forms around the frame.
We recommend waiting for 30 days or more to ensure it's fully dried.
You can help it stabilize further by curing it. This extra moisture will strengthen your hot tub's concrete base and help it become more crack-resistant.
What Should You Consider Before Using a Concrete Hot Tub Pad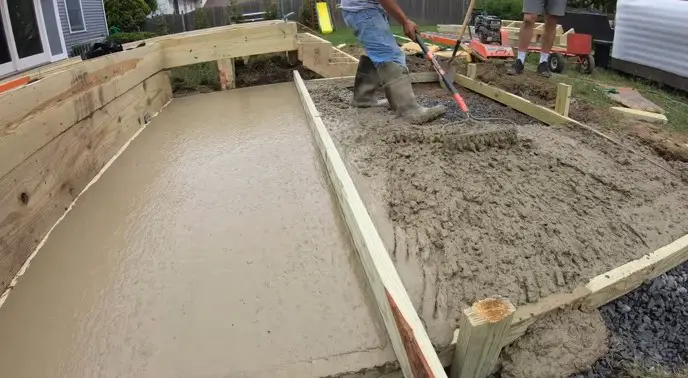 Here are a few things to remember before installing a concrete hot tub base.
Convenience and Maintenance
Your hot tub's no good if it's too far from your house, so place it somewhere close, but not too close!
It'll need some extra space around it in case you need to drain rainwater and any overflow away from your hot tub's base.
Materials
Before starting your project, ensure you have the right materials first! You'll need lots of crushed stone for your hot tub base.
Don't make the mistake of buying pea gravel. Pea gravel's a poor material for bases because it shifts around.
Weight
Regardless of the material you use, your hot tub base has to support the weight of the entire hot tub and a few people.
A fully-filled frame plus occupants can reach a weight of over 6,000 lbs! This can increase to 8,000 lbs, depending on your hot tub's size.
If you have an existing deck that needs a hot tub, check its height first. If it's raised 2 feet or higher, it'll need posts as additional support.
While decks are great for the view, your standard deck probably can't handle the load of a full hot tub. Have your deck checked for structural stability first.
How Thick Should Your Concrete Slab for Hot Tub Be?
In most cases, a hot tub base should be made from a new concrete slab. As the foundation for your hot tub, the base will need to be extremely durable and provide proper stability.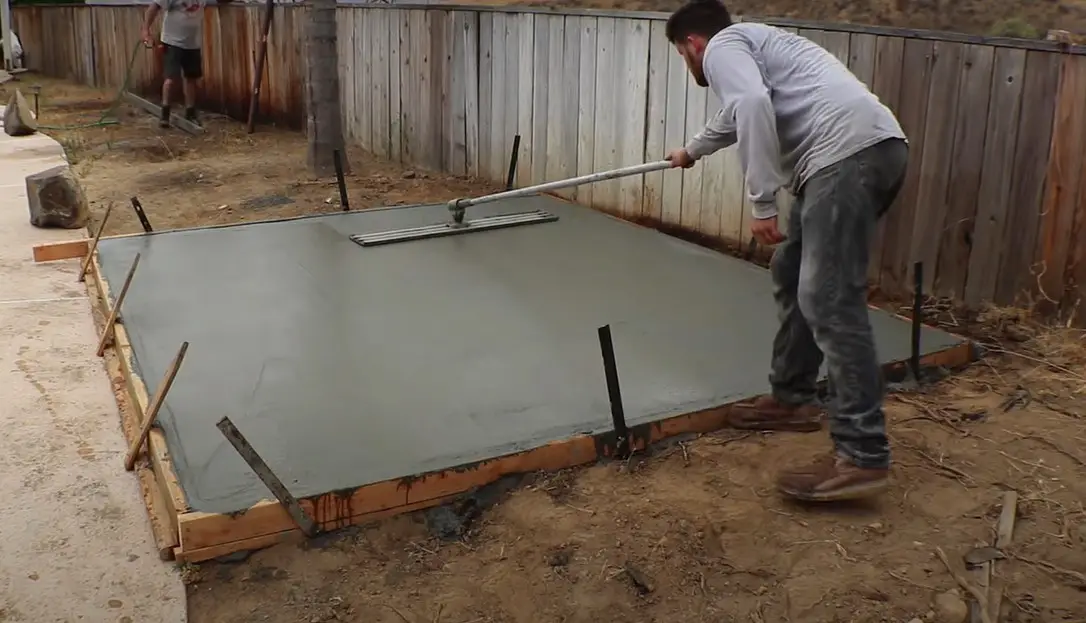 A hot tub base needs to be at least 4 inches thick before it can hold a hot tub's weight.
Alternative Hot Tub Pads
If concrete isn't for you, but you still want a hot tub, here are a few alternatives!
What About a Spa Pad Instead?
If you don't want the permanence of concrete slabs, you can use a spa pad instead! Spa pads are easier to install than a concrete slab and can be fully formed over bare dirt.
Like other bases, a spa pad will give the most support when placed on a completely level surface, so clear the ground of any obstructions and fill in any gaps with gravel or soil as needed.
Skip the Hassle With Pavers!
If you have an outdoor patio or a deck with a view, you can take advantage of the scenery and install a few pavers for a nice, sturdy hot tub base.
However, it's extremely important to get flat and interlocking pavers. This will ensure that your hot tub will be level and reduce the chance of the pavers cracking your hot tub.
Pavers are a great choice for a hot tub base, but they're more difficult to install than a concrete slab since you'll need 6 inches of gravel, 1 inch of sand, and then the pavers.
Go for a Gravel Pad
Another great option apart from a concrete foundation is a gravel hot tub base. We recommend this if you want your hot tub to last!
Build a wooden frame to house your hot tub base, then work out how many cubic yards you'll need for 4 inches of gravel. Remember to use real gravel for a more compact base.
Frequently Asked Questions (FAQs)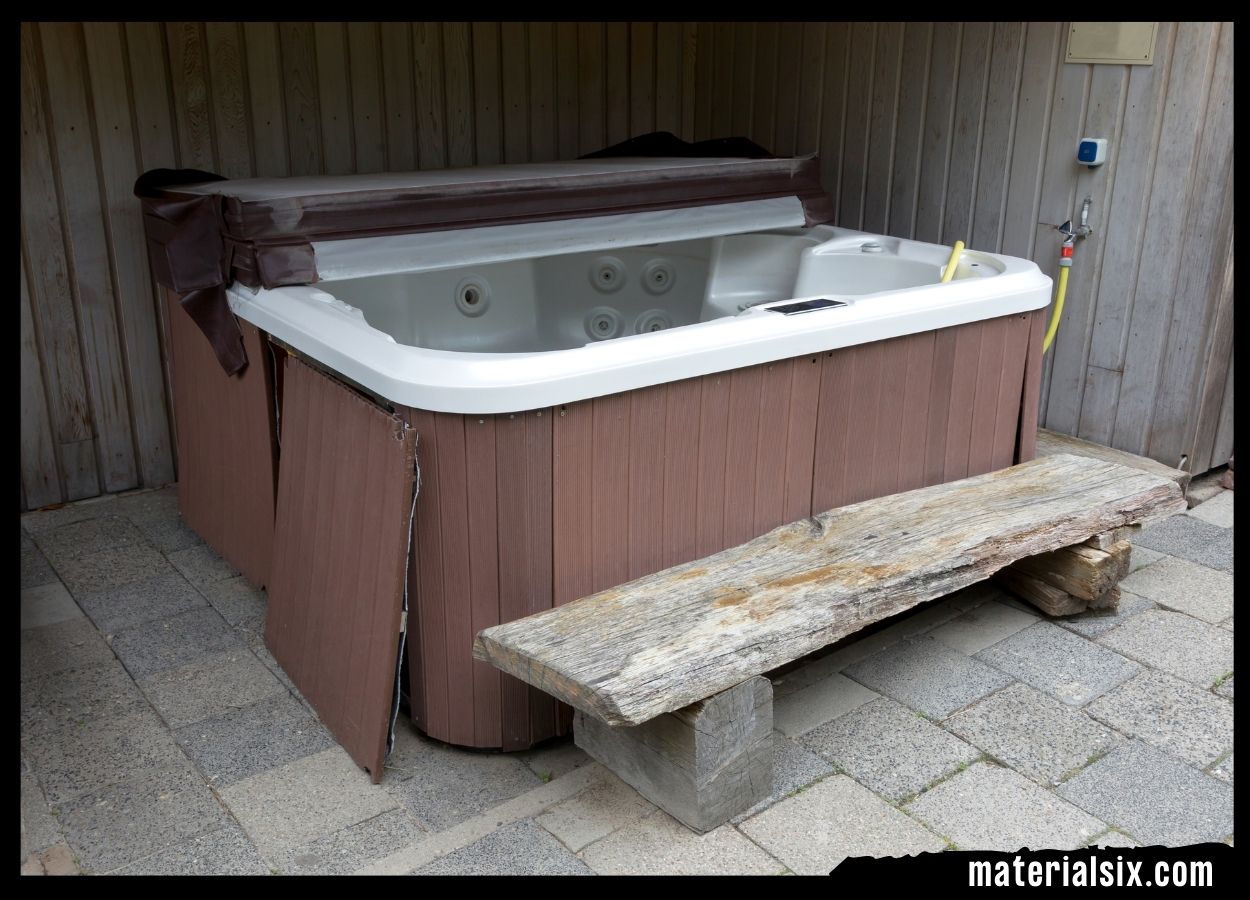 Check out this section for more info about concrete hot tub slabs!
How Much Does It Cost to Pour a Concrete Slab for a Hot Tub?
Installing a concrete slab alone for a hot tub will run you about $5-$10 per square foot or anywhere from $500 to $2500 for just the hot tub base.
One cost-effective solution is to mix and lay down the hot tub base yourself, but we recommend at least having a friend to help.
What Concrete Should I Use for a Hot Tub Slab?
You'll need quick-drying and crack-resistant concrete for your hot tub base. This will help your hot tub last longer and make the construction process faster.
Before pouring your base, mix in a waterproofing agent to compensate for your base's porousness and reduce the chance of leaks!
How Is a Hot Tub Different From a Swim Spa?
Let's clarify: hot tubs are mainly for relaxation and socializing. Swim spas offer the same benefits as a hot tub but with the shape of a swimming pool.
Get a swim spa if your family is more active. Otherwise, ditch the swim and keep the "spa" with a nice relaxing hot tub.
Conclusion
It's a bit of a hassle, but you need to get your hot tub base in order before you can start enjoying your lovely hot tub!
Once you've finished pouring, don't let your hot tub base sit in the open! Cure it and cover it to help strengthen the surface.
Other articles you might like: