Lately, more and more people choose corner kitchen cabinets as a way to beautify and increase efficiency. Besides containing high aesthetics, this furniture helps to take advantage of space that was initially difficult to use.
However, sometimes using corner cabinets is also not easy to do. You may encounter several obstacles when applying it in the kitchen. If you face this situation, try implementing some of the smart ideas below:
1. Blind Corner Kitchen Cabinets Ideas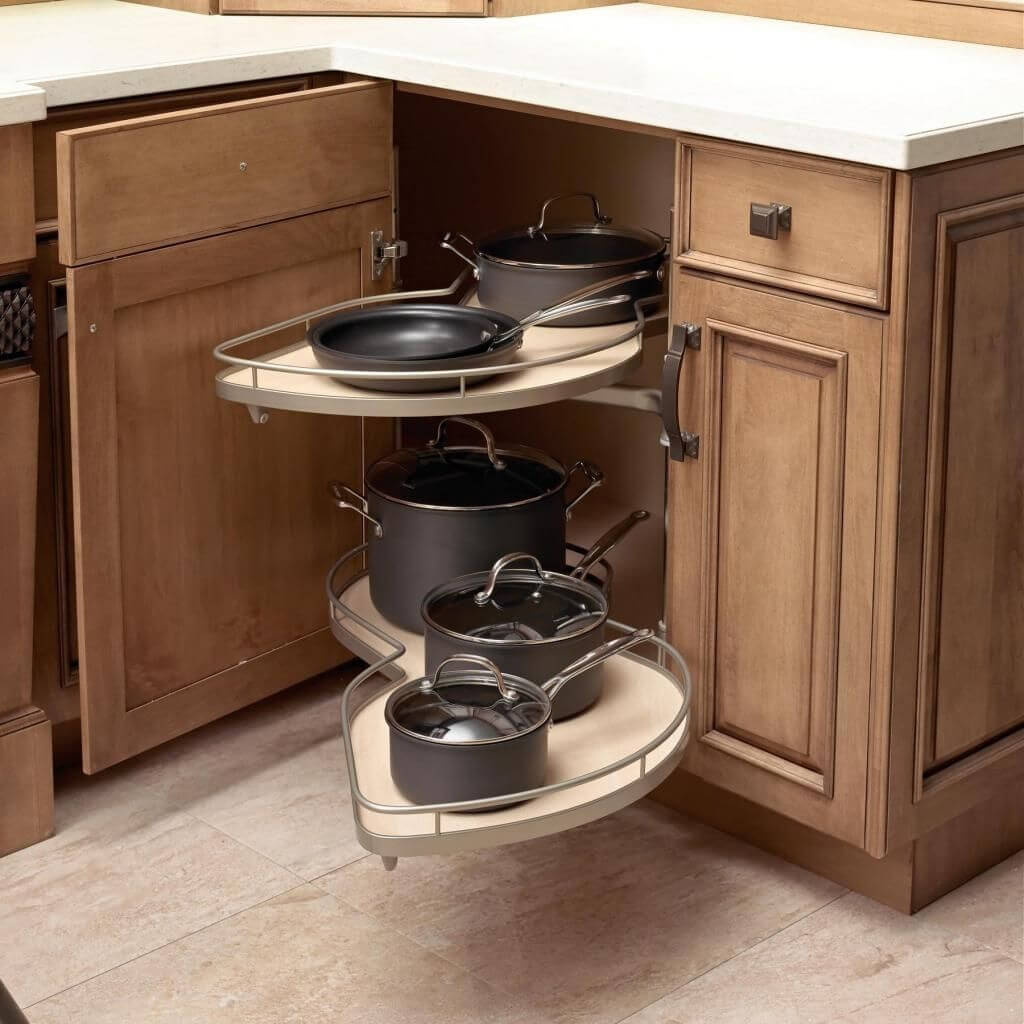 The interior design is something that looks simple but is not easy to conceptualize. Room efficiency, selection of furniture, and many other aspects require careful consideration. One problem that often arises is the blind corner.
When two cabinets meet in a corner, a difficult-to-exploit spot is created. Nonetheless, it is not as if you cannot find kitchen corner cabinet solutions.
It takes a little strategy to utilize all space optimally. One solution is to place a sliding rack in the cabinet so that you do not have trouble placing or picking up items in far corners.
The choice of door shape can also be an alternative for this. Choose a model that prevents the two sides from bumping into each other when opened.
2. Upper Corner Kitchen Cabinets Ideas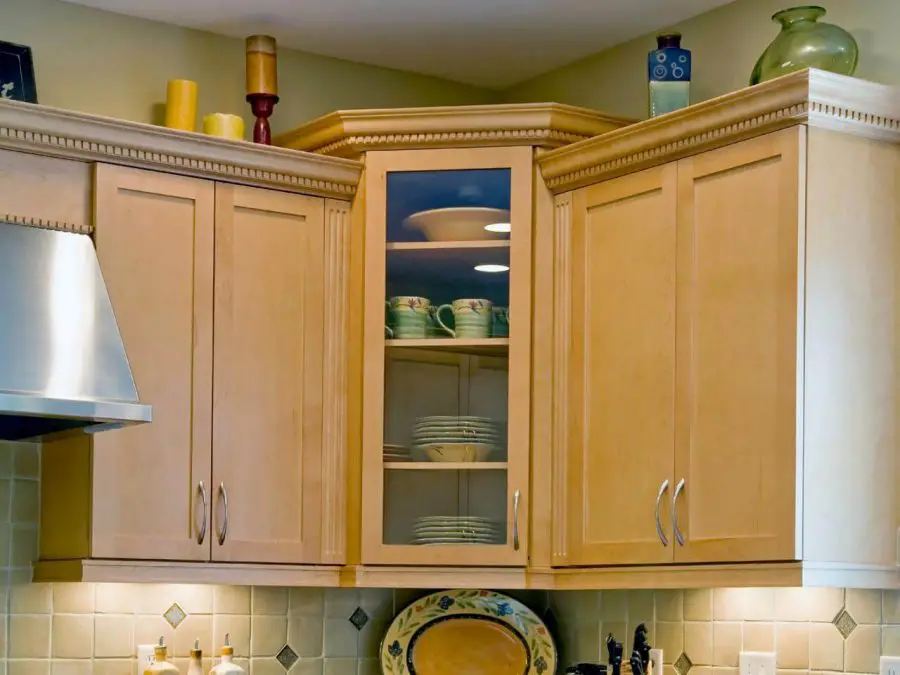 The cabinet position will determine comfort. Hence, do not forget to place it as best as you can. Apart from putting storage space at the bottom, you can also apply it over the cooking table. Do not forget to use the above strategy in case you find a blind corner problem.
One thing you need to know, the placement strategy is not without purpose. The bottom section is best for storing various cooking utensils or heavy equipment. Meanwhile, the upper corner kitchen cabinets can be used to put spices or other often-used stuff.
3. A Lazy Susan Inside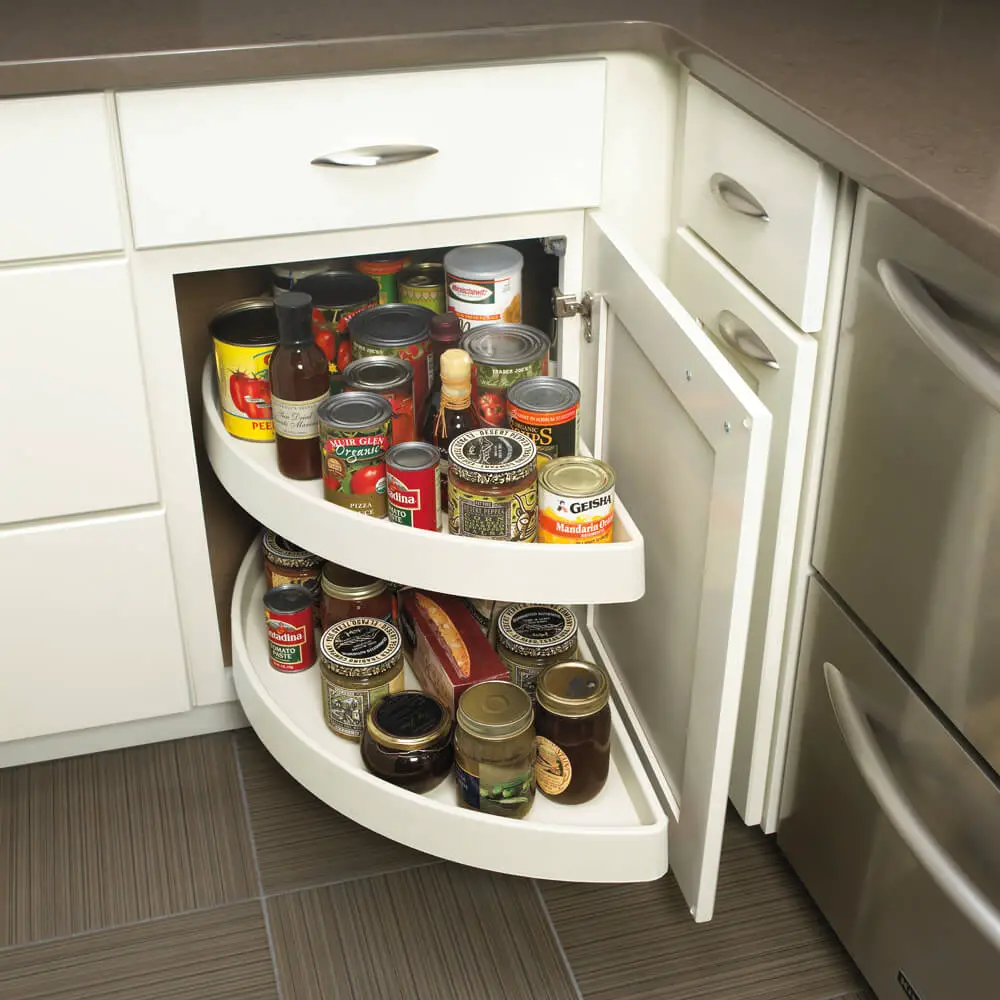 Lazy Susan is a rotating tray that is commonly used in various Asian restaurants, especially Chinese. This method makes it very easy for customers because they do not need to stand or walk to pick up food that is far out of reach.
Likewise, you can apply this concept to be an alternative to corner kitchen cabinets. The rotatable shelf will make it easier for you to store and retrieve items without the hassle of reaching deep. Just turn the tray to reach the things you want.
Unfortunately, the Lazy Susan does not fit all cabinets. This method is the best solution to the blind corner problem, but you will find difficulties in applying to unsupportive-shaped furniture.
The most appropriate combination is to use storage that has a round shape. You can use it in other than round cabinets, but it will leave unused space.
4. Make It Round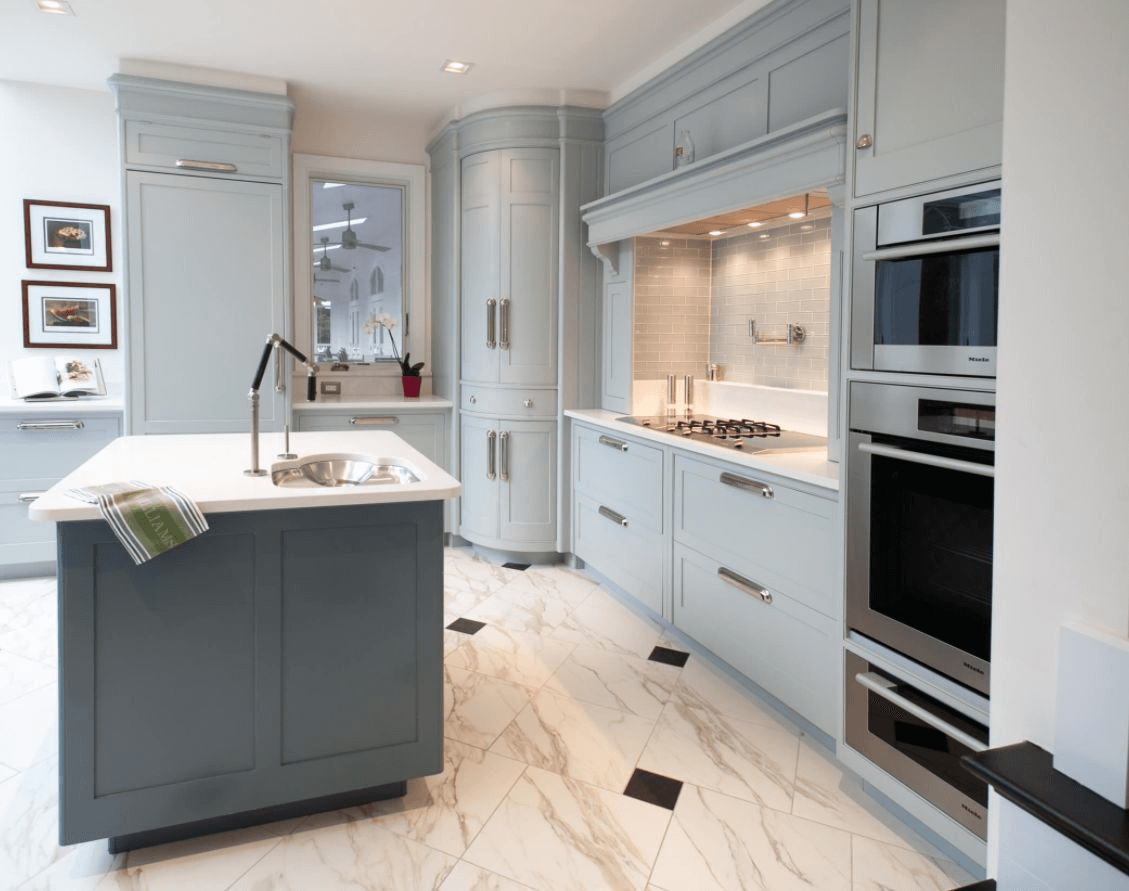 Some buildings design rounded corners for various reasons. If you are dealing with this, then choose the corner kitchen cabinets with the appropriate shape.
Using a round cabinet is not a big problem at all because this type of door will provide more space for storage. Sliding shelves or 'Lazy Susan' can be an option in it.
5. A Sink Will Be Good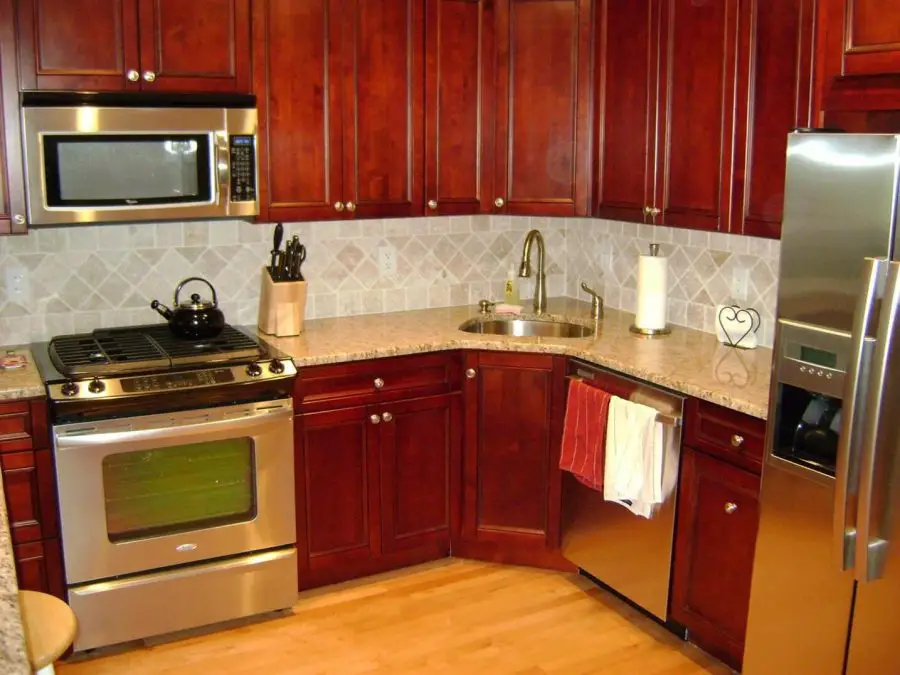 There are always ways to make a room look attractive but still efficient. One way to take advantage of the corner is to insert something that has a use-value. One of them is placing the sink.
Instead of providing a special spot for the sink, placing it in a corner is the right way. Meanwhile, you can use the other space for more useful things, such as a cooking area or storage.
6. Corner Kitchen Cabinets Storage Ideas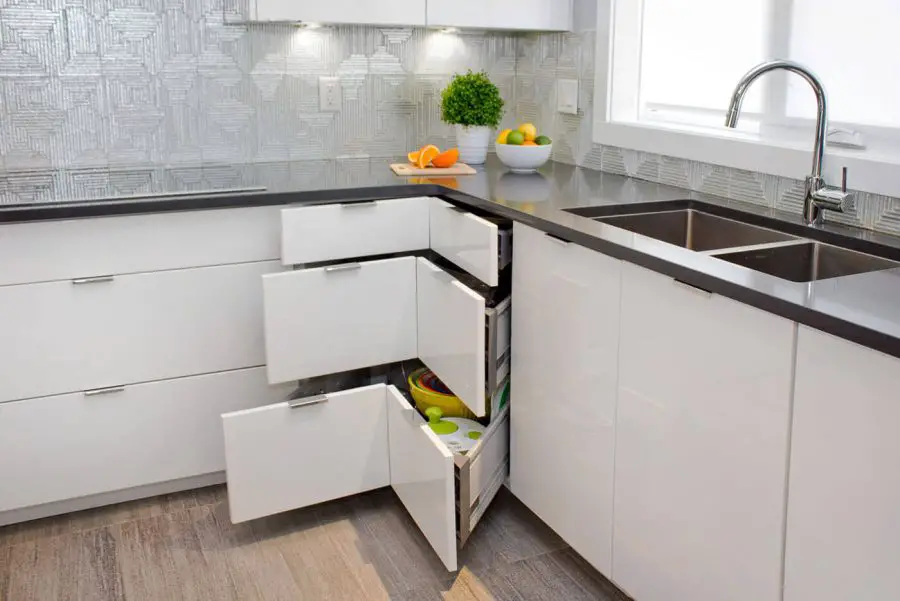 The availability of a storage system is one of the keys to choosing furniture. The more space is more efficient. Therefore, corner kitchen cabinets with drawers are the right choice.
The drawers not only functions as a storage area but also as an organizer that helps you sort items according to type. You can put similar items in one place, making it easier to find and use. Besides, a cabinet with lots of drawers will also prevent clutter due to a lack of space.
7. Corner Wall Cabinet Ideas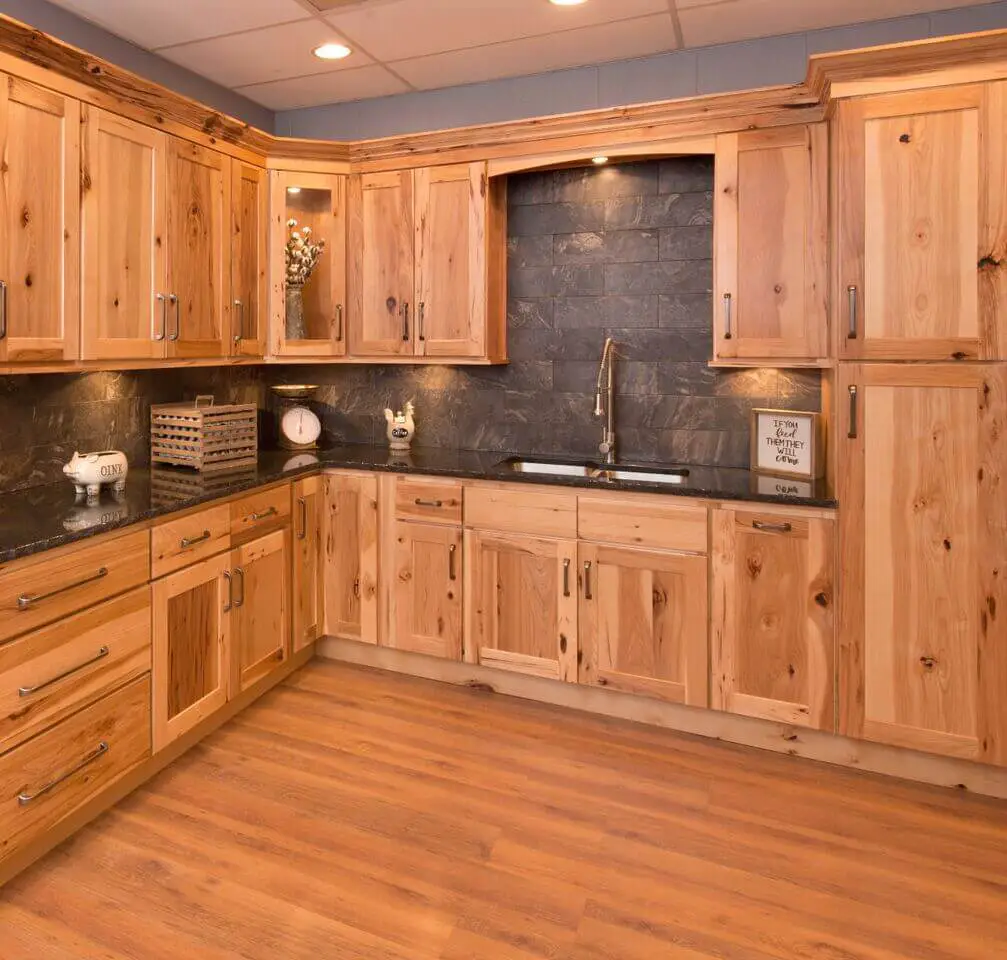 Kitchen corner wall cabinet ideas are the other alternative to pick. You can choose from various kinds of attractive designs, such as floor-to-ceiling models. You can place this large furniture as a practical way to expand storage space.
Some people like wall-mounted cabinets because they are more flexible for room conditions. Besides, many also choose to install shelves rather than large closed furniture that take up space. It all depends on taste.
8. The Hidden Pantry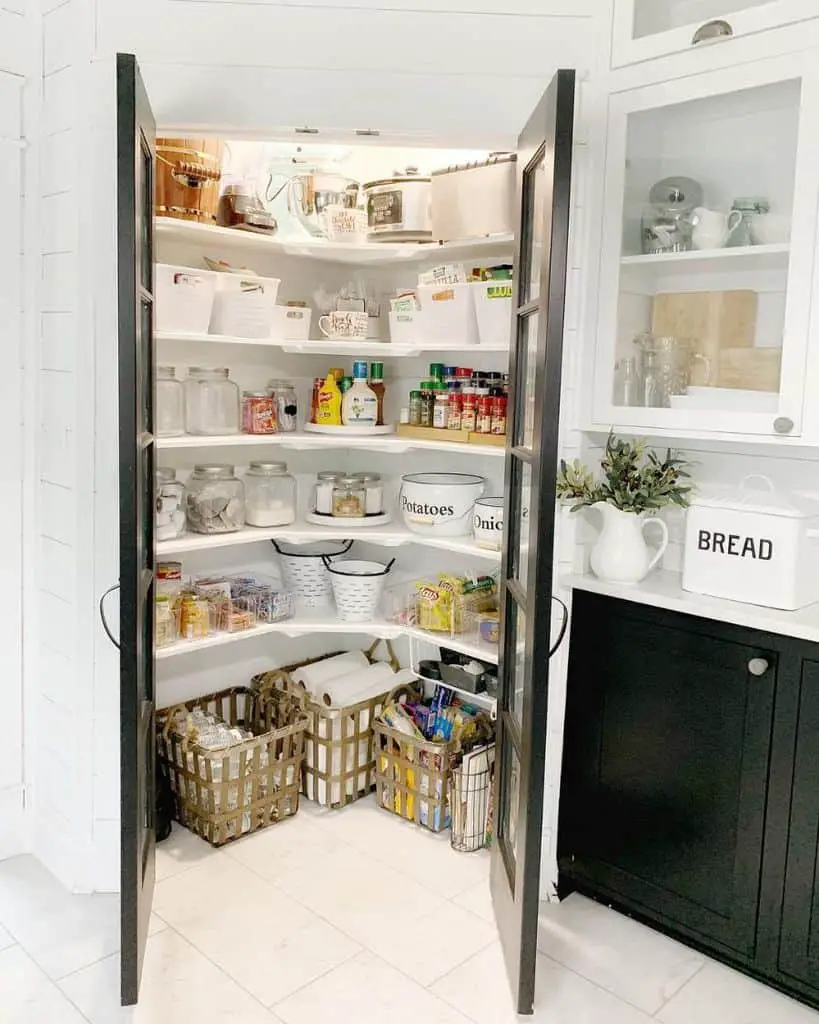 Not just corner kitchen cabinets, you can even turn it into the perfect pantry. By applying the various kinds of ideas above, you can design a mini room that will become a multi-purpose small cooking spot. Put some food ingredients inside to make your life practical.
Among the many aspects, the selection of furniture is indeed the main thing to think about carefully. So far, using corner kitchen cabinets is the best solution to use space efficiently. The above ideas can be some inspiration to create comfort during cooking time.
More from Materialsix.com:
PIN it for Later!!!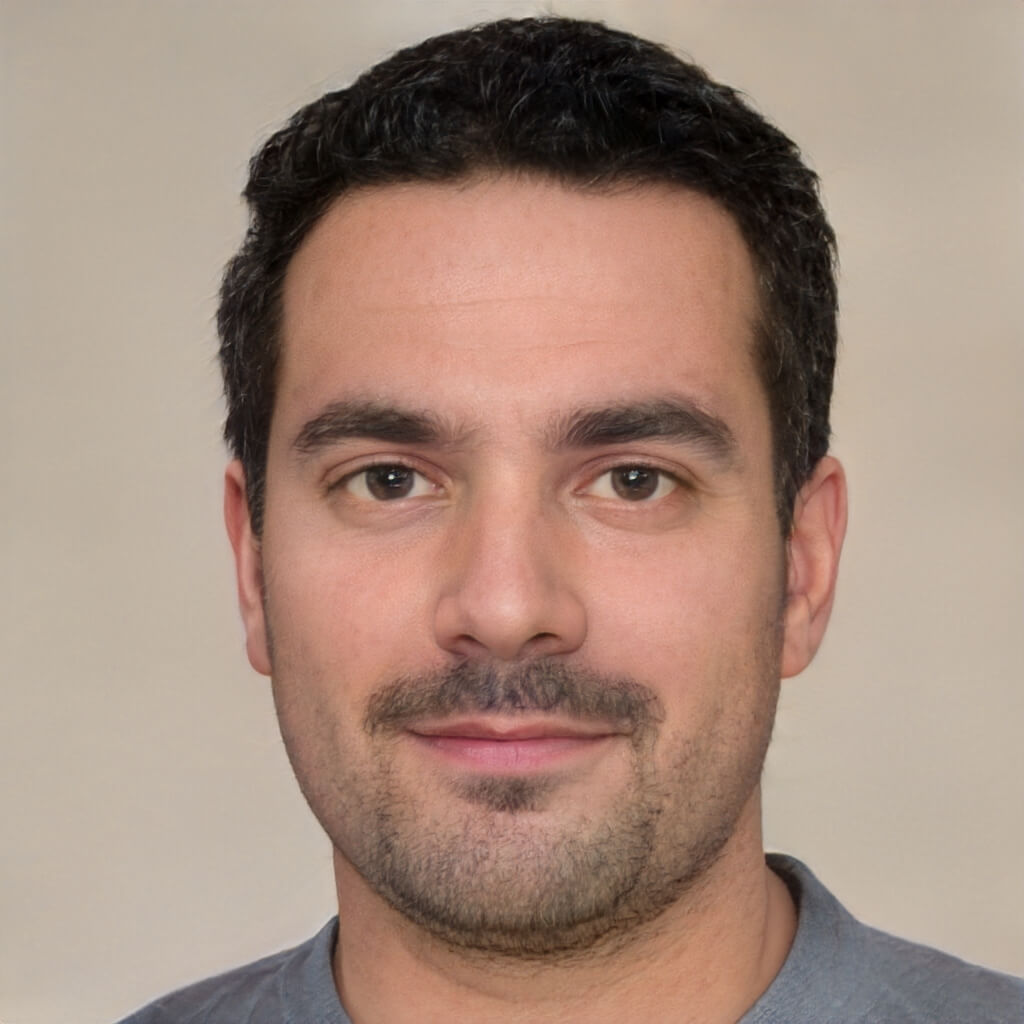 I'm a passionate home and garden enthusiast and the founder of Materialsix Home. With over 10 years of experience in the field, I've cultivated a deep love for all things related to home improvement, gardening, and interior design. Read more…