Renovating your home? If you are, building a proper bathroom is part of the process. And here, we're not talking about pipework. We're looking at the design, what goes into a bathroom, and the final look you aspire towards.
Part of planning the final layout means deciding on the type of bathroom you want.
Basically, are you developing a toilet room/water closet in your main bathroom? Or, are you developing a standard bathroom?
Below, we'll discuss the prior, being toilet rooms. We'll look at their pros, why you should build one, and other development details (toilet room size, etc) you should know!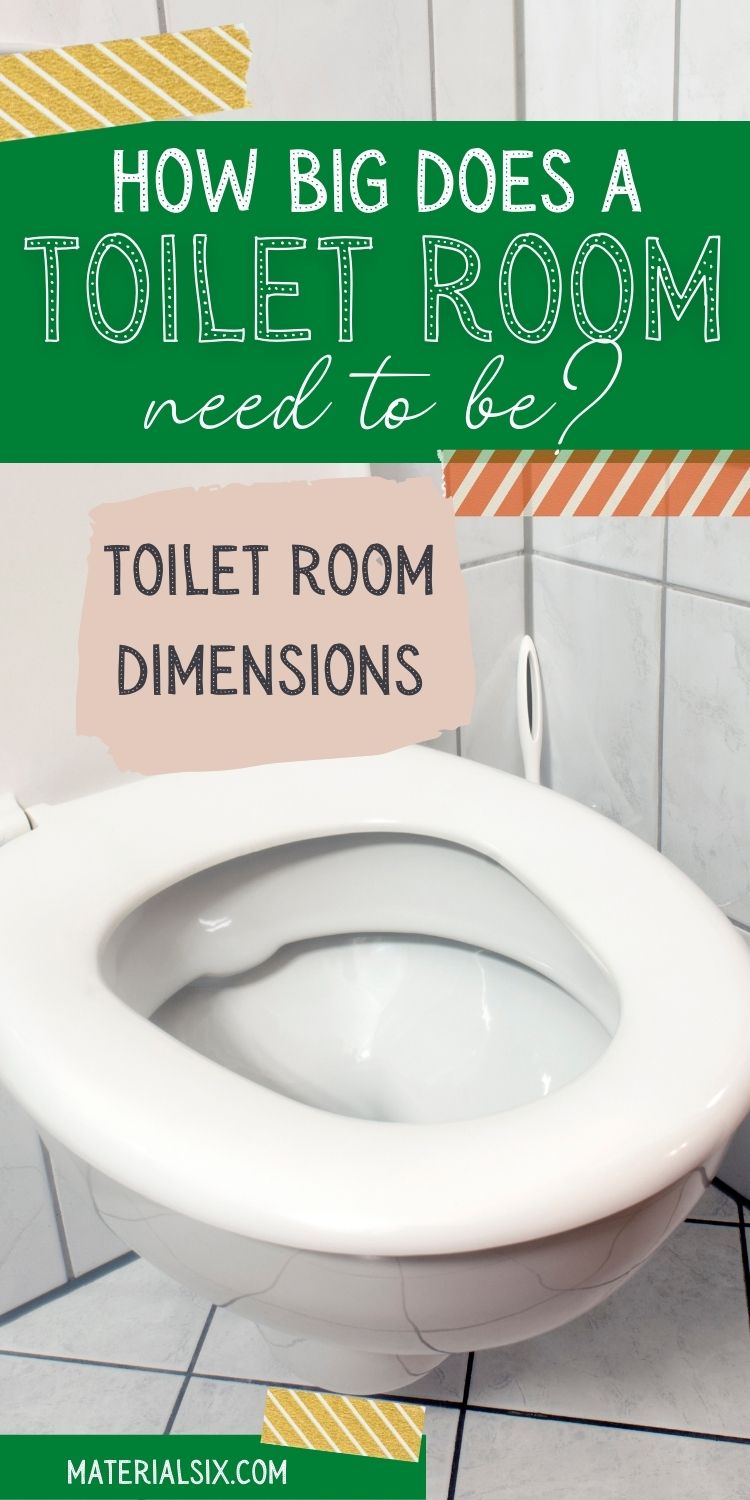 First – What Are We Discussing? This guide will look at the following:
Toilet room advantages
How big does a toilet room need to be?
Toilet sizes and shapes
Measuring toilet sizes
Measuring seat sizes
Sinks – are they included in toilet rooms?
Building codes
So to get started…
Toilet Room Advantages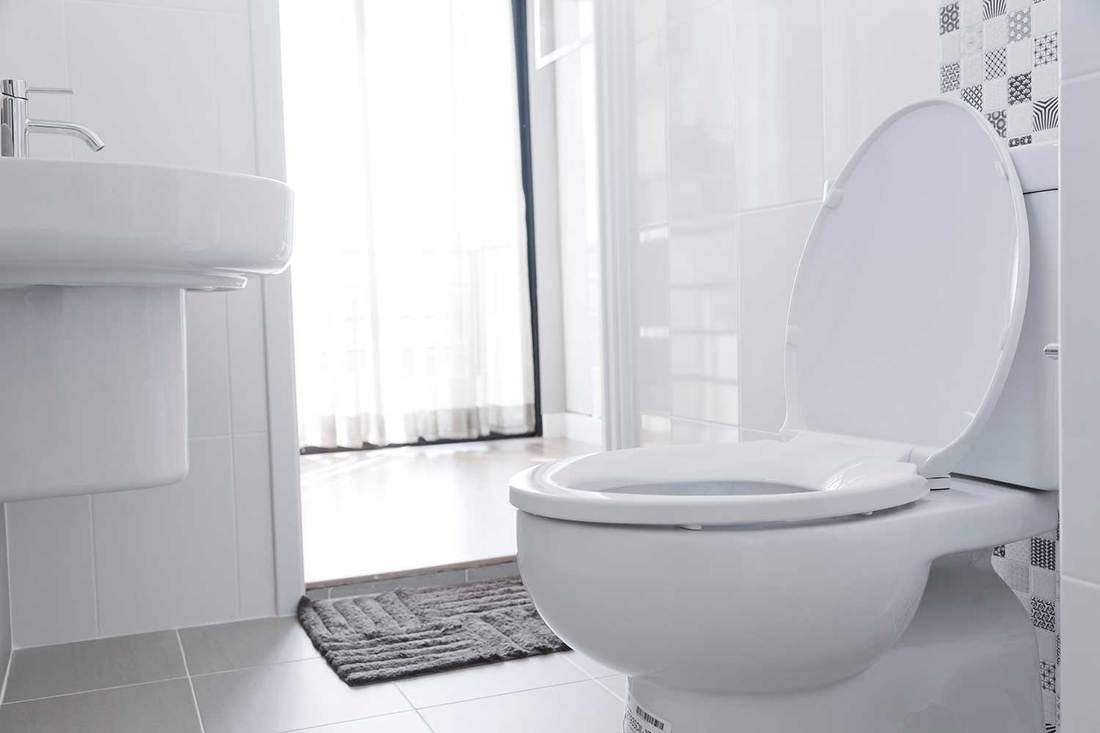 They're one of the most desired bathroom features in a home. They work well in a variety of setups, especially as master bathrooms.
Some benefits include…
Cleanliness
A toilet room separates where the toilet is from bathroom linens and toiletries.
This reduces germ spreads to other bathroom items, which may include shaving equipment, dental care, and prescription drugs.
Design
Toilet rooms make your main bathroom more attractive. By separating the toilet and bathroom apart, you better emphasize your bathroom's features.
Thus, your shower, vanity, and closet aesthetics will be much more noticeable!
Privacy
Toilet rooms work well in family homes. They allow you privacy, and it lets you share a bathroom with your family without constraint.
How Big Should a Toilet Room Be?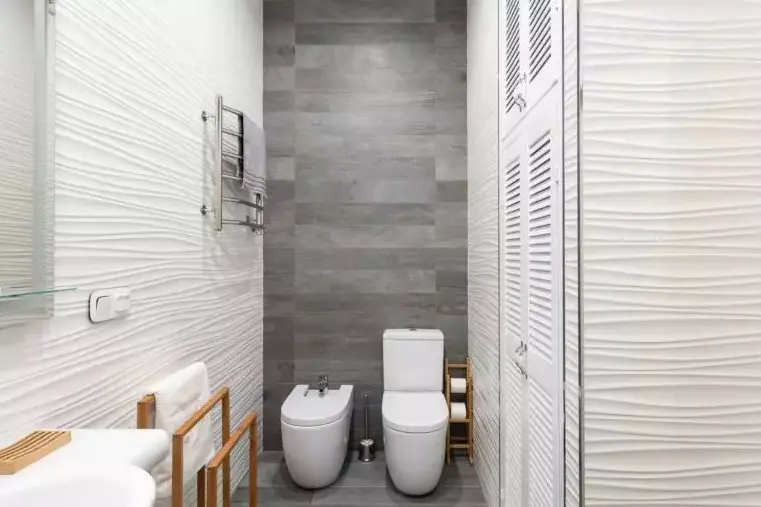 Let's look at average toilet dimensions first.
Normally, a toilet is 27-30 inches deep, and 20 inches wide, with 21-31 inches as back height.
Some home developers choose lower dimensions. This makes a toilet look more compact, giving the toilet room a spacious look.
We recommend adapting the toilet size to your toilet room's size, the latter being defined according to IRC regulations.
So What is The Minimum Size for a Water Closet?
The IRC requires the standard toilet room size to be 30×60 inches minimum. Though the suggested dimensions (for better accessibility and comfort) are at 36×66 inches.
If space is key to your toilet room design, then try to develop a larger toilet room (as opposed to installing a smaller toilet).
For maximum comfort (without taking up excess space), you can go for a lavish design, normally 48×72 inches.
Other Considerations
Toilet size and toilet room dimensions aren't all you should consider. Positioning your toilet is another design component.
The National Kitchen and Bath Association advises 18+ inches from the toilet to any sidewall. Also, the toilet should have a 30-inch clearance between itself and the closest fixture (or wall) in front.
The distance from the toilet's center and the nearest fixture's center should be 36 inches minimum.
This allows you to better plan out what goes into a toilet room without overcrowding it. You can better fit a sink (more on that soon), a bathroom, and possibly a small wall closet!
Toilet Sizes and Shapes
When picking a toilet, you're not just looking at size. Nor do you pick based on water closet dimensions only. There's also shape, which matters for seat comfort and aesthetics.
If you're still developing space for your toilet room, then be sure to consider the design beforehand.
Each design comes with different spacing needs. Picking the right shape can make or break a toilet room's design.
Speaking of designs, below are some to try!
Round Bowls
This is the standard everyone goes for. If you're unsure about unorthodox-looking toilet designs, then pick this.
Elongated Bowls
Those are slightly stretched out on the front, but thinner on the sides. If your toilet room sidewalls are close to each other, an elongated bowl can be a good idea.
Those bowls are also narrower, which means better seating comfort.
Toilet Styles
Bowl shape isn't all there is to design. How a toilet is attached to a tank matter. Below are some styles to try!
Close Couple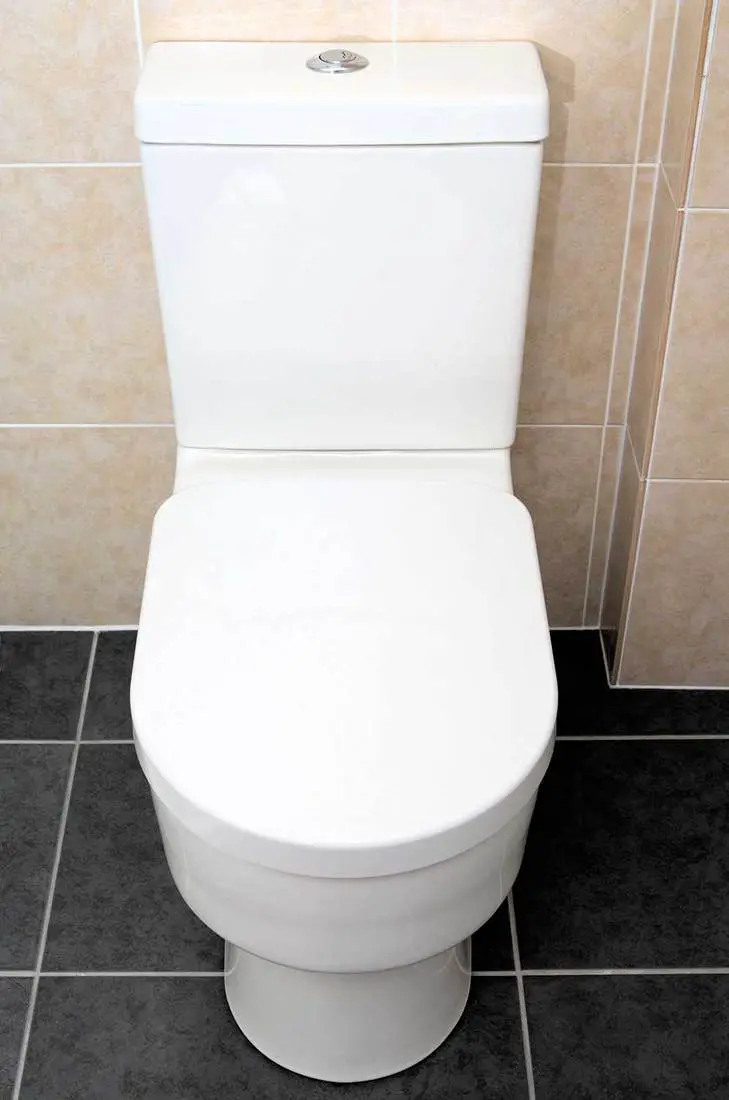 This is the most common type. A single or double-piece unit attaches the bowl to the tank.
Close couple styles are compact. They work best in small spaces. However, they do take up sizeable back wall room due to the tank mount.
Back to Wall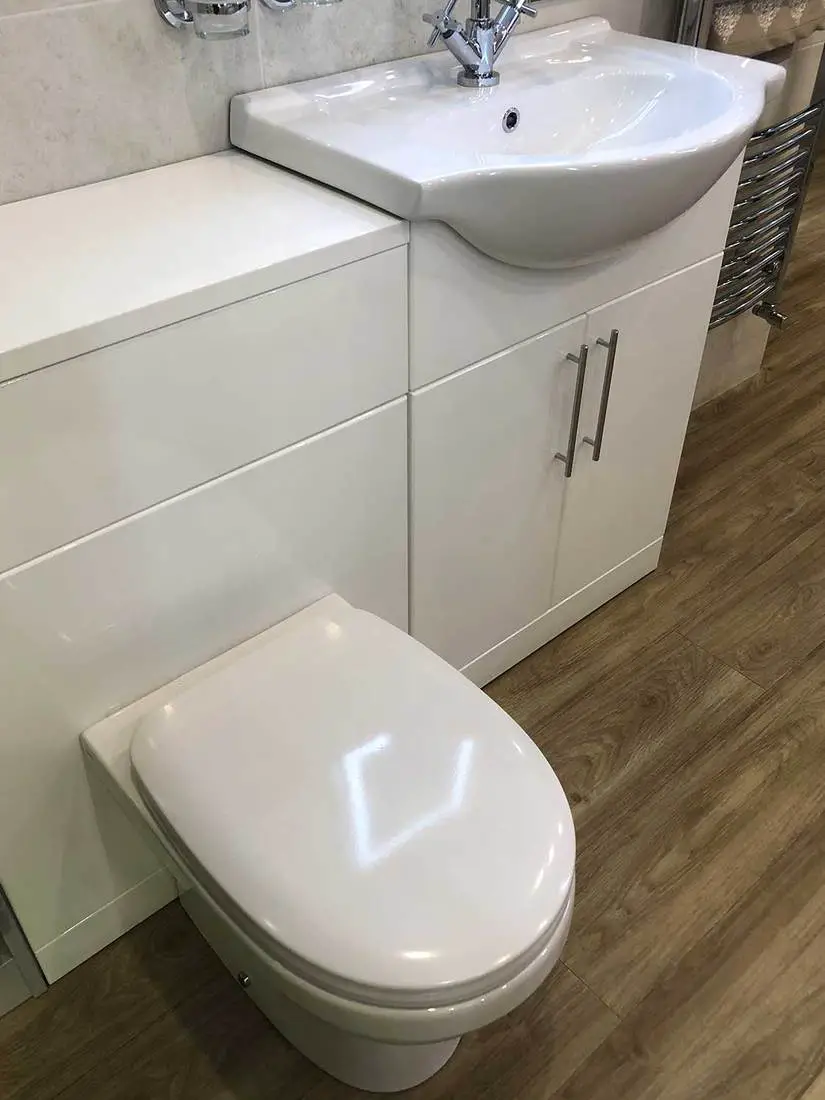 Like the close couple type, back-to-wall styles save space and stand alone. The only exception is the tank, which is hidden.
The tank isn't mounted directly to the bowl. It's positioned in the wall (or sometimes) furniture, thus giving the toilet room a minimalist look.
Low Level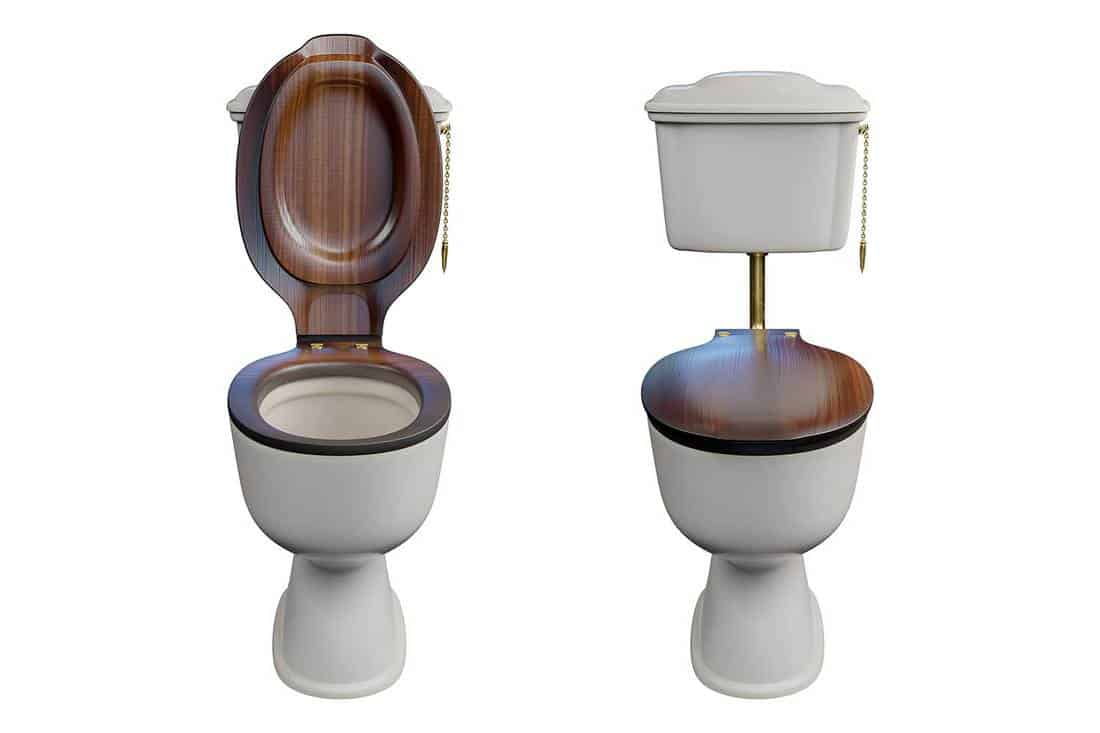 Those toilets stand on a floor. The tank is positioned at low elevations towards the wall and is connected to the bowl by pipeline.
Wall Hung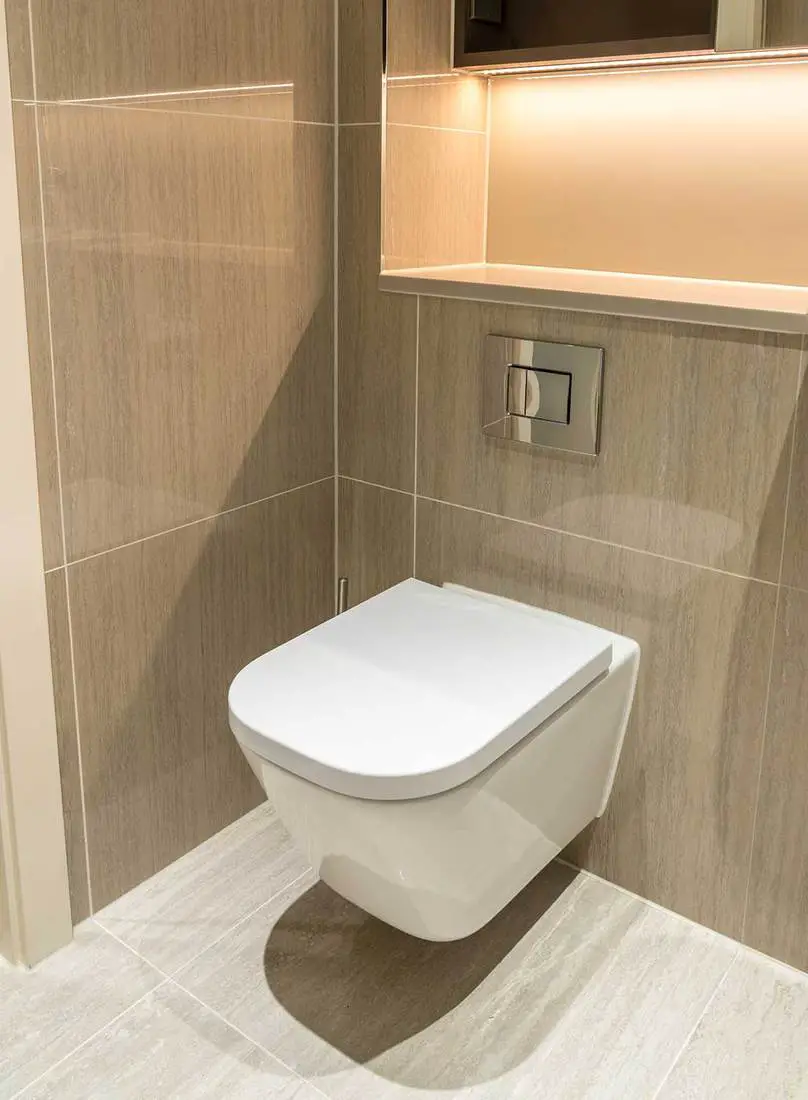 This style is similar to back-to-wall toilets. The tank/cistern is hidden in a wall. But, the toilet is mounted to a wall and is suspended off the floor.
It's a popular design in many homes – due to how easy cleaning is under the toilet. Also, you can place it an elevation that ensures hygiene, especially if you have pets at home.
Measuring Toilet Sizes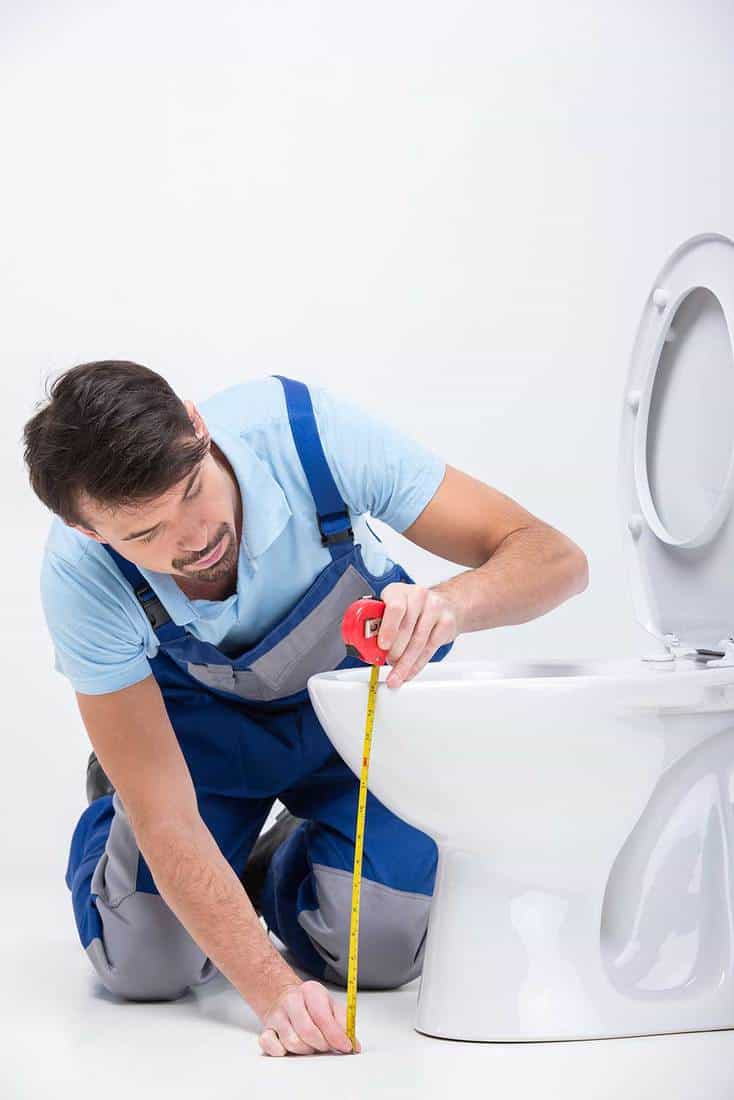 Knowing your toilet's size matters. Planning its shape and size beforehand matters even more.
Why? It's because your toilet room should be designed around your toilet. It'll be the main and obvious component of it.
When measuring toilets, be accurate. Record measurements twice. Also, be sure to measure the longest and widest portions of your toilet. This'll ensure that it fits without issues.
Measure the Following Dimensions
Back Height. If your tank isn't connected by a pipe, then it's likely mounted to the toilet or in a wall. You will need to measure from the tank's top to the floor.
Seat Height. Take measurements from the toilet seat's top to the floor.
Depth. Measure from the toilet rim or back of the toilet (which is furthest) to the toilet's front.
Width. Measure from the left edge to the right edge of the toilet seat or tank (whichever's widest).
Rough-In. Measure from closet bolts center (or drainpipe) to wall (don't measure to the baseboard).
Measuring Seat Sizes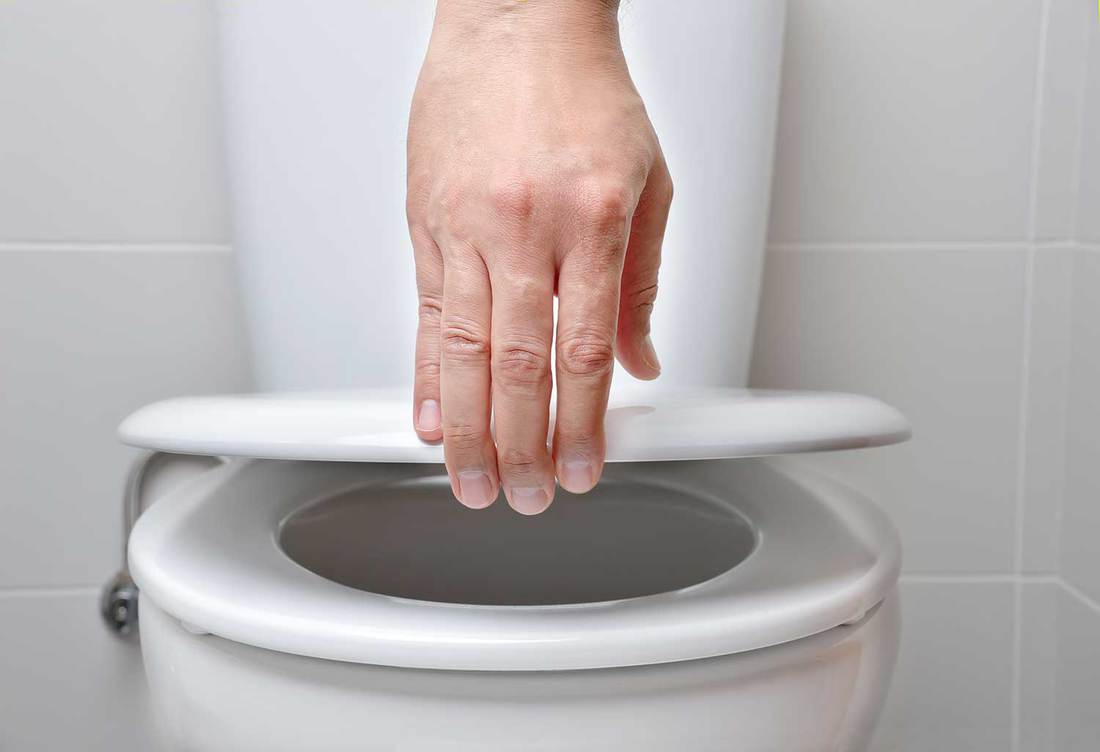 Overall toilet size aside, it's time to pick a seat that matches your needs.
Just like with toilet designs, seats come in varying shapes and styles. And you might be wondering what the seat size for you is.
Again, measuring is key. There are three points on a seat you'll need to measure, which are:
Distance between bolts that attach a bowl to the toilet seat. Measure distance between each. The average measurement is 5 inches, any more and you have a big toilet.
Toilet bowl width. Measure the widest points outside the brim.
Bowl length. Measure from the back, and to the front between seat bolts. A round bowl is 5 inches on average. Elongated bowls average at 18.5 inches.
If your toilet design isn't standard, be sure to contact the manufacturer. You'll want to ensure compatibility between your seat of choice and the toilet.
Sinks: Are They Included in Toilet Rooms?
The majority of toilet rooms are small. Their designs often don't include a sink.
That doesn't mean you can't add one. Including a sink is a matter of space, and if that's available to you then add one.
Having a toilet room sink comes with a few advantages. One is the reduced spread of germs throughout your bathroom, where you'll have a separate sink for after-toilet use.
If you plan on including a sink in your toilet room, then plan that out beforehand. A sink impacts the dimensions of your toilet room. After all, you'll have to factor it when positioning your toilet of choice.
Space Between Sink and Toilet
You'll need to measure space between your toilet and added sink. The space required depends on the sink location and room layout.
If you place a sink on the same wall adjacent to a toilet, you'll need an open space of 18 inches (measuring from the sink's edge to the toilet center).
If the sink is in front of a toilet, then the front edge should be further than 30 inches from the toilet's front edge.
Building Code
Before building your toilet room, be sure to research your state and local building codes.
You want to make sure that your planned dimensions and space fixture is regulatory compliant. It'll maintain your home value, ensuring fewer legal problems if you try to sell or lease it later on.
Also, you'll want to review ADA requirements (Americans with Disabilities Act) if you plan on making a wheelchair-accessible bathroom.
ADA guidelines enforce more space requirements, are stricter, and require some hardware installations.
Conclusion
The previous guide gives you an idea on factors to consider when building the ideal toilet room.
Keep in mind that spacing recommendations and fixture size matter. They ensure that your toilet rooms are comfortable and functional!
More from Materialsix.com: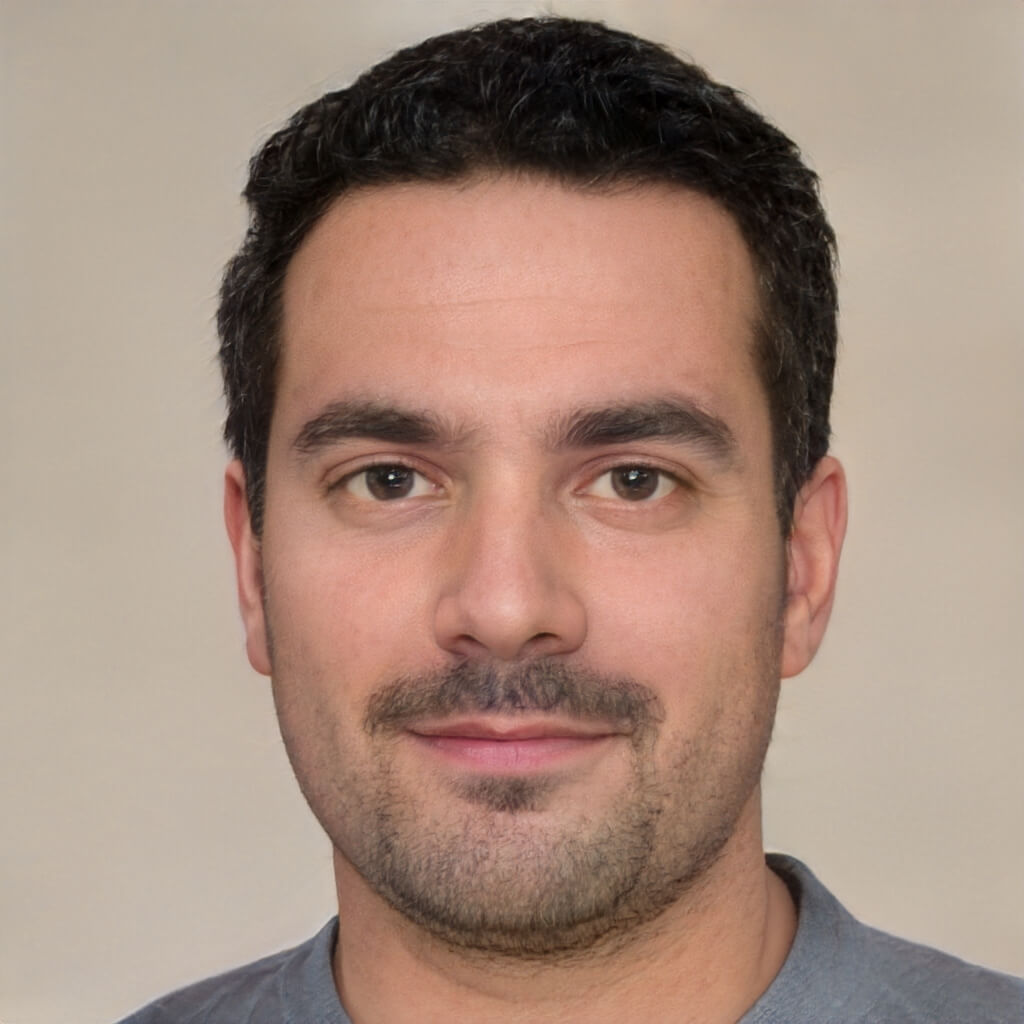 I'm a passionate home and garden enthusiast and the founder of Materialsix Home. With over 10 years of experience in the field, I've cultivated a deep love for all things related to home improvement, gardening, and interior design.