When considering a makeover for your bathroom, choosing a color like navy blue can set the stage for a calming and chic space. Renowned for its versatility and sophistication, navy blue can transform your bathroom into a luxurious spa-like oasis without breaking the bank.
This article will guide you through how to tastefully incorporate this timeless hue into your home decor and provide bathroom decorating ideas to achieve the perfect balance of style and functionality.
Understanding the Basics of Navy Blue
Navy blue, with its rich, deep tones, brings a certain gravitas to any space. This cool color has a unique ability to foster a sense of tranquility while also conveying an air of elegance. It's an especially great way to create a focal point or establish an accent wall in both small bathroom settings and more spacious master baths.
The Color Palette: Complementing Navy Blue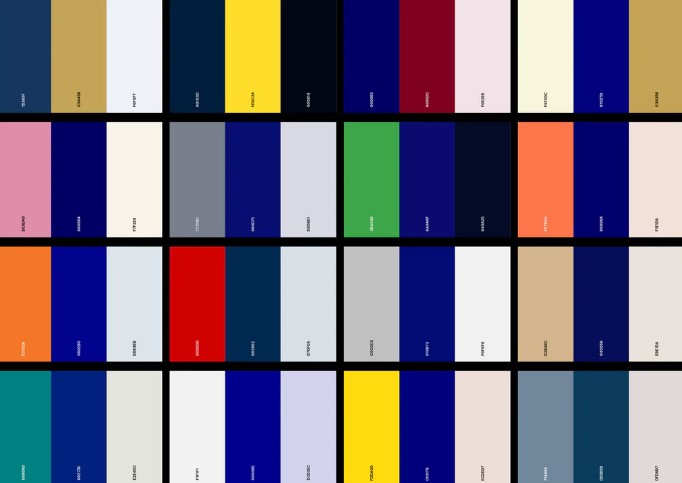 The color wheel offers various options to complement navy blue. Utilizing a color palette that includes different shades can bring life to your bathroom. Here are perfect pairings:
Complementary Colors: Coral pinks and soft teals can introduce a pop of color.
Analogous Colors: Blues and greens can create harmonious bathroom walls.
Triadic Colors: Adding accents in bold colors like mustard yellows can introduce a vibrant aesthetic.
The Importance of Lighting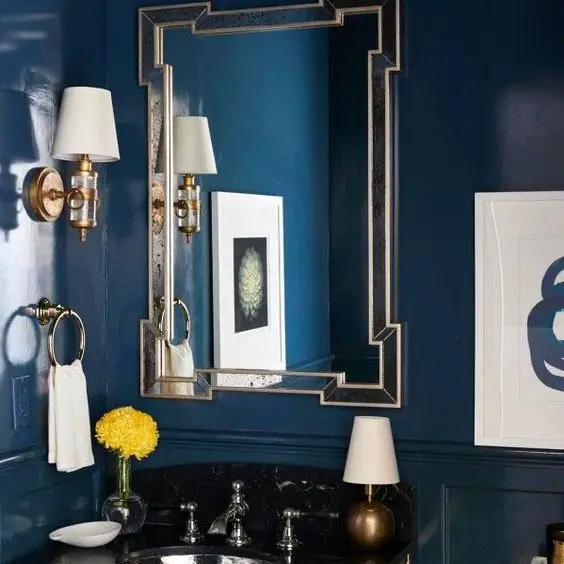 Navy blue can look different under various lighting conditions. Both artificial and natural lighting play a crucial role in how this dark color is perceived. Consider these ideas for your lighting needs:
Position a light fixture directly above the vanity to illuminate the face evenly for tasks.
Installing a large window or skylight can infuse the space with natural light, making dark blue walls feel less imposing.
Wall Decor and Accents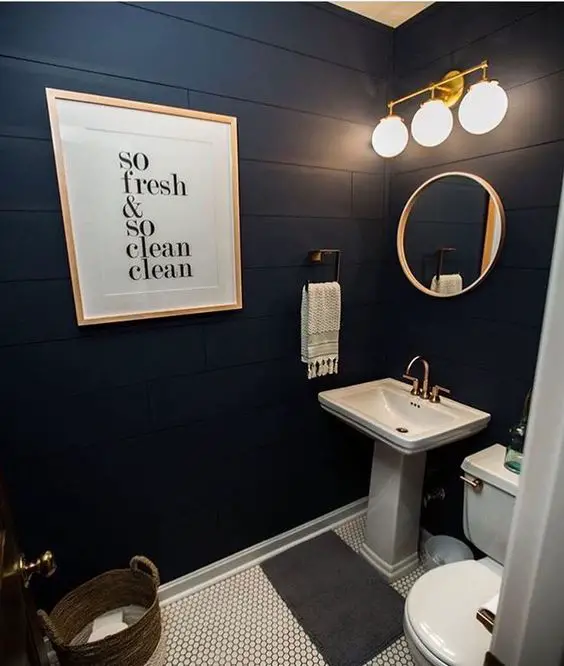 A navy blue bathroom provides the perfect backdrop for an array of wall decor options, creating visual interest with textured wallpapers or bold pattern wall art. Mixing in different materials like wooden frames or metallic touches adds depth.
Tiling and Flooring Options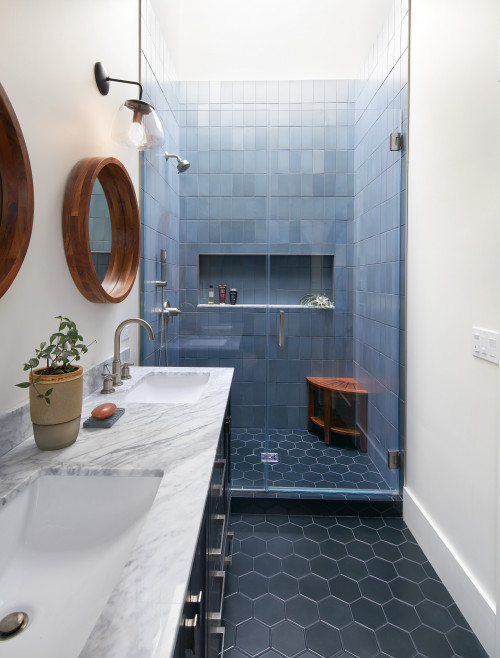 Choosing the right floor and wall tiles can significantly impact the overall look of your bathroom. Here are some suggestions:
Blue tiles can offer a monochromatic theme, while white bathroom tiles present a sharp contrast.
Consider a subway tile with gold hardware for a modern touch.
For a traditional bathroom, marble countertop or marble tile offers a luxurious look.
Textiles and Linens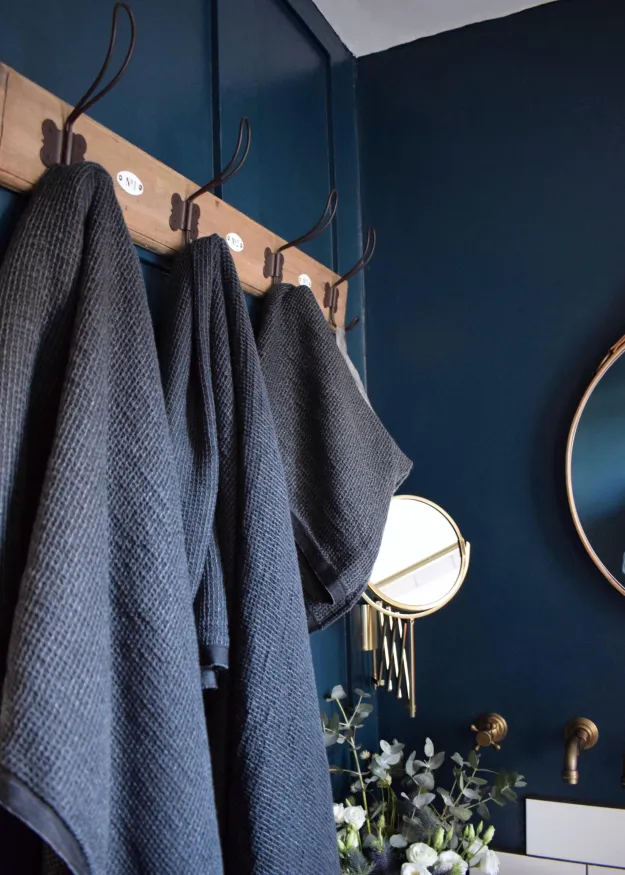 Specially chosen textiles can soften the ambiance of a bathroom dominated by hard surfaces. Here are some textile ideas:
Hand towels and bath mats in complementary colors or with geometric patterns can add layers to your design.
A shower curtain that introduces a bold blue or bright colors can be a fun touch device to perk up the space.
Fixtures and Hardware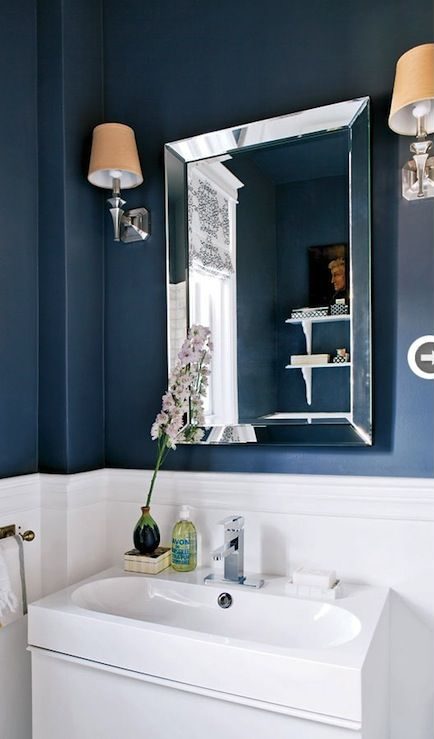 Selecting fixtures and hardware is an easy way to add subtle elegance to a navy bathroom. Consider the following:
Brass hardware tends to look regal against navy blue, while stainless steel gives off a more modern design feel.
A white pedestal sink or a modern navy blue vanity can serve as the perfect place for incorporating contrasting colors and materials.
Navy Blue Bathroom Decorating Ideas
Embarking on the journey to decorate a navy blue bathroom? Here are some curated ideas from this post that will ignite your creativity and help you visualize your dream navy bathroom:
1. Nautical Accents
 

View this post on Instagram

 
Set sail with your decor by incorporating nautical accents. Picture a guest bathroom adorned with accessories such as lighthouses, decorative ships, and anchor motifs that hark back to a seafaring adventure. Not only do these elements add a touch of whimsy and charm, but they also create a theme that is both timeless and whimsical — a great way to give your small bathroom or powder room a coherent look that's distinct and inviting.
2. Geometric Tile Patterns
 

View this post on Instagram

 
Imagine turning your bathroom into a masterpiece of imagination with some funky geometric tile designs. Picture this: vibrant blue tiles or crisp white ones, all with cool geometric shapes, bringing a fresh and modern vibe right into your space. Those geometric tiles, especially in blue, are going to make your bathroom pop with style! They're a chic and savvy way to give your space some depth and character. Doesn't that sound like a fun project?
3. Vintage Flair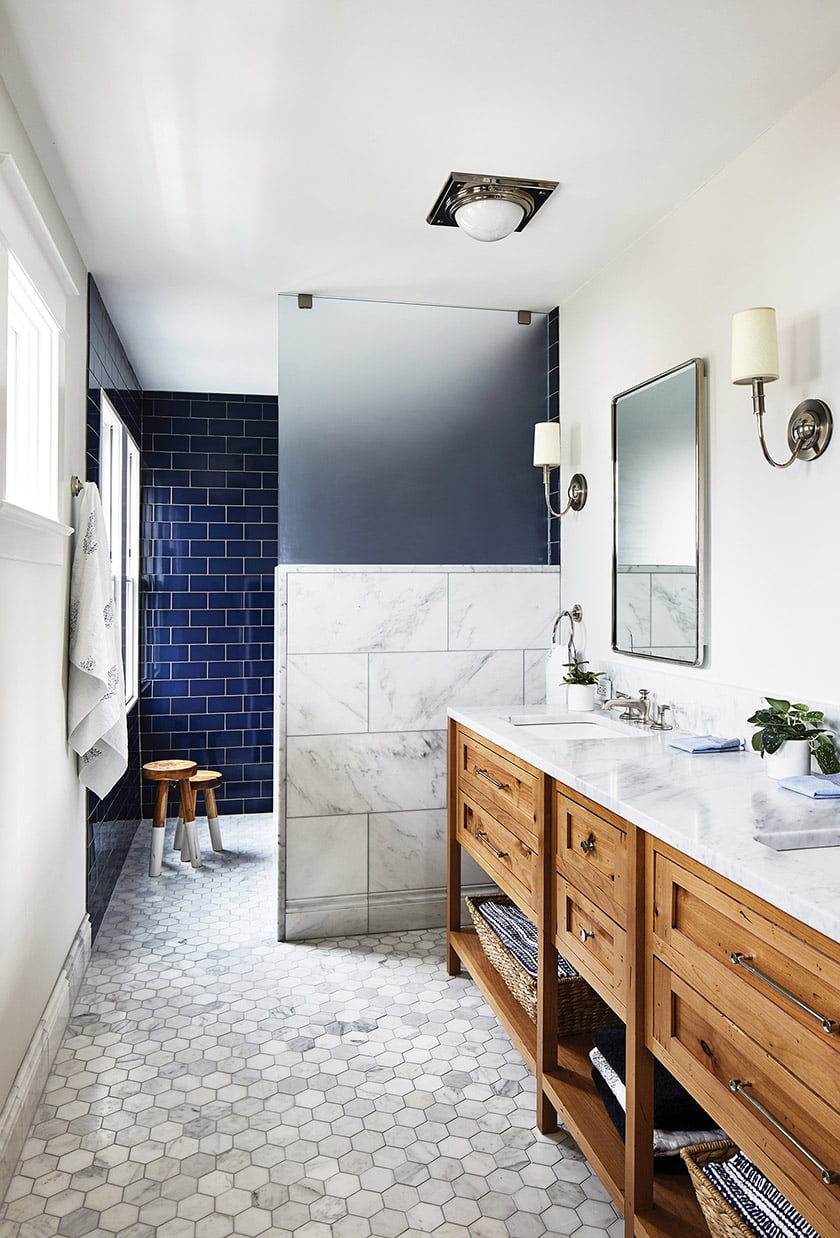 Adding a vintage flair with a restored clawfoot tub or classic faucet designs can introduce an element of grandeur and elegance. A bathroom vanity with vintage styling enhances the room's charm and provides a feeling of luxury that nods to the past while remaining completely functional in the modern day.
4. Maritime Artwork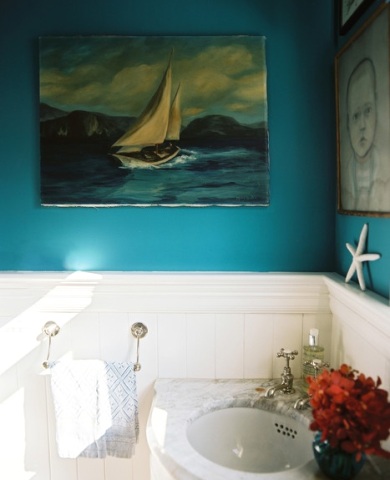 For those who love the sea, decking out the bathroom with maritime artwork creates engaging focal points. Placing framed seascapes or naval prints above a simple blue vanity can turn an ordinary bathroom wall into a gallery-like space, elevating the décor from purely functional to emotionally evocative.
5. Luxury Surfaces
Invest in luxury with high-end finishes like marble or granite countertops. These surfaces not only enhance the visual appeal of your bathroom but also add a substantial feel of quality and durability. Whether it's a marble countertop surrounding a blue vanity or granite-topped side tables, these materials infuse a sense of indulgent luxury.
6. Statement Mirrors
 

View this post on Instagram

 

Elevate your bathroom appearance with a statement mirror, such as a stunning gold mirror or an elaborately designed piece. This focal point adds light and depth, making small spaces seem larger, and serves as a glamorous contrast to the walls.
7. Coordinated Decor Sets
 

View this post on Instagram

 
Achieve harmony and sophistication in your bathroom with coordinated decor sets. These curated collections of décor featuring navy blue hues can tie the room together with a subtle elegance, creating an atmosphere that feels intentional and designed by an expert interior designer.
8. Wood Tones Vanity
 

Zobraziť tento príspevok na Instagrame

 
Balancing the cool color of navy blue with natural or stained wood vanity components brings warmth and organic texture into the mix. Not only does the wood provide a touch of nature, but it also complements ambiance perfectly, offering a down-to-earth balance to the richness of navy paint.
9. Navy Bathroom Bold Wallpaper
 

View this post on Instagram

 
Don't shy away from making a statement with walls: let them stand out with bold wallpaper in striking navy patterns. This design choice can add an impressive layer of depth to any bathroom and serve as an incredible backdrop to a modern navy blue vanity, especially when paired with the right light fixture.
10. Greenery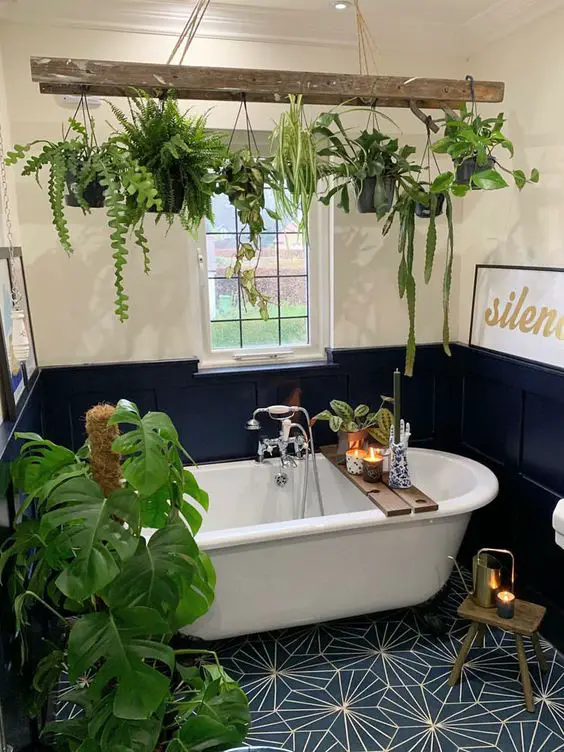 Incorporate greenery by adding a hint of the outdoors with potted plants or a charming array of hanging succulent gardens. Not only do they bring life and color contrast against the walls, but they also enhance the room's air quality—making your bathroom an eco-friendly sanctuary.
11. Eclectic Gallery Wall Art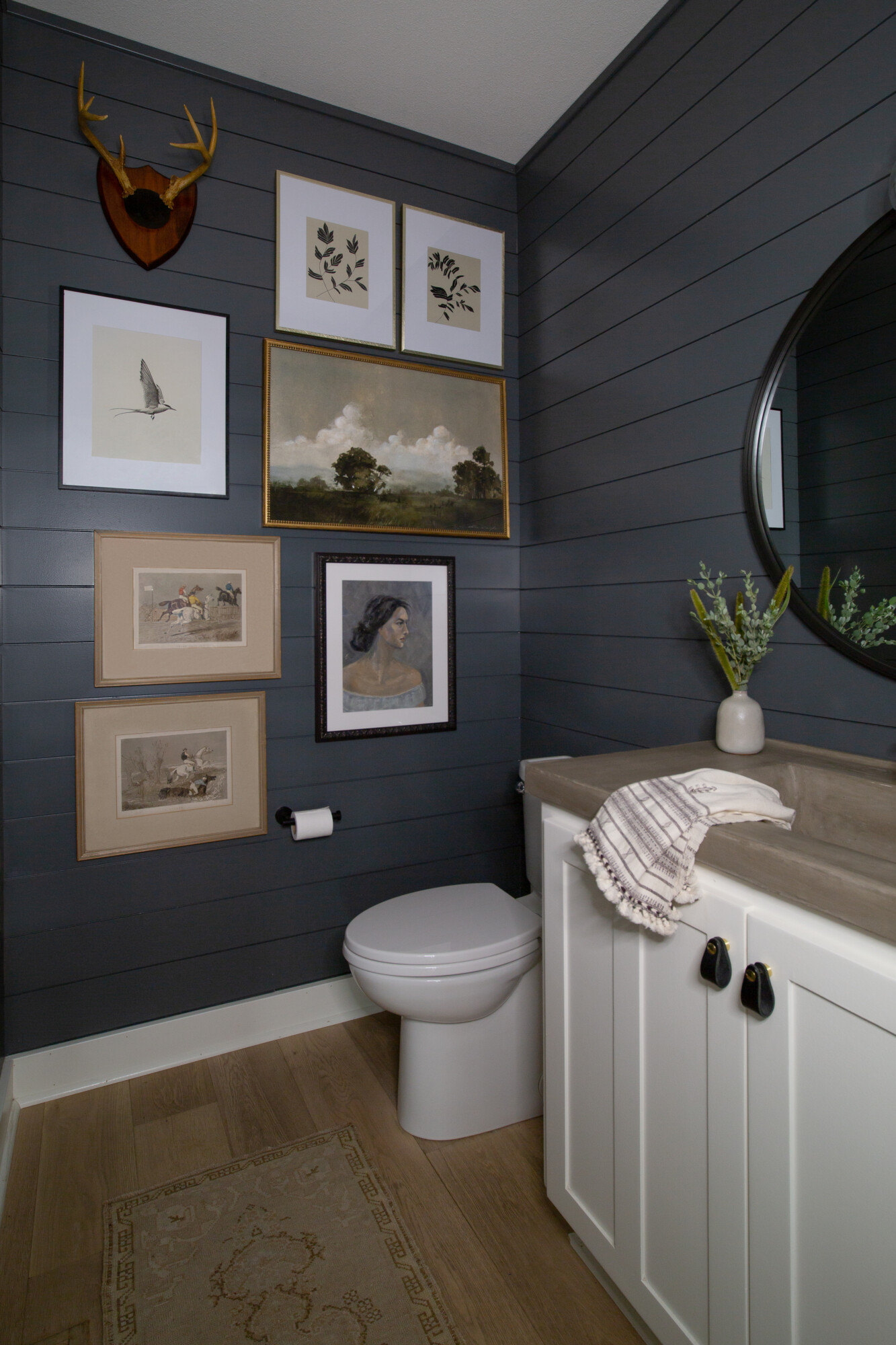 Personalize your space with an eclectic gallery wall that showcases various wall art styles. A mix of personal photos, contemporary prints, and vintage finds ensure that your bathroom decor reflects your personality, turning a basic bathroom into a space that tells a story.
12. Crisp Minimalism
 

View this post on Instagram

 
For a fresh, clean look, partner navy blue with crisp white. This minimalist approach focuses on simplicity and spaciousness, making your bathroom feel modern and uncluttered. White accents can brighten darker shades, providing a visual breather and letting the blue really pop.
13. Accent Wall Intrigue
 

View this post on Instagram

 
Dive into color by painting one wall with a deep navy hue. An accent wall can give your bathroom a dash of drama and sophistication. It's a perfect opportunity to play with color without overpowering the space, and it allows for flexibility in switching up decor with ease.
14. Tile Inlays
 

View this post on Instagram

 
Give your bathroom an artisan touch with mosaic or patterned tile inlays. This decorative flair can create a beautiful, unique feature in your shower area or as a backsplash behind the sink. It's a charming way to introduce pattern and personality and an exquisite contrast to a blue vanity or cabinetry.
15. Metallic Warmth
 

View this post on Instagram

 
Bring warmth and a touch of luxury with metallic details. Select features such as taps or cabinet handles in copper to enhance the depth of the navy paint, offering a bold accent and a richer, more inviting feel to the overall design.
16. Colorful Accents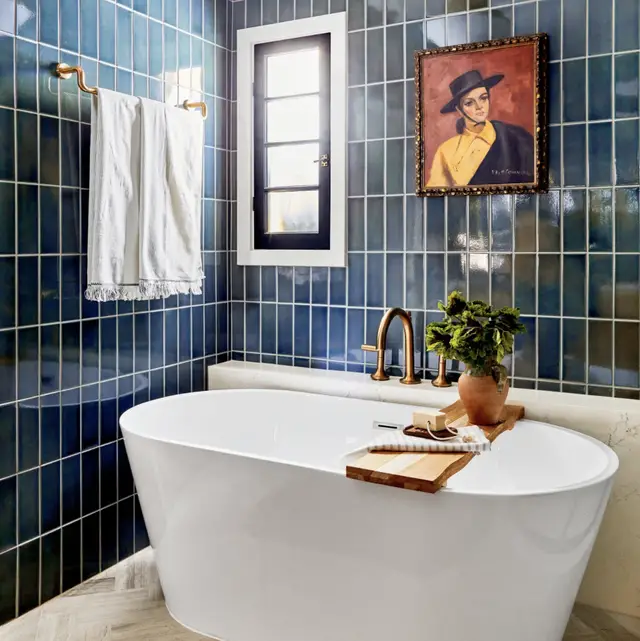 Inject bursts of energy into your bathroom with colorful accents. Choose bright and bold accessories, such as a cerulean bath mat or coral-red towels, to energize the space and provide a cheerful contrast to the navy walls or blue bathroom tiles.
17. Shades of Blue
Create an ocean-inspired palette by layering different shades of blue throughout your bathroom. This subtle gradient from light blue to inky blue shades can add a sophisticated element of depth.
18. Industrial Elements
 

View this post on Instagram

 
Lean into a sleek and modern aesthetic with industrial elements. Exposed piping or simple, clean-lined fixtures can offer an unexpectedly chic, minimalist angle to a navy blue bathroom, balancing out the classically rich color with modern industrial simplicity.
19. Transitional Mix
 

View this post on Instagram

 
Achieve a balanced, timeless look by blending contemporary and traditional elements in your bathroom. A subway tile backdrop against a modern navy blue sink base or vintage-inspired light fixtures adds a decadent yet current feel.
20. Spa Features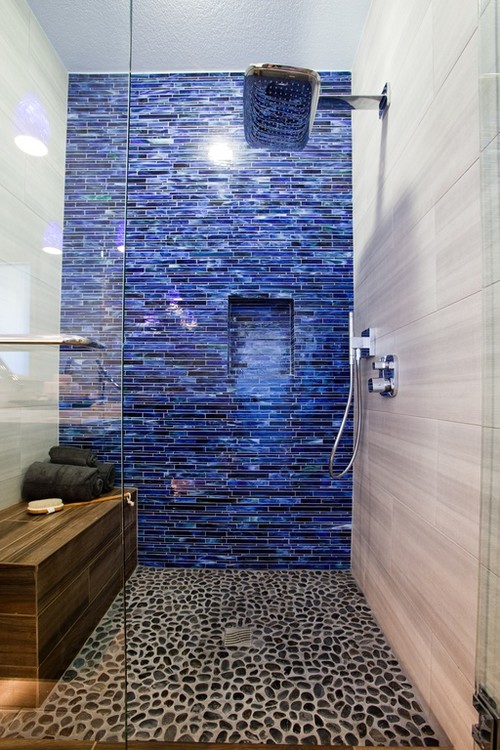 Transform your bathroom into a sanctuary by incorporating spa features. Think pebbled-tile walk-in showers, deep soaking tubs, and plush towels, all designed to replicate the spa experience. These luxurious touches will turn your space into a place of relaxation and pampering, inviting you to unwind in style.
Maintaining Balance and Harmony
While it's exciting to incorporate bold patterns and darker shades, it's essential to avoid over-decorating. Remember that in small spaces, less is more. Balance is key to ensuring your bathroom feels inviting, not cluttered. Here are a few tips to maintain equilibrium in your navy blue bathroom:
Use lighter tones and simple designs for smaller items like toothbrush holders or soap dispensers.
Let your navy blue walls or vanity be the room's star, and keep other elements more subdued.
Introduce textures and materials like rattan or wood for a warm, organic feel.
DIY Projects and Personal Touches
Adding personal touches through DIY projects can make your space feel uniquely yours. Here are some possible projects to try:
Re-paint cabinet fronts or floating shelves in a matching navy hue.
Create a custom accent wall using peel and stick wallpaper.
Replace stock hardware on your vanity with gold or brass hardware.
Final Touches
As you near the completion of your navy blue bathroom makeover, focus on the finishing touches that tie everything together. Consider accessories that complement the navy blue bathroom decor without overwhelming the space. Items like plush bath mats, uniquely crafted soap dishes, or minimalist light fixtures make all the difference.
Conclusion
From the strokes of paint on the wall to the smallest decorative pot, each choice you make in your navy blue bathroom contributes to the overall ambiance you're trying to achieve. Whether you're going for a modern design or a traditional bathroom style, navy blue offers a backdrop that's both forgiving and invigorating. Take these ideas and use them as a starting point to transform your navy blue bathroom and embrace the journey to creating a stylish and relaxing retreat.
Embarking on a bathroom remodel can feel like a hefty task, but with careful planning and a clear vision, your bathroom design will come together beautifully. Armed with our comprehensive guide full of easy way tips and bathroom decorating ideas, you're well-equipped to create a relaxing oasis that reflects your taste and enhances your home. Now, go ahead and create the tranquil, stylish blue bathroom of your dreams—you've got this!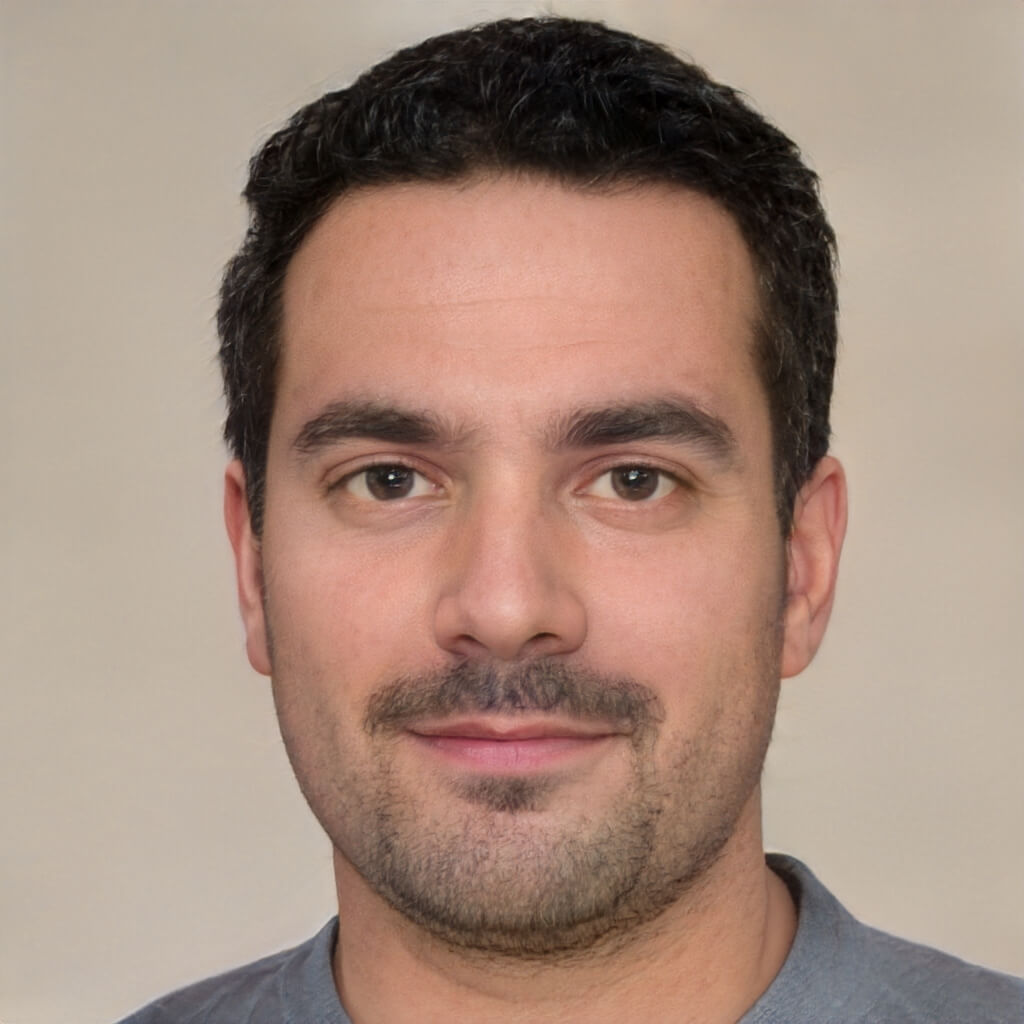 I'm a passionate home and garden enthusiast and the founder of Materialsix Home. With over 10 years of experience in the field, I've cultivated a deep love for all things related to home improvement, gardening, and interior design. Read more…