How much does it cost to remodel a 5×7 Bathroom? The average cost for remodeling a small-sized 5×7 bathroom in the US is around $6,500. In this insightful article, we'll walk you through everything you need to know about costs associated with revamping your cozy sanctuary – from materials to labor and more! Ready to get all the remodeling answers you need?
Defining a 5×7 Bathroom and Its Benefits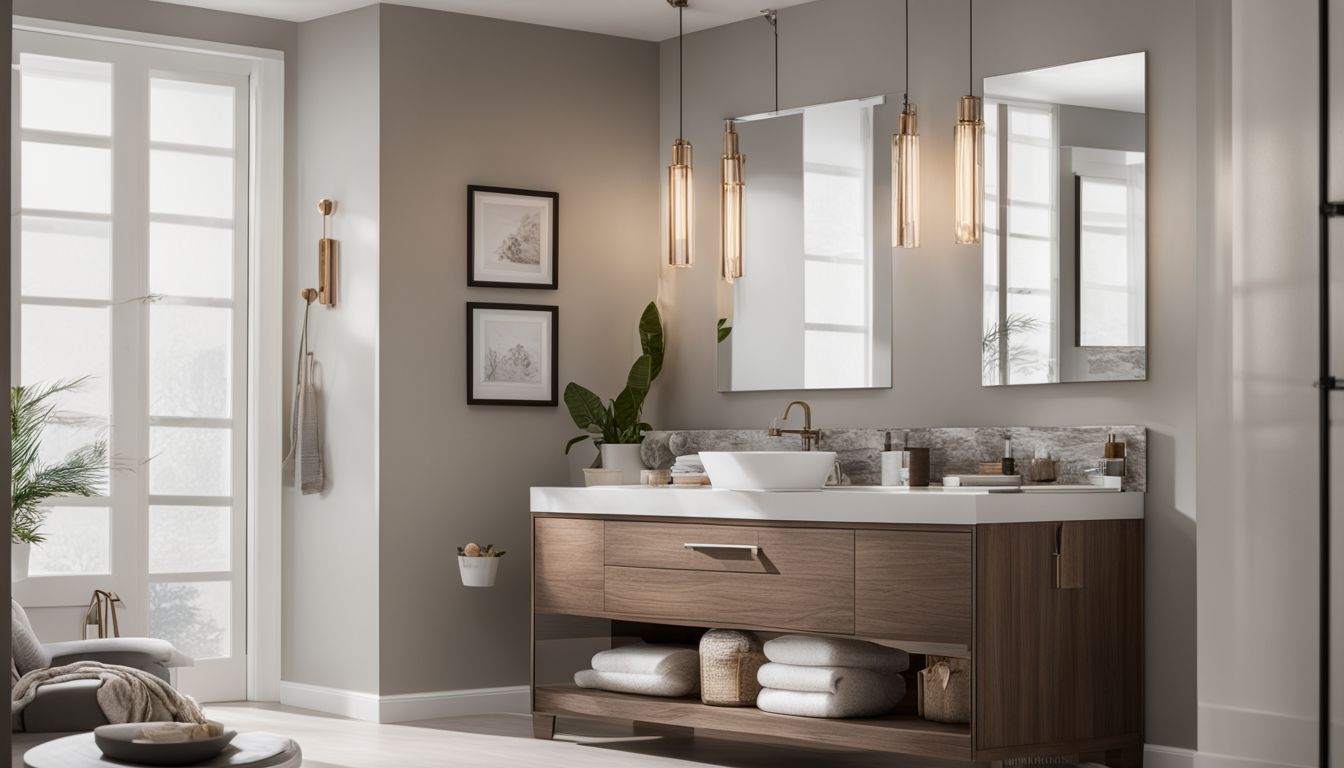 A 5×7 bathroom is a common type of small bathroom layout. This specific size, which totals 35 square feet, may seem quite modest but often transforms into accommodating functional spaces.
With the right renovation project, these bathrooms can entail a sink, toilet, and shower or bathtub combo.
There are distinct benefits to having o having such a layout bathroom. First off, remodeling this size space may cost less due to its compact nature and lesser demand for materials compared to larger bathrooms.
For example, you'll save on new tiles needed for your flooring and possibly on the wall if you're going for that style. The smaller square footage also means installation processes take less time overall, helping keep your total budget in check.
Great things come in small packages; hence a well-planned layout can improve quality of life by reducing clutter and promoting efficiency in use without compromising comfort or aesthetics.
One key advantage is the ability to upgrade fixtures more affordably given the scaled-down requirement – you might even find room within your budget for high-end fixtures or smart features that add luxury touches! Lastly, with thoughtful planning and design incorporation such as light fixtures placement or choosing an appropriate small vanity unit along with some clever storage solutions can make your limited space feel bigger than it actually is.
Factors Affecting Bathroom Remodel Costs
Type of remodel/renovation
The type of remodel or renovation plays a significant role in determining the final cost. For example, costs fluctuate dramatically when comparing a simple refresh, such as repainting walls and replacing fixtures, to a full bathroom remodeling project requiring structural changes.
A small-scale project might focus on enhancing aesthetics by installing new light fixtures or vanity items while retaining the original layout. However, more extensive renovations may involve tearing out and replacing existing features like bathtubs or creating walk-in showers.
The latter often involves changing plumbing lines and electrical wiring to accommodate the modifications. Major undertakings including altering the bathroom layout significantly increase labor costs due to their complexity compared to straightforward refreshes that deal mainly with cosmetic upgrades.
Materials used
In a high-end bathroom remodel, materials play a crucial role in costs. Luxury fixtures and natural stone can significantly impact your budget, with material expenses alone ranging from $70 to $250 per square foot.
Conversely, opting for basic finishes may keep the cost under control. For example, a half-bath remodel could be as budget-friendly as $1,500 or climb up to $4,000 based solely on your material choices.
It's crucial to note that the size and type of the bathroom also impact which materials are appropriate and their ultimate cost in your remodeling project. Therefore, it's best to consider options like vinyl flooring or ceramic tile surround that provide durability without burdening the cost excessively.
Labor cost to remodel a bathroom
Labor costs play a crucial role in determining the total expense of a 5×7 remodel. On average, charges for such a project range from $50 to $80 per hour. These can vary depending on factors such as location and the complexity of the renovation.
In New York City, for example, a typical bathroom renovation is between $3,500 and $7,000. It's important to consider labor costs in your budgeting process to ensure an accurate projection of the investment needed for professional assistance.
Average US Bathroom Remodel Costs
Master bathroom remodel
The cost of a master bathroom remodel can vary depending on the scope of the project and the quality of materials used. On average, a master bathroom remodel in 2023 can range from $10,000 to $30,000 or more.
This includes updating fixtures, replacing flooring and countertops, installing a new shower or bathtub, and possibly reconfiguring the layout. Keep in mind that additional costs may arise if there are plumbing or electrical issues that need to be addressed.
It's important to set a realistic budget and work with a trusted and professional bathroom remodeling contractor to ensure your vision for your dream master bathroom comes to life within your desired price range.
Half bathroom/powder room remodel
The cost of remodeling a half bath or powder room can vary between $1,200 and $2,000. Although there is no specific information available regarding the average cost of this type of bathroom remodel, it is important to consider that the cost of a bathroom remodel, which may include a can range from $2,000 to $18,000.
Keep in mind that the national average cost for remodeling a small bathroom (which may encompass a half bath or powder room) typically falls around $6,500. For a 5×7 bathroom remodel that includes a half bath or powder room, you can expect costs ranging from $4,000 to $10,000.
Ultimately, the price range for small bathroom remodels with these features spans from $1,500 to over $15,000.
Cost of painting
Painting the bathroom is a crucial step in any remodeling project, and it's important to consider the cost. On average, the cost to paint a bathroom, ranges from $2 to $6 per square foot.
This means that with 35 square feet of wall space, you can expect to spend between $70 and $210 on painting alone. Keep in mind that these costs may vary depending on factors such as the paint quality and the complexity of the design or patterns you choose.
So when planning your budget, don't forget to allocate funds for painting to ensure your newly remodeled bathroom looks fresh and inviting.
Cost of expanding a bathroom
Expanding a bathroom can have an impact on the cost of your remodeling project. The size and scope of the expansion, as well as the materials and labor required, will play a role in determining the final price.
For example, expanding a 5×7 bathroom may require additional plumbing work and structural changes, which can increase costs. Additionally, factors like the style and materials chosen for your expanded space will also influence the total expense.
However, it is possible to save money by finding affordable materials and fixtures that still meet your design preferences. Just keep in mind that expanding your bathroom may come with additional expenses beyond just creating more space, such as incorporating a new shower or other upgrades.
Cost of demolition
The cost of demolition is an important factor to consider when planning a bathroom remodel. On average, the price for demolishing and removing materials in a bathroom renovation project ranges from $500 to $2,000.
This cost can vary depending on the scope of the remodeling project and the amount of demolition required. When budgeting for your remodel, it's essential to account for these expenses as they contribute to the overall cost.
Whether you're looking to make minor updates or completely transform your bathroom, factoring in demolition costs will give you a better understanding of the total project budget.
Bathroom Remodeling Options
When it comes to remodeling your bathroom, you'll have different options to consider. One option is deciding between "remodel or renovate" – understand the difference and choose what suits your needs.
Additionally, you can decide whether to tackle the project all at once or take a phased approach for more manageable costs and timelines.
Renovating vs. remodeling
Understanding the difference between renovating and remodeling a bathroom is crucial as they refer to varied levels of changes and thus, carry different costs. Let's delve into the differences in the table below.
| Renovating | Remodeling |
| --- | --- |
| Renovating a bathroom often involves making small updates to the existing design. It's more like a facelift. | Remodeling a bathroom addresses major changes in the design, structure, and function of the room. |
| Renovation is usually less expensive as it involves upgrades such as replacing fixtures or repainting. | Remodeling, on the other hand, is generally more costly, as it might include tasks like moving walls or changing the room's layout. |
| Renovation often takes less time because it involves less structural work. | Remodeling requires more time due to the complexity and scope of the changes. |
Phased approach vs. all at once (One-day Bathroom Remodel)
Opting for a phased approach or tackling the entire remodel at once can have different cost implications. Consider the following factors when making this decision:
Timeframe: Undertaking a phased approach for your bathroom remodel allows you to spread out the costs over a longer period, while opting for a complete overhaul may necessitate a more substantial upfront investment for a bathroom remodel.
Budget flexibility: A phased approach can provide more flexibility in managing your budget as you can prioritize certain renovations and complete them as funds become available.
Convenience: A one-day bathroom remodel is highly convenient, eliminating the need to live amidst prolonged construction or continuously adapt to changes.
Contractor availability: Depending on contractor availability, it may be easier to schedule and coordinate a phased approach rather than completing everything at once.
Design cohesion: Planning the entire remodel upfront ensures a cohesive design throughout the space, whereas a phased approach may result in slightly varied styles if decisions are made over time.
Cost Breakdown of Various Bathroom Elements
In this section, we will break down the costs of different bathroom elements such as toilets, sinks, showers, and more. Find out how much each component contributes to your overall budget and start planning your dream bathroom remodel!
Toilet
The toilet is an essential element of any bathroom remodel. The cost of a new toilet can range from $100 to $800, depending on the style and features you choose. It's important to consider factors like water efficiency, comfort height options, and easy-to-clean designs when selecting a toilet for your bathroom.
Additionally, installation costs for a new toilet typically average around $150 to $250, including the necessary plumbing work. With these considerations in mind, budgeting around $250 to $1,000 for a new toilet is realistic.
Vent and fan
The cost of a bathroom vent fan can vary depending on its size and power. On average, you can expect to pay between $100 and $250 for a bathroom vent fan. If you're looking to install a fan with a light, the cost can increase to around $400.
When it comes to installation costs, they typically range from $230 to $550. Keep in mind that the price of the actual fans themselves can start as low as $15 and go up to about $300.
If you need to replace an existing exhaust fan in your bathroom, expect to spend anywhere from $180 to $600, especially if you want additional features like a heat lamp or integrated light fixture.
Lighting fixtures
Lighting fixtures play a crucial role in a bathroom remodel, providing both functional and aesthetic benefits. Upgrading your bathroom lighting can transform the look and feel of the space.
Depending on the type and style you choose, lighting fixtures can range in cost from $300 to $1,000. Light fixtures such as sconces may be pricier compared to other items in your remodel project.
When adding new light fixtures to your bathroom, it's important to budget an additional cost of $200 to $1,000. With the right lighting choices, you can create a bright and inviting space that enhances your daily routines and adds value to your home.
Sink
Installing a sink is an essential part of any bathroom remodel. The cost will depend on the size and type of sink you choose, as well as the complexity of the installation. On average, installing a bathroom sink can range from $200 to $500.
Additional costs may include plumbing materials and labor fees. In Brooklyn, NY, for example, the installation cost of a vanity ranging from 24″ to 36″ can be about $300 to $500, including plumbing materials.
Make sure to factor in these costs when planning your budget for a bathroom renovation project.
Entry/door
Installing a new entry door can make your bathroom remodel both more functional and stylish. On average, the cost of installing a new door for a bathroom remodel ranges from $360 to $1,200.
The final price will depend on factors such as the type of door you choose and any additional features or upgrades you decide to include. Whether you opt for a sleek glass shower door or a traditional wooden entrance, investing in an updated entryway can make a significant impact on the overall look and feel of your remodeled bathroom.
Replacement windows
Replacing windows is a common part of the bathroom remodels, and it can have a significant impact on both the appearance and functionality of the space. The cost to install replacement windows in a bathroom remodel typically ranges from $300 to $500.
However, if you're looking to add more natural light or ventilation by installing new windows and cutting an opening, the cost can be higher, averaging around $6,400. Whether you simply need to replace existing windows or want to make more extensive changes, investing in new windows can greatly enhance your bathroom renovation project.
Shower
The shower is an essential element of any bathroom remodel. It not only serves a practical purpose but also adds to the overall aesthetic appeal of the space. When it comes to remodeling a bathroom, the cost of a shower is included in the total project cost.
Depending on the size and type of shower you choose, as well as any additional features or materials, the price can vary significantly. For larger bathrooms with a separate shower stall, costs can range from $7,000 to $25,000 or more.
However, companies like Rebath or Bath Planet offer one-day shower remodels that start around $4,000 for those looking for a quicker and more budget-friendly option. Whether you opt for a luxurious walk-in shower or a simple yet functional shower combo, investing in this key feature will have a big impact on both your daily routine and the overall look and feel of your newly remodeled bathroom.
Bathtub
A key element to consider when remodeling your bathroom is the bathtub. The cost of a bathtub can vary depending on its type and quality. For a small bathroom remodel, which typically costs between $4,000 to $10,000, the bathtub will be included in that total expense.
On average, a complete bathroom remodel with a new bathtub will cost around $6,250. However, it's important to keep in mind that the overall price can differ based on factors such as the size and material of the bathtub chosen.
So when planning your bathroom renovation project, make sure to factor in the cost of a bathtub along with other essential elements like showers, sinks, vanities, and floors.
Bathroom Vanity
The cost breakdown of a bathroom remodel includes the element of vanity. It's an essential component that can significantly impact the cost of your project. The specific vanity you choose will determine how much it contributes to the final price.
Factors such as materials, style, and brand all play a role in determining its cost. Additionally, don't forget to budget for labor costs associated with installing the vanity. With careful consideration and smart choices, you can find a vanity that fits within your budget while still enhancing the aesthetic appeal of your remodeled bathroom.
Tips for Saving on a Bathroom Remodel

To save on your bathroom remodel, consider DIY options, choose affordable bathroom materials, and carefully plan and budget for the project. Adding storage, considering access points, and staying informed about current trends and prices can also help you cut costs.
DIY options
Save money by considering DIY bathroom remodel options. Taking on certain tasks yourself can potentially reduce the overall cost of your project. For example, if you have some experience with plumbing or electrical work, you may be able to handle installing new fixtures or wiring without hiring a professional.
Additionally, painting the walls and applying new caulk are simple tasks that can easily be done on your own. By tackling these projects yourself, you can save money on labor costs and put more towards high-quality materials for your bathroom makeover.
Remember that while DIY options can help lower costs, it's important to assess your skills and capabilities before taking them on. Some tasks may require specialized knowledge or tools that you don't possess, which is when it's best to hire a professional.
Choosing affordable materials
When choosing materials for your bathroom remodel, it's important to consider affordable options that still offer quality and durability. Opting for budget-friendly materials such as vinyl flooring or ceramic tile can help lower the cost of your project while still providing a stylish and functional space.
Additionally, you could explore alternative materials like laminate countertops or acrylic shower surrounds that offer a similar aesthetic at a fraction of the price. Be sure to research different suppliers and compare prices to ensure you're getting the best value for your money without compromising on quality.
By choosing affordable materials, you can save on costs without sacrificing style.
Planning and budgeting
When planning and budgeting for a bathroom remodel, it's important to consider the size of your space and the specific upgrades you want to make. On average, bathroom remodel can cost between $4,000 to $10,000 depending on complexity and material choices.
Take into account factors like labor, materials used, and any layout changes you may need. Having a realistic budget in mind will help guide your decisions and ensure that you stay within your financial means while still achieving the desired results.
Adding storage
Adding storage to your bathroom is a crucial aspect of the remodeling process. Depending on the extent of the upgrade, it can increase the cost of your project by anywhere from $100 to $18,000.
Storage options such as new cabinets and shelving units not only help you keep your toiletries organized but also add a functional and aesthetic element to your bathroom. The cost of new bathroom cabinets typically ranges from $300 to $42,000, with an average price of $200 to $600 per unit.
So when planning your remodel, don't forget to budget for adding extra storage space.
Considering access points
When planning a bathroom remodel, it's important to take into account the accessibility of key areas. Ensuring easy access to the shower, toilet, and sink can greatly enhance the functionality and convenience of your newly renovated space.
Keep in mind that incorporating wider doorways and installing grab bars can be beneficial for individuals with mobility issues or those who may have difficulty using traditional fixtures.
By considering access points during the design phase, you can create a bathroom that is not only aesthetically pleasing but also user-friendly for everyone in your household.
In addition to accessibility features, it's worth noting that making smart choices when it comes to materials and layout can make a significant difference in cost without sacrificing quality.
For example, opting for a walk-in shower instead of a bathtub can save on both installation expenses and maintenance down the line. Similarly, choosing durable flooring materials such as vinyl or ceramic tile surround can provide long-term savings by minimizing repair costs due to water damage.
Staying informed
Stay on top of the latest trends and information when it comes to bathroom remodeling by staying informed. Knowing the average costs and price ranges for different aspects of a remodel can help you make more informed decisions and set realistic budgets.
Stay up-to-date with industry news, read articles, watch videos, and follow experts in the field to gain valuable insights into design ideas, material options, and cost-saving tips.
By staying informed, you can navigate your bathroom remodel with confidence and ensure that you make the best choices for your project.
Examining the Average Cost of a 5×7 Bathroom Remodel in New York
The average cost of a 5×7 bathroom remodel in New York City ranges from $18,000 to $74,000. This includes all the necessary expenses such as materials, labor, and additional costs like demolition and removal.
The final price can vary depending on factors like location, complexity of the project, and the quality of materials used. It's important to consider these factors when planning your bathroom remodel in order to set a realistic budget and achieve the desired results within your financial constraints.
How Much Does It Cost to Remodel a 5×7 Bathroom (A Summary)
Remodeling a bathroom, especially a small space like a 5×7 bathroom, can vary significantly in cost based on several factors. The bathroom remodel cost is influenced by the choices homeowners make, including opting for new tile, updating plumbing fixtures, or incorporating a double vanity. The size of your bathroom plays a crucial role in determining the total cost, with larger bathrooms typically incurring higher costs than their smaller counterparts.
If your old bathroom in an older home requires structural changes or extensive plumbing modifications, it might be a good idea to consult with a structural engineer or a general contractor who can provide a clearer picture of the potential expenses. They can help adjust the bathroom design to fit both your aesthetic and budgetary needs.
On average, the average cost of a bathroom remodel can range widely, with many homeowners spending more on primary bathrooms than secondary ones. New flooring options, such as floor tile, can add to the bathroom costs, especially if the choice is for high-end materials. While it's tempting to transform a small bathroom into a large full bathroom, it's essential to understand that this could significantly increase the total cost.
Older homes might also come with unique challenges that can drive up the price. For those looking to get a general idea of potential expenses without committing fully, it's best to get a consultation based on the specific size of the bathroom. While larger bathrooms might seem appealing, the best way to manage a renovation within budget is to optimize the design for the available space.
Conclusion
Discovering the cost to remodel a 5×7 bathroom can help you plan your renovation project effectively. Factors like the type of remodel, materials used, and labor costs play a significant role in determining the overall cost.
By getting multiple quotes and considering different options, you can find ways to save while still achieving your desired bathroom transformation.
FAQs
How long does it take to remodel a 5×7 bathroom?
The time it takes can vary depending on the scope of the renovations and contractor availability. On average, the national average for a 5×7 bathroom remodel ranges from one day to several weeks.
Factors that can affect the timeline include whether you are making minor updates or completely renovating the space, as well as any unforeseen issues that may arise during the construction process.
It's important to communicate your desired timeline with your contractor and have a clear understanding of what needs to be done in order to achieve your renovation goals.
Is 5×7 big enough for a bathroom?
Can be considered small, but it is definitely big enough for a functional bathroom. It provides enough space to accommodate essential fixtures such as a toilet, sink, and shower or bathtub.
With proper planning and efficient use of space-saving solutions, you can create a comfortable and stylish bathroom in this size. Consider opting for compact fixtures and utilizing vertical storage to maximize the available space.
Keep in mind that the overall feel of the bathroom will also depend on your personal preferences and design choices.
What is the best tile size for a small bathroom?
When choosing the best tile size, it's crucial to consider the room's dimensions and your design preferences. Smaller tiles, like 1×1 inch or mosaic tiles, can offer a visually interesting and textured appearance.
They're also excellent for crafting intricate patterns or adding visual depth to confined spaces. Conversely, larger tiles, such as 12×12 inches or more, can give the room a more expansive feel by minimizing grout lines and presenting a seamless look.
Ultimately, the ideal tile size for your compact bathroom hinges on your personal style and aesthetic objectives.
How much does it cost to tile a 5×8 bathroom?
Tiling a 5×8 bathroom can cost around $2,100 on average. The cost of materials alone can range from $1 to $15 or more per square foot, depending on factors like tile type and design.
It's important to consider the grade of the tiles as well when determining the overall cost.
Will my old fixtures increase the cost of bathroom remodel?
If the old fixtures in your older home are not in good condition then replacing them with new ones will result in additional expenses for your home improvement project.
Is it possible to upgrade my small guest bathroom into an upscale remodel?
Yes! With careful selection of building codes-compliant medicine cabinets, custom shower walls, toilet paper holder and towel bars, even half bathrooms can get that new look!
Does adding a new tub affect the average cost range?
Adding a new tub definitely influences the entire bathroom cost especially if it's part of complete remodel within primary or universal bathroom designs.
Would hiring an interior designer be helpful for my renovation project?
Getting help from an interior designer might seem like extra expense at first but could potentially save you money by advising best ways for implementing design ideas while remaining up to code which is main factor affecting average bathroom ranges.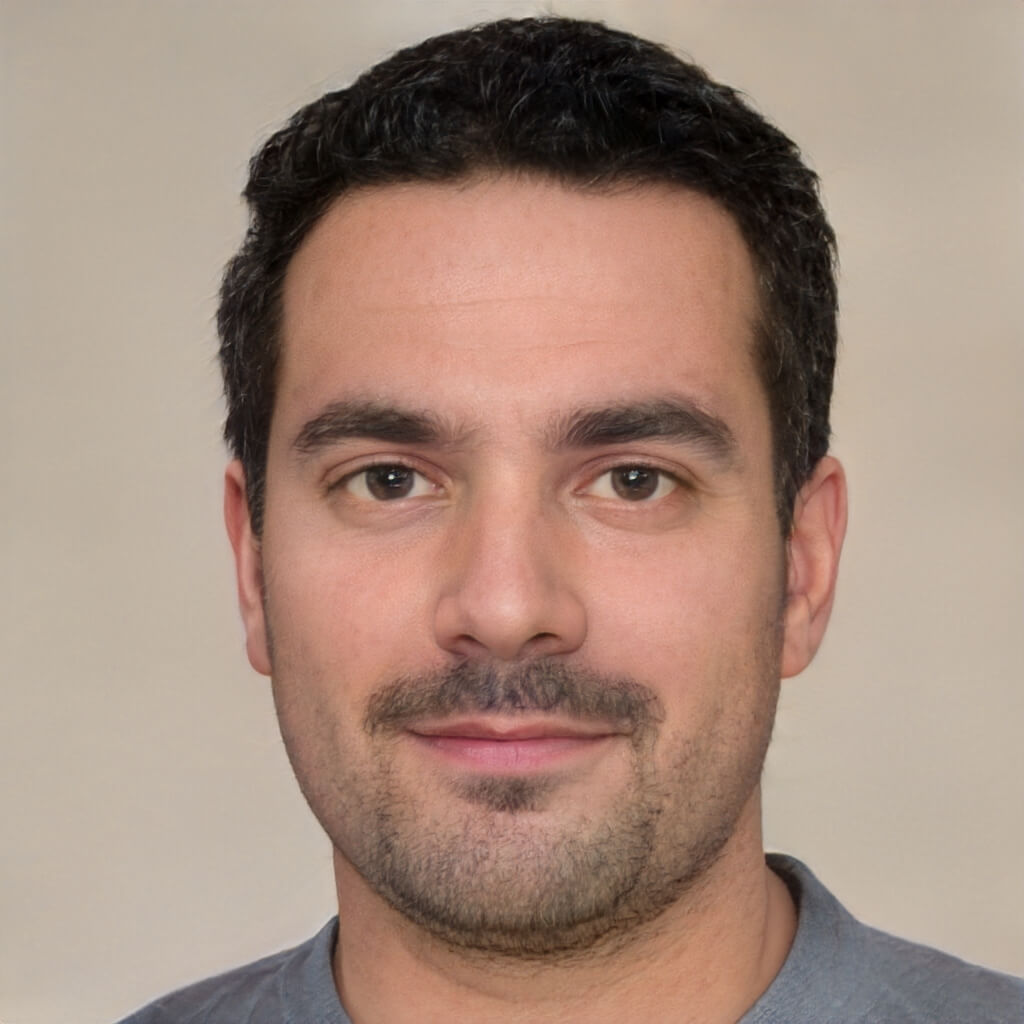 I'm a passionate home and garden enthusiast and the founder of Materialsix Home. With over 10 years of experience in the field, I've cultivated a deep love for all things related to home improvement, gardening, and interior design. Read more…