The weekend is coming. It is time for you to reorganize and declutter your home. Since you have much storage, you had better begin with these linen closet organization ideas.
Indeed, the linen closet is the house for the items that you commonly use daily. Thus, you can find towels, bedding, and sheets here.
Linens tend to be bulky. Therefore, they usually take up a lot of space, not to mention the hard time you have when trying to fold them as tidy as possible.
If you constantly have this perpetual problem, you need to consider these ideas. Moreover, they will make your storage look more attractive.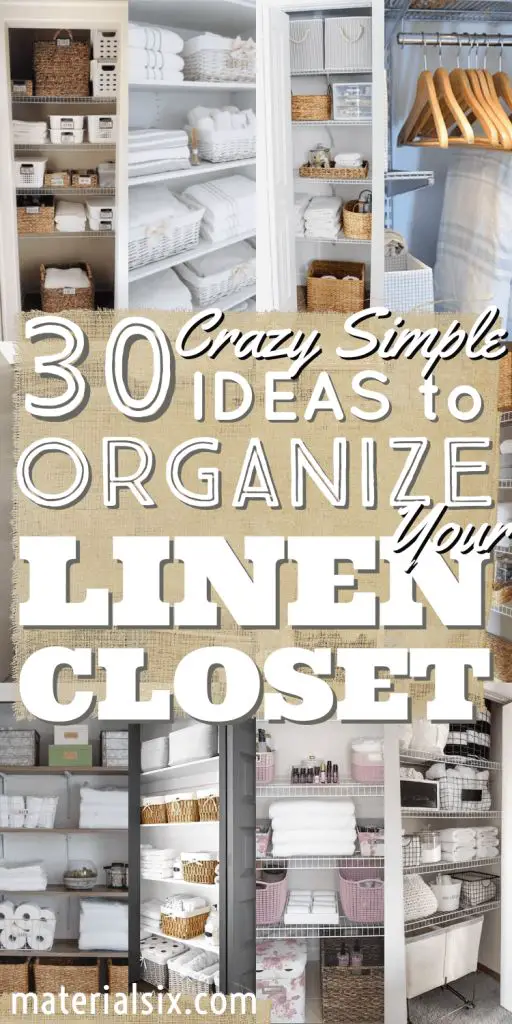 30 Effortless and Efficient Closet Linen Organization Ideas
Are you looking for some foolproof linen closet ideas? Congratulations! You can find them here.
The following list encompasses effortless and efficient ideas that you can apply to your linen closet. So, let us get started!
1. Closet Linen Organization for Bathroom Essentials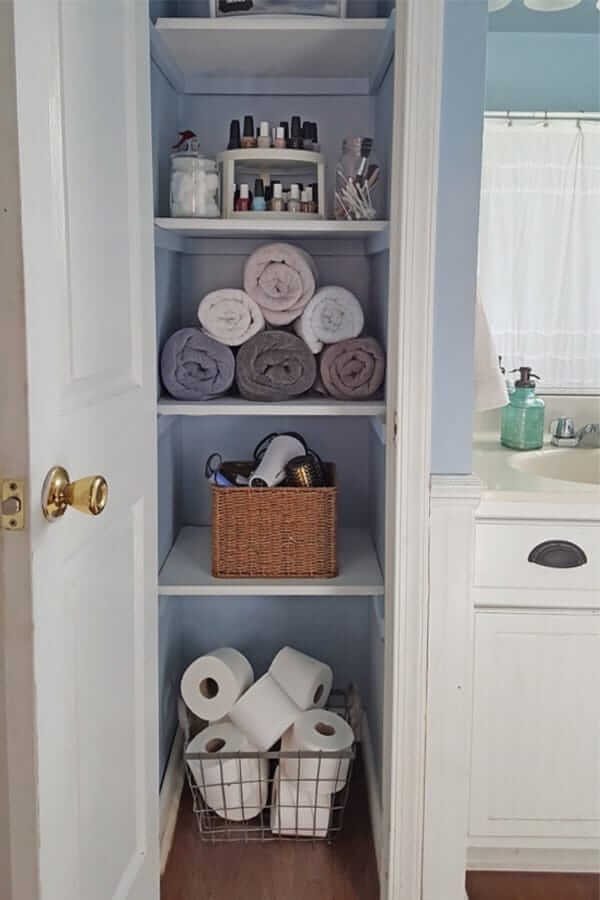 If your bathroom is small, you might find it hard to get things organized. Hence, you will just toss everything into the closet, which does not solve your problems at all.
Indeed, you can organize your linen closet better by investing in some containers and rolling the towels instead of folding them.
2. Minimalist Linen Closet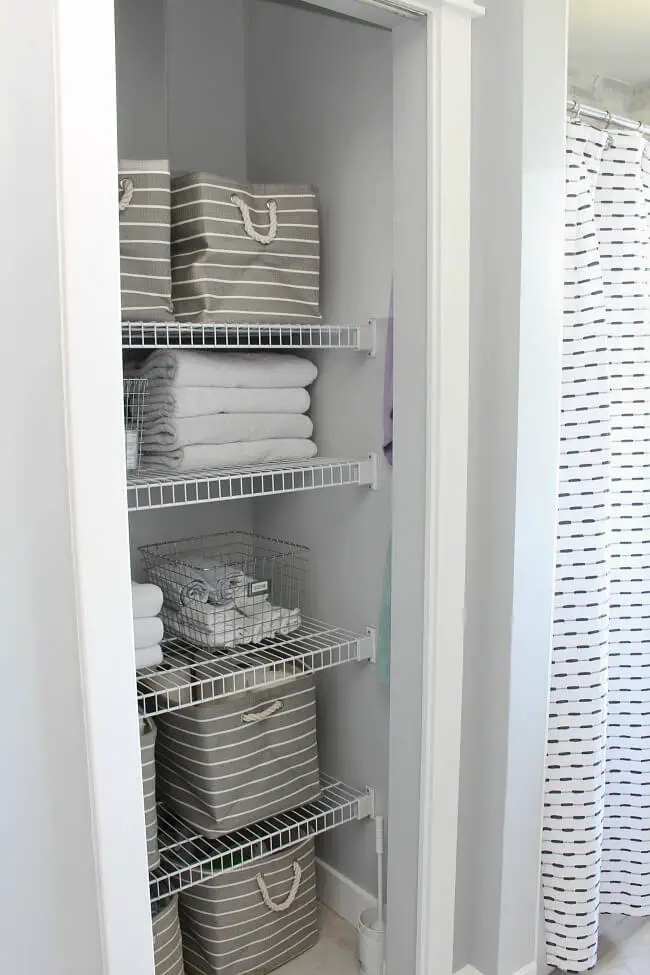 Although you have a compact closet, it does not mean you can give up hope of keeping things tidy and organized.
Thereupon, you can adopt the minimalist style to make this idea tangible.
Being a minimalist means keeping things down to a minimum, including the color palette. Instead of concocting a lot of shades, just stick to neutral hues like white and gray.
For example, this linen closet storage comes in gray and white that match the walls and trims immensely.
Also, you can find gray boxes with white stripes that host some bathroom essentials like toilet paper and hair-styling tools.
3. Organize Your Linens Better with Baskets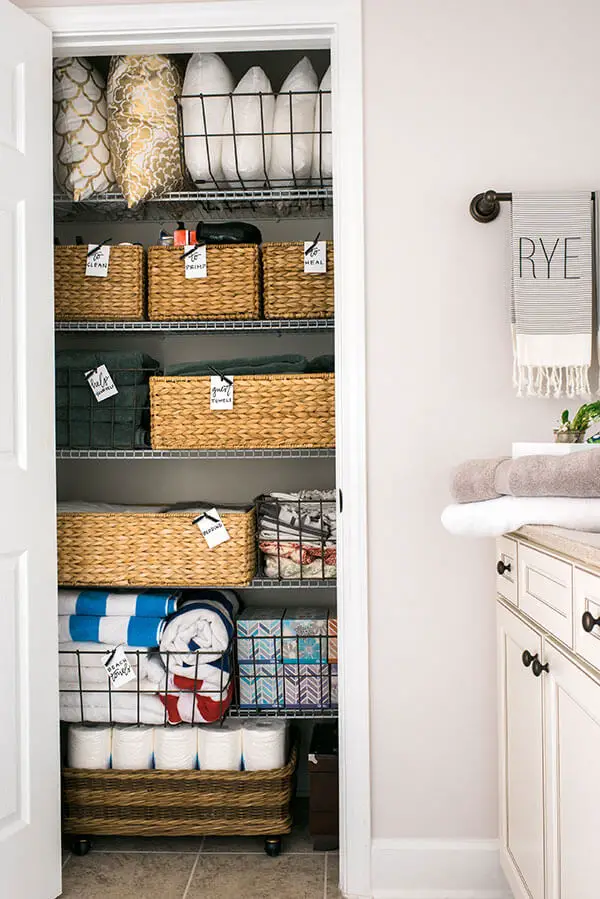 Have you ever asked yourself why your linen closet keeps being messy although you have organized it countless times?
You might blame the constraints of space. Then, you begin to think that you need another closet.
Well, it turns out that you only need some baskets for a better linen organization.
Further, you can use any basket you like – wire, wicker, plastic containers, you name it! Importantly, they are big enough to house the linens and other stuff.
4. Closet Linen Organization Ideas for a Laundry Room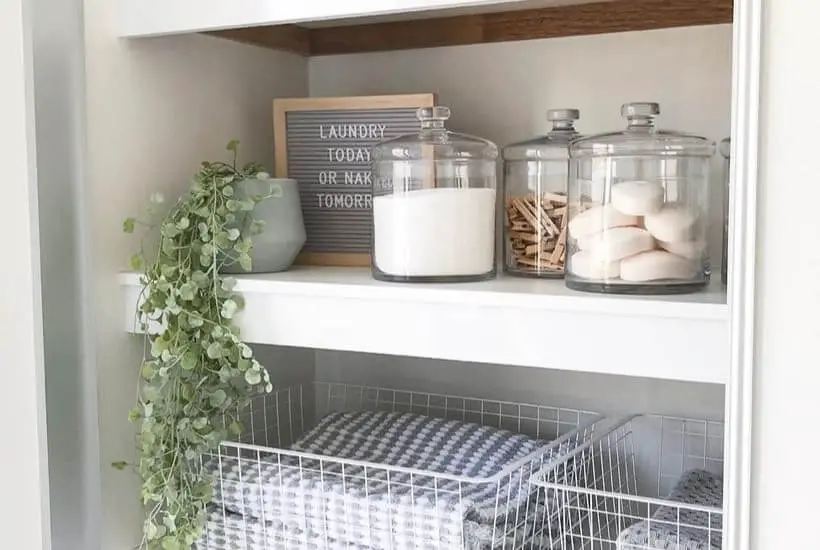 Your laundry room also needs an organized linen closet. Even better, you can style it to make it look more appealing.
First, you need to get some wire baskets to store towels. Then, you should grab some clear jars and fill them with soaps, detergents, and clothespins.
Finally, add your favorites like a motivational quote and greenery to the shelf. This way, you can still feel the positive vibes while doing the laundry.
5. Closet Linen Organization Like a Pro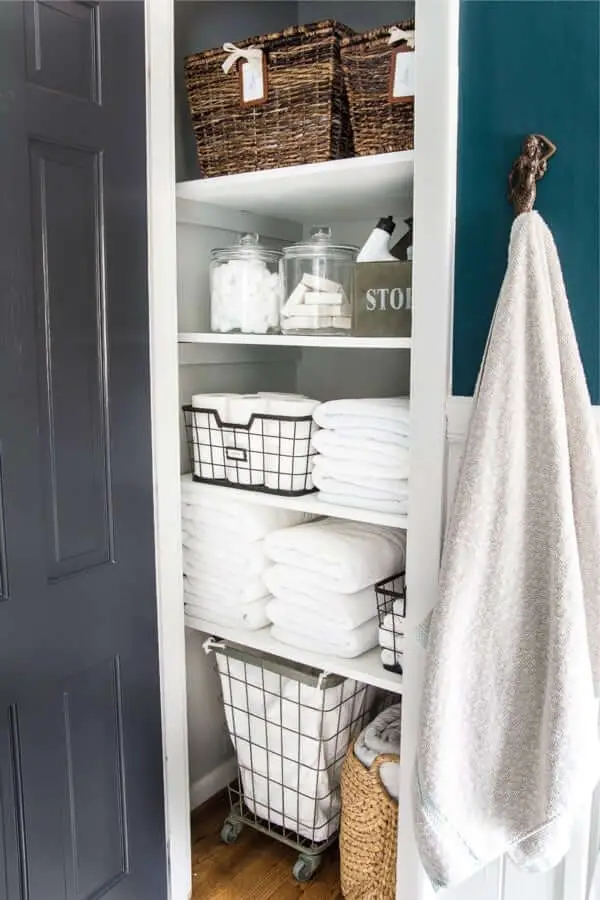 Organizing the linen closet does not have to be arduous. Besides, you do not need to hire a professional to have it tidied up because you can do it yourself.
Initially, you need to vary the height and width of each shelf. Then, consider providing more space at the bottom for a hamper that can roll out.
Also, you may need to line the hamper with a liner. Hence, you can carry all dirty clothes to the laundry room without lugging the entire wire basket.
6. Linen Closet Organization Ideas with Natural Charm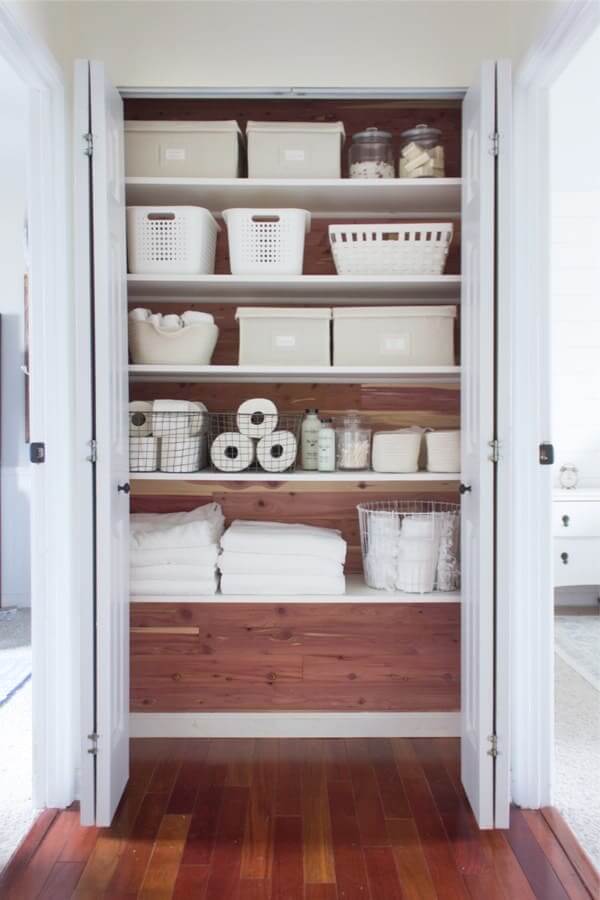 A clean and tidy storage solution is all about organizing things properly, which entails folding and dividing.
Then, you can try to take this idea to the next level by covering the walls inside the closet with cedar panels.
Moreover, you can add a bit of interest to the space.
7. Do not underestimate the Power of Labels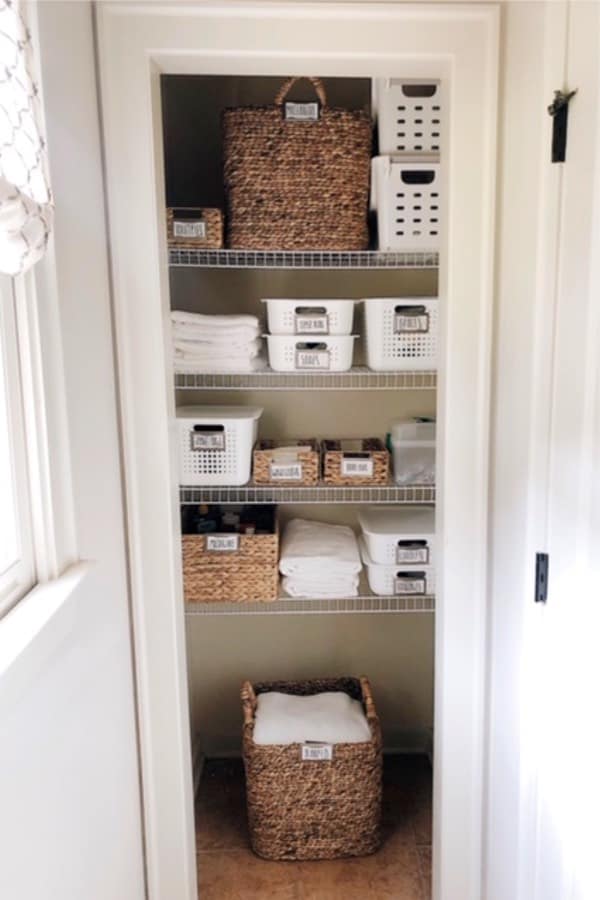 The idea of using plastic containers and baskets in linen organization is indeed brilliant. However, you might find it hard to grab what you need in a jiffy.
Therefore, to overcome this problem, you can try putting on a label on each container and basket.
It may seem trivial, yet it will save a lot of time.
8. DIY Linen Closet Ideas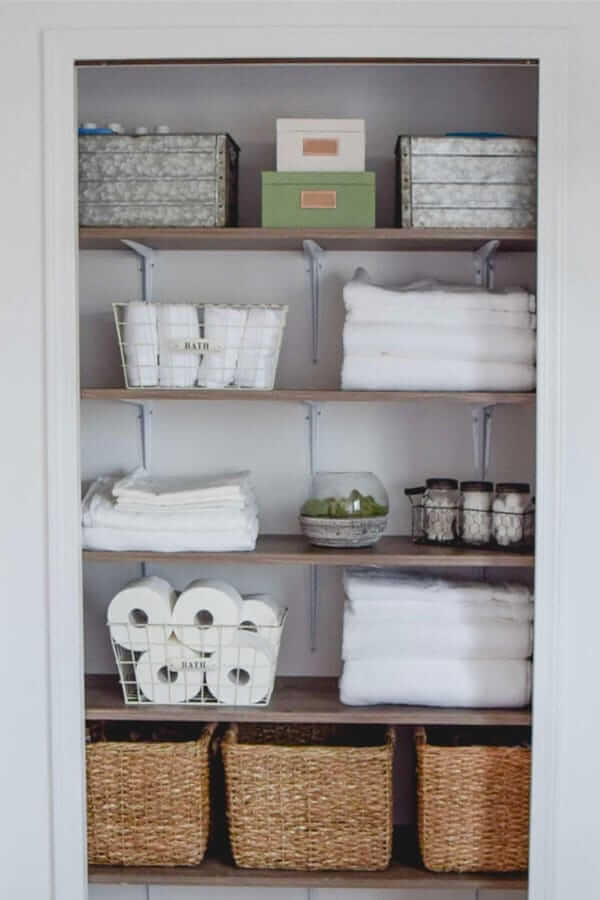 The best thing about a DIY project is you can adjust it to meet your requirements, not to mention the amount of money you can salt away.
Thus, grab your tools and begin to work.
Moreover, try making your own shelves inside the closet. Then, grab some boards and screw them to the wall.
Additionally, for extra supports, install L brackets underneath.
9. Modern Meets Traditional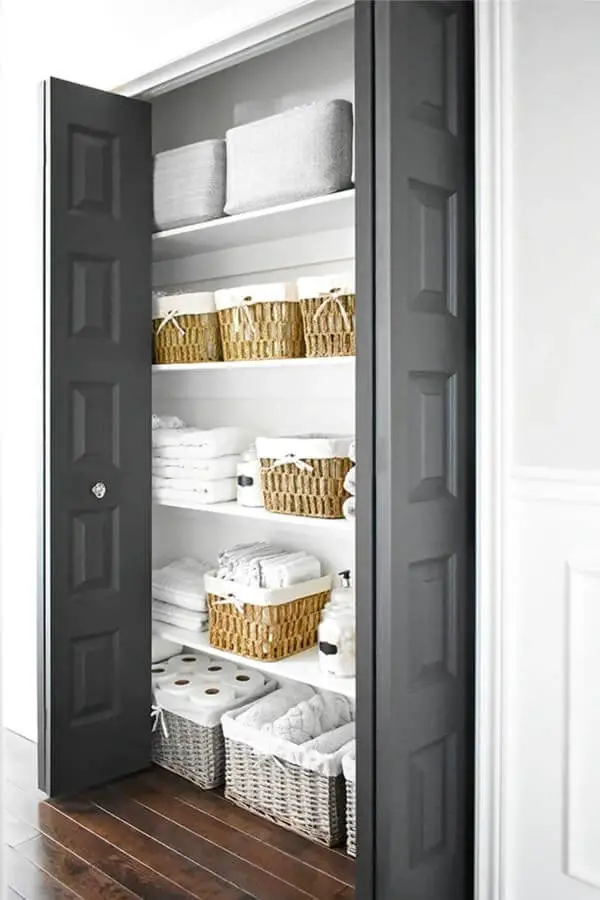 Many people fall in love with the modern farmhouse style. Thus, you can implement it in your linen organization idea.
For instance, this linen closet features shiplap paneling coming in crisp white for a more contemporary look.
Besides, you can add some wicker baskets to add textural elements.
To round out the look, try installing these bifold doors. Furthermore, they allow you to save some space.
10. How to Organize a Small Linen Closet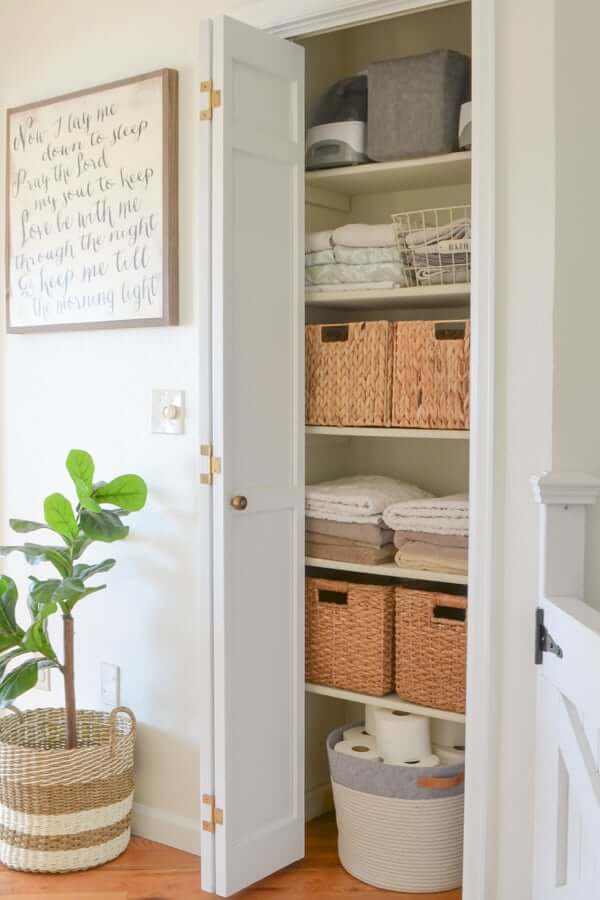 Do not let a small closet hinder you from organizing your linen.
Thus, you can tackle this problem by investing in some wicker baskets to stash away pillowcases and bedsheets.
Then, get a large fabric bin to store extra toilet paper, and place it at the bottom.
11. Adjustable Wire Shelving Linen Closet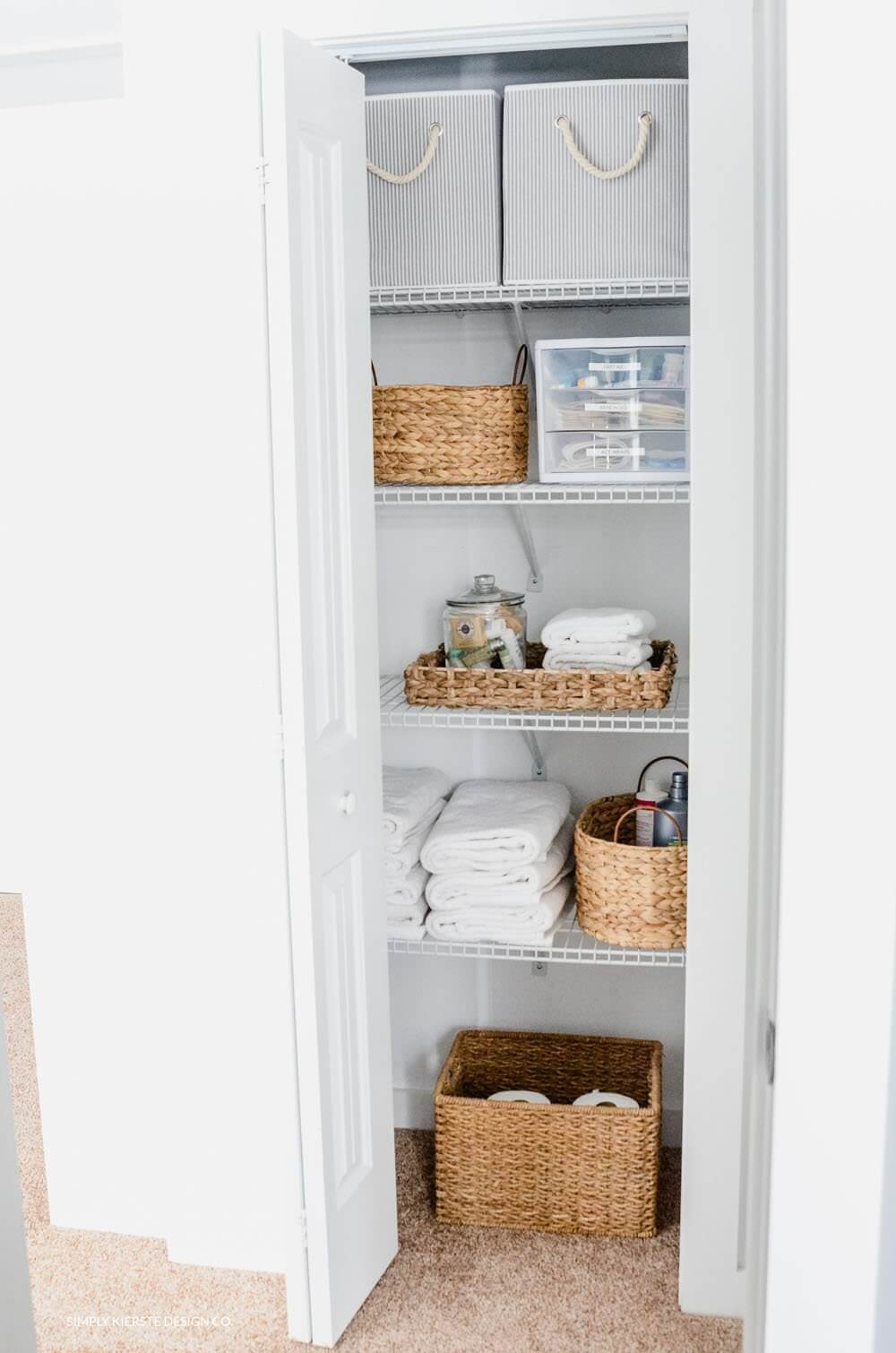 Wire shelving is a great solution for those who require flexibility. Also, it allows you to adjust the size or number of the shelves.
Besides, it is cheaper and easier to install than wooden boards.
12. Monochromatic Linen Closet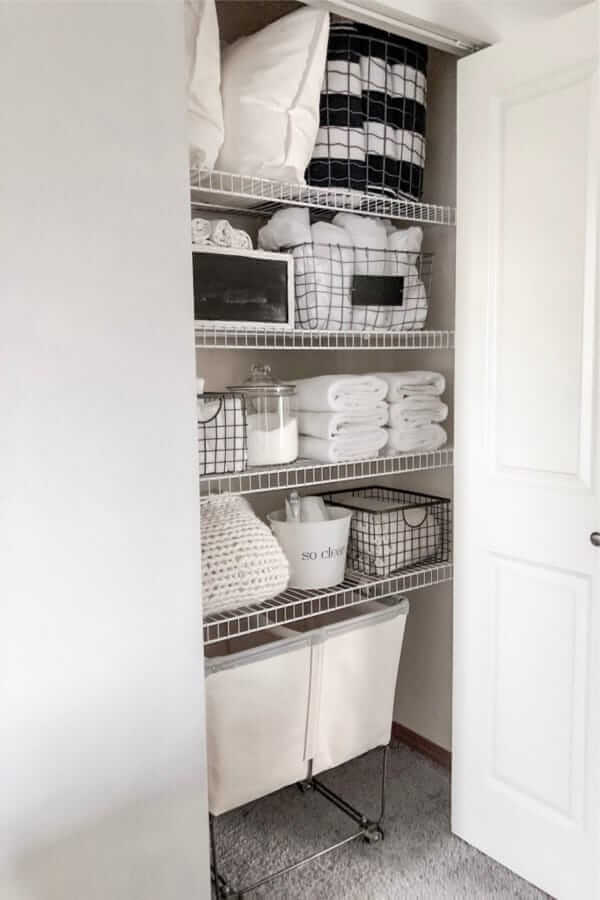 Being fabulous is not always about looking luxurious. Likewise, it can be as simple as black and white.
Further, this black and white linen organization features a monochromatic style. Moreover, it looks great.
13. Add a Rod for a Better Closet Linen Organization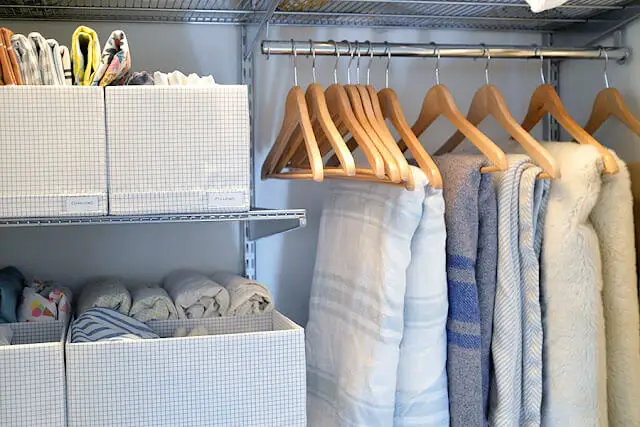 If your closet has ample space, consider installing a rod in it. Thus, you can use it to hang some bulky and heavy linens like bath towels.
Meanwhile, once the bulky and heavy towels hang from the rod, you have extra space for boxes and containers hosting bed sheets and other linens.
14. Cute Pink Linen Closet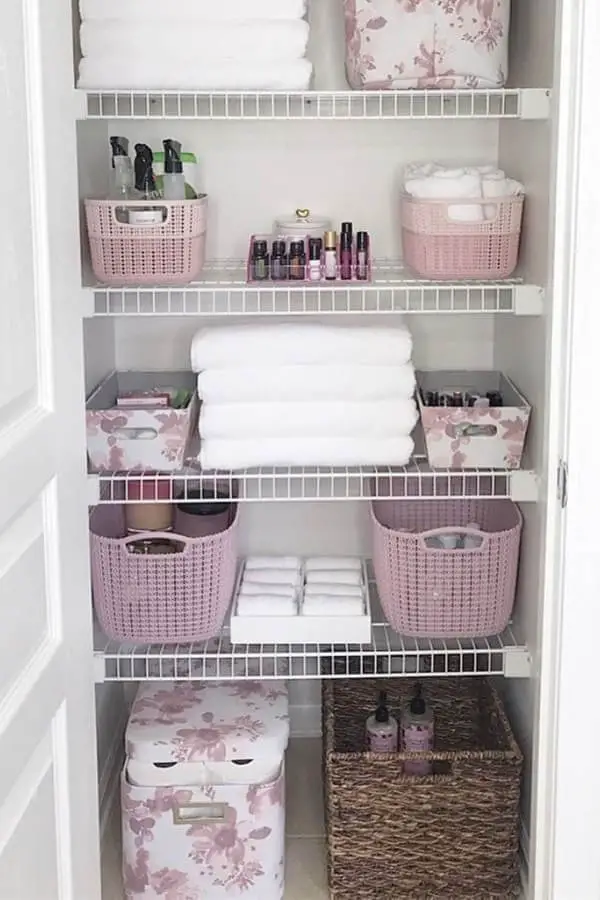 Make your linen organization look more appealing by including your personal touch into it. Then, you can begin by applying your favorite hues.
For instance, this closet looks cute with pink containers. Also, some of them even come in floral patterns to add more interest.
Moreover, if you arrange your linen closer this way, you will be always excited to keep things organized.
15. Use All of the Available Space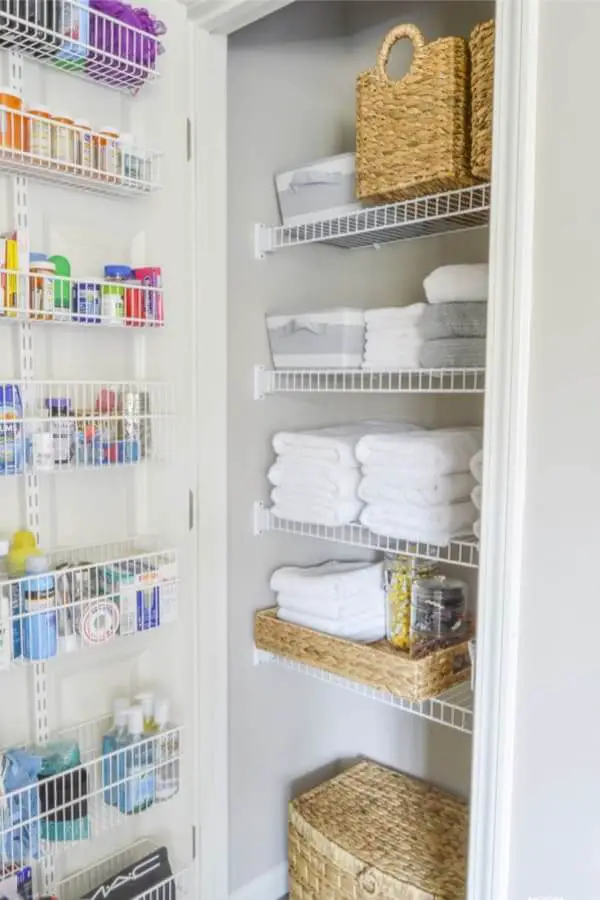 Do you think your closet does not have any space for shampoos and other bathroom essentials?
Therefore, you need to look around and begin to tap into the available spot like the door.
If your closet lacks space, you can always use the door to incorporate additional storage. Additionally, just install some racks on it, and you are good to go.
16. Shoe-Rack Organizer Comes to the Rescue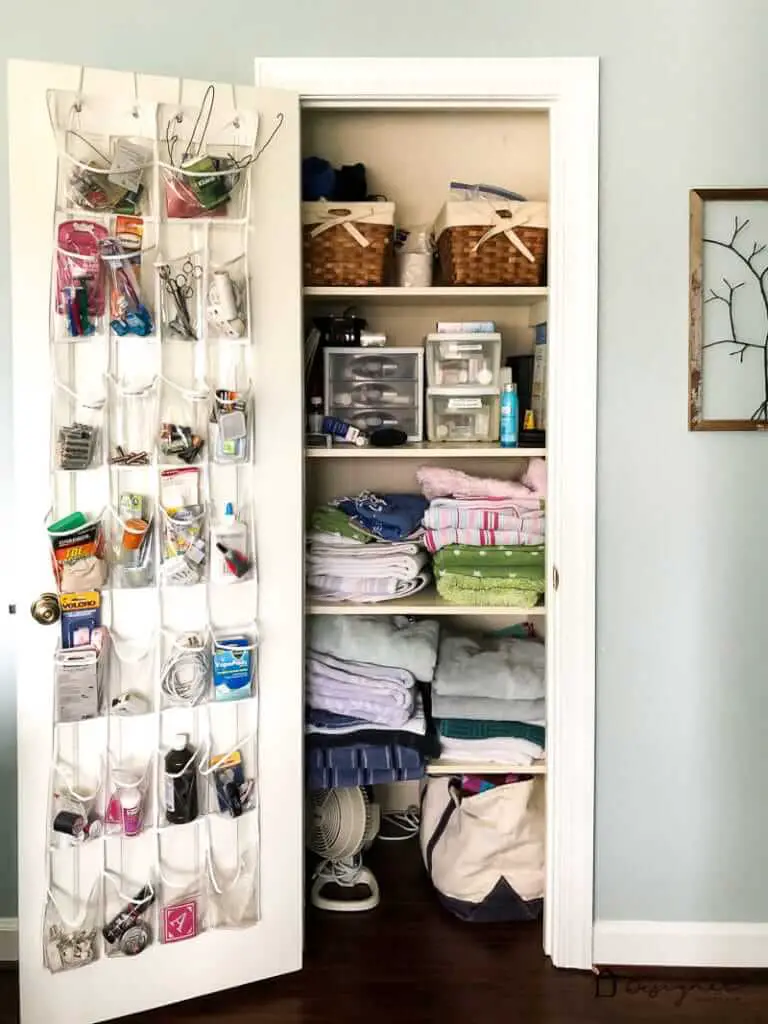 If you think that installing wire or wood racks on the closet door is too much trouble, you can try hanging shoe organizers instead.
Shoe organizers usually come in clear pockets. Then, you can use them to hold some smaller items.
17. Closet Linen Organization with Bi-Fold Doors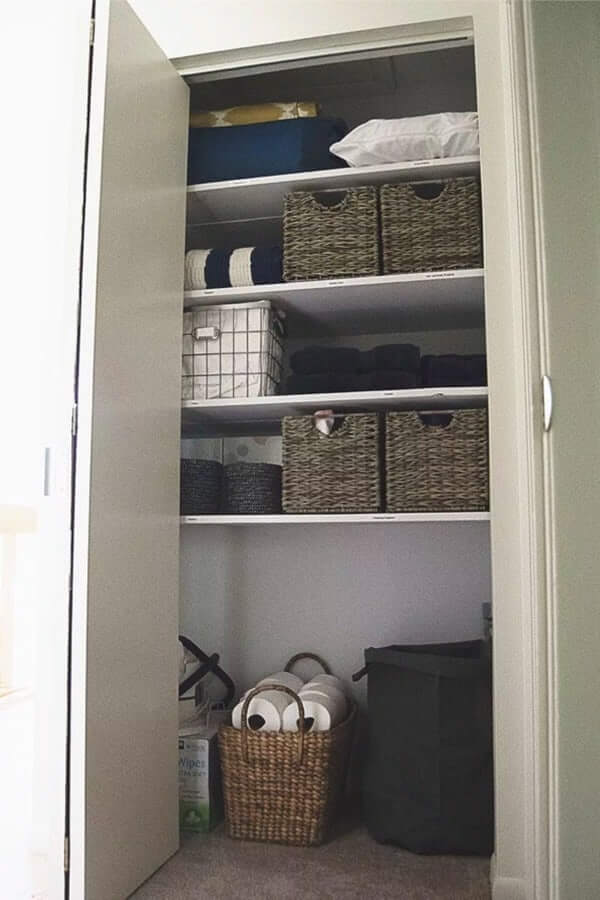 Some closets stand in the entryway. So, when you open the doors, you will block the foot traffic immediately.
However, you do not need to remove the closet altogether to overcome this problem. All you have to do is replace the doors with bi-fold doors.
18. Simple Linen Closet Makeover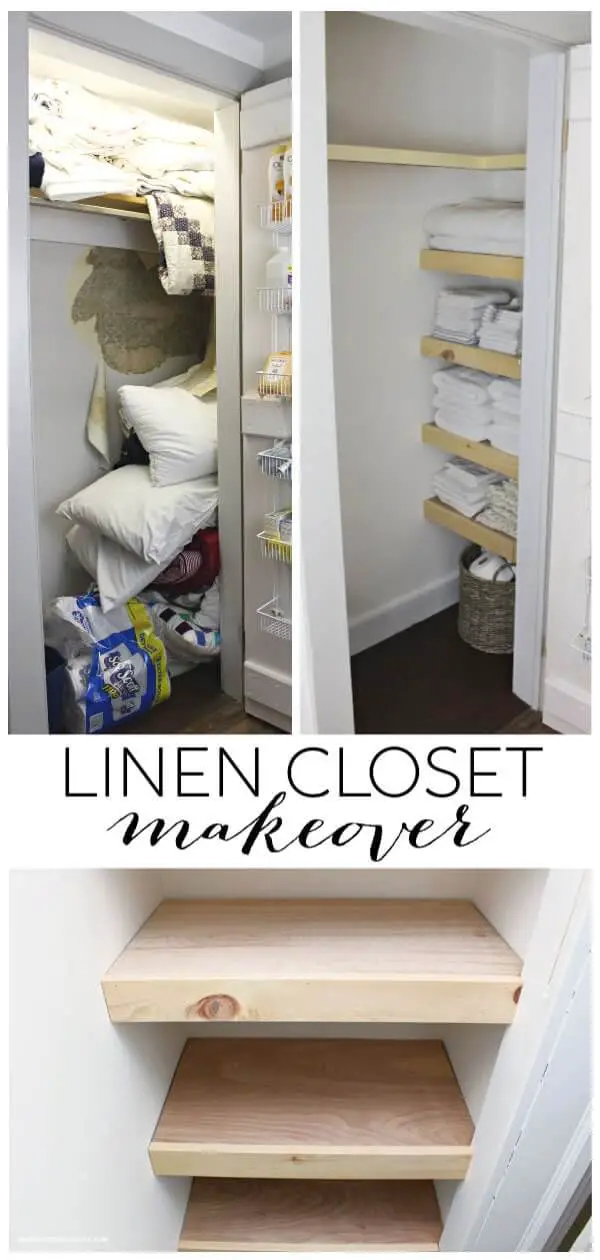 Doing a linen closet makeover does not have to be complicated. Otherwise, installing some wooden shelves can save a lot of your time, money, and energy.
Therefore, do not forget to invest in some containers if necessary.
19. Jazz It Up with Wallpaper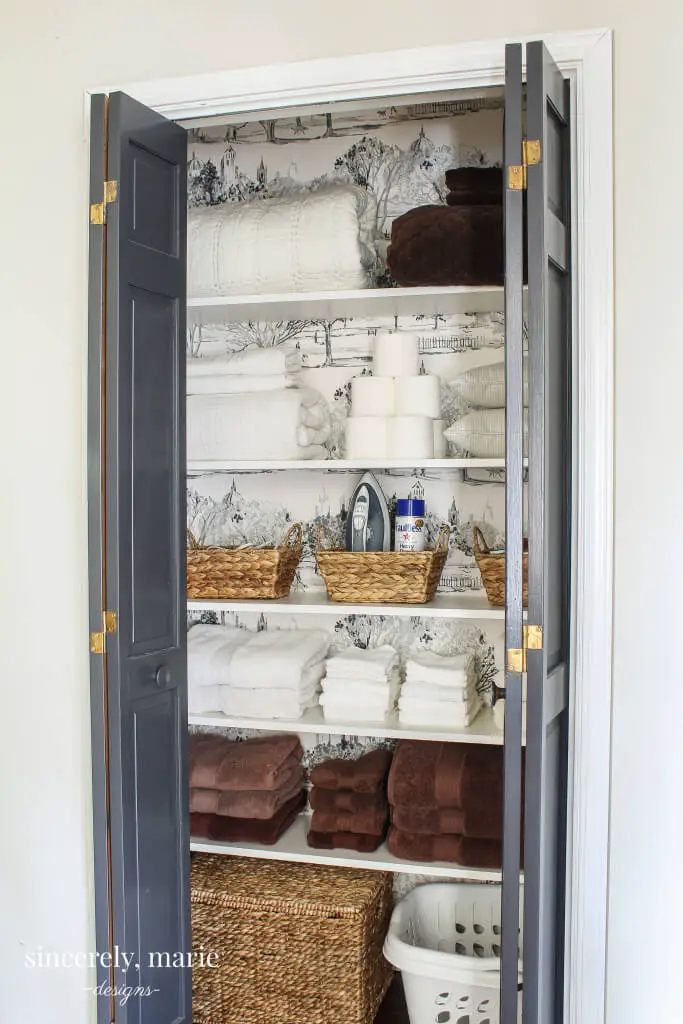 If you want to add interest to your closet without the hassle, you can try hanging wallpaper in it.
Indeed, hanging wallpaper is a convenient way to makeover a linen closet because it comes in a wide array of colors and patterns.
20. Contemporary Closet Linen Organization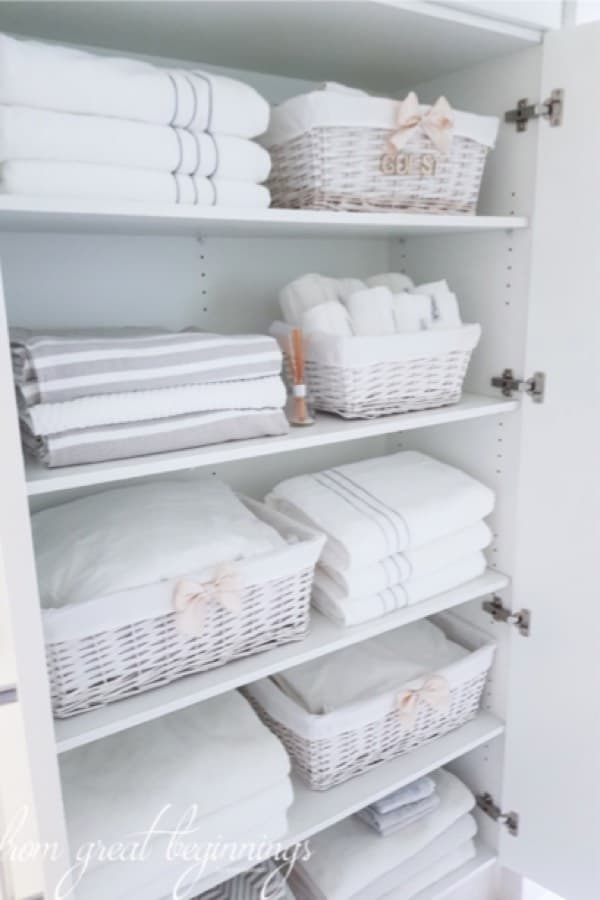 Thisstorageprovides a sleek and hygienic look with an all-white design.
Then, to complement the contemporary style, you can try installing euro-style hinges.
Euro-style hinges allow you to have a sleek look from the outside by concealing the hardware.
21. Divide, Conquer, and Good-Bye Clutter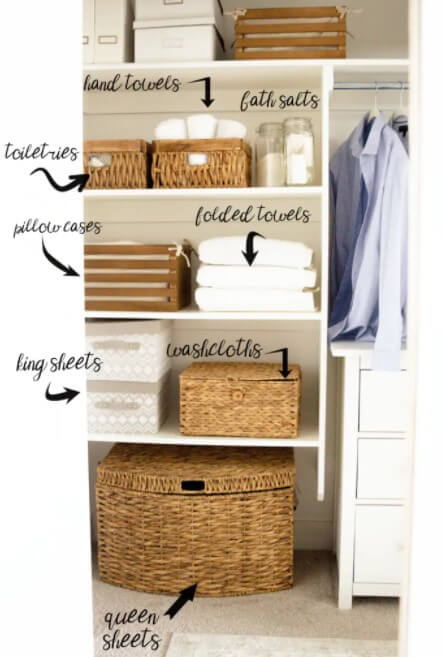 The most effective way to eradicate clutter occurring in your linen closet is by sorting them out and putting them in some containers.
This way, not only will you find your washcloths easily but you will also create a more organized look that everyone will love to see.
22. Multipurpose Closet Linen Organization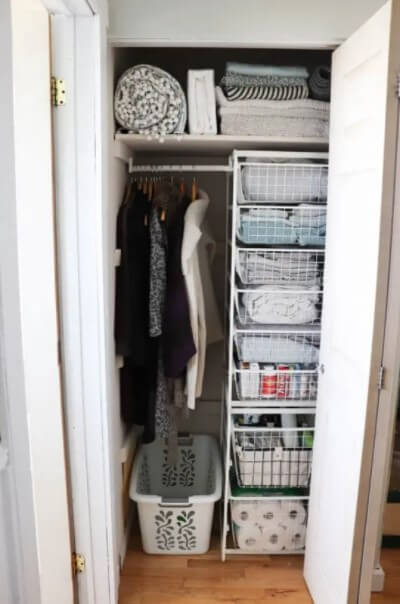 Some people like to merge their linen closets with storage in the mudroom and if so do you, this idea is your perfect choice.
This linen closet features several wire baskets that you can pull out like drawers.
Moreover, next to the racks is a hanging rod that you can use to hang dry your wet jackets and coats.
23. Gray Linen Closet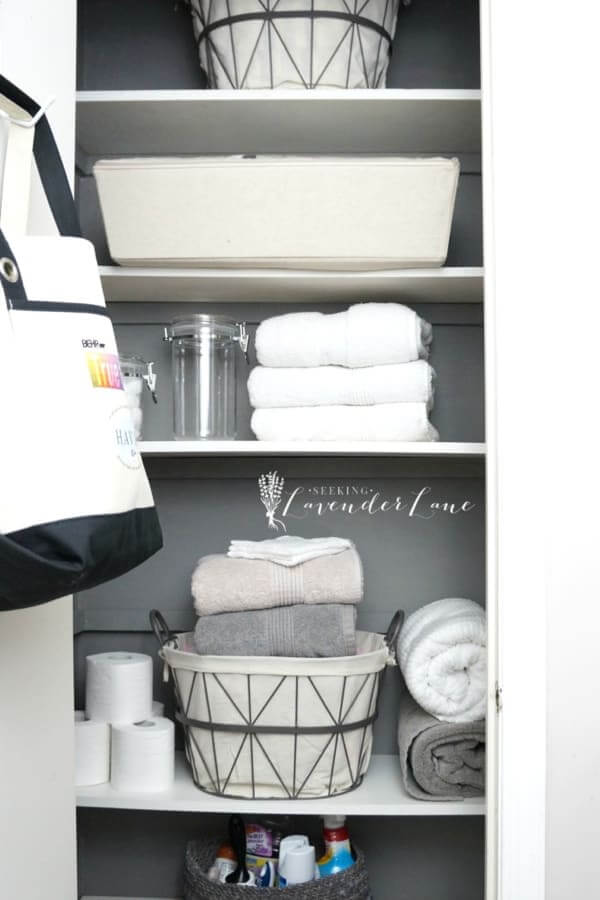 This one is another minimalist idea you can adopt. Painting the walls of the closet gray contrasting with the white shelves is a good start to carve out a modern style.
Then, invest in containers that have the same color hues as the walls and shelves. By doing this, you can make them look united.
24. Invest in Some Dividers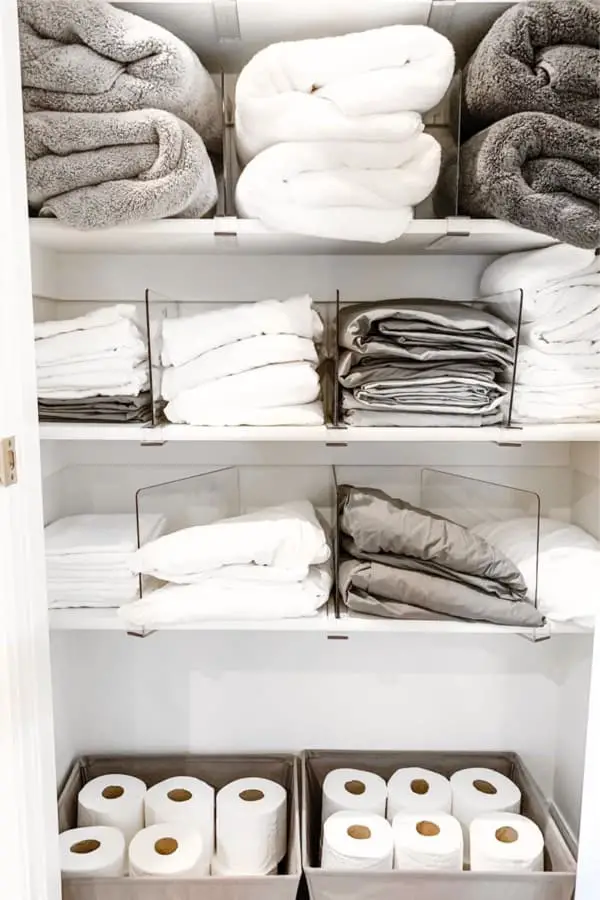 The most common problem in a linen closet is the sheets and towels that overlap each other.
Fortunately, it will not be a big deal anymore if you install dividers.
Dividers allow you to create clear boundaries between the towels, bedsheets, and the other linens.
Thereupon, they will look more organized since these items will not overlap each other anymore.
25. Corner Linen Closet in a Small Bathroom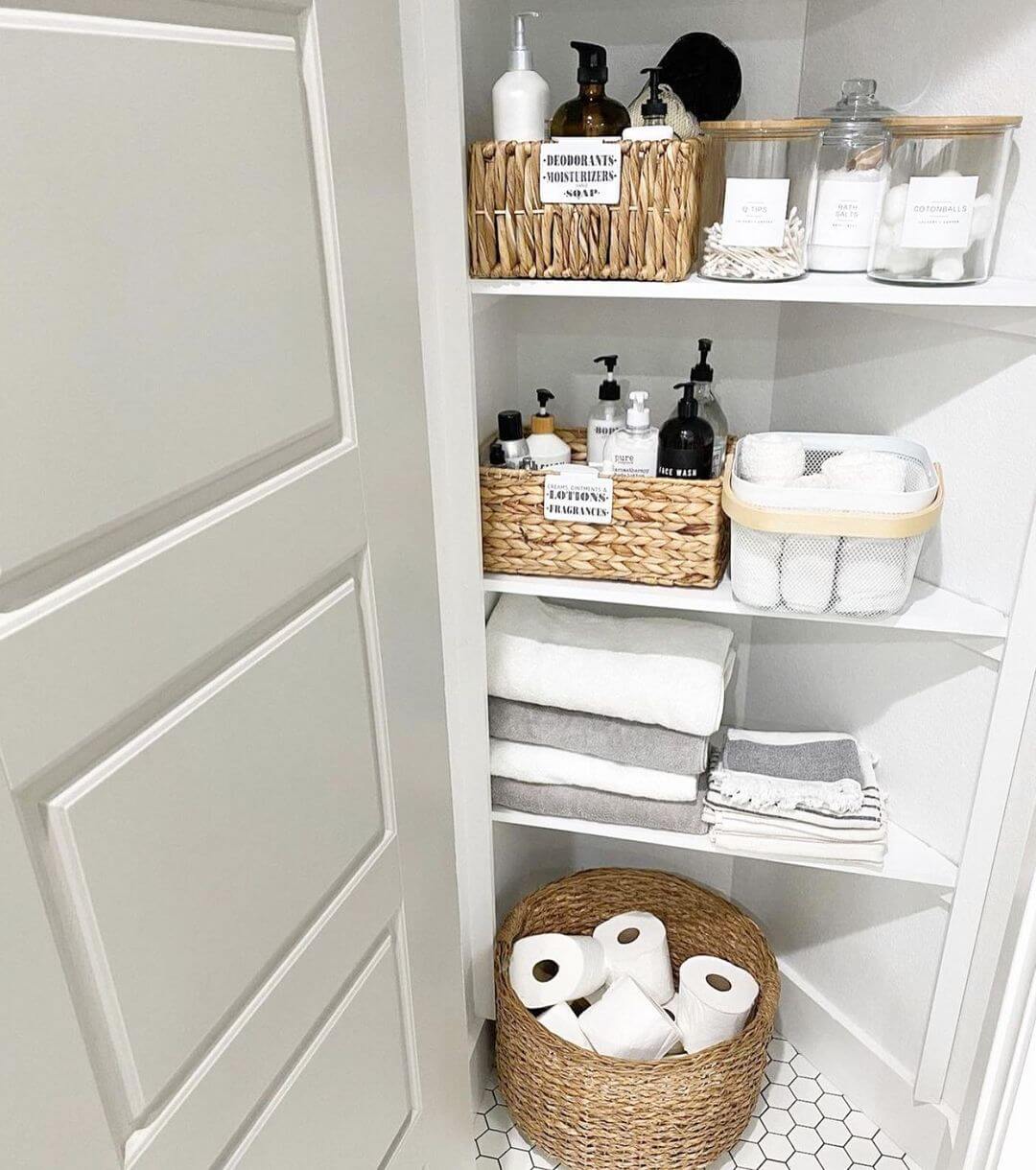 It seems to be a bit challenging to organize things in your compact bathroom. Well, it is not necessarily true because you can implement this corner storage.
As the name suggests, you just need to install some shelves in an awkward corner in your bathroom.
Thus, you do not need to add a door because of the constraint of space.
26. Smart Closet Linen Organization Ideas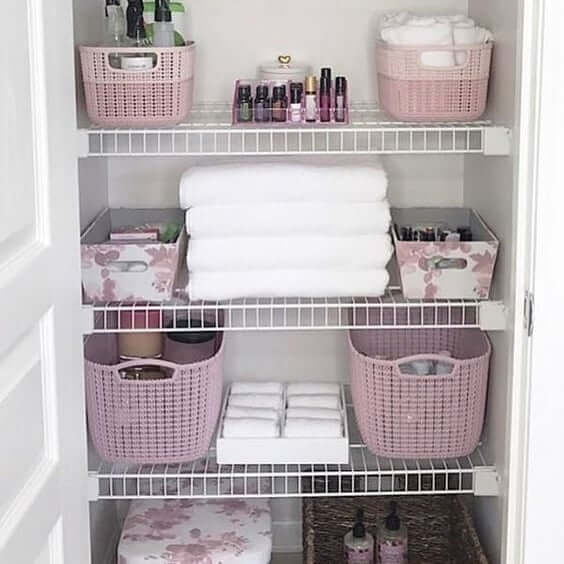 This freestanding closet has many shelves. It even features several racks attached to the door for additional storage solutions.
Also, you can find towel racks with built-in dividers on top.
27. Bring in Coastal Vibes with Wicker Baskets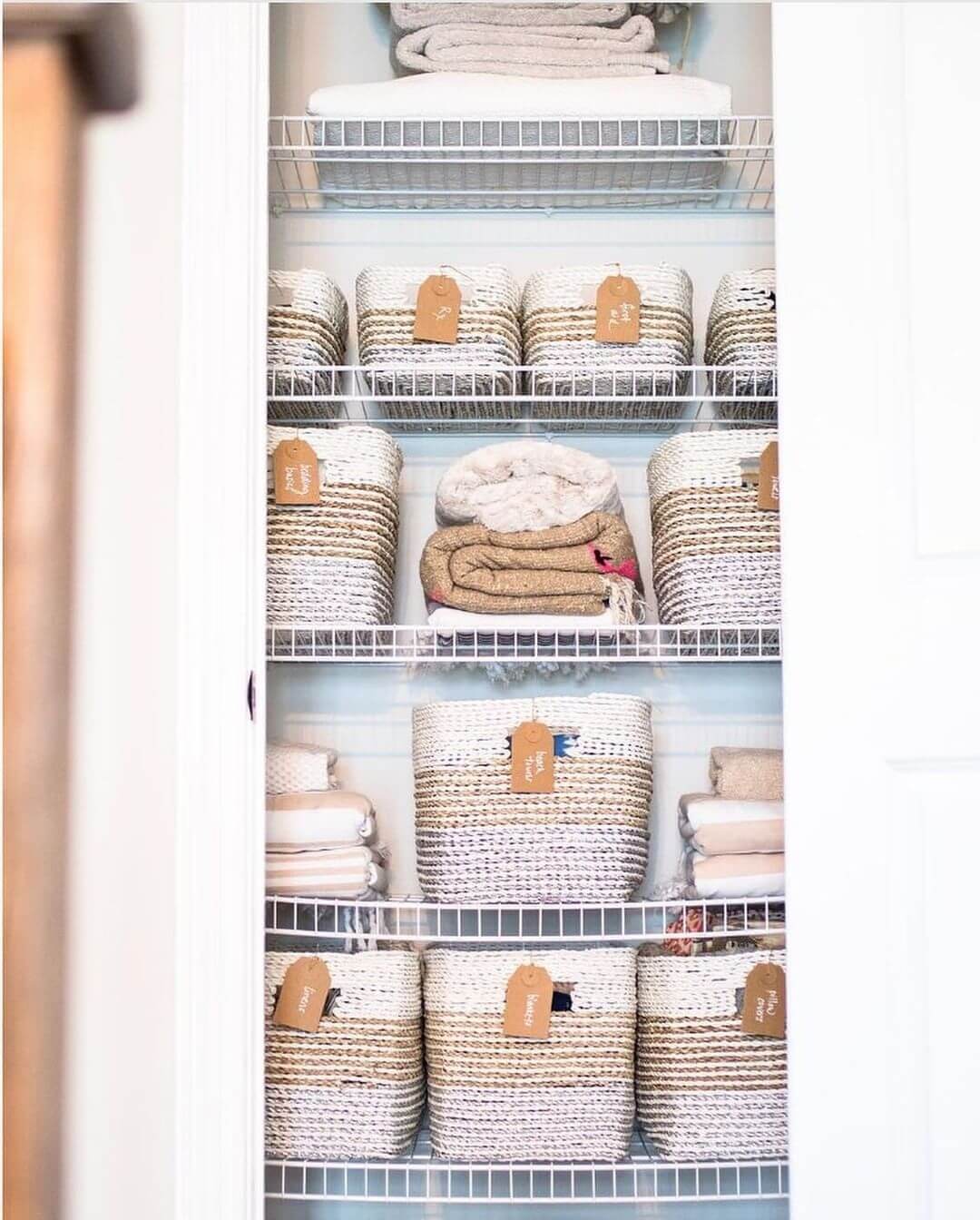 These shelves will instantly remind you of the soothing breeze on a beach. You can bring in the coastal vibes by adding some wicker baskets.
Furthermore, they function to organize your washcloths, bed sheets, towels, and all that jazz.
28. Spacious and Luxurious Linen Closet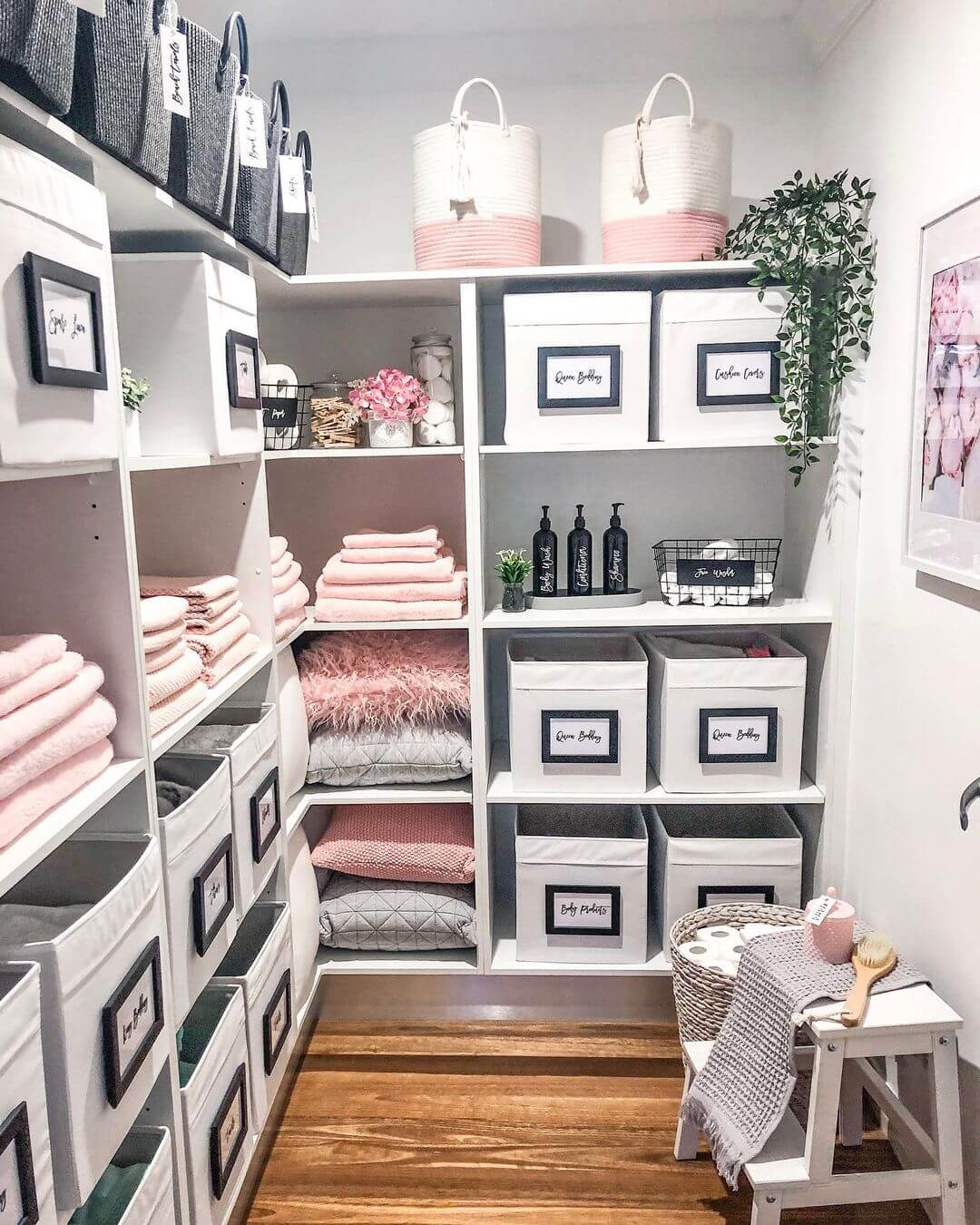 This one might be your dream closet. It is so spacious that you can step into it.
If you have a spacious closet, you can try building some shelves and putting several boxes with labels on them.
Finally, spruce them up with artwork and plants.
29. Get Organized within Small Space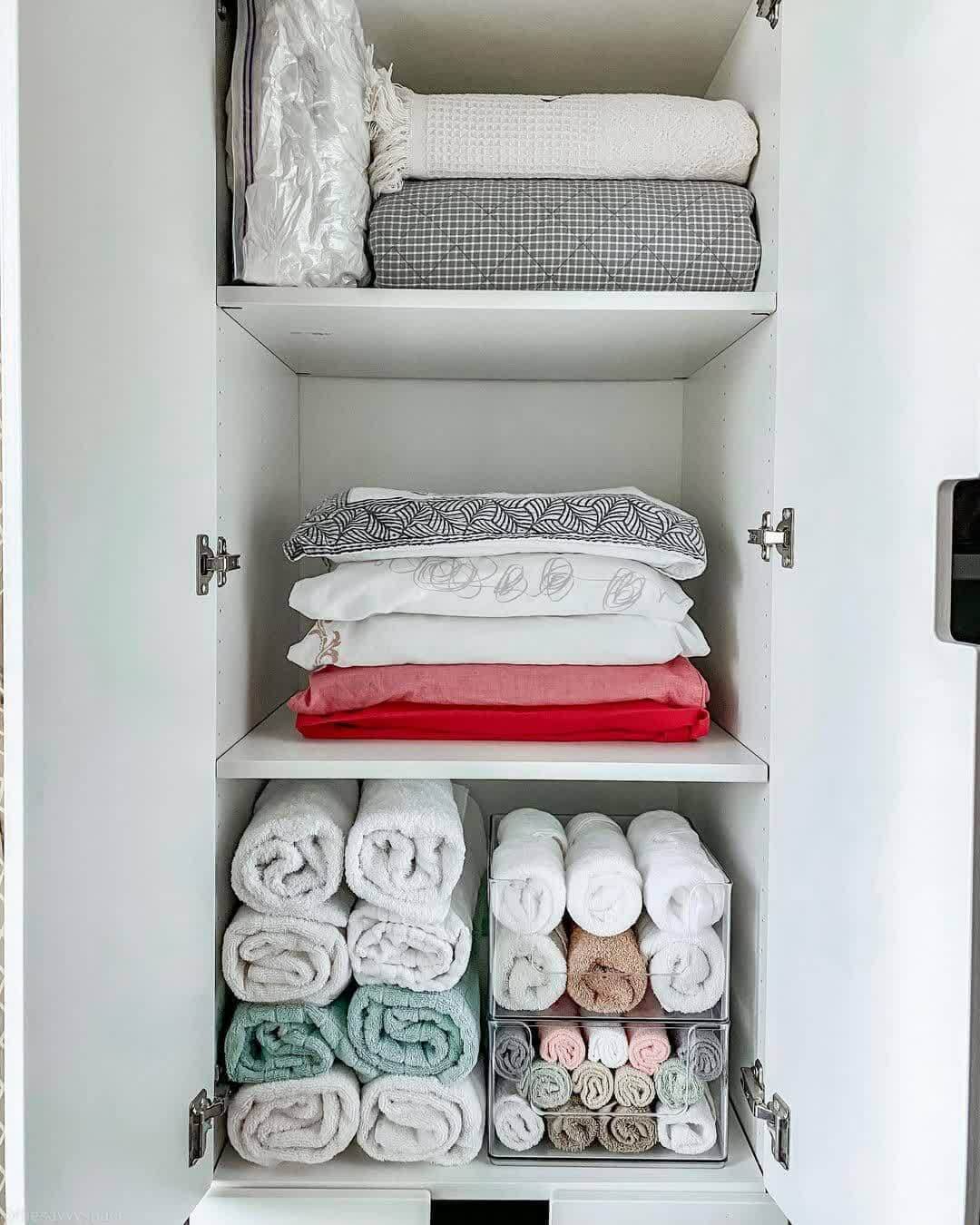 Do not have enough space for a linen closet? Do not worry!
A cabinet will do in a pinch. Then, you just need to make sure to roll the towels and washcloths to save some room.
30. From Nay to Yay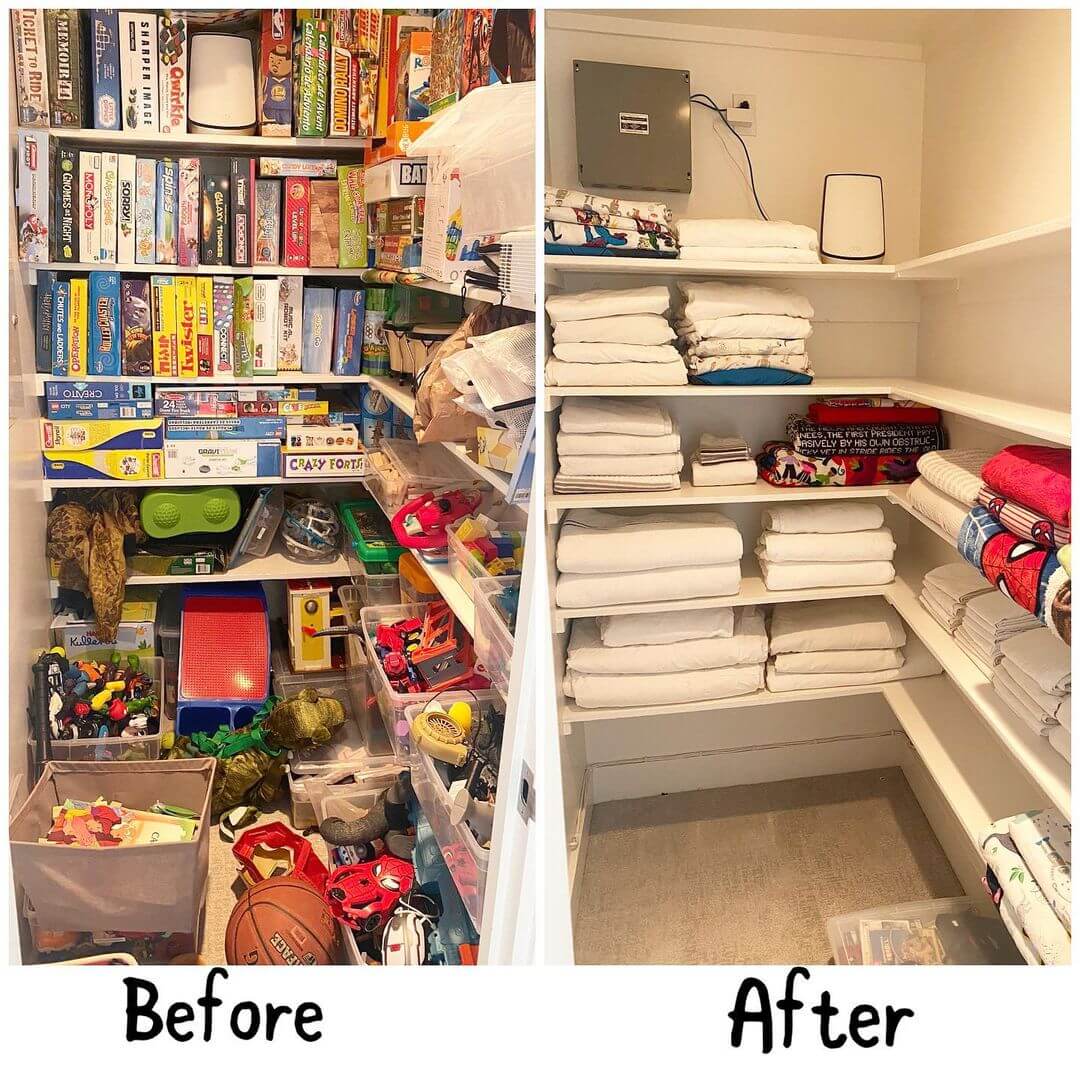 If you do not have a closet, maybe you need to consider using an existing space, just like this before and after linen closet organization.
This area used to be a messy game room. Then, with the power of creativity and elbow grease, it has turned into a tidy linen closet.
Conclusion
The linen closet can be an incredibly helpful room, but it can also be a space-consuming one. That's why I came up with this article, which is a list of 30 space-saving linen closet organization ideas. Each idea can easily be implemented in any home. In fact, many of the ideas are so simple that they're even doable for those with limited time and budget.
More from Materialsix: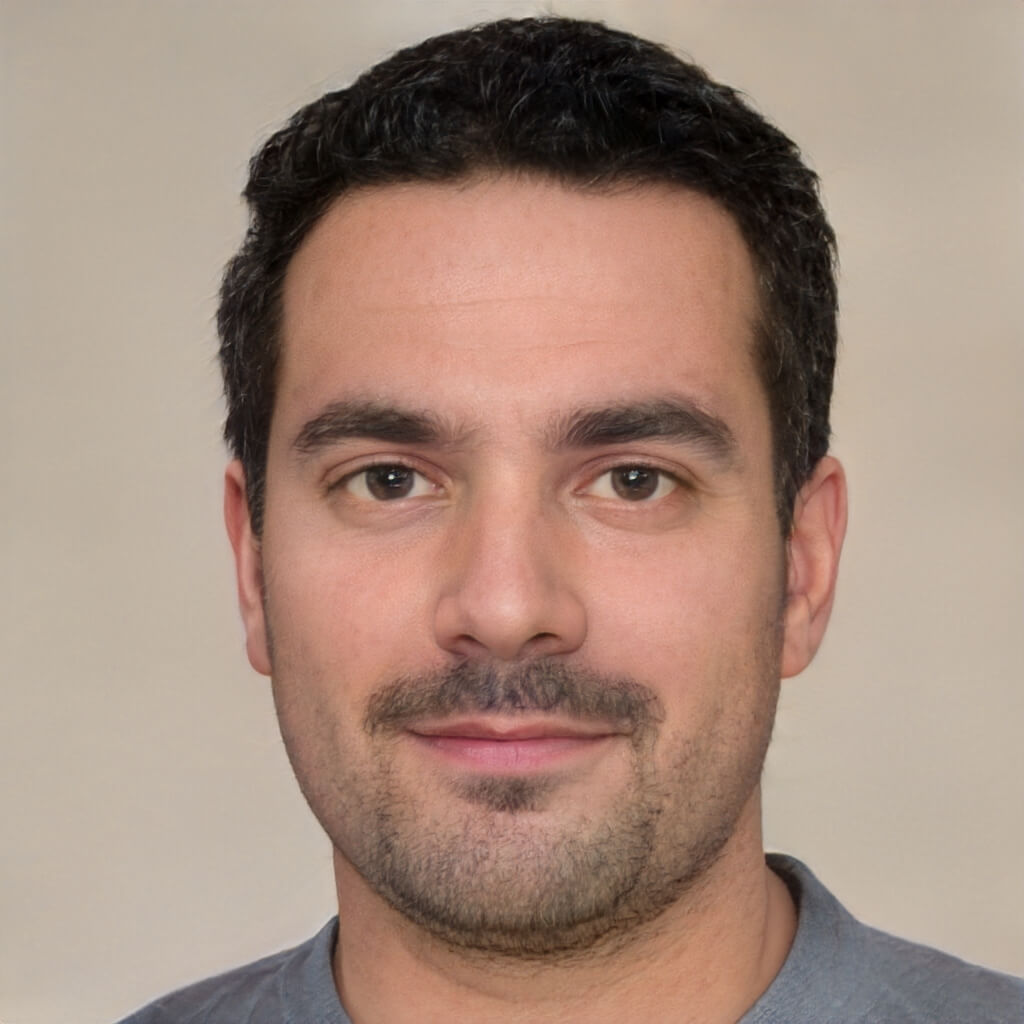 I'm a passionate home and garden enthusiast and the founder of Materialsix Home. With over 10 years of experience in the field, I've cultivated a deep love for all things related to home improvement, gardening, and interior design.