If you wish to invest in an outdoor living space, creating a cozy screened-in porch can be one of the best choices.
A screened-in porch allows you to enjoy the beauty of nature in the comfort of your home.
Thus, you can complete the space with cushy seating areas, entertainment tools, fire features, and other things you have in the living room.
With a screened porch, you do not need to deal with bugs or other things that may diminish the enjoyment of spending time in an outdoor space.
Consequently, knowing how to build a cheap screened-in porch is important for any homeowner. This information allows you to have more options when remodeling your house.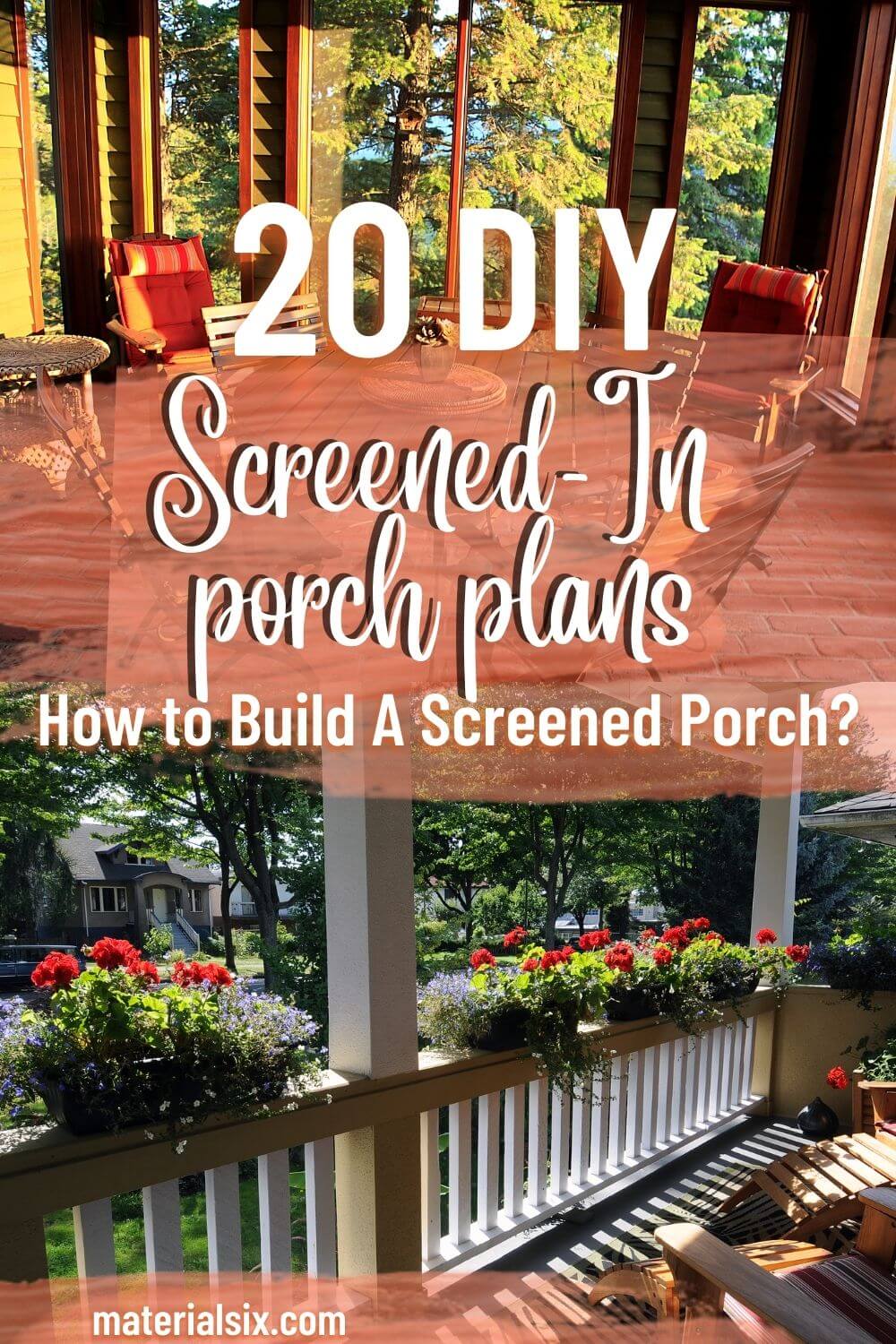 Tips to Build a Screened in Porch on a Budget
The average cost of building a screened porch starts from $2,000. Nevertheless, you may need to spend $10,000 or more depending on the design, size, and additional features involved.
If you do not have that much budget or simply wish to build a screened porch on a budget, read on to find out some tips to create this functional outdoor space without breaking the bank.
Build in the winter or fall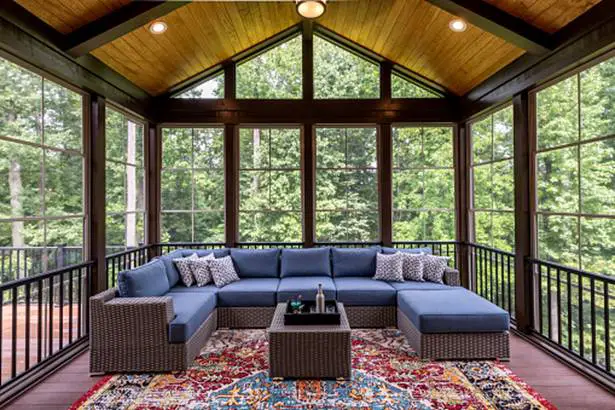 While it may not be the ideal season to build something outdoor, this allows you to spend less on labor and material costs.
Building in the fall and winter is typically slower compared to the summer and spring. As a result, you can get a more flexible timeline to acquire lower prices.
Furthermore, you must be aware that working on a tight timeline can cause premium labor charges or higher delivery fees.
Besides, it may have fewer choices when it comes to more budget-friendly materials.
Take advantage of an existing porch or patio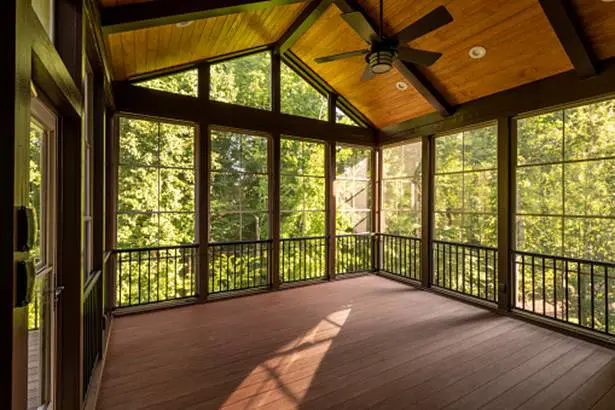 Rather than building a screened porch from scratch, consider creating a screen around an existing patio or terrace if any.
A whole new screened-in porch costs between $25 and $120 per sq. ft.
By building one on an existing structure, you can save more money on the structural foundation and flooring.
Keep it simple and downscale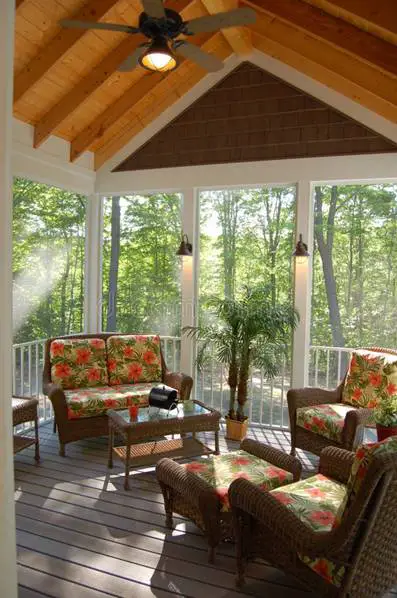 Furnishing your new screened-in porch with a lot of cool features is indeed exciting. However, you should make it simple to keep the budget under control.
Solar or retractable screens, temperature controls, or walkways can be a nice addition to your screened porch.
However, remember that all of these features will add to the cost.
Instead of these extra features, you can focus on incorporating a comfy full-size couch and a functional car cart to the screened porch.
They will make a perfect spot for entertaining and relaxing.
If you wish to personalize your screened porch cheaply, you better purchase secondhand furniture and décor for fewer budgets.
Opt for affordable materials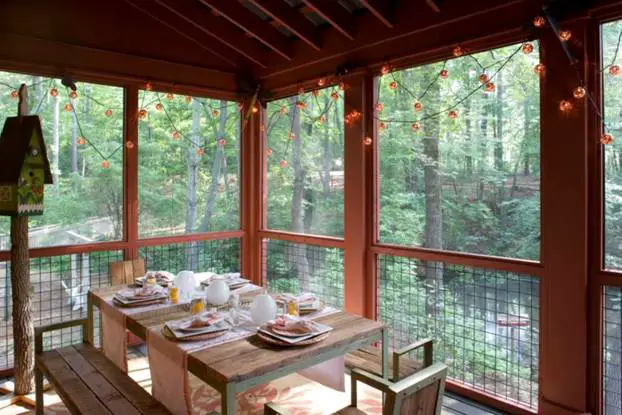 Plan your project to allow you to pick materials that are the most affordable. By planning ahead of time, you may save from the lumber prices that go up and down as well.
A new fiberglass or aluminum screened-in porch with concrete flooring can cost no more than $3,000.
However, if you go for stained tiles, asphalt roofs, or hardwood floors, the cost of materials will be higher.
Choose to DIY your project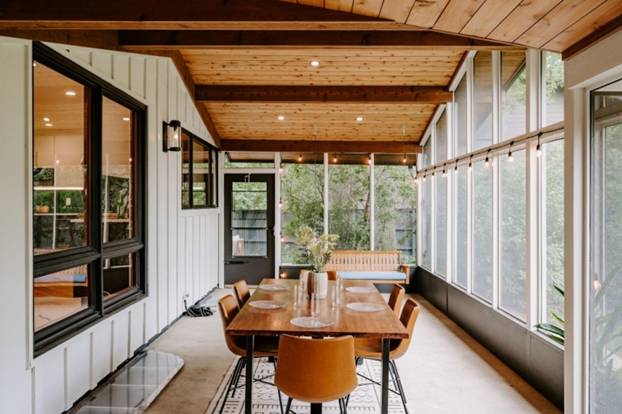 Considering that labor cost starts from $2 per sq ft, building a screened-in porch yourself will lower your budget for sure.
Thus, simply note that you should only attempt to DIY your screened porch project if you are certain with your woodworking and constructing skills.
If you cannot install the screen properly or there are creaky floors, the project will go waste. Therefore, you may even need to pay more to get a professional to fix the issue later.
Hence, opt for DIY if you can do it. If not, have someone build the screened porch.
17 Cheap DIY Screened in Porch Ideas and Plans
You already know several tips to save some money when building a screen-in porch. Now is the right time to check out some possible plans and ideas to copy.
Moreover, to help you get started, the following is a list of inspiring projects that can answer your question about how to build a cheap screened-in porch.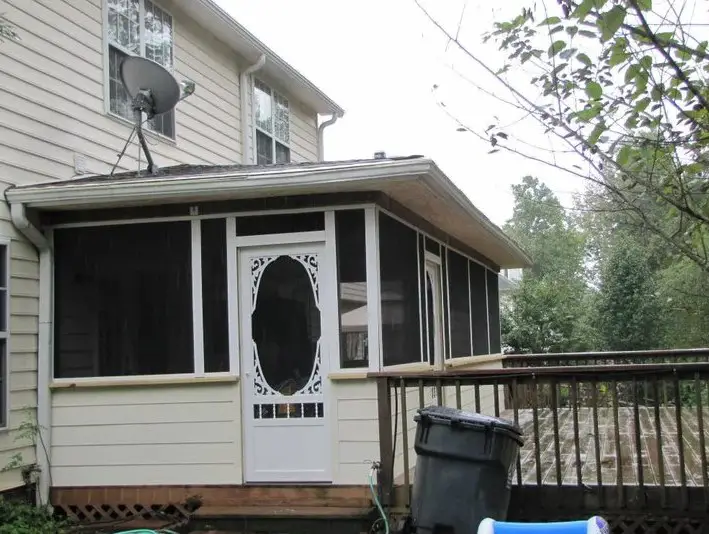 Let us start with this project that uses an existing wooden deck attached to the house.
The creator of this project makes it easier for you to copy the idea by providing the required materials and supplies, as well as the step-by-step to complete the screened porch.
Then, you will need hardboard clapboard siding, screening, paneling for inside, nails, screws, and staples. For the tools, prepare caulk, miter saw, hammer saw, and a staple gun.
2. How to Screen in a Porch – by TheSpruce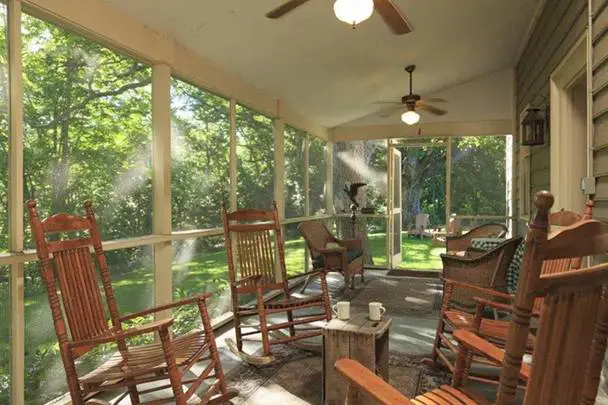 With the estimated cost of $100 to $150, this project can be done in 2 hours and 30 minutes if you have intermediate woodworking skills.
Likewise, similar to the previous project, this one comes with a complete guide and detailed materials to make it easier for others to copy the plan.
The required materials include one 48-inch by 25-ft fiberglass window screen, nine 8-ft pressure-treated two-to-twos, and some screws as well as a bunch of corner braces.
3. Spring Screening by ScreenTight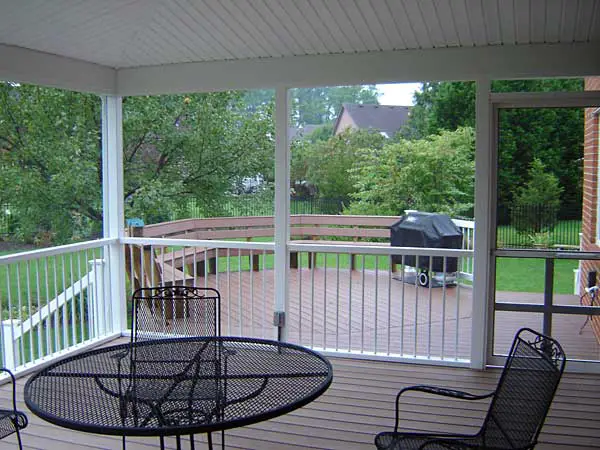 If you have a budget of $500, this project should be on the list. It takes around a week to finish and features pieces of furniture that you can find easily on the market.
Further, you will need different sizes of base strips, fiberglass insect screening, and a long screen spine to build the project.
Make sure to follow the measurement tips and the instruction carefully to make the most of this screened porch project.
4. DIY Screen Porch by drsio2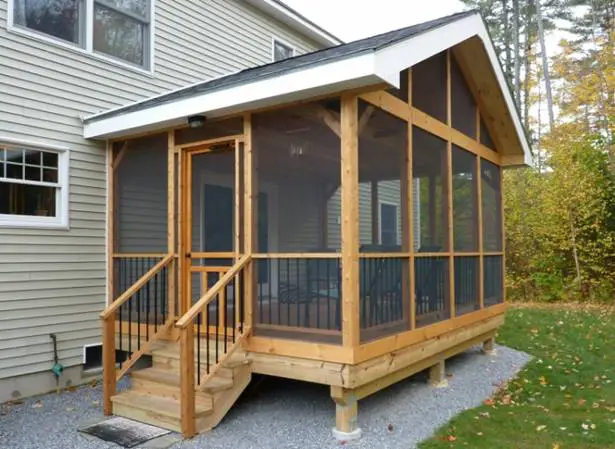 This is one of the screened-in porch plans that require clearing off the old deck and building the new one from scratch.
The new deck boards are from pre-stained western red cedar that looks beautiful.
Thereupon, how the owner of this screened porch finishes his DIY project will inspire you to do the same thing in the backyard.
5. DIY Screened Porch by Newlywoodwards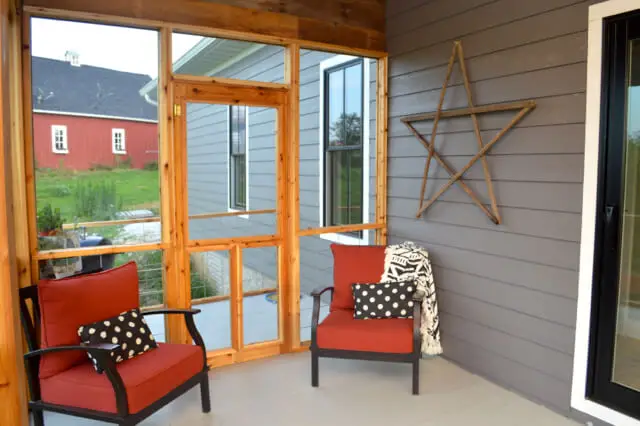 Get ready to be excited while preparing to build this beautiful screened porch in your house. This outdoor space gives the creator a wonderful spot to hang out in any weather.
This DIY project costs around $800 in materials and requires about a month to finish. Also, what you need includes coated cedarwood and store-bought screens.
Although it is not the cheapest project on the list, the time and money you spend to build this screened porch will be worth it.
6. How to Choose Screen Porch Material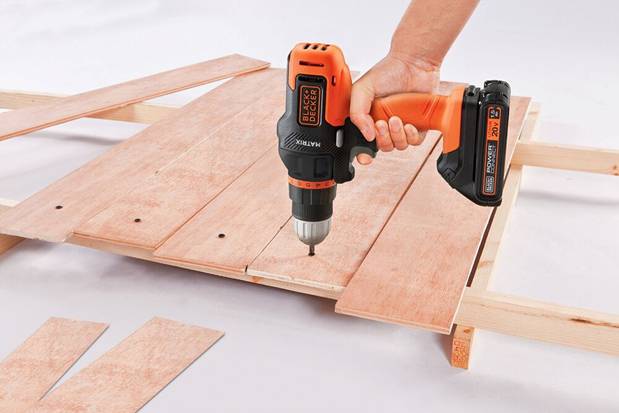 To help you build an affordable screened porch, this project provides you with several material options to choose from.
From aluminum to fiberglass to premium metals, you can learn the pros and cons of each of these screened porch materials through this project.
So, take note of the information regarding the standard insect screening here.
If you reside in an area that is prone to small bug problems, the project recommends you use a 20×20 mesh screen.
7. How to Screen in a Porch – by Homedepot
You can apply a few different strategies for screening on your porch. If you acquire a basic framework of rails and posts, connecting the screen and trimming it directly to the framing would be a better choice.
As shown in this plan, you can incorporate a screen door to finish the enclosure. If you cannot find a suitable frame, creating a simple 2×4 frame should not be a big deal.
8. How to Screen a Porch – by ThisOldHouse
In this project, you can have the screens installed in the traditional way as the wood fillers.
Meanwhile, other materials to be prepared include a 5-ft roll fiberglass screen and some wooden staples as well as stops.
You may find this project complicated, but the creator provides mock-ups along the line to make it easier for you to understand.
9. How to Build a Screen Porch – by Design Builder, Inc
If you want to learn the basics of building decks or screened porch as a first-timer, this video provides a detailed construction process that is very helpful.
Use this project as a reference for creating your first custom screened porch or simply copy the idea on your existing outdoor patio.
10. Screen in Porch – DIY Front Porch Makeover by Welcome to the Woods
You can build a budget screened-in porch in any area around your yard or house, including the gazebo, deck, and patio.
Hence, to accomplish this cozy outdoor area on your front porch, you can check out the idea and plan in this video.
This project not only shows you the process of screening the porch but also the makeover idea to make this outdoor living space more inviting and inhabitable.
11. How to Build a Screened-In Patio by Familyhandyman
Full Tutorial: familyhandyman.com
If you love your porch but hate the glaring sun and bugs, this screened-in patio project will solve the issue.
It costs around $500 to $1,000 to finish this project as the enclosure is 14 x 16-ft. Also, you will work with a lot of big lumber and tools as well.
The most interesting point about this project is it includes an awning top that can be removed in the winter to let the sunlight come in.
12. Screened Porches to Chill On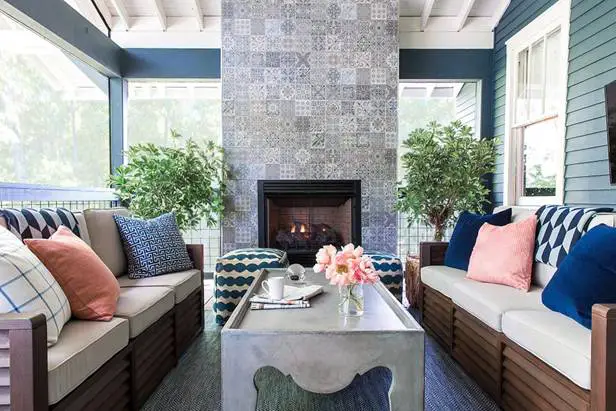 Building a screened-in porch will not be complete without furnishing the space with furniture pieces that can turn it into a more livable area.
This site offers you a bunch of ideas to adorn your screened porch, including incorporating a colorful fireplace that is attractive and functional at the same time.
Moreover, for a visual impact, the seating area houses some throw pillows that come in different shades and patterns.
13. How to Screen In a Porch by Bobvila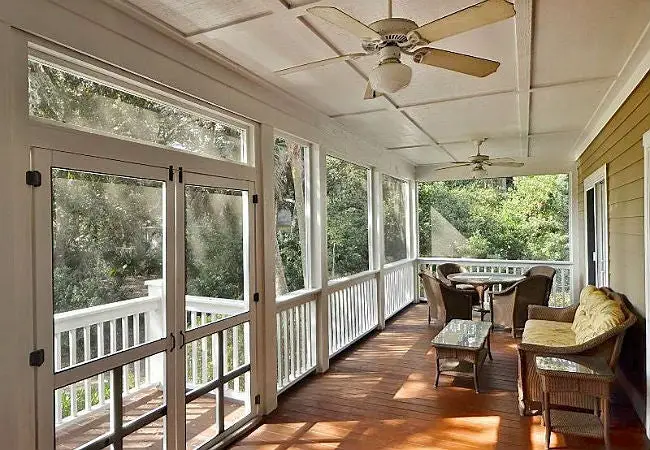 To save some money, this project uses an existing porch that is around 200 sq. ft. The cost for materials is approximately $450 inclusive of the required lumber for creating screen panels.
You will need existing walls or deck posts for attaching the screen frames.
Otherwise, if you wish less trouble, consider using the screen room kits available in home improvement stores.
When it comes to the screen configuration and size, you can decide based on your style. Do not forget to check the pros and cons of each style before determining your choice.
14. DIY Screened-In Porch | Budget Home Project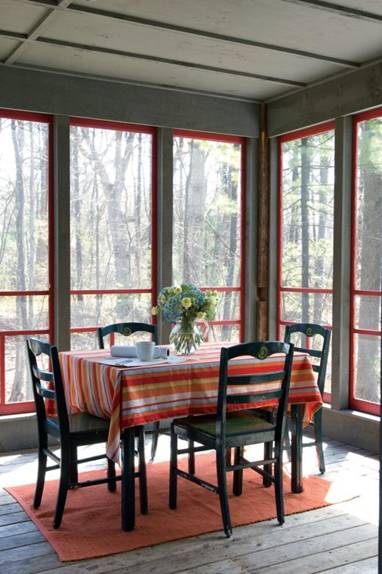 With an estimated cost of $10,000 for materials and labor, this project is not the cheapest to build a screened-in porch.
Likewise, this project includes the use of a couple of 10-inch-diameter Sonotube forms to create the foundation pillars for money-saving purposes.
The best part of this DIY three-season porch is the connection between the comfort of the house and the outdoors that it offers.
15. Build Your Own Screened in Porch – by Home RenoVision DIY
If you are trying to build a screened porch for the first time, consider checking the ideas and plans discussed in this video.
It provides you with the necessary information regarding the price of screening materials available at hardware stores and home improvement centers.
To save some money, you may like to use fiberglass screening since it is less costly, stretches tighter, and is easier to handle.
16. How to Install a DIY Screened Porch or Patio Enclosure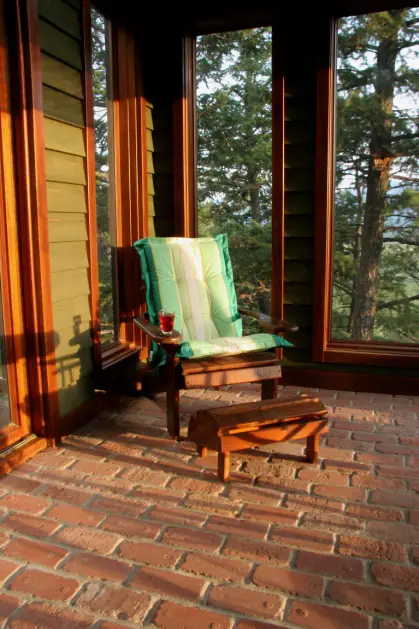 Building a screened-in porch can be a DIY project that will not break the bank if you follow the ideas and plans set out on this site.
Then, if you just need to install the screening and do not require any modifications, the project should cost less than $1,000.
Additionally, you will need concrete screws (if applicable), pressure-treated 2x4s, screen tracking, door, rubber spline, tape measure, and some other materials.
After that, follow the instruction and tips carefully to make the most of this project.
17. Appealing Screened Porch Deck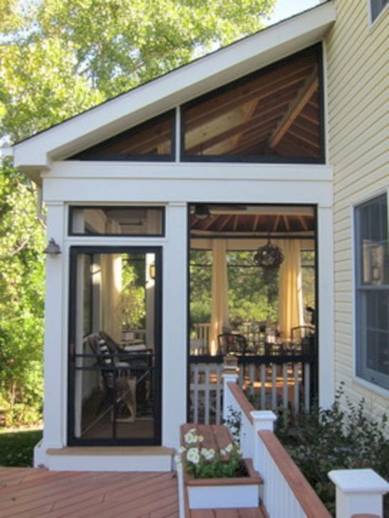 To complete your preparation, you can check out this list of appealing screened-in porches first. You probably will find at least one idea that you like to copy.
From framing your existing porch to finishing the details, you can find some useful tips to build a screened porch here.
18. DIY Screen Porch: Simple Step by Step – by Trisha Harris
Through this video, you will realize that screening a porch is not as costly and difficult as you may ever think.
Likewise, this project results in an excellent screened patio that works great as well.
19. Screening in a Porch – DIY – by TheRandyMan
Learn how to create a screened-in porch through this project. After that, you will be able to sit back in this outdoor space without the attack of insects and bugs.
20. DIY Screening in a Small Porch or Deck – by Robert Wadlington
With basic carpentry skills, you will be able to replicate this screened-in porch project. Then, the creator lets you know the basic techniques to frame the deck area by using a big box framing kit material.
Final Thoughts
It takes only several flies or mosquitoes to make you want to go inside the house while enjoying your outdoor spaces.
However, by installing a screen on your porch or patio, you do not need to face this situation and can get relaxed comfortably.
Therefore, you can use the above ideas and plans regarding how to build a cheap screened-in porch if you want to do this project on a budget.
More from materialsix.com: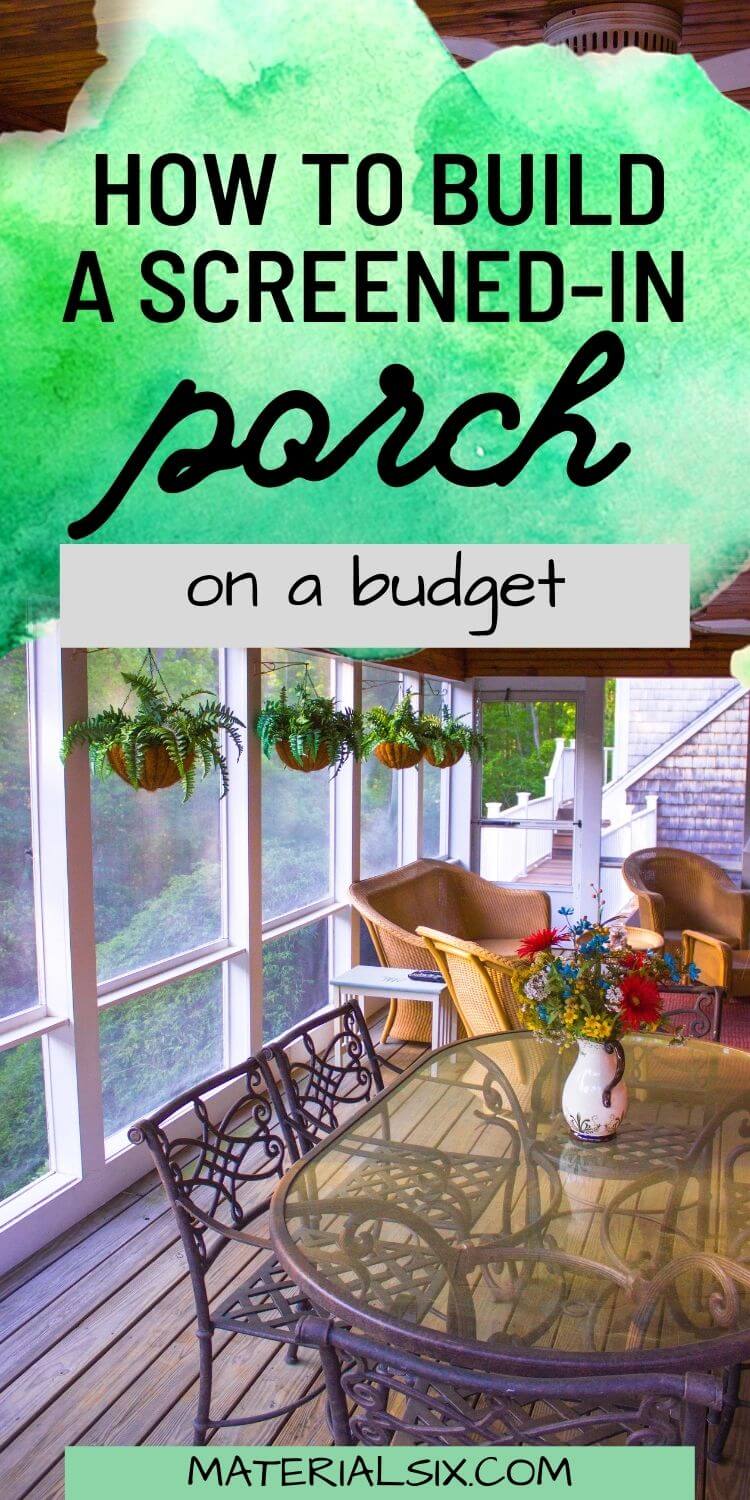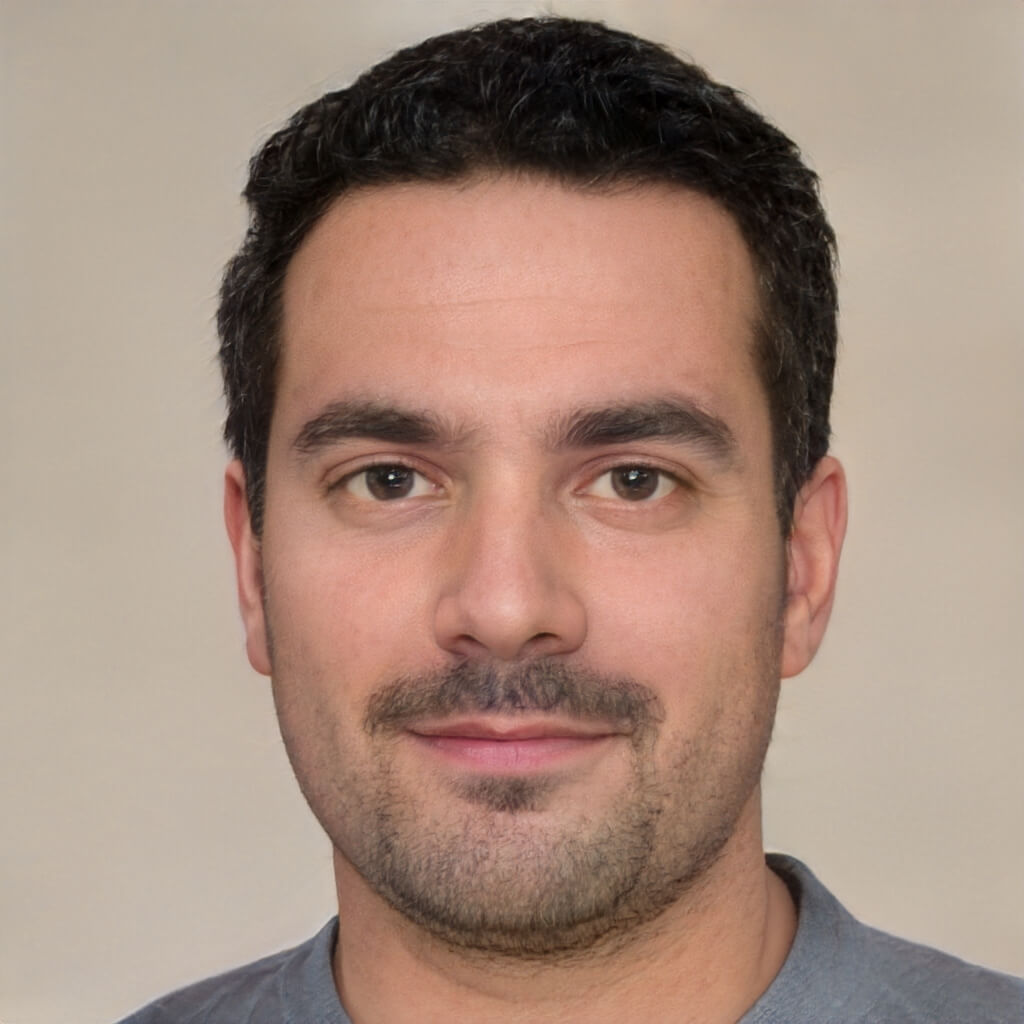 I'm a passionate home and garden enthusiast and the founder of Materialsix Home. With over 10 years of experience in the field, I've cultivated a deep love for all things related to home improvement, gardening, and interior design.