Outdoor living spaces have been trending for some time to let people enjoy their outdoor space while being in the comfort of their homes. With the Covid-19 scenario for the past two years, these enclosed spaces have become people's favorite because they successfully offer the best of both worlds without the need to go out to enjoy outer views.
Screened-in porch and sunrooms are the most known enclosed spaces, and if you want to know more about which is better with a screened-in porch vs sunroom comparison, you are exactly at the right place.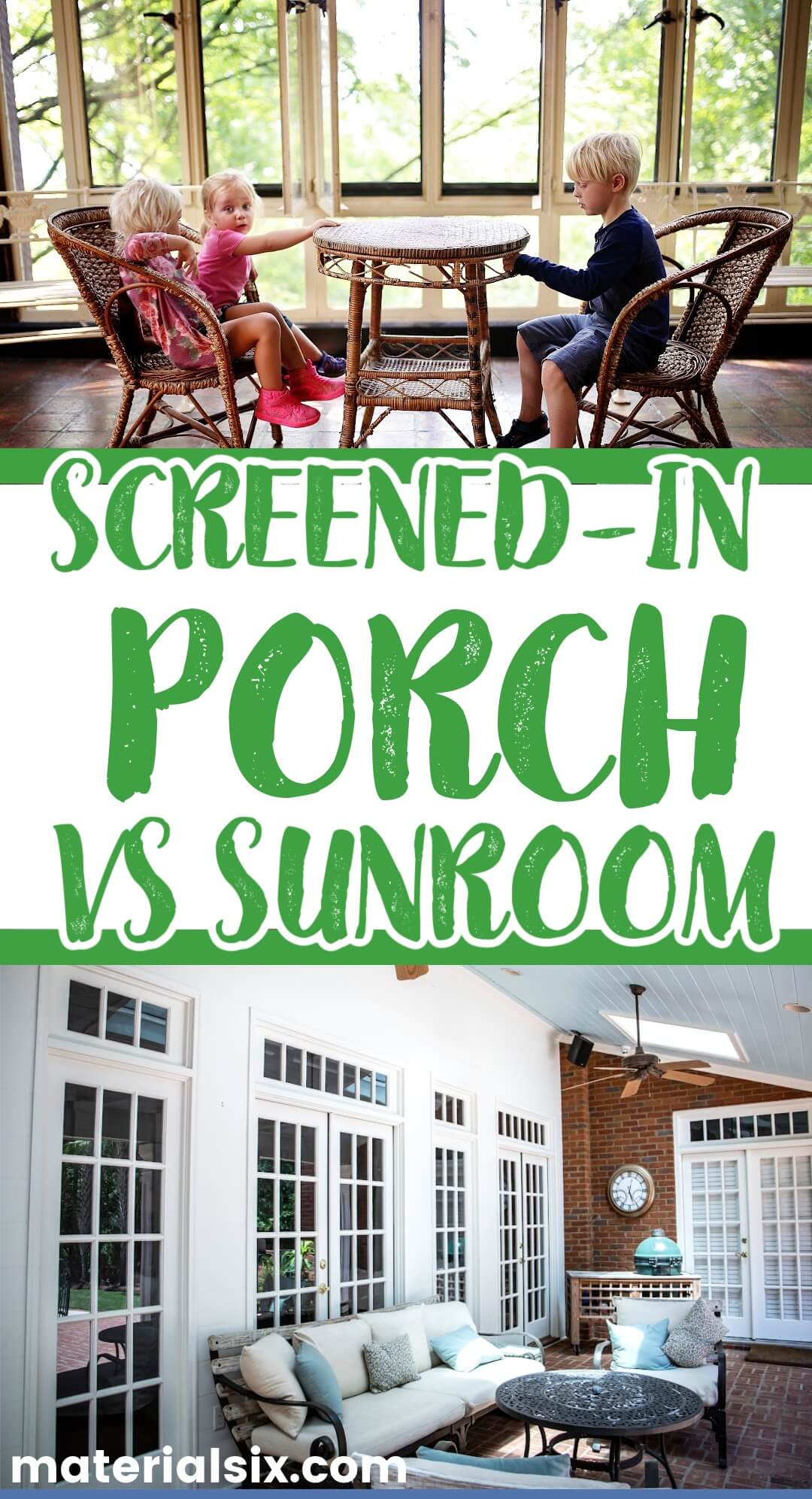 What is a Screened in Porch?
If you are looking for an additional living space in your home, a screened-in porch can be your go-to option. As the name implies, a screened porch comes with a ceiling, and most of the surroundings of this outer space are covered with mesh in order to keep unwanted elements like insects and bugs out.
This structure lets you enjoy an outside environment while you are sitting inside the premises of your home. The screened porches can either be built connected to your house, or you can also get them made separately for the simplicity of the process. You can also let your screened porch stand out by filling it with furniture like chairs, tables, couches, and some indoor amenities like electrical outlets, hardwood floors, painted elements, etc.
Reasons you need a Screened Porch
Some of the major reasons that you would want a screened porch are:
The screened porch can be a great intimidating space to enjoy a quiet reading experience, casual entertainment, or excellent ventilation.
It adds a useful and valuable square foot addition to your house.
It makes your house look more aesthetically pleasing and lets it stand out among other houses in the neighborhood.
The screened porch is excellent to prevent your outdoor gatherings from invasion by flies, mosquitoes, and other creepy guests.
You can also enjoy a peaceful sleep without having to worry about a bug buzzing in your ear.
Weather extremes are no longer a problem since you can easily enjoy extreme rainy weather instead of running inside your home.
It can prove to be a great space for yoga or enjoying a cup of coffee since both the tasks are better done in the tranquil peace of nature.
Pros of adding a Screened porch
It stays cleaner compared to open porches.
Helps keep the bugs out.
No animal will go after your food even when left open.
It is comfortable and enjoyable throughout the year.
You can easily install electronics like a stereo system or TV.
No worries about what furniture items the big storms can damage.
Cons of adding a screened porch
The screen may not block the whole view completely, but it definitely covers it.
It requires more time and materials to build compared to an open porch.
It also costs more than an open porch.
What is a Sunroom?
An indoor space that lets you enjoy natural light and outdoor views to the fullest, yes, this is exactly what a sunroom has in store for you. It is constructed with multiple windows to maximize the entrance of natural light and showcase outer views. The sunroom is often seen featuring beautiful furniture and plants and is known as solariums and garden rooms for providing amazing views with excellent daylight.
There are two types of sunrooms: a three-seasoned room and a four-season room.
As the name implies, the three-seasoned room is only suitable for three seasons, including fall, spring, and summer. It doesn't have climate control, and there won't be any air conditioning during summers or heating during winters.
The four-seasoned rooms come with HVAC ducts that provide air-conditioning during summers, heating during winters, and ventilation when needed so that the owners can enjoy this room space throughout the year.
Reasons you need a Sunroom
Some of the major reasons that you would want a sunroom are:
It helps expand the living space by increasing the square footage in your home.
A four-seasoned room allows you to enjoy all four weather even when it is too hot or too cold.
It gives a chance to enjoy sunlight to the fullest while being inside your home.
They can be used as an additional multi-purpose space like a home office, workout room, entertaining space, indoor greenhouse, playroom etc.
A sunroom also helps increase the value of your home by adding extra footage and making your home look more aesthetically pleasing.
Pros of Adding a Sunroom
Allows enjoying outdoors without interruption by unwanted elements.
Let the fresh air in a while, keeping insects out.
Extra room and space in your home.
It gives a higher real estate value to your place.
No matter in which corner you sit, the room will have plenty of sunlight for you to enjoy.
Perfect place for plants to soak up sunlight.
Cons of Adding a Sunroom
It is one of the most expensive space addition options.
This area will not work as a porch, and you are basically indoors.
It will require you to have building permits for your area.
No sound of nature and birds when the windows are closed.
Screened in Porch Vs Sunroom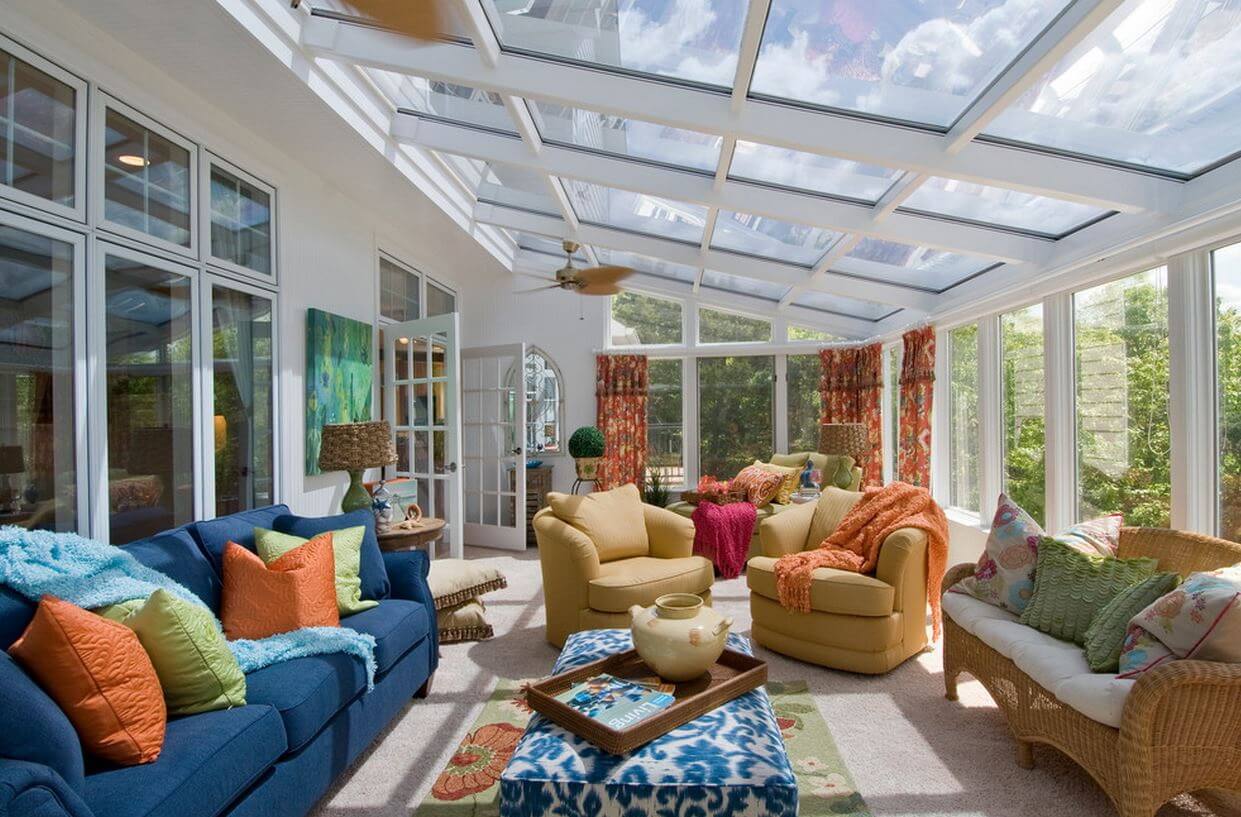 Now that you finally know what a screened porch and a sunroom are, along with their pros and cons, here is a comparison of the two spaces to make you decide which is better according to your needs.
The major difference that a Screened porch and a sunroom have is because of the construction and insulation. The sunrooms are considered a true extension to a home, while the screened porches are usually built on an existing porch or patio. Here is an overview of what both these additional spaces have in store for you and your family:
Allergy Protection:
The construction of a screened porch keeps the birds and flying insects out; however, it is not constructed to prevent any kind of infiltration, pollen, or dust. The sunrooms, either three-seasoned or four-seasoned, successfully prevent the flying insects and birds from entering, and the construction keeps the pollen and any kind of dust out when the windows are kept closed.
Weather Conditions:
Screened porches are suitable for comfortable weather only, which means they are not good for extreme climate conditions like hot, cold, or slanted rain. This is not the case with sunrooms since both three and four seasoned rooms are suitable for all weather conditions depending on the quality of windows, HVAC pipes, and insulation.
Functional Months:
Depending on the extreme cold or heat period, March to November is the functional month when it comes to a screened porch. For a sunroom, they are suitable to be used for ten months to over a whole year when they are constructed with high-quality windows and insulation.
Space Addition Costs:
The screened porches are definitely the more affordable option of the two since there are no additional costs for heating or air conditioning. The material and construction costs are also low and lower maintenance costs. The sunrooms are quite expensive because of the construction using high-quality materials and when you need to maintain the temperatures during extreme hot or cold weather.
Which is better – Screened in Porch Vs Sunroom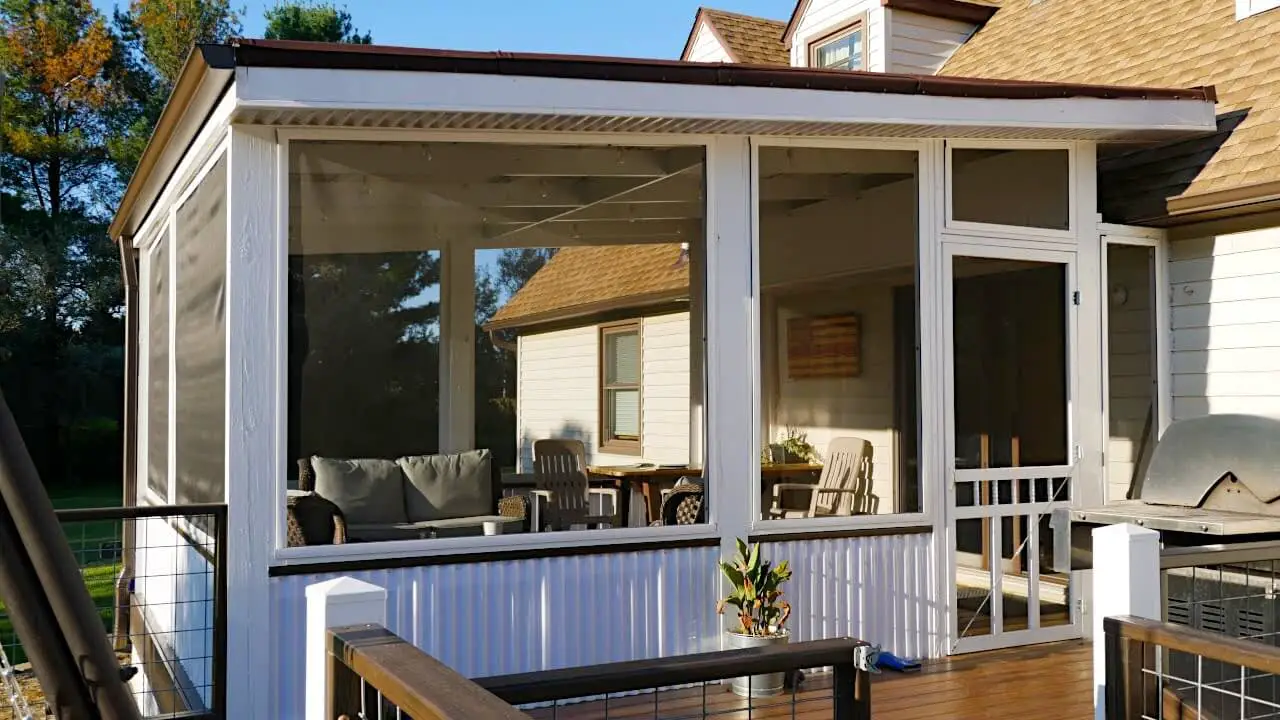 The major difference between a screened porch and a sunroom basically depends on how the walls of the two additional spaces are finished. A sunroom is a roofed structure with enclosed glass as windows, while a screened porch uses mesh screens for walls.
Although sunrooms are more expensive, this doesn't make them more enjoyable. This is because they are mostly used for occasional parties, and even when the windows are open, they are quite closed and covered to work as a porch. So, if you are more into enjoying outer views than having more furnished and aesthetically pleasing extra space, a screened porch is your go-to option.
However, if you want to use this extra space throughout the year, even in harsh weather conditions, you should go for a three-seasoned or a four-seasoned screen room, depending on your requirements and the weather conditions of your area.
When it comes to the cost of a screened porch, not only are they less for its construction, but the maintenance is also quite budget-friendly. The construction cost of a sunroom is higher than that of a porch, and the investment you make in getting a sunroom made doesn't need to be recuperated at some time. Therefore, you need to be quite sure about getting a sunroom made because it can prove to be heavy on your pocket.
Final Thoughts
Although sunrooms are more aesthetically beautiful and have great furniture incorporated, screened porches are a great choice if you are tight on budget and still want to enjoy the outer views while being on the premises of your home.
The expanded spaces bring about almost the same joy, with the sunrooms providing better performance in rough weather conditions. Still, the final call about which one you should go for depends completely on your needs and requirements from the additional space.
More from Materialsix.com: