The world is different when you're tall.  This is obvious in some cases but not so obvious in others.  One of the common pain points is couches.  Couches for tall people have to be designed differently in order to make room for longer limbs and still provide the same comfort and enjoyment as they would for those who are taller.
The main areas to focus on in shopping include:
The depth: 23" at least, preferably 25"
The height: 15" at a minimum and anywhere up to 20"
The seatback height: 36" or close as possible
The length: 70" to 75" for those that love to stretch out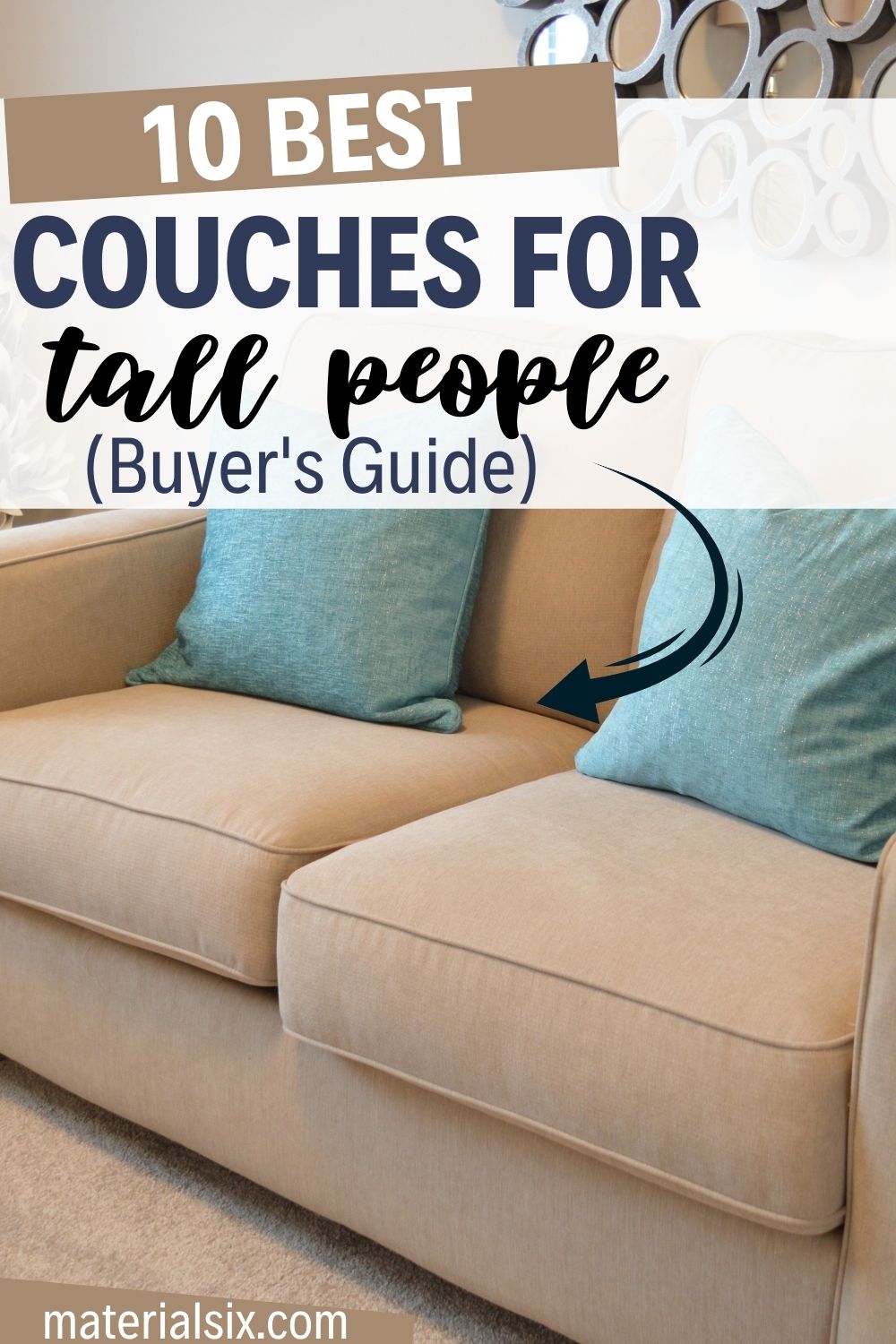 The Top 10 Couches to Buy for Tall Shoppers
While that may seem like a tall list — see what we did there? — to meet, it's all about knowing where to look for taller couches!  This list is going to help provide a couch for a tall person of all preferences in color, materials, and, of course, fit!
Recliners are often preferred y tall people since they are oversized, to begin with. So, enjoy a recliner in the form of a couch. With padded arms and soft, deep cushioning to help you get comfortable, this is going to be great when you want to keep the classic recliner.
Plush and properly sized, this couch for a tall person is going to blend the convenience of an armchair with the footprint of a couch!
If you loved that, then get ready to love this even more!  This is the same kind of focus with the recliner built into a couch, but it's going to do it with all sorts of armrest and console storage!
It has a soft cushion at the head, this is perfect for enjoying customized comfort that fits your tall height and still gives you the bells and whistles that you love!  Plus, it's buttery leather!
You know how sectionals never fit, right?  Well, now it can with this purposely oversized option!  It has two chaises to help you stretch out, and the rounded armrests give you plenty of support if you choose to stretch out on it lengthways, too!
The soft chenille is modern and really comforting.  The chaise also lifts up to store throws and more belongings required for enjoying this couch properly.  The width and height of this one is going to be a dream come true for the standard couch for a tall person!
If you really like the sectional style, but you want just a bit more width, this one will work great!  It offers wonderful luxurious width for stretching out both ways easily. In a more cushioned classic vibe, its soft black velvet is a great sophisticated touch.
While it only has one chaise on it, it's still going to be a great choice for every tall person who wants to use it.  It's designed specifically with that in mind, after all! Plus, the stark velvet fabric is ultra comforting when you are looking for a true cocoon feel!
You know those beautiful decorative couches you see in celebrity homes? This is a great one for tall people to enjoy, and it gives that same quilted look. It's long and has plenty of space to stretch out.
The ridged sides are softened with cushioning and round bumpers, too.  The quilting is really appealing visually and sure to be an extra
This is classic in all of the best ways!  It's soft and cushioning while still giving you a deep seat and a great formal look and feel of its square cushions.
Unassuming and great for sitting on conventionally or stretching out, it's going to be a great choice for keeping it simple.  What else is there to say?
Are you still thinking about that luxurious couch we talked about earlier?  This one is similar with gorgeous tufting and a soft plush cushioning that is going to be beautiful and modern.
It's textured, ultra-soft, and just formal enough to look great on its own and still be comfortable for even the tallest people!
Is cushioning your think?  This soft cloud-like couch is going to give you comfort and lots of room to stretch.  Its highlight is the sectional that can be used by everyone who wants to recline back and put their feet up!
Great for those that move around a lot as far as their preferred sitting choice on the couch, since the sectional can be reached by all seats and is also going to be moveable if you want to shift it in or out!
Another classic option, this is simple and unassuming but still plush and soft. It will be a loveseat in its look and feel but will work hard to be oversized for those tall people that want to be able to sit comfortably on it.
This is great if you have small living room spaces, too, since you don't want to have a couch that fits your height but is still going to be too big for the space!
Leather, soft, plush, and compact, this is going to be another small space option that still gives the tall person plenty of comforts and extra depth, etc.
When you need to enjoy a comfortable sitting space in just the right kind of classic profile, this one is hard to beat.  It's soft, professional, sleek, and deep enough so that everyone can sit comfortably.
Conclusion
Couches for tall people aren't so hard to find after all, as long as you focus on the right measurements!  These ideas will give you a great starting point and maybe even help you find just the taller couch that you've been looking for!
Your living room will never look better, and it's going to be an incredible choice when you want to make sure that the couch actually meets — and surpasses — your needs!
More from Materialsix.com: