Today, you can certainly find various kinds of shower tile ideas that can inspire you on the internet without having to be confused.
Therefore, designing a bathroom is not a complex thing anymore. Also, to redecorate the walls, you can go with tiles instead of wallpapers.
Without further ado, here are 23 designs that can transform your bathroom into the most relaxing and adorable space.
Related: What Is The Best Material for Your Shower Walls?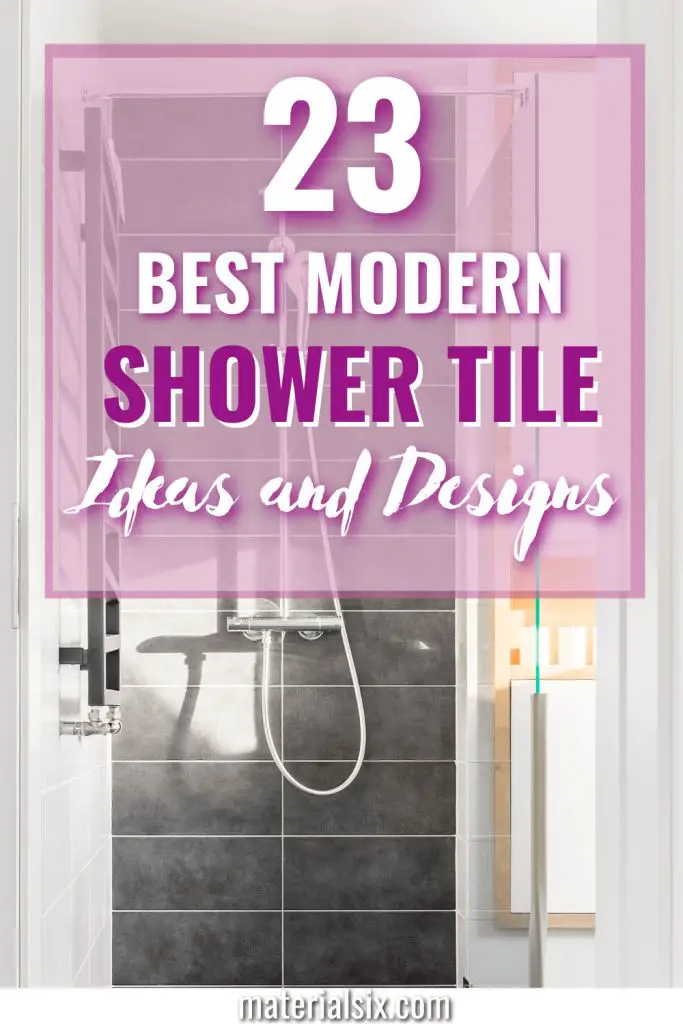 Modern Shower Tile Ideas & Designs
1. Rectangular and Circle Combination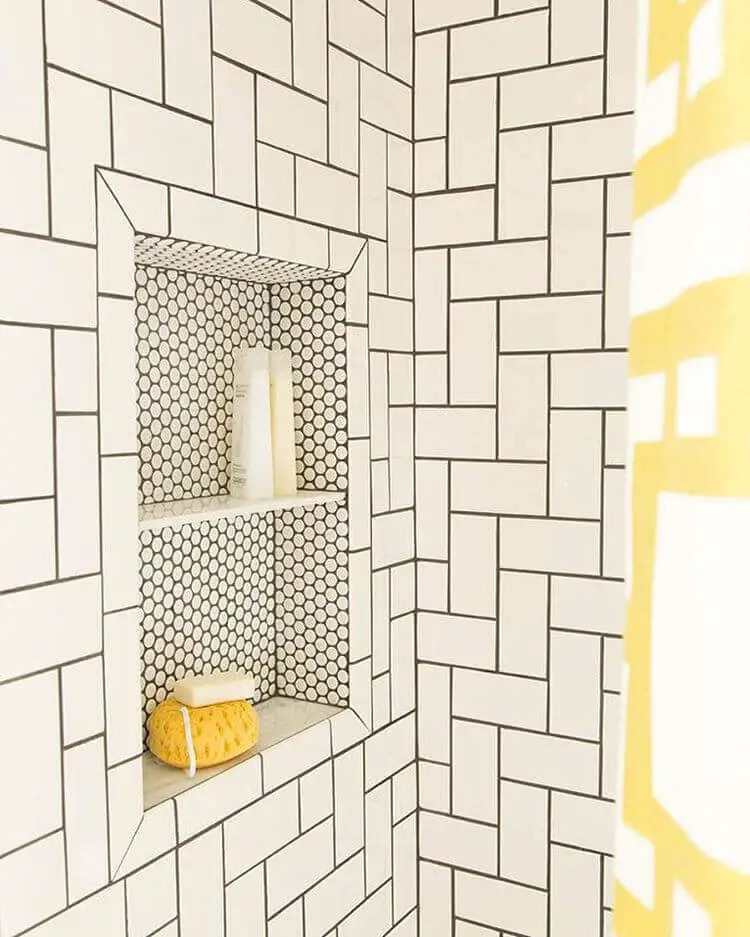 When it comes to shower tile designs, the one with white elements is the most popular.
Otherwise, to avoid monotonous decor, you can combine rectangular tiles with small circle patterns for soap storage.
2. Dark Shower Tile Ideas with Inlaid Pebbles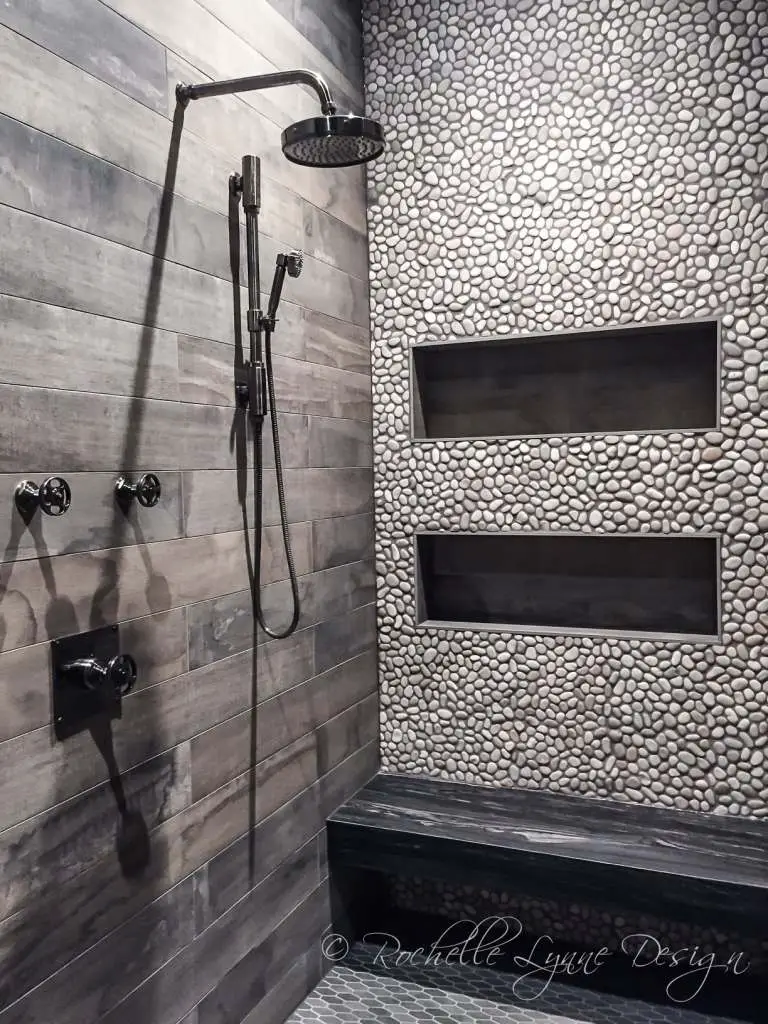 Installing pebble-studded tile on one side of your dark bathroom is, indeed, a brilliant idea.
Furthermore, combining inlaid pebble with barn wood tiles, for instance, will give a rustic and natural vibe to your shower space at the same time.
3. Full Wooden Tiling with Pebble Floor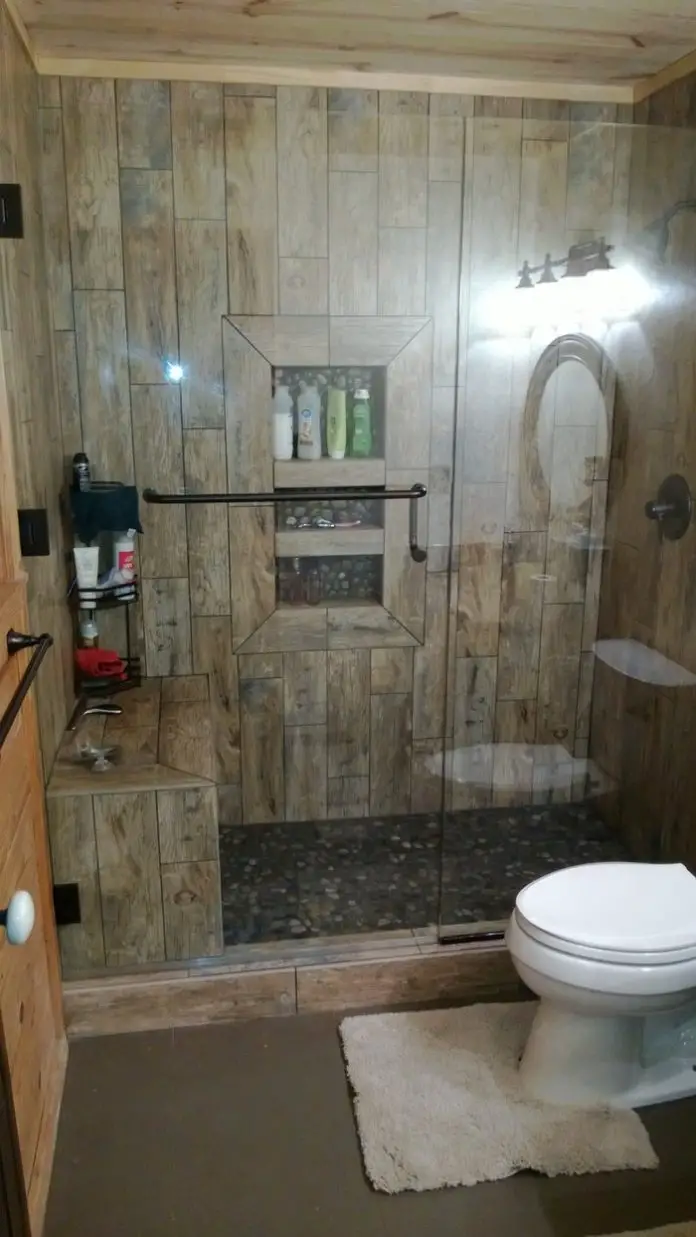 Apart from installing pebble tiles on the other side of your shower wall, you can also install them for the floor. As for the surroundings, consider adding full wood patterned tiles.
4. Vintage Shower Tile Ideas in Gray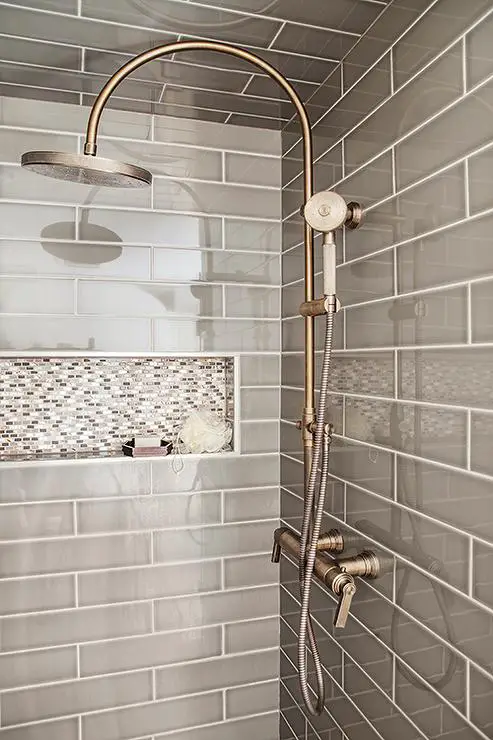 It is never wrong to go to vintage for your bathroom interior design.
Moreover, one way to keep it classy is by combining gray tiles and mosaic ones with a gold exposed plumbing shower head.
5. Fancy Industrial Theme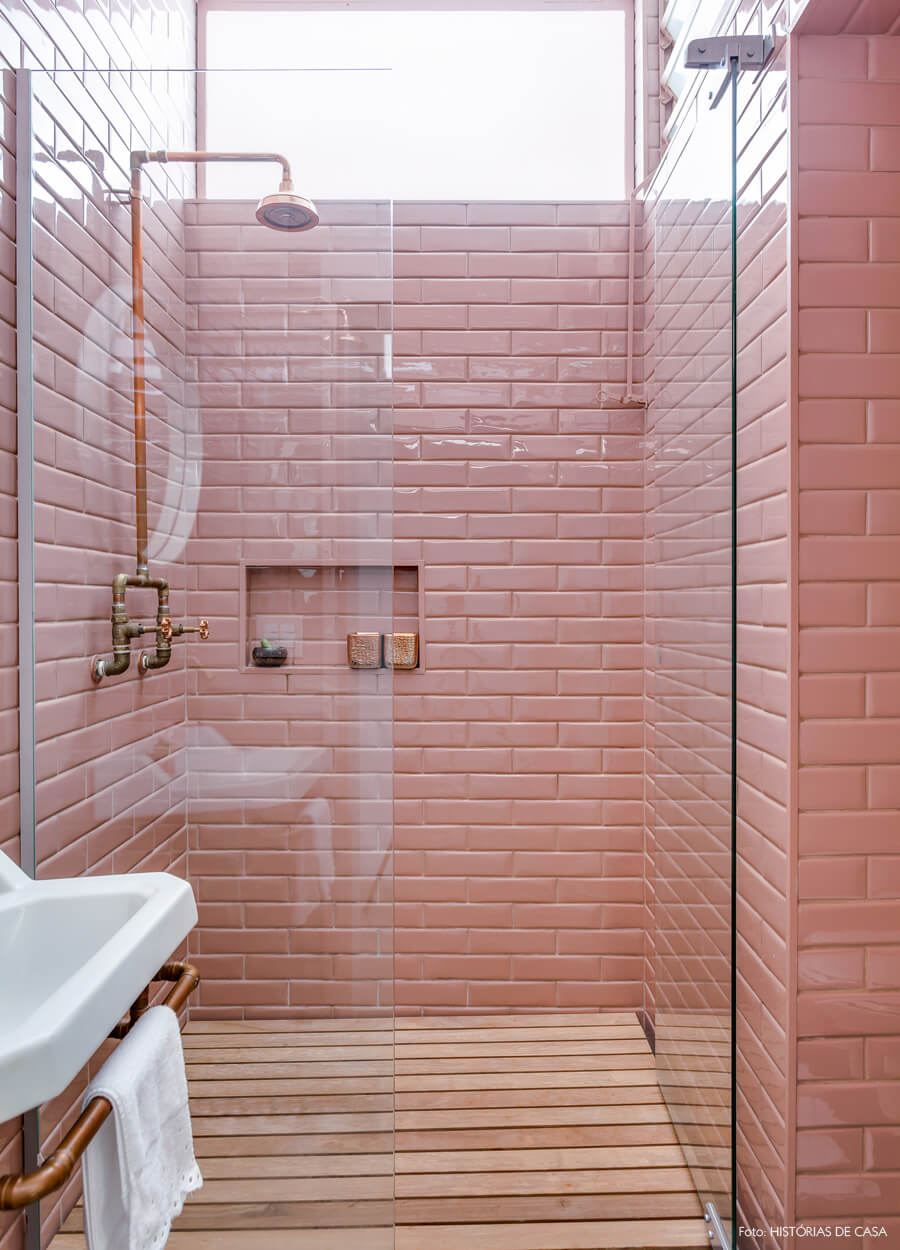 Talking about bathroom shower tile ideas will never meet an ending. Hence, if you want a design that will always be up to date, industrial themes with peach-colored tiles are the best.
6. Relaxing Gray Mosaic Tiling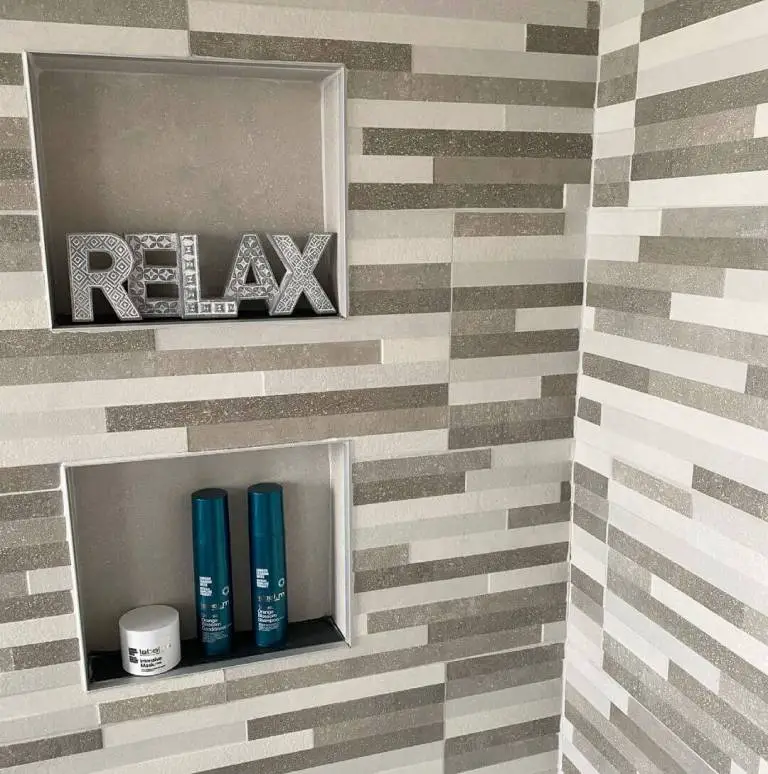 For people who want to bring a modern vibe to your bathroom, installing mosaic tiles with various gray color palettes is certainly a perfect choice, for instance.
Then, consider putting some signs on one spot to beautify the decoration.
7. Constellation Scheme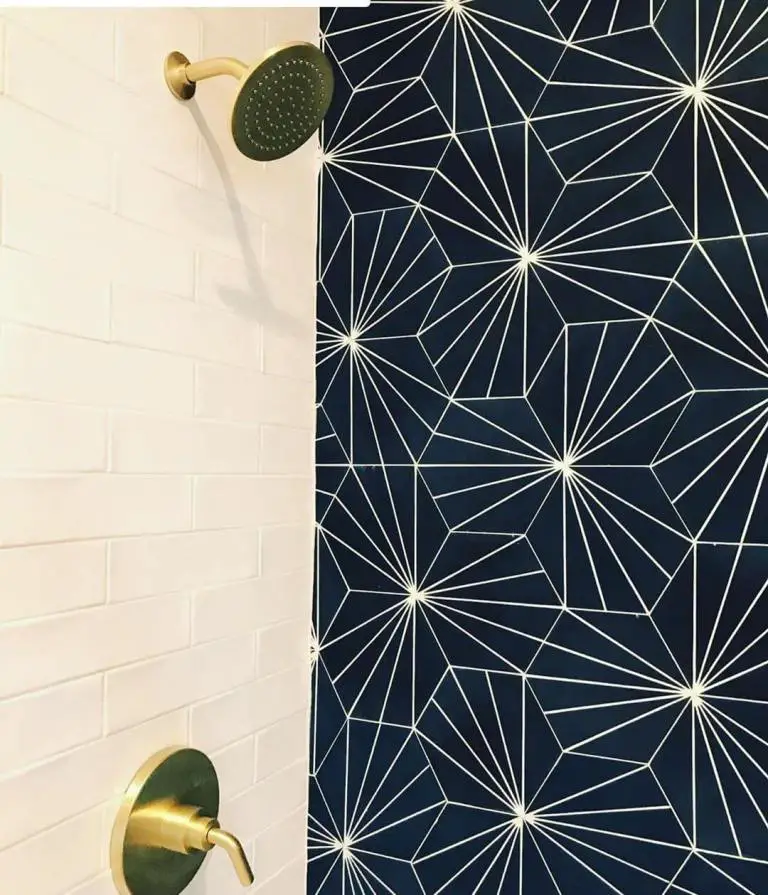 Indeed, the combination of white cement tiles with constellation patterns will take you to space! Further, to complete its luxuriousness, you can choose a gold built-in shower set.
8. Faux Wood and Inlaid Stone Tiling

Thankfully, you might get a contemporary vibe by installing wood tiles and inlaid stone altogether. Additionally, put them on the wall as well as the floor for your bathroom perfection.
9. Sparkling Mosaic Tile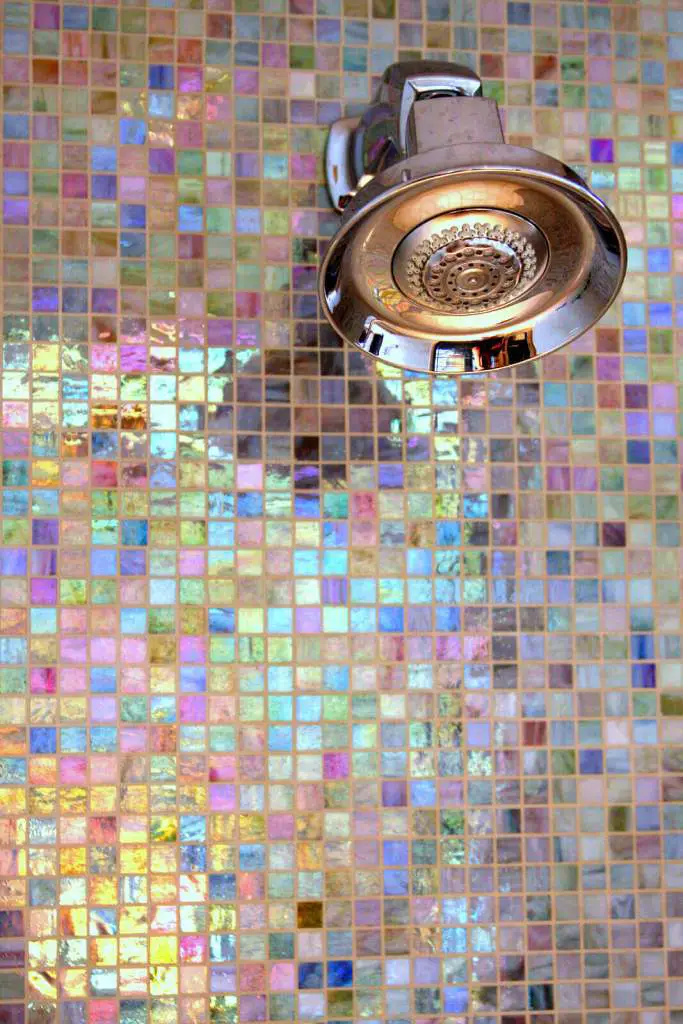 Thankfully, installing iridescent glass tiles is the most innovative way to invite varied lighting into your bathroom.
10. All White Shower Tile Ideas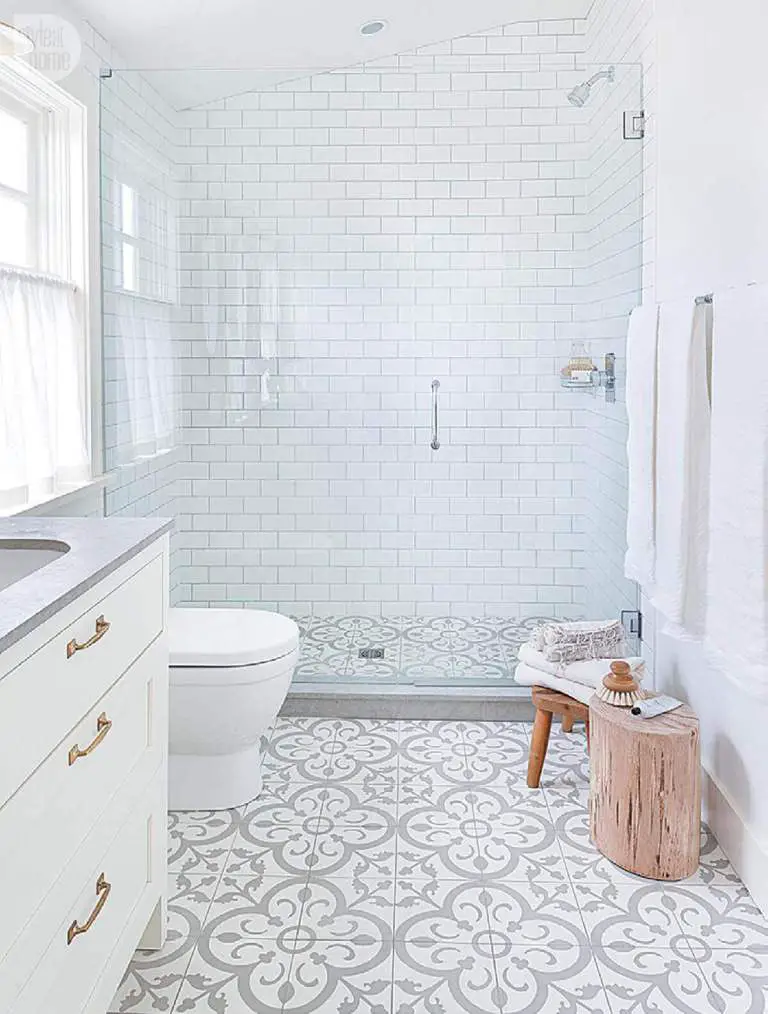 Indeed, this classic design presents you with a white theme and beautiful cement tile flooring. Thus, try to apply it to your bathroom immediately.
11. Refreshing Palm Textured Wall with Cheerful Tiling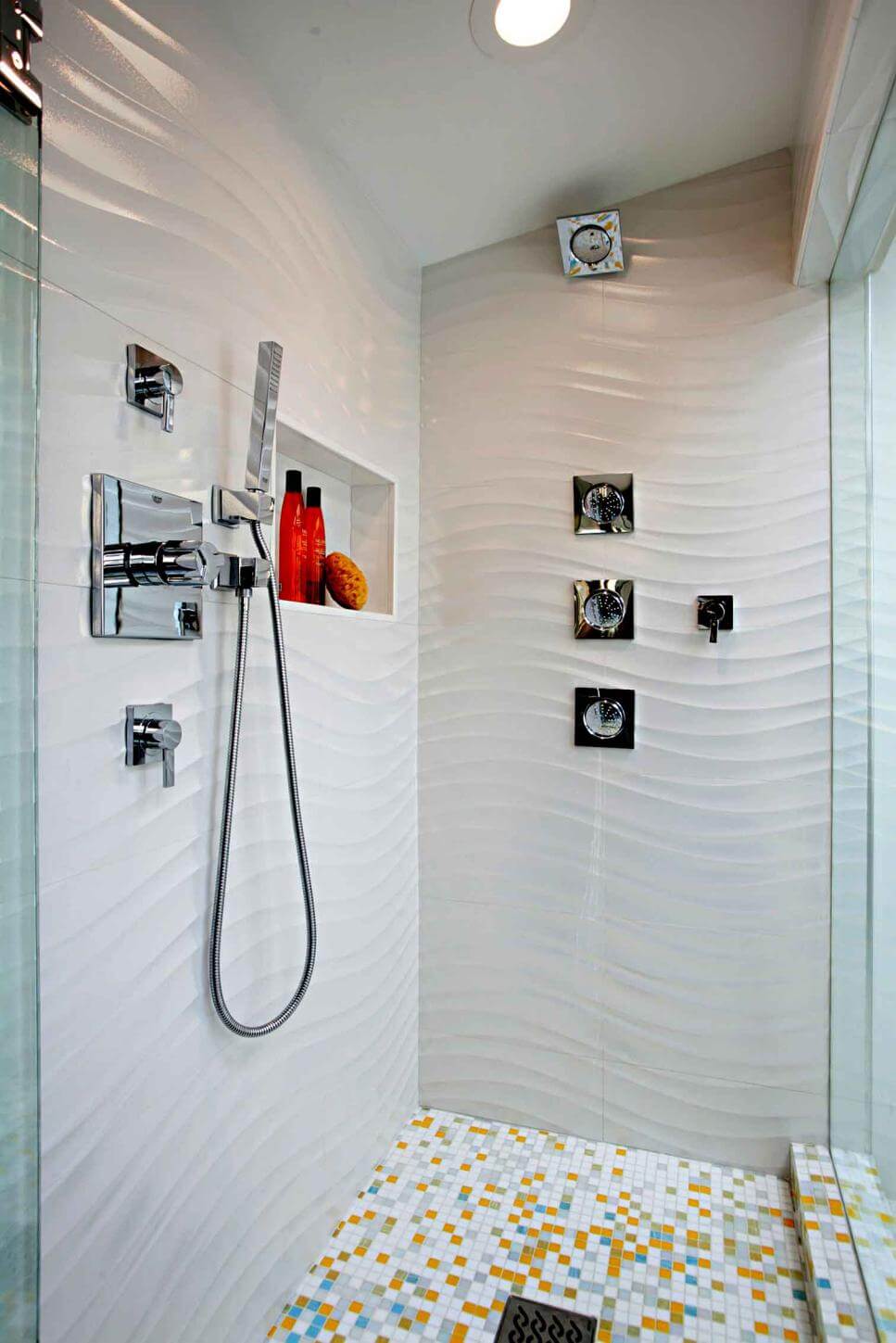 in addition, the next contemporary design will lead you to go with bright small square tiles for flooring. Further, you can let your bathroom has a palm-textured wall for a more refreshing vibe.
12. Pearl Hexagon Tile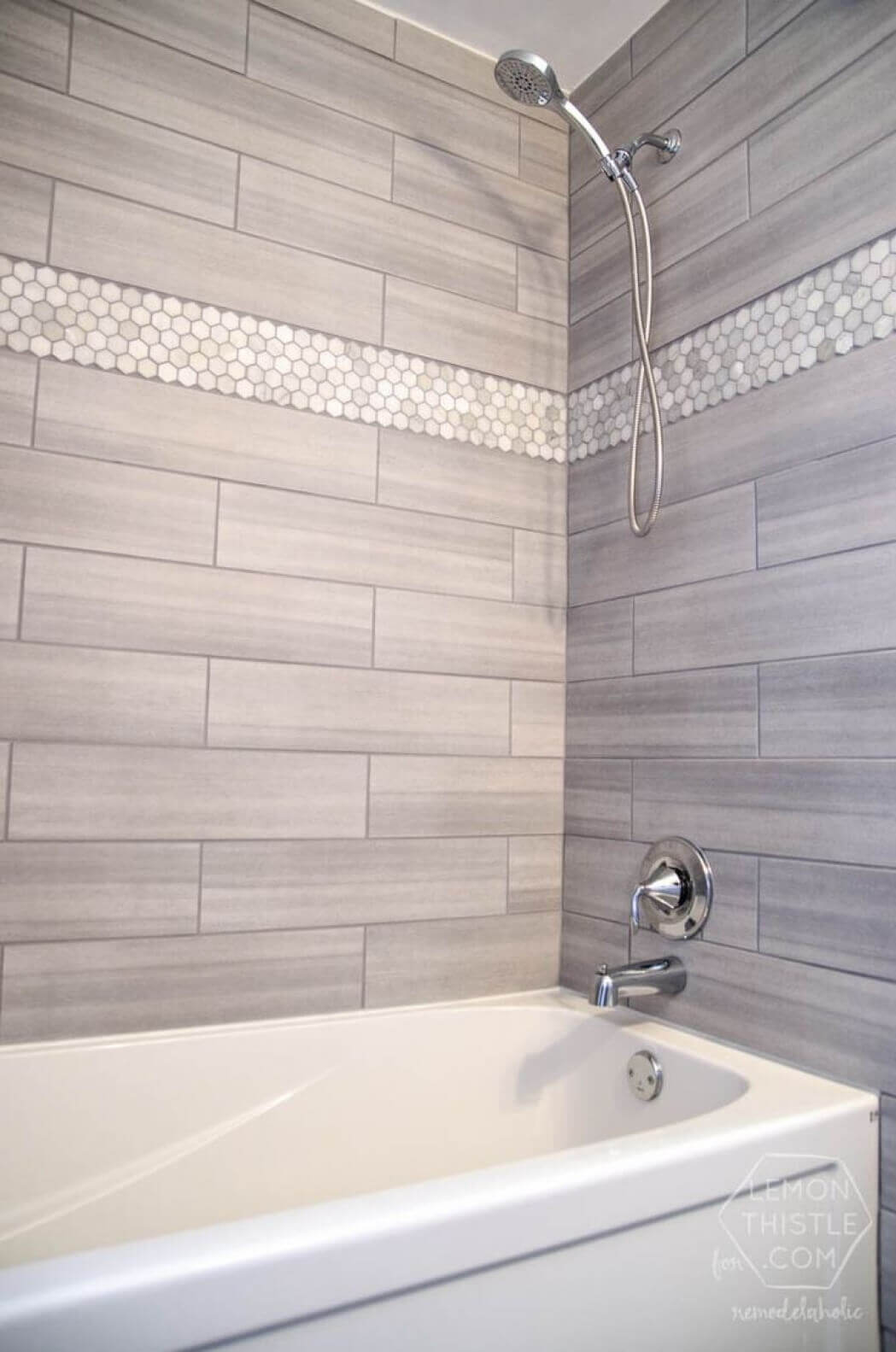 Indeed, luxury is a beautiful thing. So, create that vibe by installing a pearl tile border on the walls over your tub.
13. One-sided Blue Cement Tiles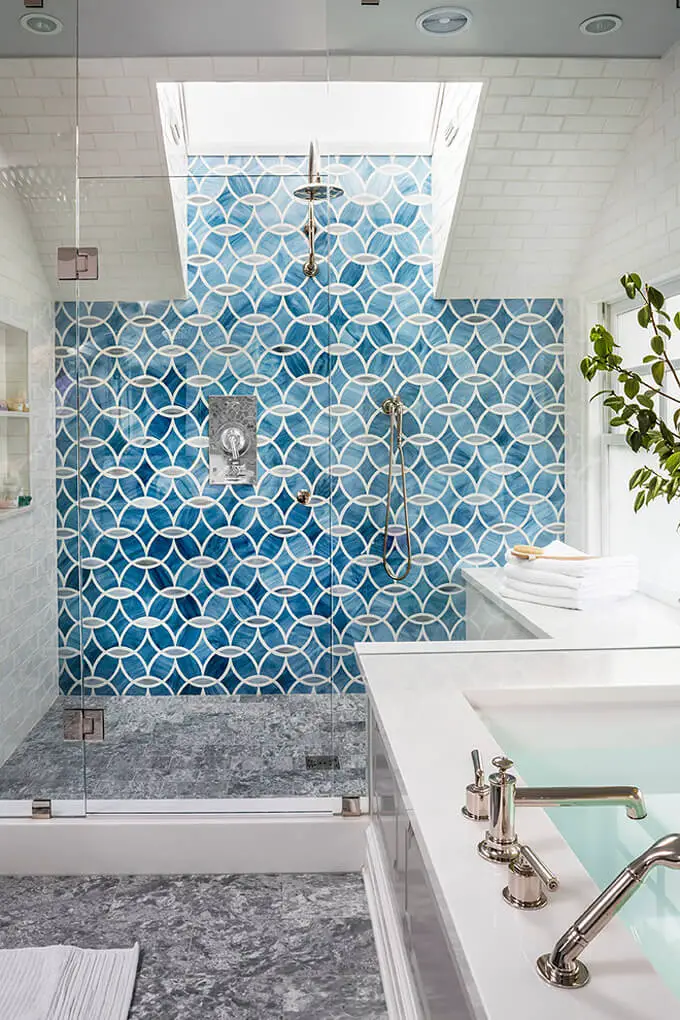 Further, making one side of your bathroom wall has a different pattern from the other is a creative step to highlight your shower spot, for example.
14. Beige Stone Tiles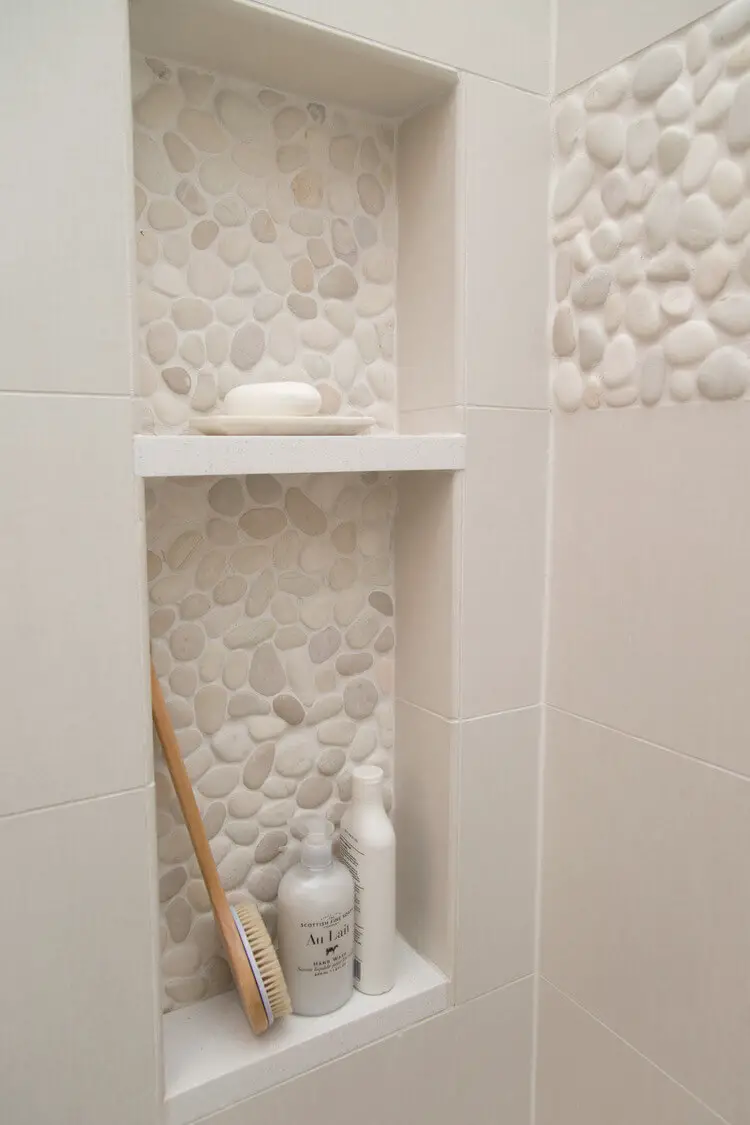 In addition to white, you can also fill your bathroom with beige for a more elegant impression. Besides, combine stone tiles with others made of porcelain for the best finish look.
15. Shimmering Tiles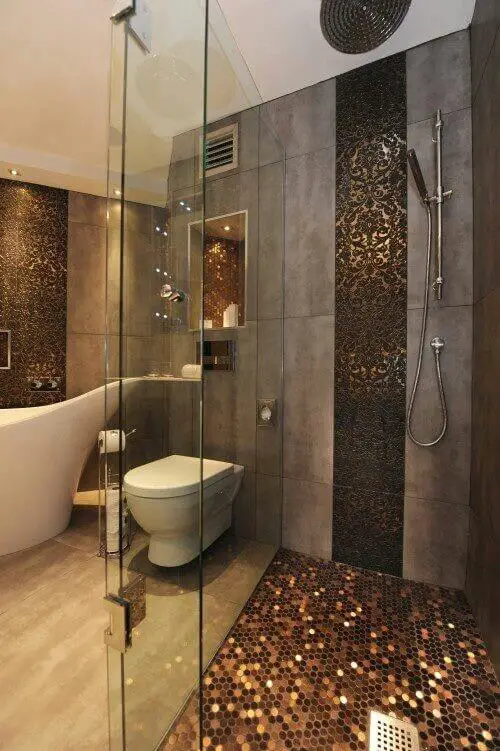 If you are looking for the most luxurious tiles for your spacious bathroom, try combining gold, metal, copper, and silver tiles as above, for example.
Furthermore, everything will be excellent!
16. Ivory Chevron Tiles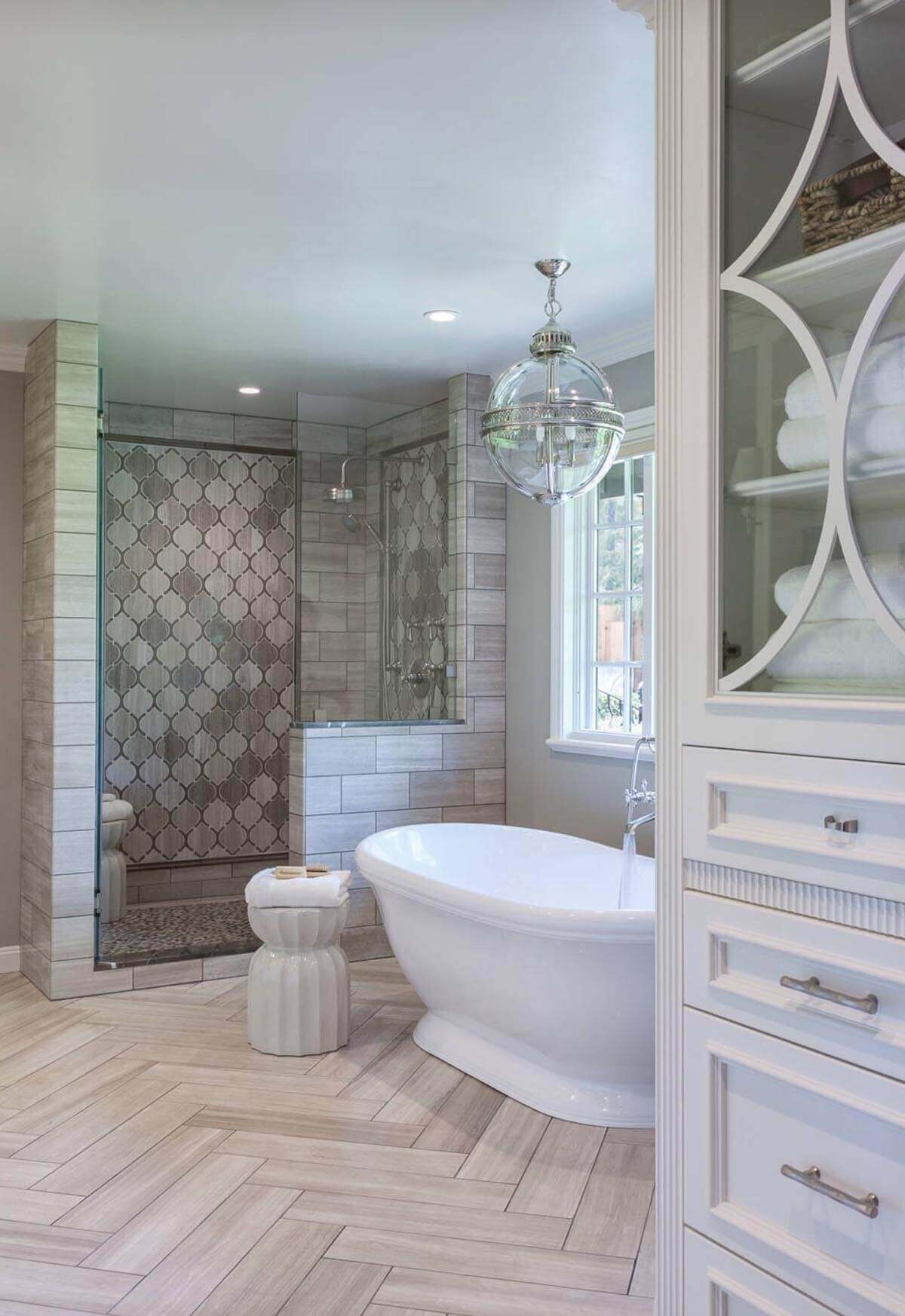 In addition, combining all patterns such as chevron, curve, rectangular, and pebble tiles in an earthy tone is the most perfect. Hence, it will give character to every spot of your bathroom.
17. Palmer Dark Grey Tiles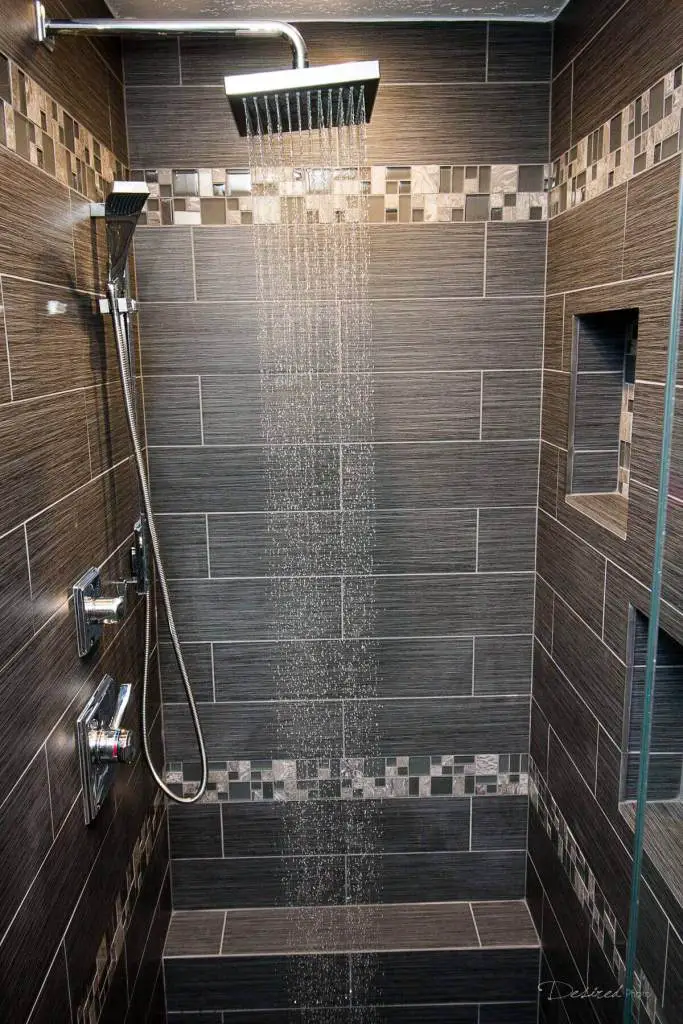 Alternatively, give your shower space some dark gray palmer tiles to make it look more modern.
18. Rugged Stone Tiling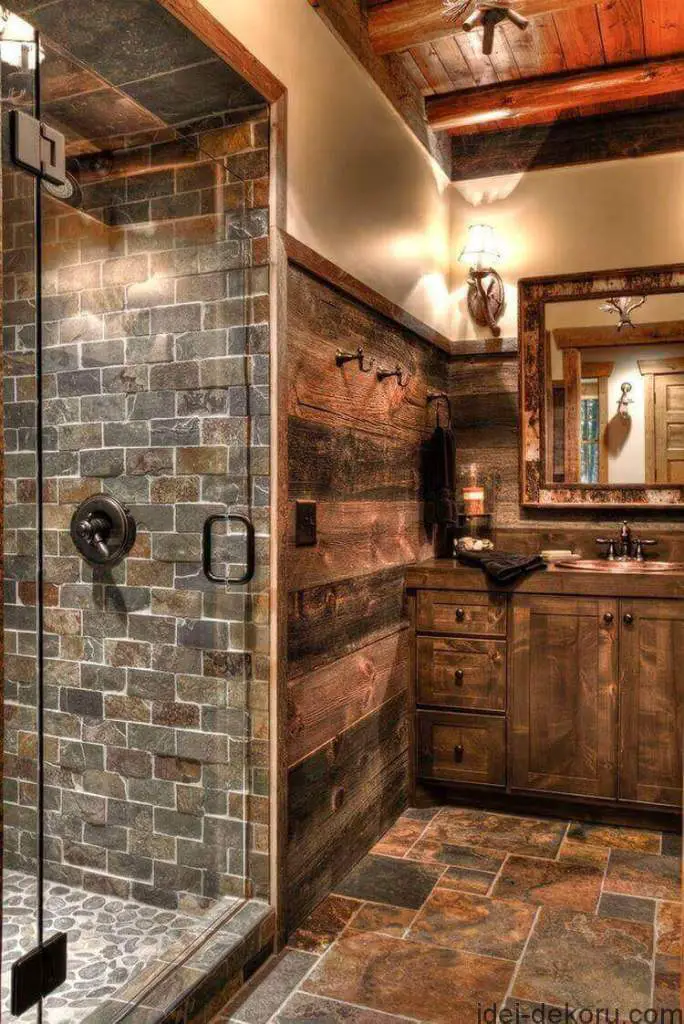 Realize your dream of having a rustic vibe bathroom by installing rough-textured stone tiles on all the walls, for instance.
19. Black and White Patterned Cement Tiles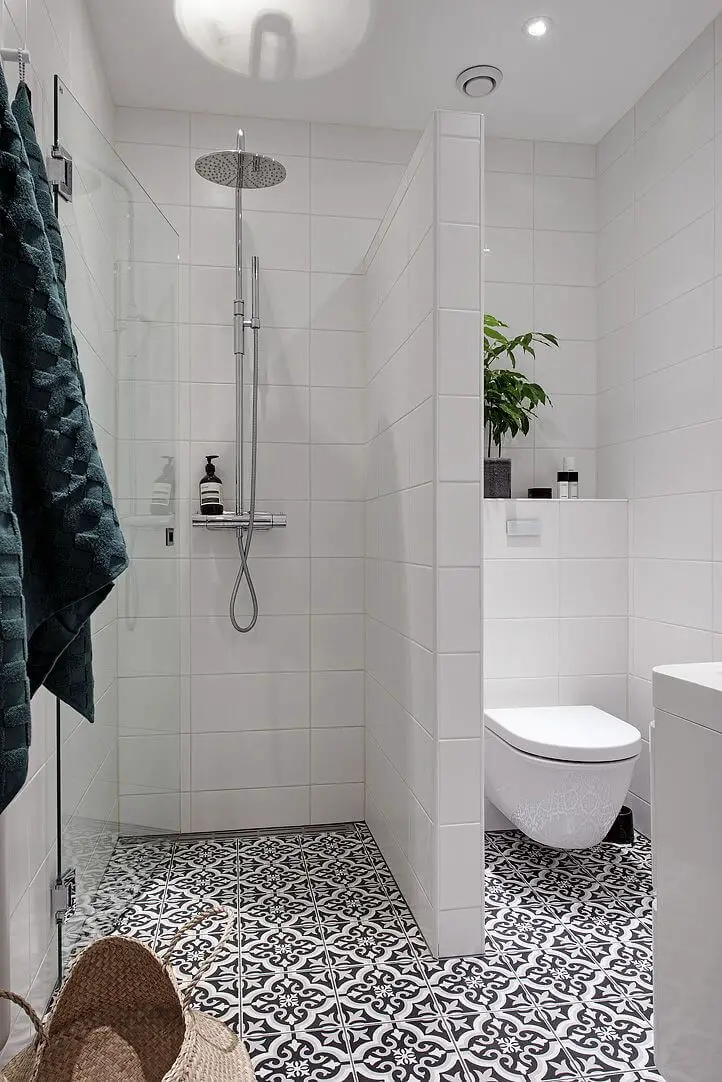 Moreover, if you like a robust yet straightforward character design, try going with a patterned black and white cement tile like the one above.
20. Simple Light Grey Glass Tile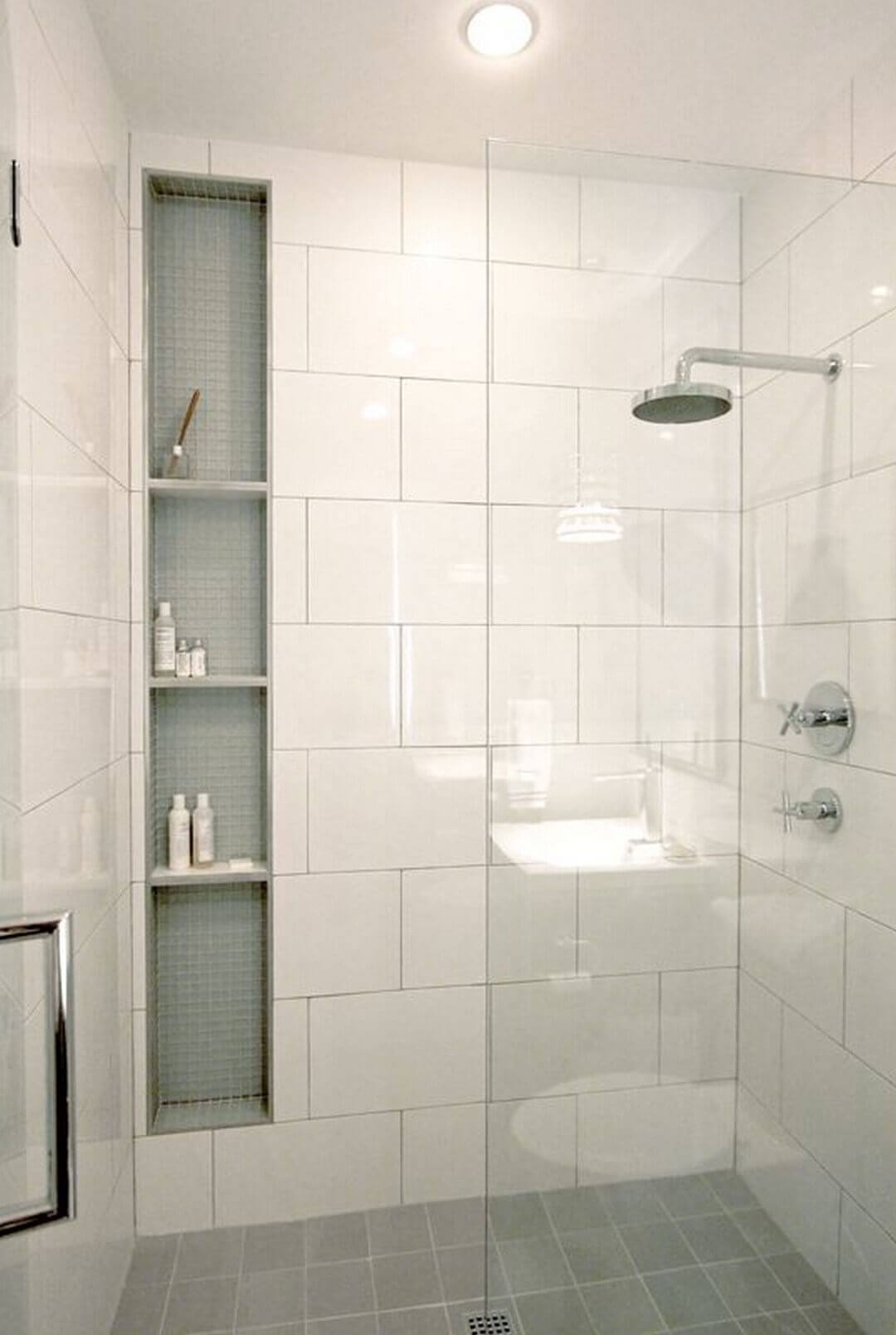 Interestingly, one of the most effortless designs to follow is combining glossy plain white tiles with light grey glass tiles for the background of your shower stuff organizer.
21. Oasis in the Bathroom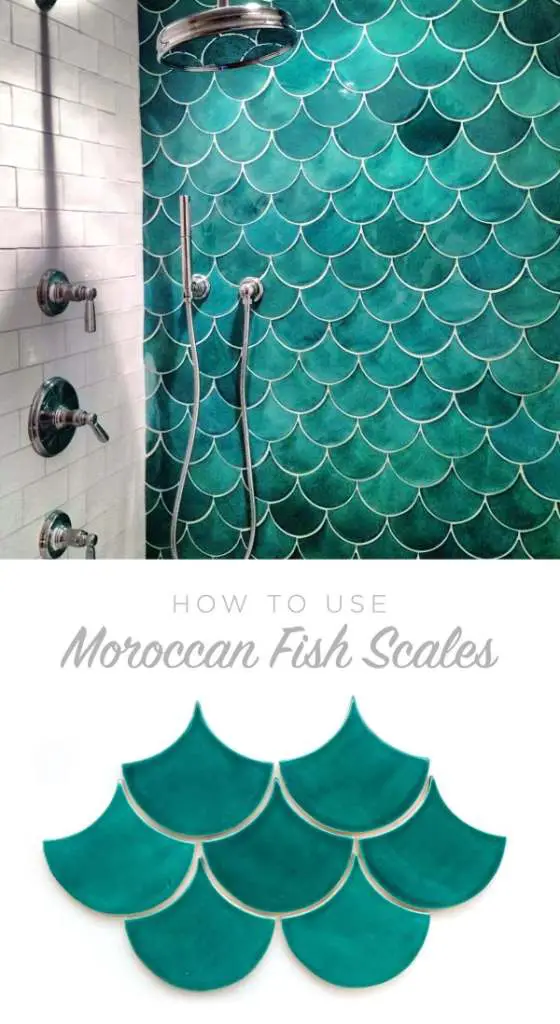 Additionally, by installing Moroccan fish scales or mermaid tiles, create a refreshing coastal vibe in your bathroom.
22.  Mix Patterns Blue Shower Tile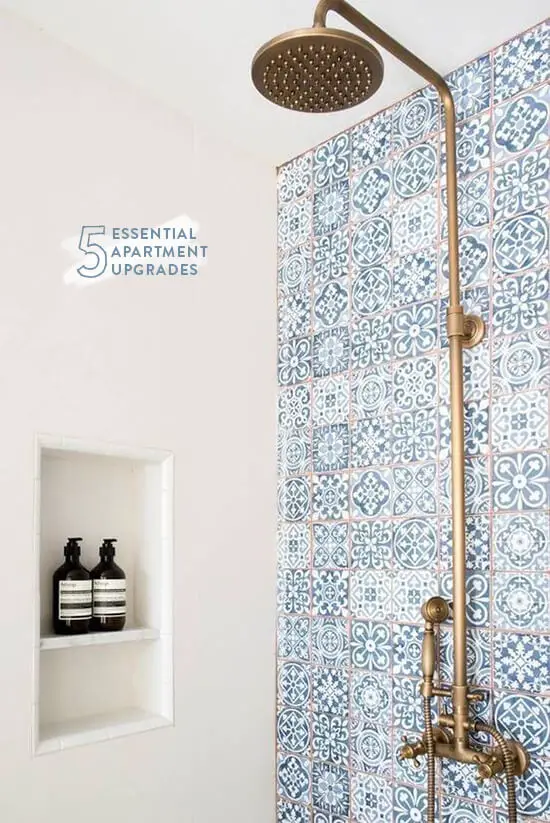 Mixed patterned tiles are certainly the best alternative for you who often feel confused about choosing one design. Also, blue is always suitable for a fresh bathroom.
23. Brown Palette Mosaic Tile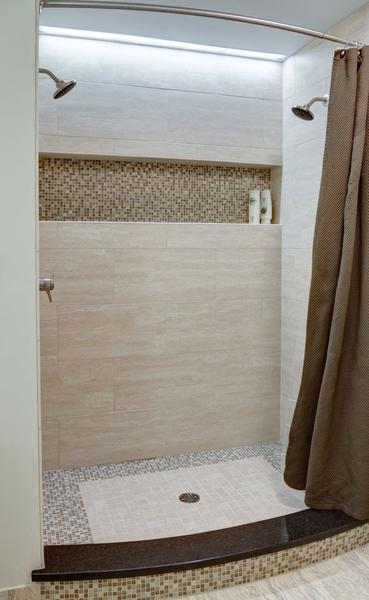 Are you looking for the safest color to create a calm earthy atmosphere? Then, multi-tone brown tiles are the best answer.
Finally, you do not need to be confused anymore about redecorating your bathroom. Thereupon, be sure to choose one of the 23 shower tile ideas above and make it happen right away!
Video: Fresh Bathroom Tile Ideas
More from Materialsix.com: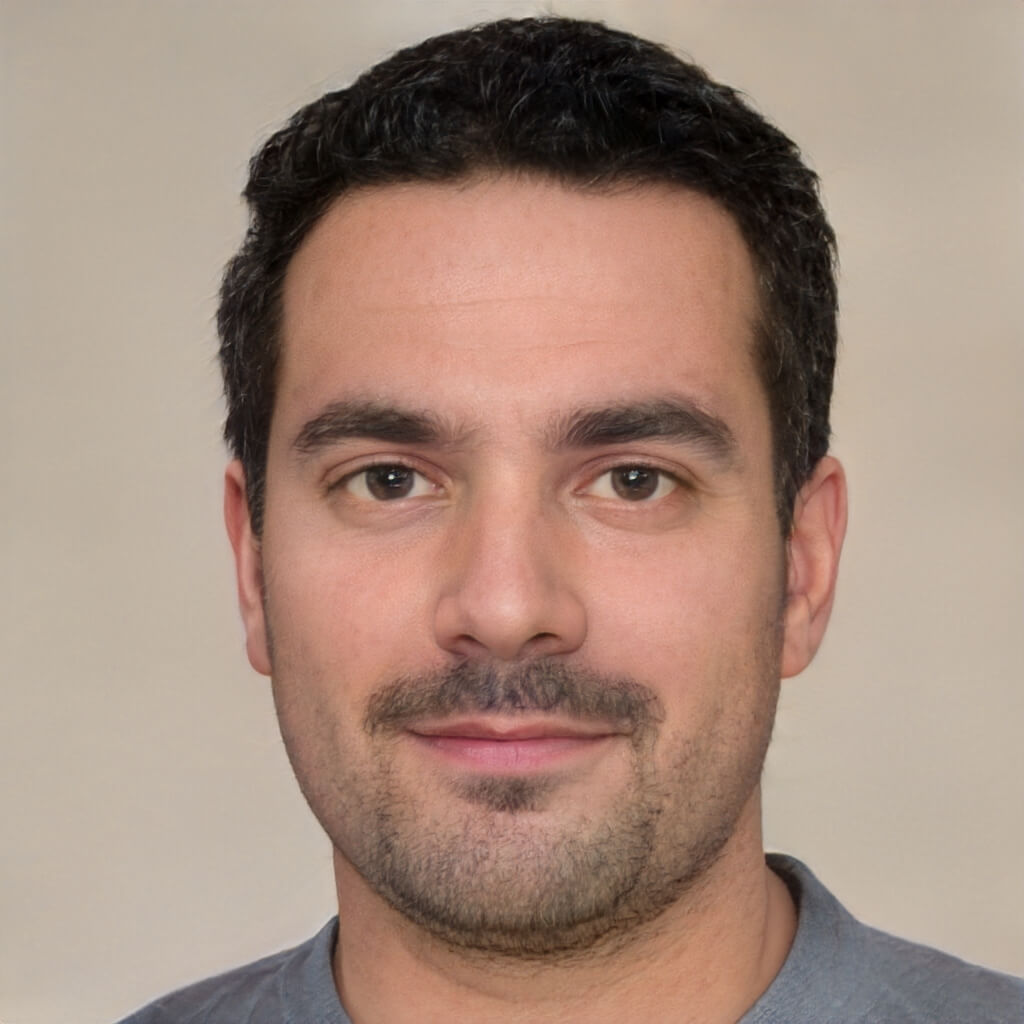 I'm a passionate home and garden enthusiast and the founder of Materialsix Home. With over 10 years of experience in the field, I've cultivated a deep love for all things related to home improvement, gardening, and interior design. Read more…