Finding good pantry organization ideas to store all your kitchen utensils, indeed, is not easy. Because besides considering its functional aspect, you should think of the aesthetic element as well. That way, every corner of your home is pleasing to the eye.
In some cases, making your kitchen closet neat and tidy at once does take patience and time. However, do not worry. It does not mean you cannot do it, can you?
You can easily apply tons of pantry organization ideas, whether for a small or large house. Through some tricks, you can also resolve every problem you face in arranging your cupboard storage with ease. Including making your utensils room look spacious.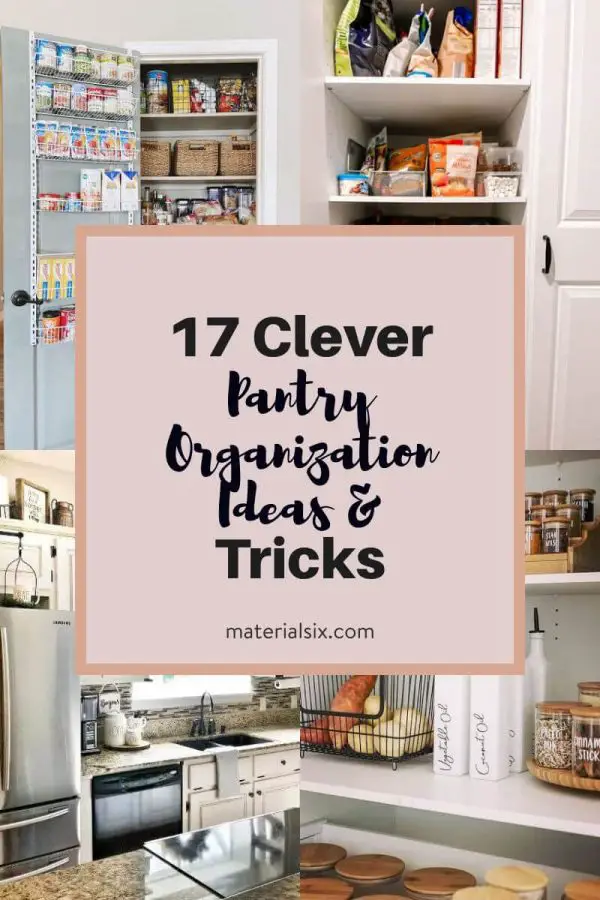 Pantry Organization Ideas
Below are seventeen pantry organization categories that you can try!
1. Set The Door Hanging Racks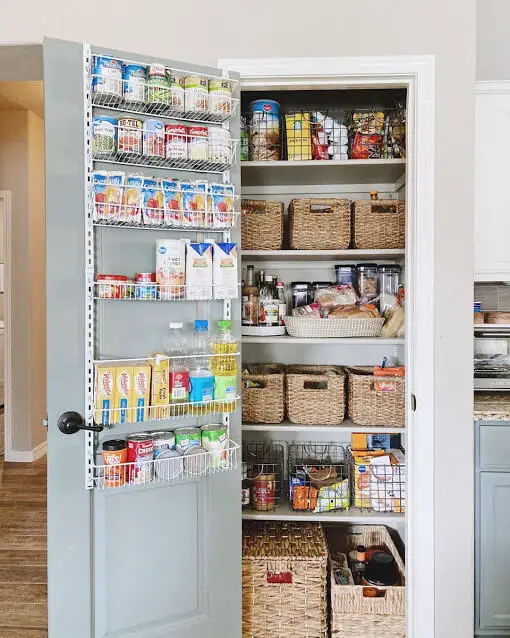 Utilize every space you have to store all your kitchen needs, including your storage door. Install a hanging rack there, and feel free to place lots of cans and bottles. It will not fall off easily.
2. Wire Shelves for Corner Pantry Organization Ideas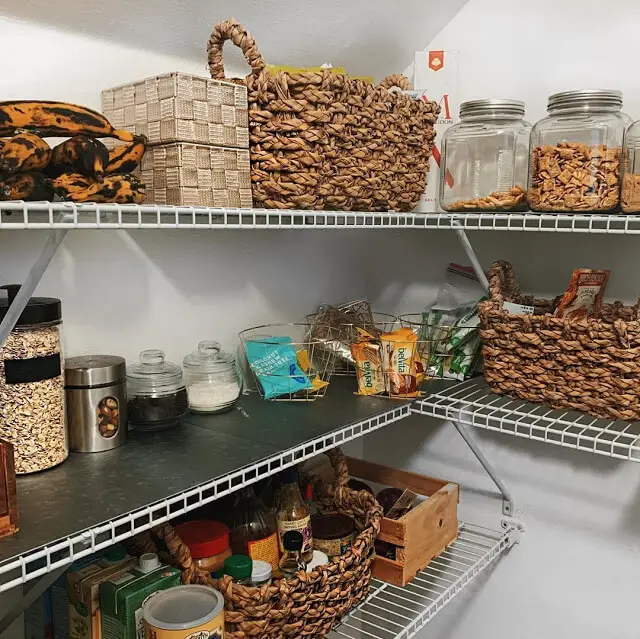 Having a small kitchen is not a barrier to owning a neat storage area. Install several wire shelves in every corner of the room and place all the kitchen necessities in the oak baskets. That way, you will quickly get everything you need.
3. Sliding Door Pantry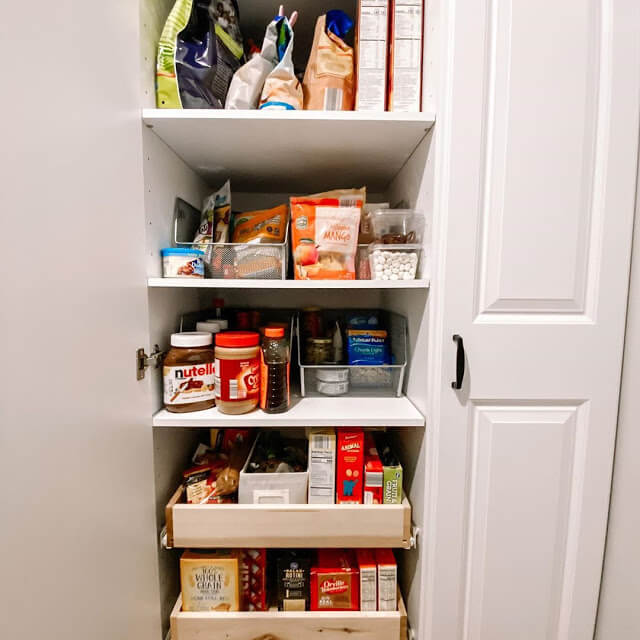 One way to actualize small pantry organization ideas is by installing a storage cupboard with sliding doors. This concept will not only cover all the items stored in it but also can make your house more spacious.
4. Labeled Pallet Boxes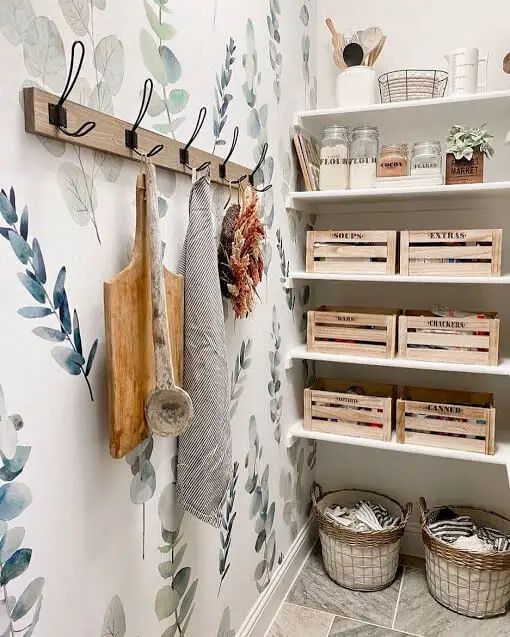 Do you desire other pantry storage ideas in rustic style? Then use wooden pallet boxes with its rough texture as the containers in your kitchen. Do not forget to label it to make it easier for you to find the utensils you need.
5. Wall Cabinet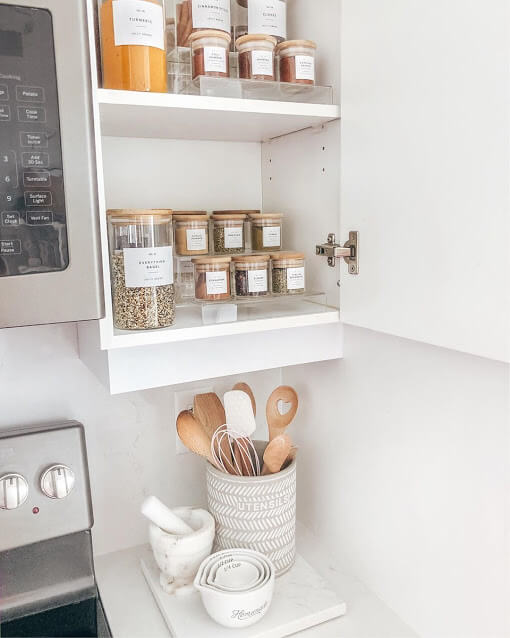 If you prefer a pantry that is easy to reach while cooking, then using a wall cabinet as the utensil room will not ever go wrong. Apart from saving your energy, this storage model also does not take up much space.
6. Basket Above and Below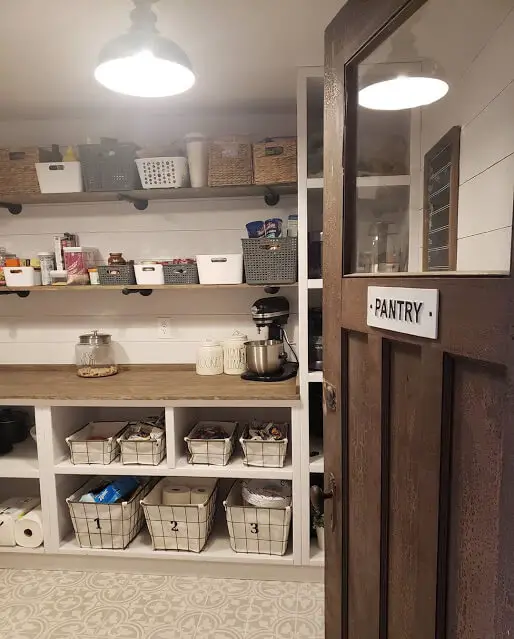 Arrange the baskets neatly according to the items you use often. For example, rolled tissue at the bottom, grocery cans in the middle, and rarely used stuff at the top of the shelf.
7. Bottles for Oil & Mini Jars for Spices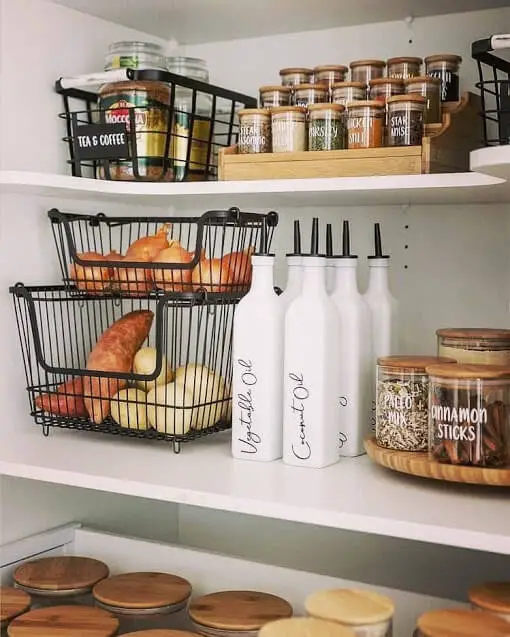 Leave the ingredients like cooking oil and spices in its original wrapping once opened will only make your storage look messy. Even you cannot ensure its cleanliness anymore.
Alternatively, it would be better to pour the oils in some plastic bottles and cooking spices in small-labeled jars.
8. Butler's Pantry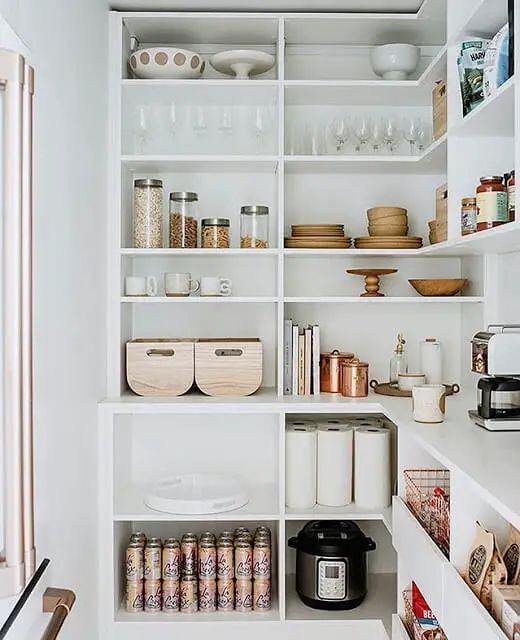 Build a butler's pantry between your kitchen and dining room. That way, all the eating and drinking utensils, as well as some snacks, will be easy to reach.
9. Snack Containers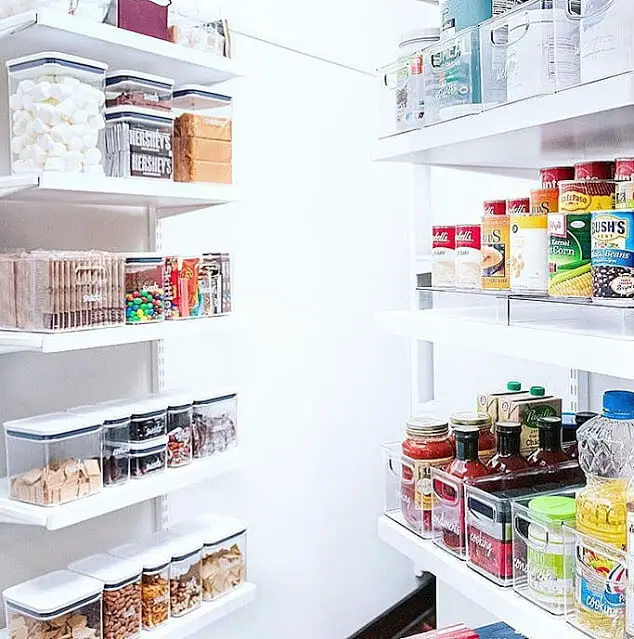 Keeping your kid's snacks remains crunchy and away from ants by storing them in some transparent plastic jars with a tight lid. After that, you can immediately arrange it on the wall shelf neatly so that your children can take their favorite snack at any time they want.
10. Wooden Pull out Drawers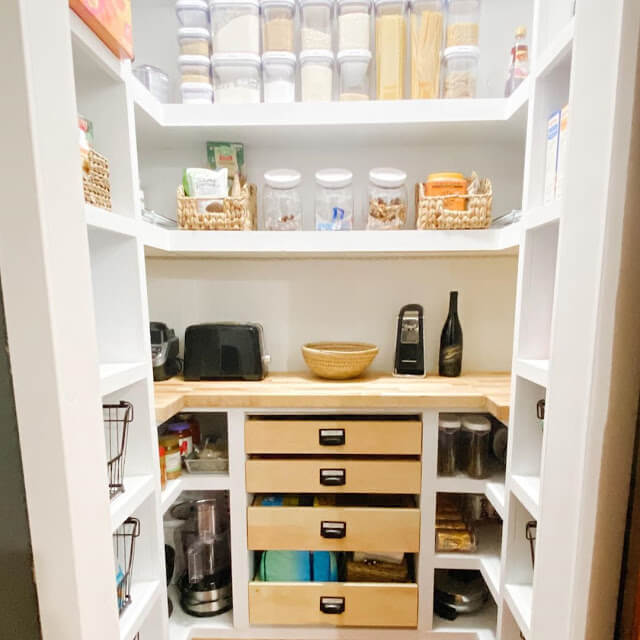 The next pantry organization ideas come with a pullout drawer system that makes your storage cabinets look tidier and more organized. The use of wall shelves without doors and baskets may not be kids friendly due to its high.
Meanwhile, by using an easy-to-reach drawer storage model like this, your child will find it easier to pick up various variants of their favorite jams and sauces independently.
11. Walk in Pantry Organization Ideas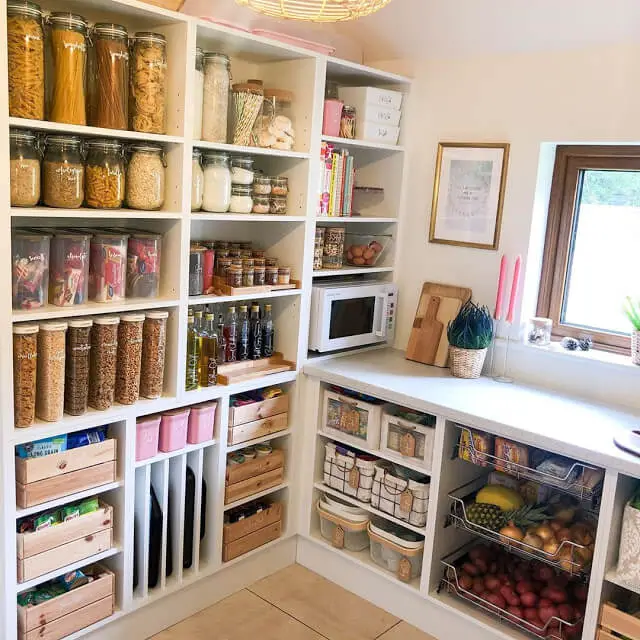 Build a walk-in pantry is a right choice for you who have a large house. You only need to install the built-in tiered shelves on one side of your kitchen, then, voila! Finally, you got a multifunctional pantry.
By carrying this theme in your kitchen, you will have one of the best pantry organization containers desirable by the people out there.
12. Pantry Organization Baskets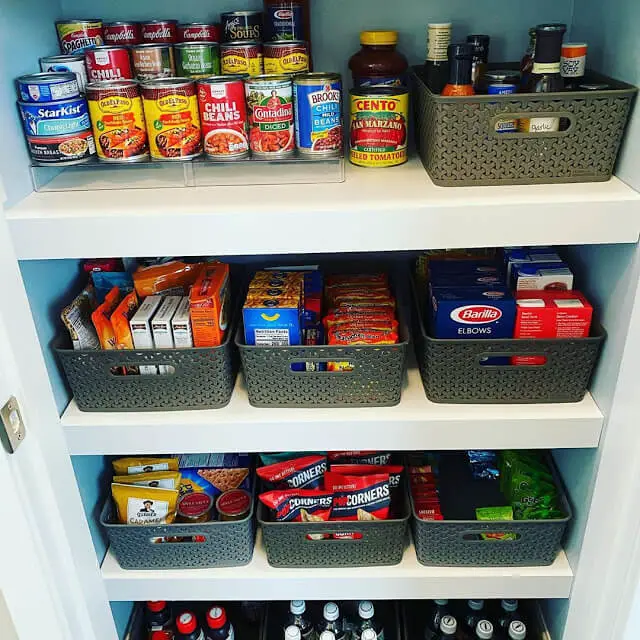 Buy some affordable plastic baskets on the market then use them as a storage container for jams, sauces, crackers, and any other instant food you have. Arrange all the food according to its type so you can easily find them.
13. Oak Baskets
Choose some oak hampers for your utensils containers so you can have the best pantry organization baskets in town!
14. Lazy Susan Shelves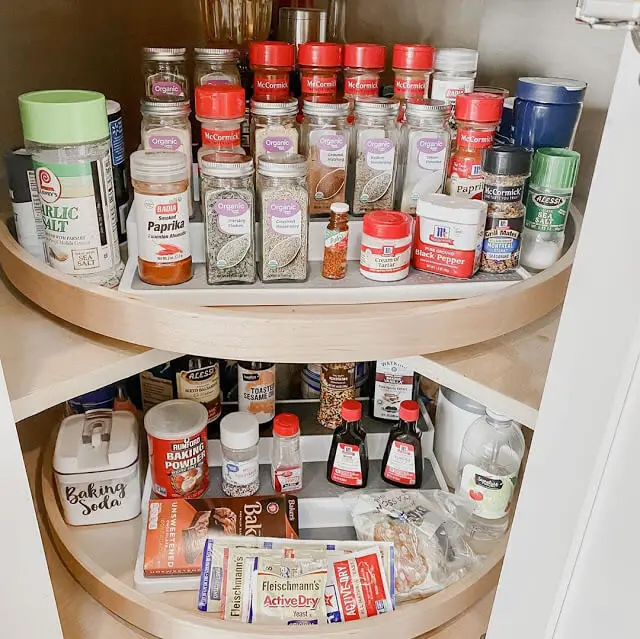 Reaching some spices, oils, and other baking ingredients located at the very back of the shelf is very difficult. Therefore, choose a door rack with a Lazy Susan model to give you easy access to them.
15. Built-in Floating Shelves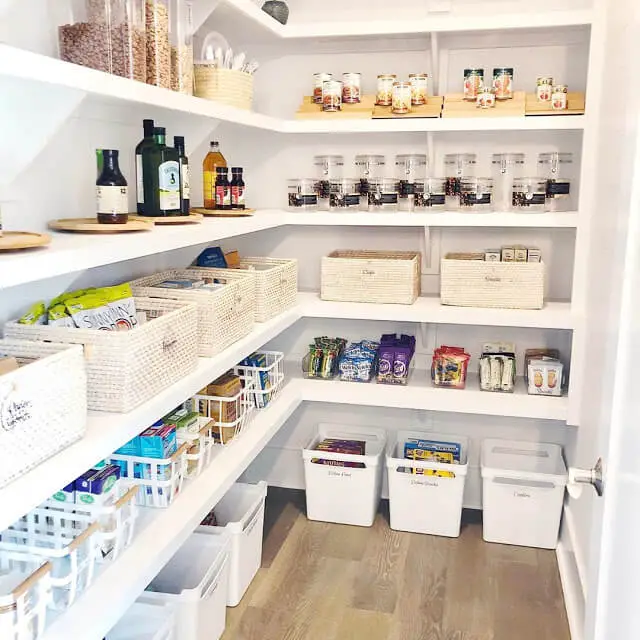 Own the storage cupboard with a white floating shelves model like this. Its neutral background color will make everything look clear.
16. Pantry Organization IKEA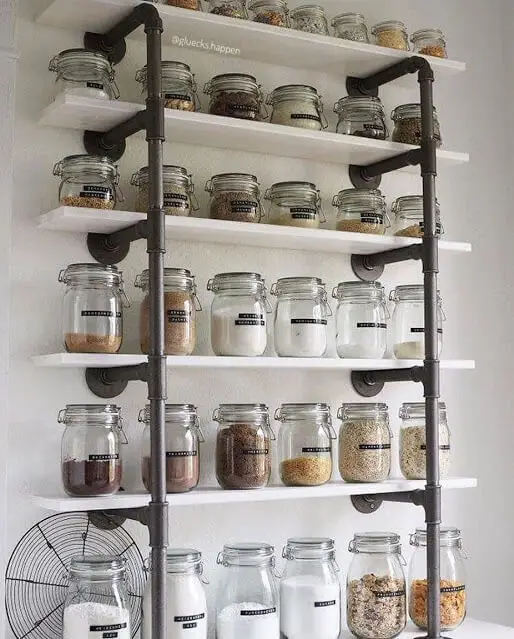 Do you want to have a trendy pantry like the IKEA design? Then buy clipped glass jars like this at the IKEA store.
You can use it to store coffee powder, milk, tea, flour, and other spices.
17. Pantry Organization Containers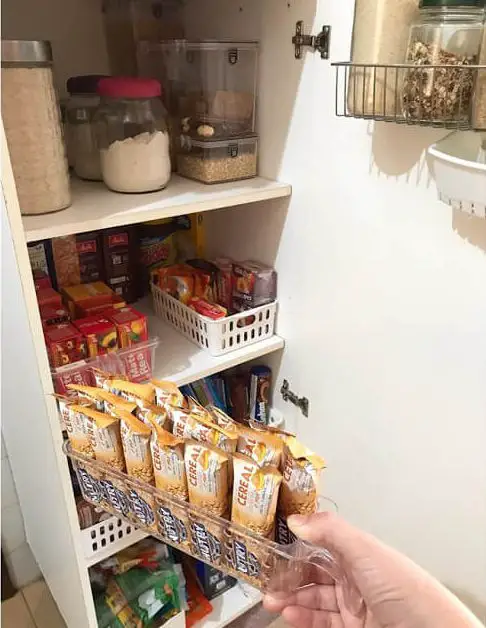 The latest pantry organization ideas come up with a receptacle for your cereals. Right after you bought your favorite bars, make sure to take them out of its original box. Then move them over to the transparent container you have.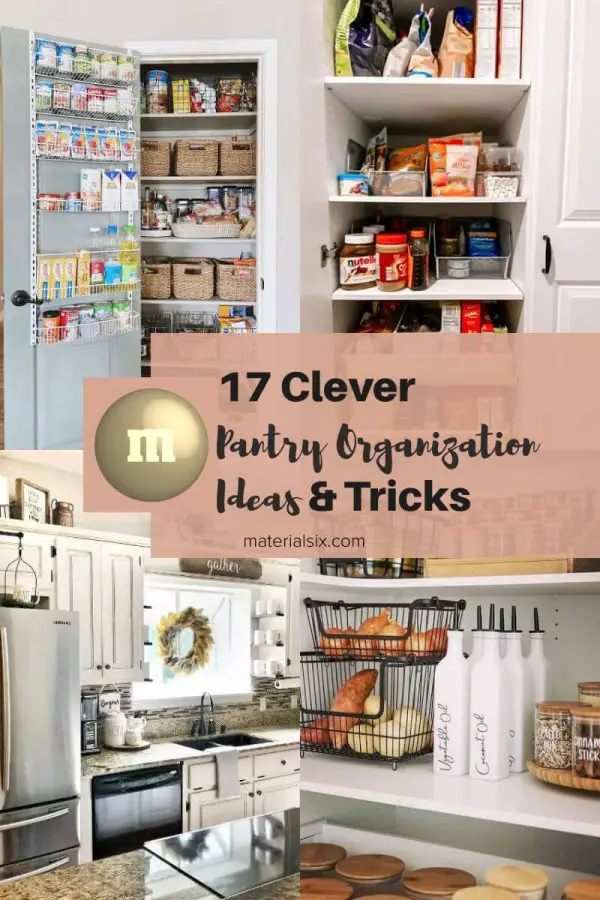 More from Materialsix.com: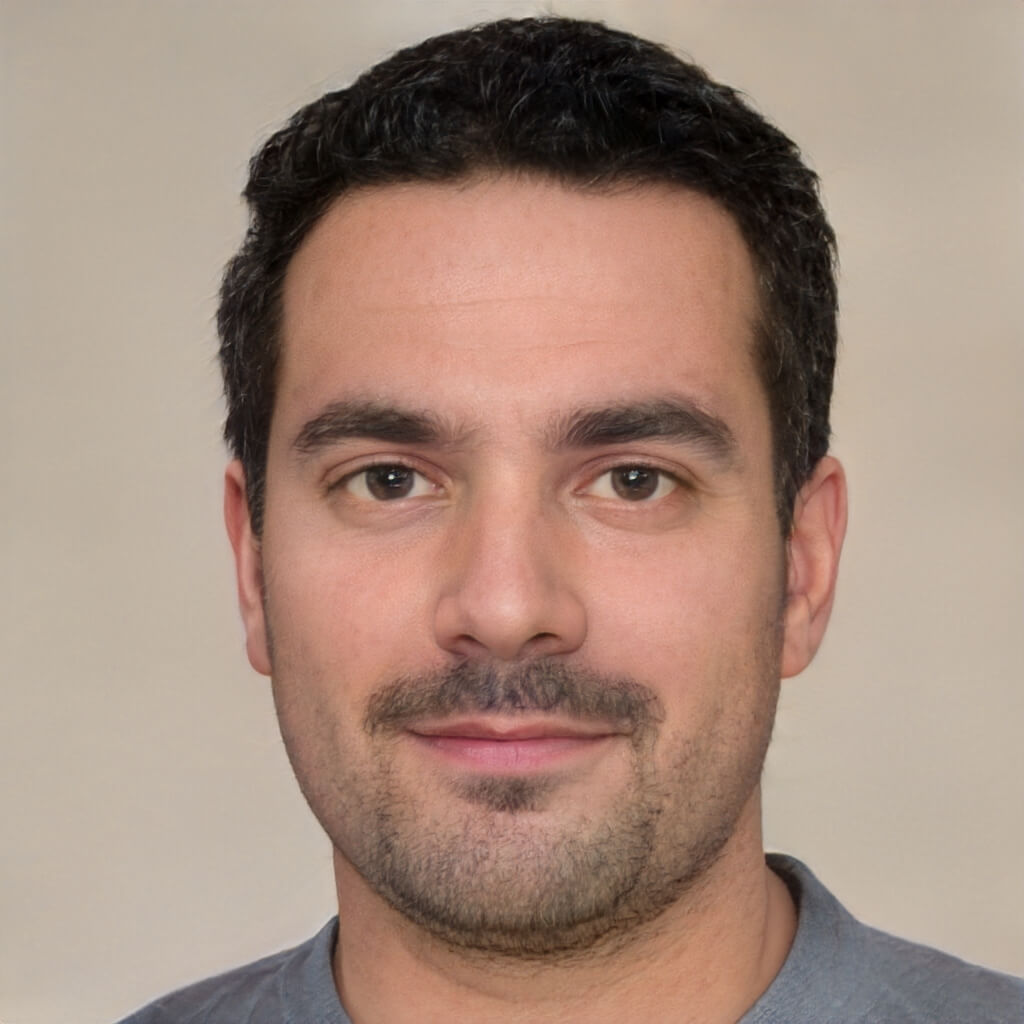 I'm a passionate home and garden enthusiast and the founder of Materialsix Home. With over 10 years of experience in the field, I've cultivated a deep love for all things related to home improvement, gardening, and interior design. Read more…