A long time before, in the 1950s, the popcorn ceiling ever became a trend among homemakers. Most of them used that method to cover imperfections in the house. This technique was chosen because it could shorten their time in the building process.
Different times mean different trends. Since the late 1970s, the popcorn ceilings fame began to fade. Even today, most people think that the presence of "stucco ceilings" will only worsen their homes' interiors.
Moreover, you are probably on their side too. A question like, "Should I remove the popcorn ceiling?" can frequently pop up in your mind without warning. It caused by its texture is so quickly dirty by the dust and difficult to clean and repair.
It is so frustrating. The best solution is to remove it away. Through this article, you will learn the easy steps on how to remove popcorn ceiling, complete with the professional tips that can bring you to the successful removal process.
Primary Step: Do an Asbestos Test!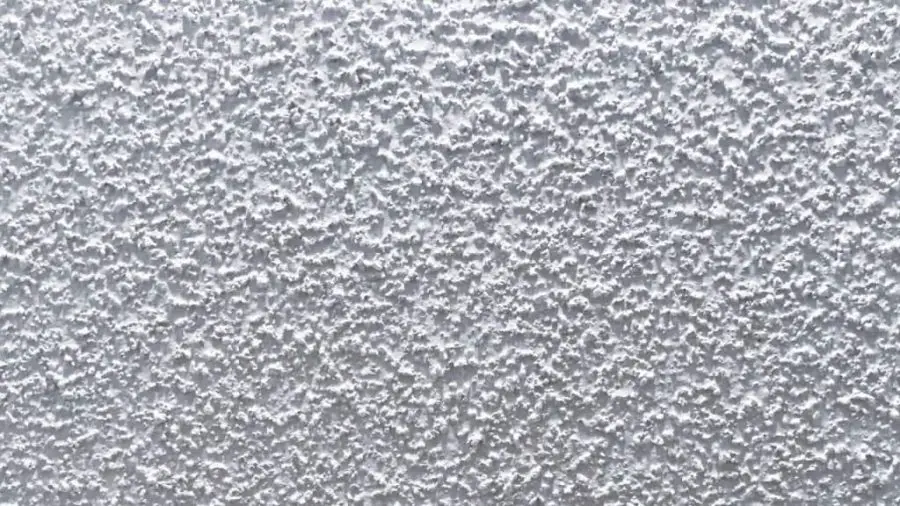 This test becomes a significant step to remove the popcorn ceiling. To run the test, you can call an expert for a safe procedure. On the other hand, you can purchase the test kit from the hardware nearby and do it yourself.
If you decide to do a self-test, make sure you wear safety equipment like gloves, an eyes protector, and a dust mask. The palate containing asbestos will be dangerous when inhaled due to its carcinogens.
Besides using tests, the asbestos content in the building can also be found by checking the time when your house was built. Generally, homes built in the 1950s-1980s will contain lead and asbestos. However, if your house was settled in the 21st century, you can consider that it is asbestos-free.
How to Remove Popcorn Ceiling with Asbestos
Do not take any risky decisions. It would be better to ask professionals and let them do the removal for you. Otherwise, when your ceilings are asbestos-free, you can continue to follow these DIY steps.
1. Scraping Method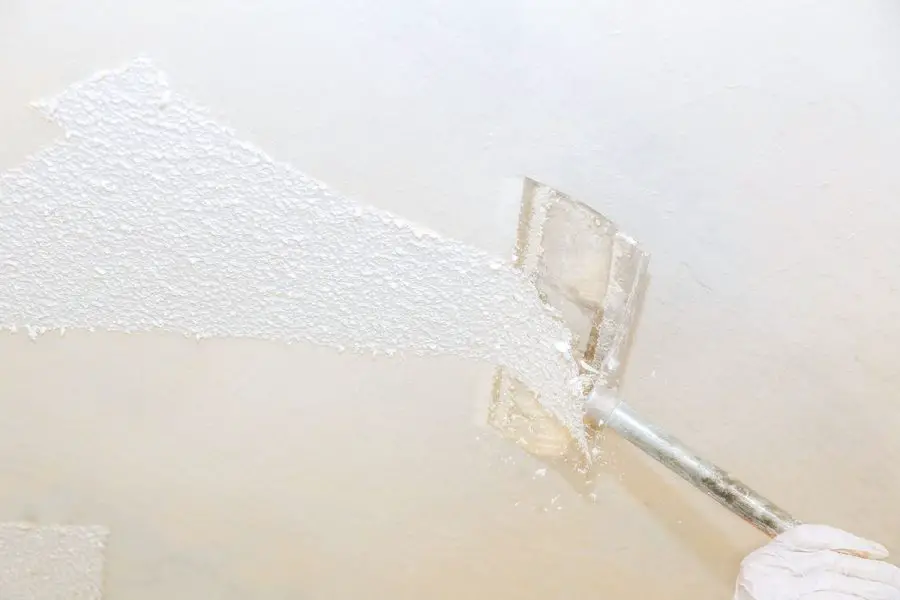 Scraping is the most popular low-budget removal method you can take. It is because you can get all the items you need at home.
Popcorn Ceiling Removal Tools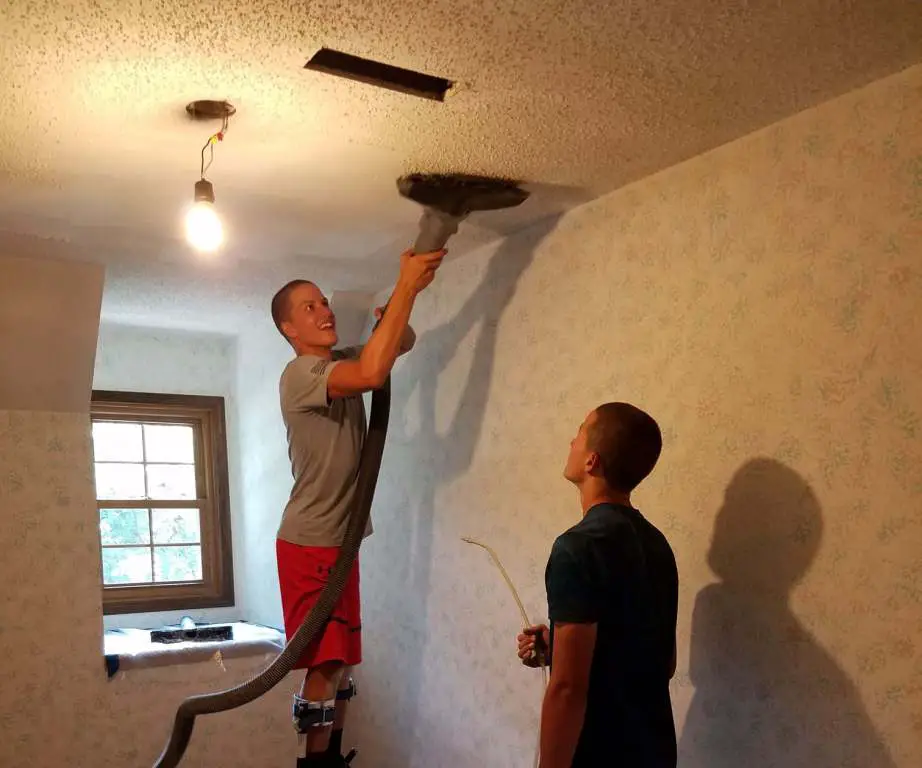 4-inch utility knife/ drywall taping knife
Traps/ plastic sheeting
Painter's tape
A garden sprayer
Ladder or rent a drywall lift
Eyes protector
A dust mask
Tips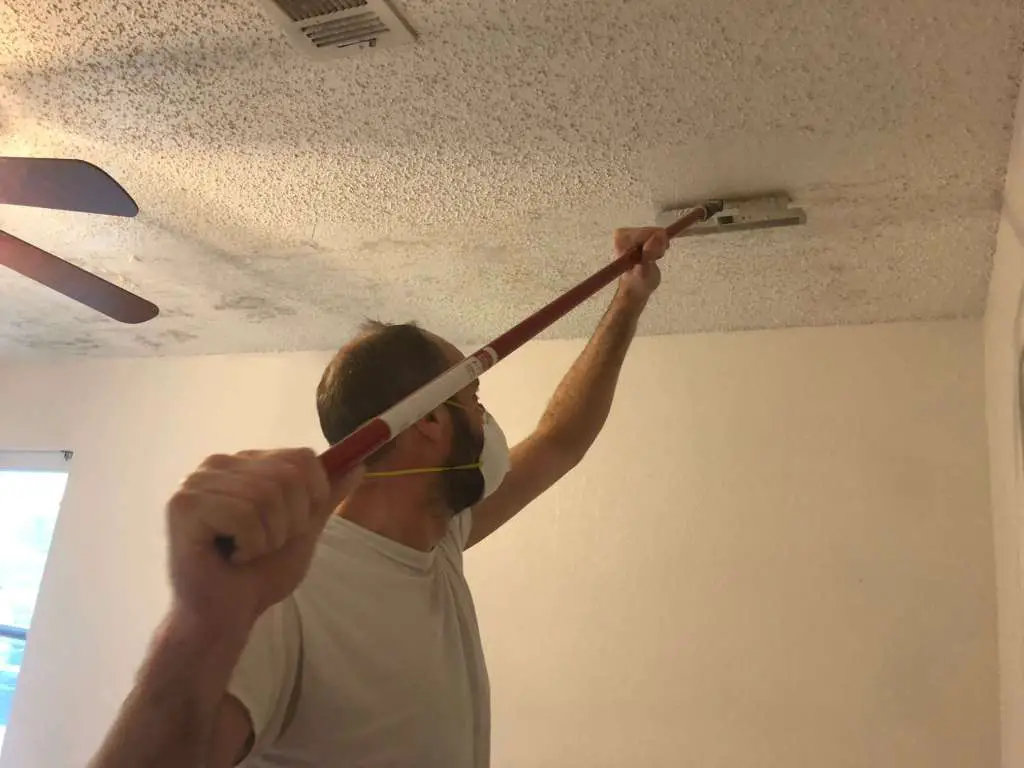 It is how to remove the popcorn ceiling without making a mess.
Empty the room of furniture. If you cannot replace the items, merely cover them with a tarpaulin or plastic sheeting, including the floor and walls. Tape its edges to make it stay still.
It would be best if you remove the hanging lights fixture and ceiling fans so that the removal process runs smoothly.
Turn off all electricity in the room to avoid a short circuit, because you will be working with water. You can close electrical boxes using plastic and painter's tape.
Let the windows open to circulate the airflow.
Way to Do It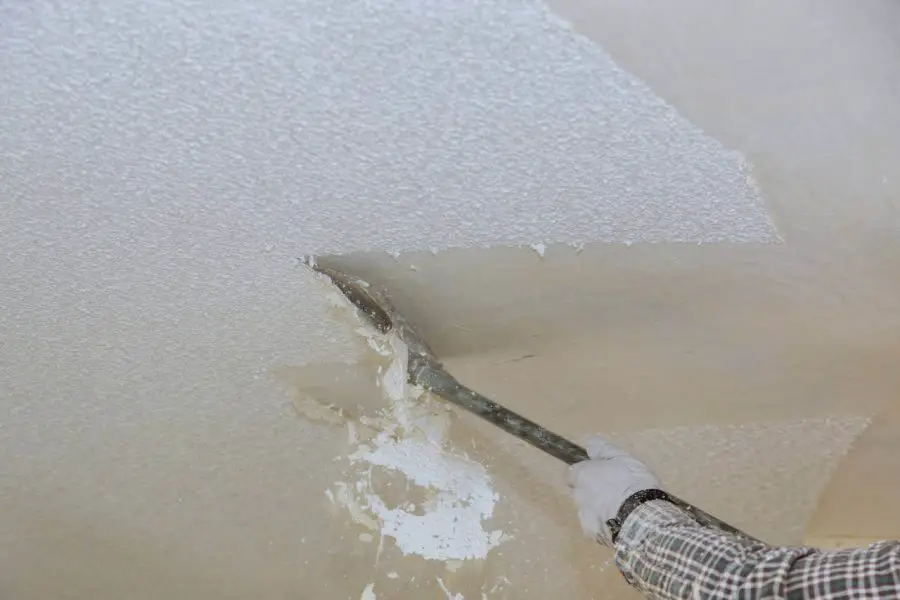 Position your ladder on the corner of the wall to help you reach the upper part; make sure it does not wobble. Alternatively, you can use a drywall lift. It is how to remove popcorn ceiling from high ceiling effectively and safely.
Little by little, spray water on the ceiling. Please keep in mind that using too much water can break the palate and cause it to come down.
Let the water absorb for 15 minutes. After that, you can scrape it carefully so as not to scratch the ceiling beneath. Please ensure the edge of your utility knife is sharp so it can produce smooth scraping.
You can cover any imperfections you find with a thin layer of joint compound and then sand them down. Next, you can repaint the palate. Consult this step with a professional to avoid your ceiling to come down.
2. Covering Method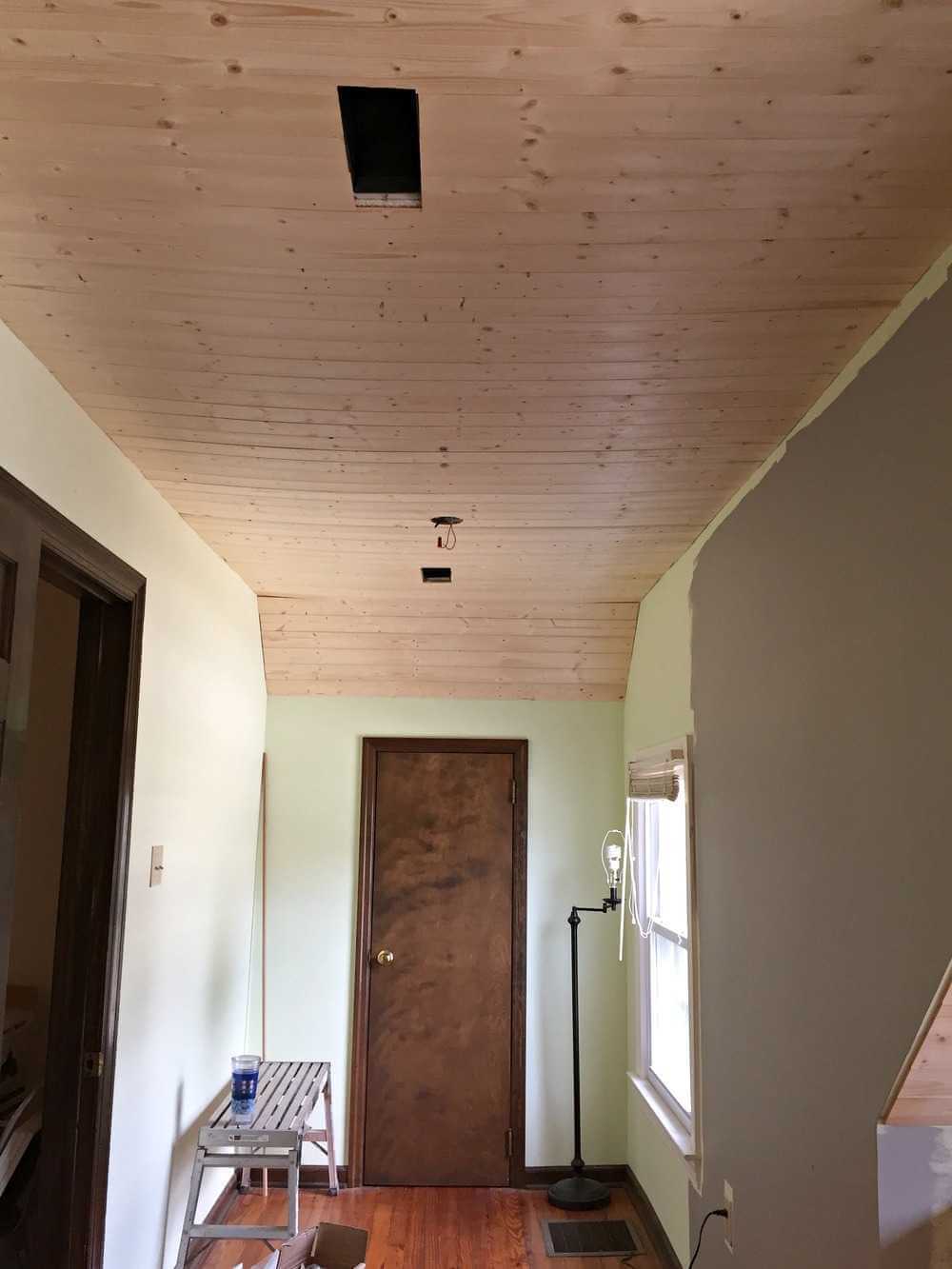 When someone asks about how to get rid of popcorn ceilings without scraping, the answer is by covering it using drywall. This technique will produce a smoother look than scraping.
It would be best if you had a few boards of ceiling drywall, and then you can start to install it.
Things you need to consider in this method are the installation technique and partners in doing it. Please contact professionals if you feel you cannot handle it yourself.
3. Skimming Method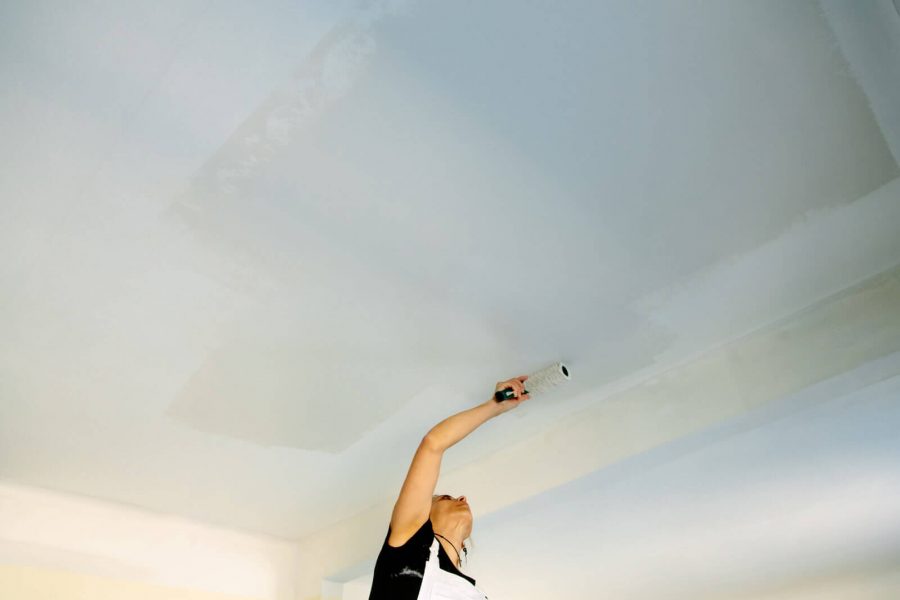 If you choose to skim your popcorn ceiling, make sure that you are not using ready-mixed materials directly as the base compound. Adding wet substances make the palate heavier than usual.
The professionals suggest using quickset drywall mud as the base. Then you can continue to cover it by the ready-mix joint compound.
How to Remove Popcorn Ceiling That Has Been Painted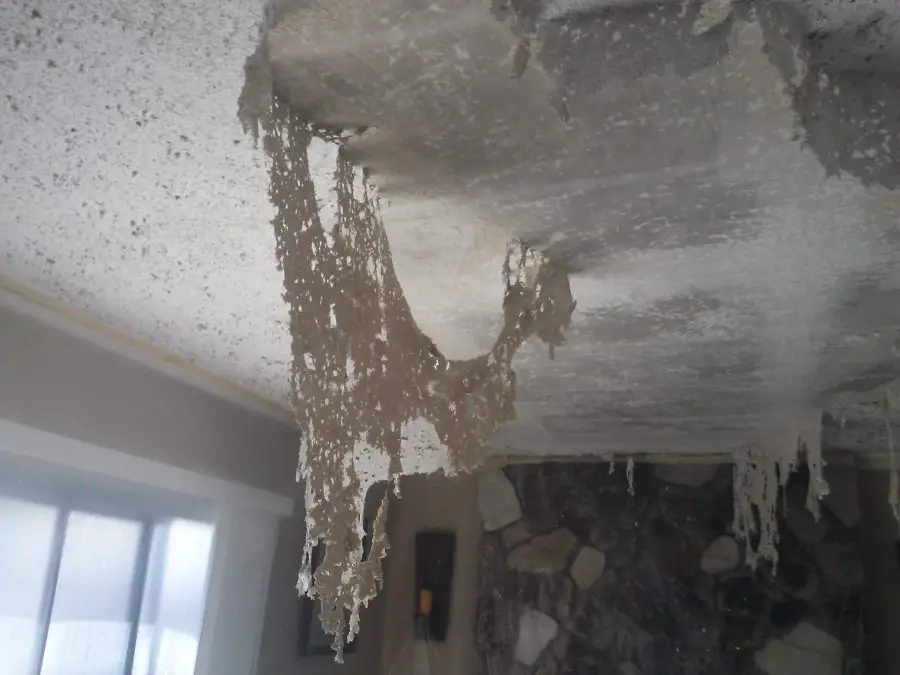 Scraping is not recommended for this condition. It is better to resolve this by covering it using drywall.
The systematic steps to remove the popcorn ceiling come to the final. Have you decided what method you will take?
More from Materialsix.com: