Are you thinking to add some vibrancy of color to your glass window?
If this question resonated with you then you need to read this article to find out how you can paint your glass window.
You don't have to worry. You can paint your glass windows easily as there are many paints or colors available. That will help you paint your glass window in different and unique styles.
No matter what is the reason for you painting your glass window, whether it's for privacy or a creative outlet, for any of such reasons, there are multiple options available.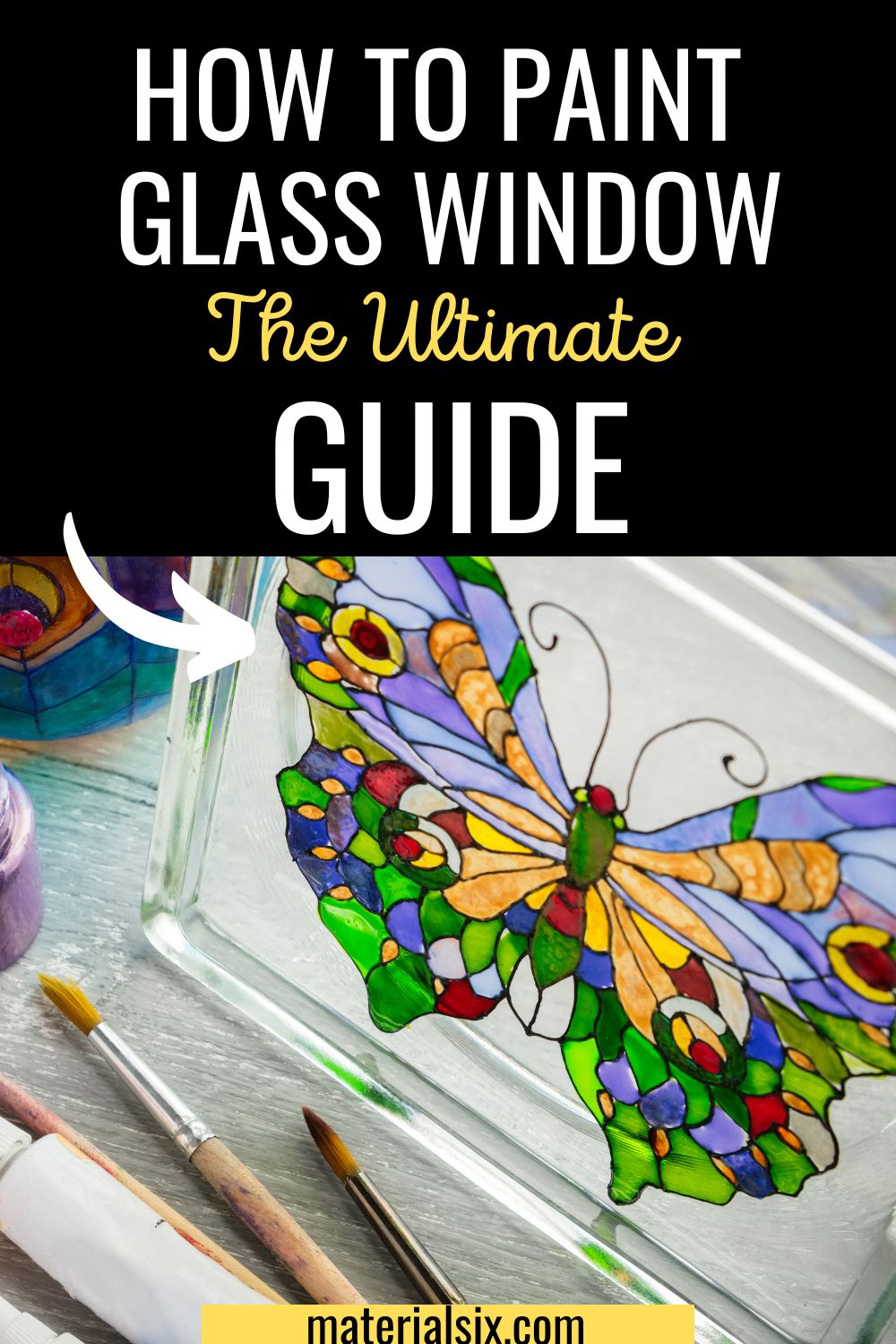 Steps to Paint a Glass Window (At a Glance)
The first step is to use water and soap for cleaning the glass.
After cleaning, now add a base coat or outline with marker or paint liner to prepare the surface.
The third step is to apply paint by using a foam brush or a natural smooth finish etc.
Now take time and let the paint dry.
The last step is to cure the glass for at least 30 days to achieve enhanced durability.
Reasons to Paint Glass Window
There are several reasons that one wants to paint their glass window. It can be both functional reasons and aesthetic reasons. If you want to add that creative vibe to your space or window then painting your glass window is the best idea.
Moreover, it is not necessary to be creative or have any artistic ability in case you use a stencil in the process.
Painting glass can prove to be a fun activity if you do it with your kids. You can also clean it out after your kids are done with the activity, or you can choose that artwork to be permanent on your glass window.
Moreover, painting glass window helps you to get privacy. No matter if you have a large glass window in your room, office, or bathroom. You can easily add privacy to these rooms by going through the glass window painting process. This process usually takes half an hour. Painting glass window not only adds privacy but also allows light into the room at the same time.
Painting glass window with stencils allows you to add style and aesthetic to the French windows of your old home. It provides freshness to the space.
Moreover, with paint, you can also block the sun. It only depends on what kind of paint you use. It can range from light shades to darker shades or towards the full blackout.
Types of Paint to Use On Glass Windows
Before you proceed with the painting process, make sure that you don't use random paints on glass. Your standard oil-based or water-based paint won't give the results you need.
Oil-based paints work best on canvas wood or hardboard. While Latex paint can be used for glass painting but it is not a long-term paint to go for. The coating won't last as it peels off or washes away.
Now the question arises what paint you can use to paint glass?
The selection of paint depends on what is your goal, purpose, or the result you want to achieve.
If you want solid privacy or light filtering then you have to go for acrylic enamel paint. It is used in painting cars. It is a long-lasting option. And it adheres better to the glass.
Moreover, in case you want something permanent. Then you should check the product glass paint. This is exclusively made for use on glass. It makes the surface of the glass alter and have a permanent bond with it. Once, it is cured. You will not face any chipping, fading, or peeling issues.
Both the options of acrylic enamel and Glass paint are expensive. Acrylic costs around $100 per gallon or more. While for Glass paint you have to pay three times the cost of acrylic enamel.
But if you want light filtering through your glass windows, along with some privacy then you have to go for Frosted glass paint as it is an excellent option for such a goal. It is beneficial and efficient as it is easy to apply. It looks creative when it is applied. And most of all it provides little privacy. That you need with its semitransparent layer that helps the natural light to come through.
Frost glass is available in spray paint form. It is applied efficiently in minutes and dries efficiently in minutes. It is one of the effective and minimum-cost ways to paint your glass window.
Moreover, you have to mix gesso into acrylic paint, if you want a matte finish or a permanent solution. A thin layer of acrylic paint mixed with a binder. That is composed of chalk, gypsum, and pigment. This mixture provides you with a matte finish.
There is another option which you can go for if you want specific finishes.  It will provide you with a shiny finish or gloss. It can help you in getting a frosted look or crystalized gloss.
But in case, you don't need any kind of permanency or any Glass paint. And you want to paint your glass window for a few hours or any specific days or your kids want to be creative while doodling on your glass window. Probably you don't want to limit your kids' creativity.  No worries. You can also get a temporary option or alternative called tempera paint. It enables your kid to enjoy their creativity and artistic talent on their bedroom windows without making them permanent showpieces or artwork in the house.
It enables you to get bright matte colors. It sticks well to the glass. Thou it can peel off easily by using a rag dipped in vinegar and water and then lightly rub or scrub the window with it.
Moreover, you can also want a faux stained glass look to your windows. You can achieve it by mixing any of the above options with liquid lead.
Liquid leading comes in a b bottle. It is black paint and can be put or squeezed into a glass to create leading lines that look realistic.
These black metal frames enable to hold individual pains of glass in a stained glass window. It helps you to create separate shapes in the window. This black paint is called leading because it is made of the lead element.
Type of Paint Brush to Use
There are quite a few alternatives or options for paint brushes. The selection of paintbrushes is critical as it will determine what type of finish or smoothness you will get.
In case, you are finding a brush for a good brushed look on your glass window. Then you can go for a synthetic brush. It will allow you to distribute the paint in a way. That you'll see the brush strokes.
In case you want a smooth texture or finish. Then you can opt for the natural brush. It will allow you to distribute paint smoothly on your glass window. The only requirement you should ensure for a good natural brush is that it is of high quality. It enhances your chances of good results.
You can use a high-quality foam brush when you use resin-based paint for a frosted look. Moreover, foam brushes are a great fit if you are using stencils.
In case you are working on a large-scale art project. Then you need different sizes of artistic brushes. To achieve fine details you can get smaller brushes. Moreover, if you need an even coat you can use broader flat brushes.
Steps to Paint Glass Windows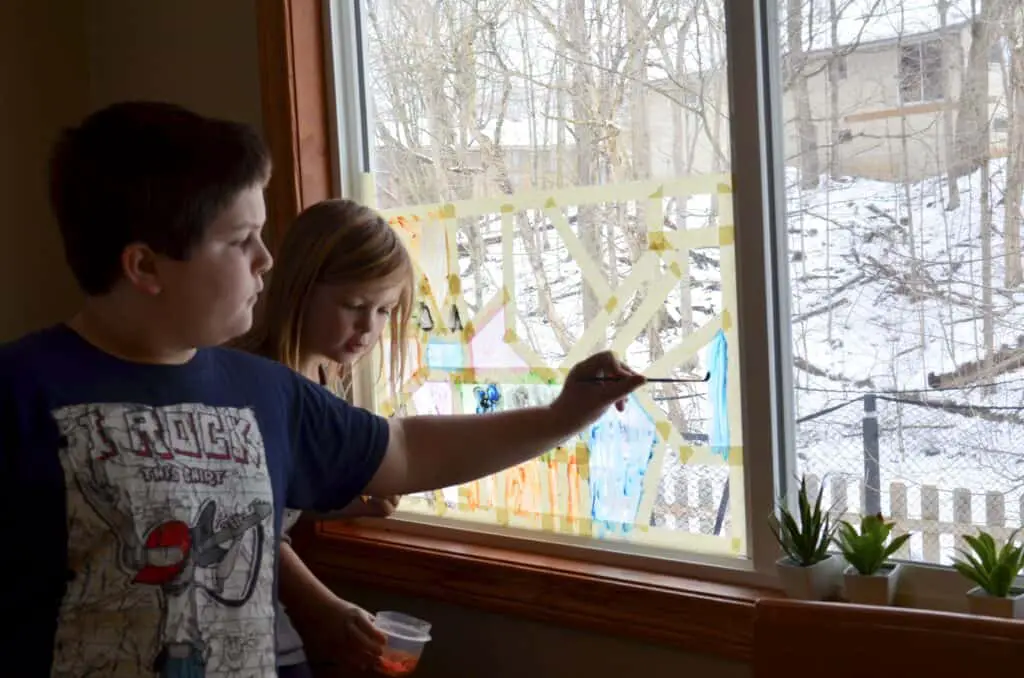 When you are fully equipped with the paint and brushes then you surely can start painting your glass windows. Following are the steps you need to follow along the process:
1. Prepare the Glass:
Before you start with the painting process, you have to prepare your window surface. Clean the window with warm water and soap. This is an essential step as you have to remove all types of dirt and oil on the glass surface that can resist paint.
Moreover, for deep cleaning, you can rub the surface with alcohol after cleaning the surface.
2. Prepare the Surface
You should wear rubber gloves while preparing your surface to avoid oil stains on the glass, and tape off the areas which you don't want to get painted by using painter's tape. Usually, these parts are the frame and any other parts that should remain paint-free.
If you wish to perform artistic painting then you have to apply a base coat that can act as a background for your design.
If you want to make your glass opaque then you have to apply one or two layers of gesso before doing the base coat. Gesso will enable you to get a smooth surface to paint on. It gives a matte kind of texture.
The natural brush enables you to put on an even coat. However, ensure that the base coat is dry first so that the colors are not mixed when you start applying the top coat. Moreover, the drying times can be different. Hence, do check the instructions written on the cans.
You'll need 5-7 days of curing time for your enamel. It represents the paint needs to fully harden. It is not a requirement to wait this long to paint more layers. You only need to ensure that the paint is dry before adding layers.
In case you want a faux stained glass finish. Then you have to ensure the application of liquid leading first. You also have to ensure that the leading layer is dried before adding the paint layer.
Moreover, if you have thought to create a new design so it's time to outline that creative design on the base coat or the glass surface as you need.
Use market or paint liner to achieve this goal of yours. When your base is dry then you outline the design on it. Ensure that you are doing this while wearing gloves so that no oil stains are added to the coat. That can resist paint during the process.
If you do this process with paint liner, you must use and squeeze the liner carefully to the base coat to outline your design. Then wait for the paint liner to dry before moving towards the next step of the process.
However, if you don't want an opaque base coat before you design. Then you should attach a stencil to the opposite end of the glass to trace the design using either marker or paint liner. This is a simple trick.
3. The Paint Application
If you want to cover the whole glass in a single color then you have to use your brush to evenly spread the color on the glass. In case you want your glass to be opaque. Then you have to apply many coats.
Select the brush size in case of making artistic designs. It will allow you to get the details and intricacies you want in the design. Begin the design from the top left, if you are a right-handed person. But if you are left-handed then you have to start designing from the top right corner.
This way you can avoid smudging the paint where you already painted. Start the design by putting a small amount of paint. And then increasing the amount as needed during the process. As it's easy to add and then eliminate surplus paint.
Use a little paper towel or rag near you, so that you can dab where needed. Moreover, if you are working with enamel then you have to soak your rag in thinner to remove unwanted paint spots.
The main goal to use rag is to remove any issue or mistake in design during the process before they get dry or permanent.
Use only one color at a time. You can paint all parts of the same color first. Then move towards the next color. Rinse your brush properly, if you are reusing it in the process. You can rinse it in water or paint thinner. Moreover, let the brush dry before continuing to paint with the next color.
You also need to wait before the paint dries on the glass and then move forward with other colors.
If you are using tempera paints. It will dry in minutes but if you are using water-based paints. Then it takes an hour to dry. Enamel color needs 8-24 hours to dry. Its duration of drying depends on the thickness of the paint coat.
Remember to wait before each layer dries because if the colors bleed into each other. Then it is quite difficult to correct it.
Invest time in this process until you are done with the design. After completing the paint, review your work. Now check if there is any part. That needs to get bright in color. Then add a second coat to that spot when the first coat is dried.
4. Curing the Glass
Another important step in the glass painting process is curing. Usually, paints take at least a week to completely harden. In case the paint is not hardened. Then it is prone to chipping and peeling.
A curing method is baking the painted glass in an oven. It is a commonly used method for curing purposes. People use it for art and craft and glass painting-related work.
Moreover, it's obvious for glass windows you cannot bake it. The recommended curing method for glass windows is using a hair dryer. Thou, it's not properly a viable option as it does not make enough heat to cure the paint.
Moreover, in the case of acrylic painted glass windows. You have to wait. It usually takes a complete month to cure. Try not to touch the window during this waiting time and also keep water away from this glass window.
Best Paint to consider
There are many paint options available for glass. Following are some types of paints that you can consider for glass painting:
Washable Tempera Paints
The coloration washable Tempera Paints is one of the best options for you if you want to allow your kids to be creative on your glass window temporarily. This set of Tempera paints includes 11 bright colors. Enjoy the creativity. And don't worry about the color. It can wash away easily from glass, skin, or cloth by using soap and water.
Liquid Chalk Markers & Metallic Colors
If you don't want to use paint or paint brushes then you can use these liquid chalk markers or metallic colors from Chalkola.
These chalk pens are water-based. It can be applied to the glass directly. It is a set of 10 Neon colors.
Conclusion
It shows there are many paint options available that you can use for your glass window whether you want privacy or a kid activity. You can use your glass window for it without any worry. I hope this article helped you. To understand what type of paint is relevant to your goal. Enjoy being creative on your glass window.
More from Materialsix.com: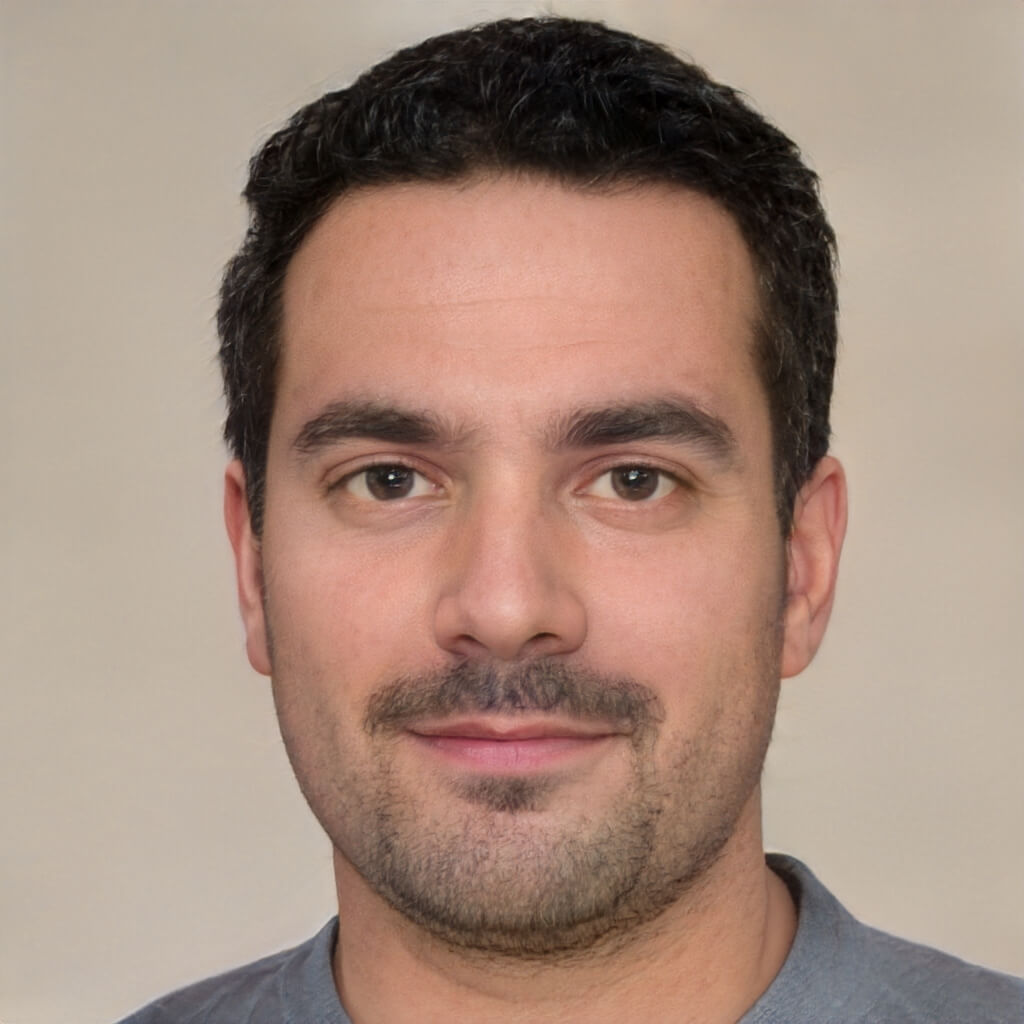 I'm a passionate home and garden enthusiast and the founder of Materialsix Home. With over 10 years of experience in the field, I've cultivated a deep love for all things related to home improvement, gardening, and interior design. Read more…