Are you thinking of doing some kitchen remodeling work? It can be an amazing way to change your old kitchen into a newer one without spending a lot.
However, your appliances can come in the way. Putting your countertop microwave in a cabinet can be a solution to most issues because it is one of the appliances that take up the most space on your countertop. But is it possible to install a countertop microwave in a cabinet instead?
As long as you ensure adequate ventilation, the shelf is strong enough to support the microwave, and proper wire management, you can install a countertop microwave in a cabinet instead of a built-in model.
If you are also worried about the technicalities, we have all the information you need to know.
Everything that you need to know for putting your countertop type microwave in a cabinet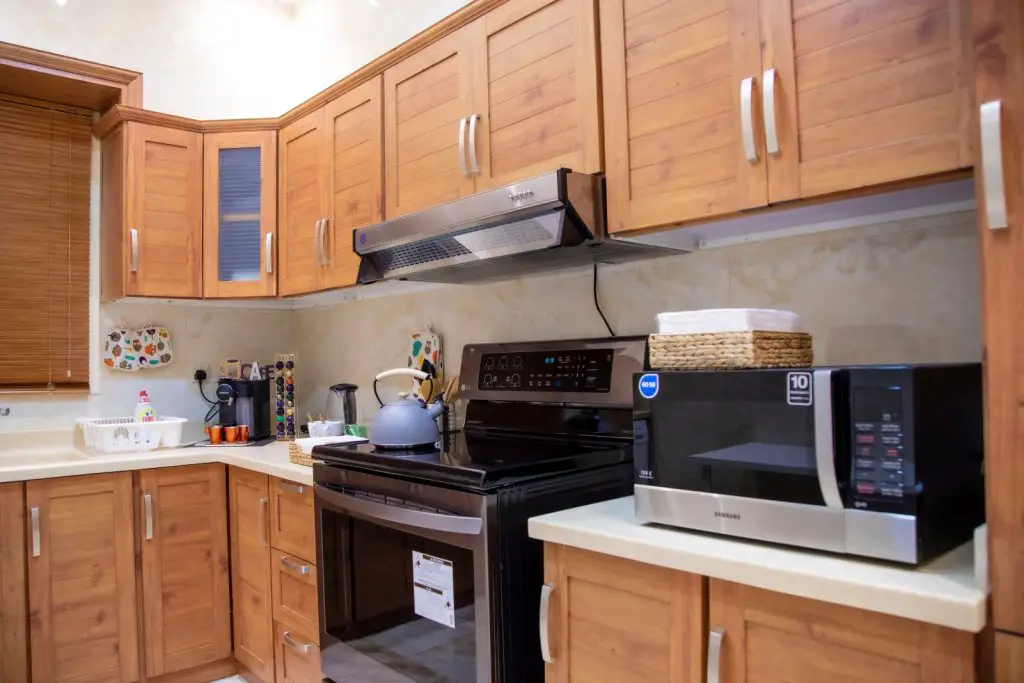 While some other electronics may work right if you just put them into a cabinet, this may not be the case with your microwave. Putting your countertop microwave in the cabinet can be the worst idea if you do not plan things right. Many things need to be perfect for this hack to work.
These things are why there are special cabinets or in-wall microwaves available in the market. Those are specifically designed, and a special process is followed for installing them. However, when we talk about what you need to consider before putting a countertop microwave in a cabinet, here are all of them.
1. Size and fitting
Size and fitting are among the most important things you need to consider before taking any steps. All three dimensions of your microwave must fit in perfectly inside the cabinet. It is important from the aesthetic point of view, but it is also important from the practical point of view.
So, whenever you plan to put a countertop microwave in a cabinet, you should have ample space.
2. Ventilation
Ventilation is an important factor for a microwave oven to work. It is why there are vents present on the top of the sides of the microwave. These vents play an important part in allowing the microwave to work efficiently. So, putting a countertop microwave in the cabinet can mean that you are blocking those vents, which will bottleneck the performance of your microwave.
So, when you are putting your countertop microwave in the cabinet, you need to make sure that there is enough ventilation from all sides. With your microwave getting proper airflow, it will continue working like normal even when it is not in the place where it needs to be
3. Weight
The last thing that you need to consider here is not only about the microwave. It is a lot more about the durability and strength of the cabinet as well. Sometimes cabinets seem stronger than they are. Putting some pots, cutlery, or spices' jars in them is not an issue at all. However, when you plan on putting a countertop microwave in a cabinet, that comes out to be a total failure.
The reason here is that the base of that cabinet is not that strong. So, you need to check the sturdiness of your cabinet. If you think that this could be an issue for you, then you have the following options to go with:
Installing under-shelf supports if possible. These may not be that attractive, but they are amazing at the functionality
Going with some other cabinet to put a countertop microwave in a strong enough cabinet to hold the microwave.
What to do if all of the conditions are fulfilled?
So, you were planning about putting the microwave in the cabinet, and all the requirements were satisfied? Well, now you can move towards installing your microwave In the cabinet. However, it is not only about putting microwave in that spot. There is a lot more that you need to do and here are some of the most important things.
1. Cable management is important.
Finding a cabinet were putting a microwave in the cabinet is possible does not always mean that you will have electricity ports. In some cases, ports can be distant, making things problematic.
So, to successfully put the microwave in the cabinet, you need to do some cable management. Ensuring that you are doing all the hidden wire routing will provide this project with a better look.
2. Using a trim kit will make the place aesthetically pleasing.
These are unnecessary, but these are among the cosmetic upgrades that will make the project look amazing. When you put the microwave in a cabinet, using these will make it look like you bought the built-in microwave.
However, an important part here is getting the right trim kit. It can be easier to find one for your model by finding it at the manufacturer.
3. Consider your cleaning options too.
So, you got all the answers about countertop microwave installation in a cabinet. It would help if you considered asking how you will clean it over time. Cleaning a microwave is not difficult, but keeping it in a cabinet can make things significantly difficult for you.
So lastly, you can figure out your cleaning options. You will be done with installing a countertop microwave inside a cabinet for better space management and an aesthetically appealing kitchen.
Step-by-steps for installing your countertop microwave in a cabinet
Now that everything is in the form that it should be, you can start installing your countertop microwave inside your kitchen cabinet in the following way:
Remove the door of your cabinet if possible.
Check the wire location and drill a hole for routing wires for power
Clean the microwave from inside and outside
Place the microwave carefully inside the cabinet
Slide the power cord and connect it to make a complete and secure circuit
Roughly place the microwave and test if it is working
Put your microwave in its final position.
If you were thinking, about countertop microwave installation in a cabinet, then these steps answer all your questions?
Final Verdict
Can a countertop microwave have an installation in a cabinet? This is what most people ask when remodeling their kitchen.
Putting a countertop microwave in the cabinet can save a lot of money. So, we hope that you know everything now and have answers to all your questions.
More from Materialsix.com: