As a homeowner, it is your responsibility to ensure that you have fulfilled all the legal matters associated with your property. In case you are unable to do this, and you have a house that possesses a deck that is constructed without a legal permit or you have an old school home that has a deck that needs to be reconstructed. In all such situations, you must realize there are risks and consequences of not following the building codes and laws.
The risks might include demolishing the deck, fines, and payments of back taxes.  If the deck is attached with the property or is 30 inches above height then one has to get a building permit. But if the deck is not attached to the house and the height of the deck is 30 or below 30 then no permit is required.
Moreover, the building laws and regulations might vary for each country and region.  You should be aware of the building and zoning codes of your location and region. It will make you analyze better and make relevant decisions to avoid risks.
This article will inform you about all the risks of building a deck without a legal permit. You can also know what you have to do in such situations. Moreover, you can know about the situation where no legal permit is needed. Read on to find out about all of this in detail.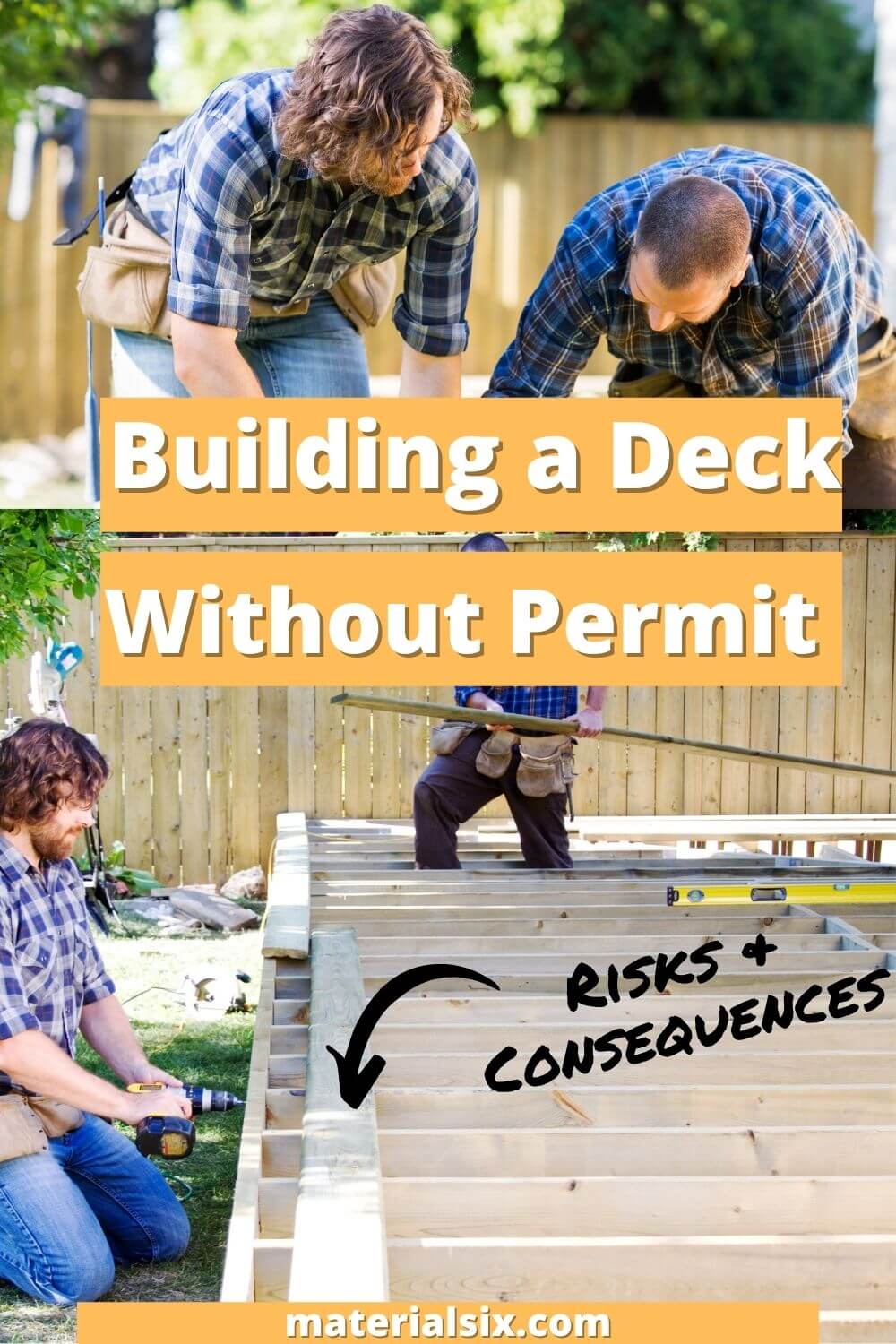 Two Scenarios that Needs the Permit
There are two scenarios or conditions where one has to get a building permit before building a deck. These scenarios are as follows:
If the deck you are building is an attached part of your property. Then in such a case, you have to get a building permit.
If the height of the deck is 30 inches or more and it is not attached to any part of the property even then, one needs to have a building permit.
Hence, if you are someone who is in any of the two situations then you should apply for your deck permit as soon as possible.
How to Apply for a Deck Permit?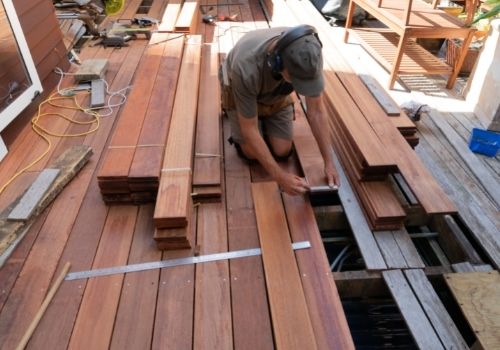 The deck permit requirements vary from city to city and what code they have. People have to submit certain documents and information while they apply for the permit. The information and detail help them to get the permit soon.
Following are the main requirements that are needed for applying for a deck permit:
One has to provide the drawing or layout of the deck to recognize in what part it will be attached.
One has to provide the scale measurement of yards. It will help the reviewers to recognize the property lines.
One has to provide actual Length, width, and breadth. It provides a clear estimate of how the deck will be.
One has to provide information about the proposed joist thickness and its spacing.
One has to inform about the location and width of the staircase.
One can also be needed to provide a whole material list.
One has to provide about the flooring plan as well as to what type of flooring will be used.
In case the whole deck plan and the information provided are aligned with the building codes and with bylaws of zoning. There is a higher chance of your deck permit application will be passed. The deck permit will probably cost you some money.
Moreover, if the city or town office is busy. Your application or plan will be reviewed later. In such a case, you should confirm all the building plans and material discussions with your builder while waiting for your permit.
When all details and work deliverables will be transparent, it will help to carry out the deck building as soon as the permit comes. Without the permit, one cannot start the work.
Risks of Bypassing Legal Permits
If you build a deck without the permit, the following are risks that you can face:
1. Safety risks
You can face safety risks without you even knowing because of not following the legal building process. It means if you haven't got the permit and there is no inspection done. Then you'll never be going to know if the construction is by the building codes or not.
2. Order to demolish
You can also be ordered to demolish the deck. That means your money and time invested in its construction will be wasted. It will cause frustration and stress.
3. Penalty or Fine
You can get fined or you have to give major penalty amounts. Hence, to avoid penalties one must comply with the legal building process.
4. No Insurance cover
You cannot get insurance cover as you build the deck without a legal permit. This situation will create chaos. One will realize the importance of a legal permit that would have helped them in such a situation to cover their loss with insurance.
5. Court case
You can get sued if anybody gets injured as it is the responsibility of the person who is taking a not-so-legal route by building it without a permit and then putting people's safety at stake.
6. Inability to repair
You cannot get major repairs on your deck as it was not constructed with a permit. You have to have a permit for major repair and maintenance. It's like you should have the deck in the legal records so that it can deserve the major maintenance. Anything unrecorded is not cared for.
7. No inspection and findings
You cannot get the deck inspected by the building inspector. Inspection is a highly important part to recognize that the deck is following the building code. If there is no inspection, then you can never find if there are any faults or non-compliance.
Scenarios that do not need the Building Permit
Following are the scenarios or conditions that do not need a permit to build a deck:
When the deck you are thinking to build is not attached to the property.
When the deck you are thinking to build is of ground level.
When the deck is of 30" or less than 30".
Even though you do not need a building permit in such scenarios but you still need to get the zoning permit for the area where you want to build the deck.
Retroactive Deck Permit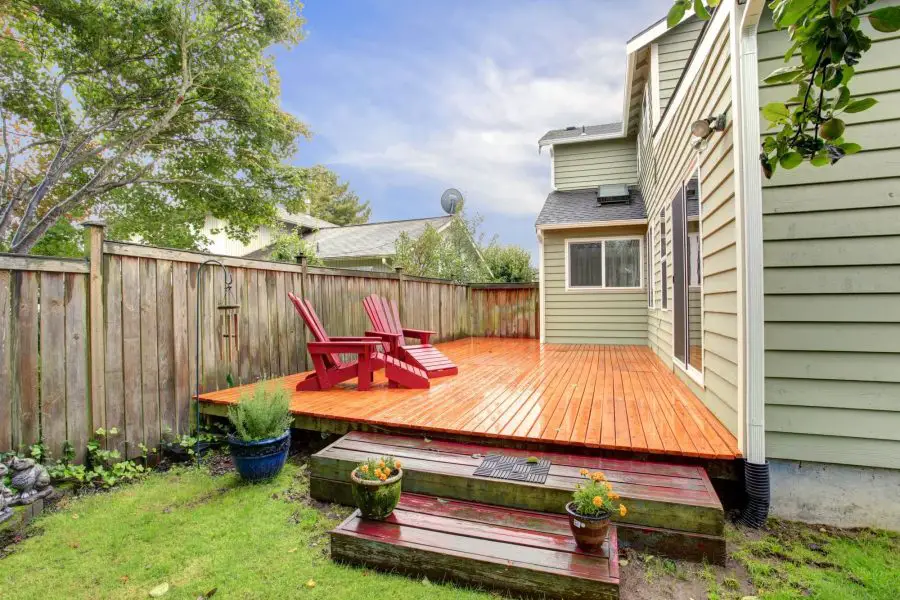 No, you cannot get a retroactive deck permit. But you can still get permission. Following are the things you have to do to get it:
Measure the deck that already exists and draw a rough plan about it. As if you are just starting to build it. Moreover, go to the city or town office to analyze what is lacking in the drawing.
The inspector might come to check the deck after reviewing the plan. In case the deck is according to the building code. Then you'll get permission.
The only issue is you have to reconstruct at the request of the inspector to get your deck as per the building code if there are specific changes in the building codes as of now.
After reconstruction, you have to get the inspection again as a final inspection. Then you are good to go.
Thus, the overall discussion proves that it's better to take the legal route. By taking the building permit before the deck construction, rather than having to reconstruct the deck that is not built by taking a building permit. It is better to save time, effort, and money and get the work done legally and efficiently.
Hence, there are a lot of risks and consequences involved in building a deck without a legal permit. Make sure you take the right route and save yourself from all of these risks.
More from Materialsix.com: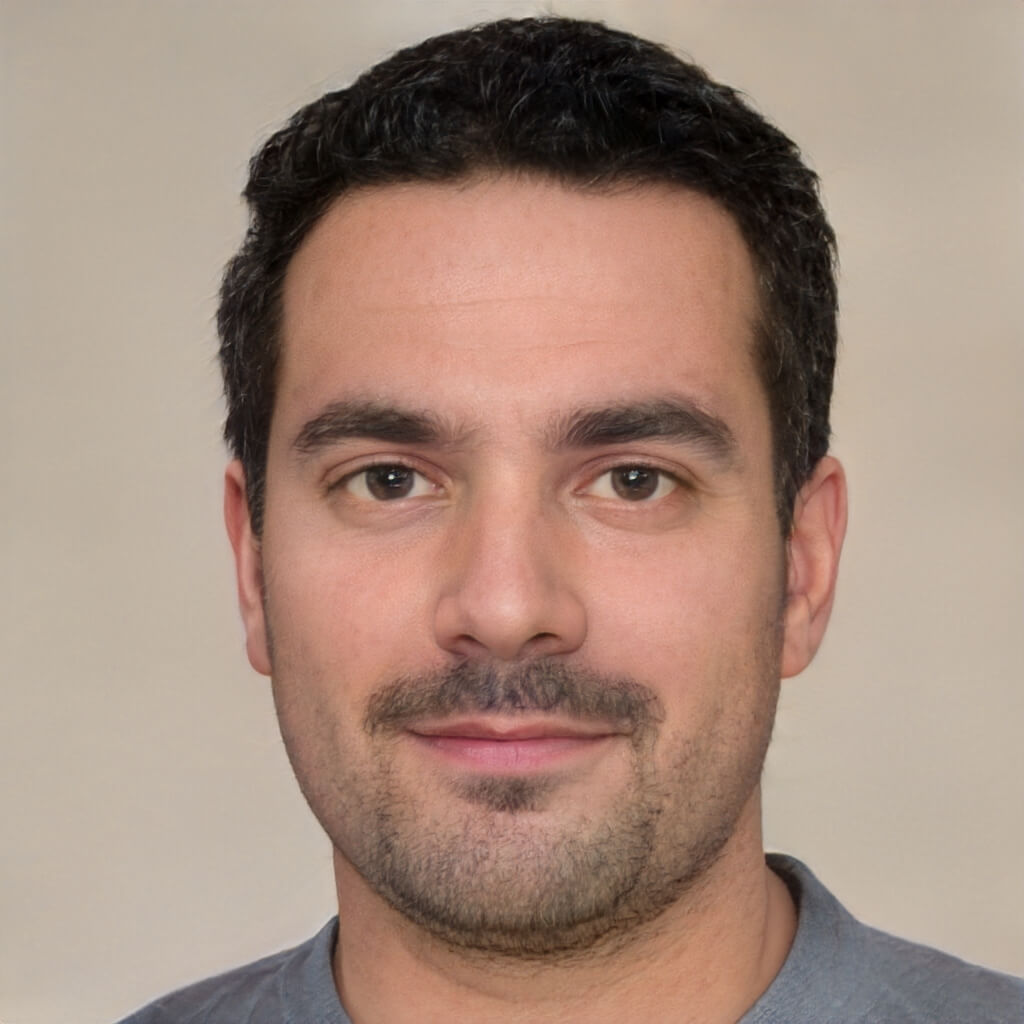 I'm a passionate home and garden enthusiast and the founder of Materialsix Home. With over 10 years of experience in the field, I've cultivated a deep love for all things related to home improvement, gardening, and interior design. Read more…