Picture this. You've just arrived home, arms laden with grocery bags. You enter your kitchen, hoping to cook up a storm.
But alas! The kitchen, your creative space, is a whirlwind of disarray, and finding what you need becomes a wild goose chase.
Sound familiar? Fear not, for I've gathered 40 clever kitchen organization ideas and gadgets that will put an end to your kitchen chaos.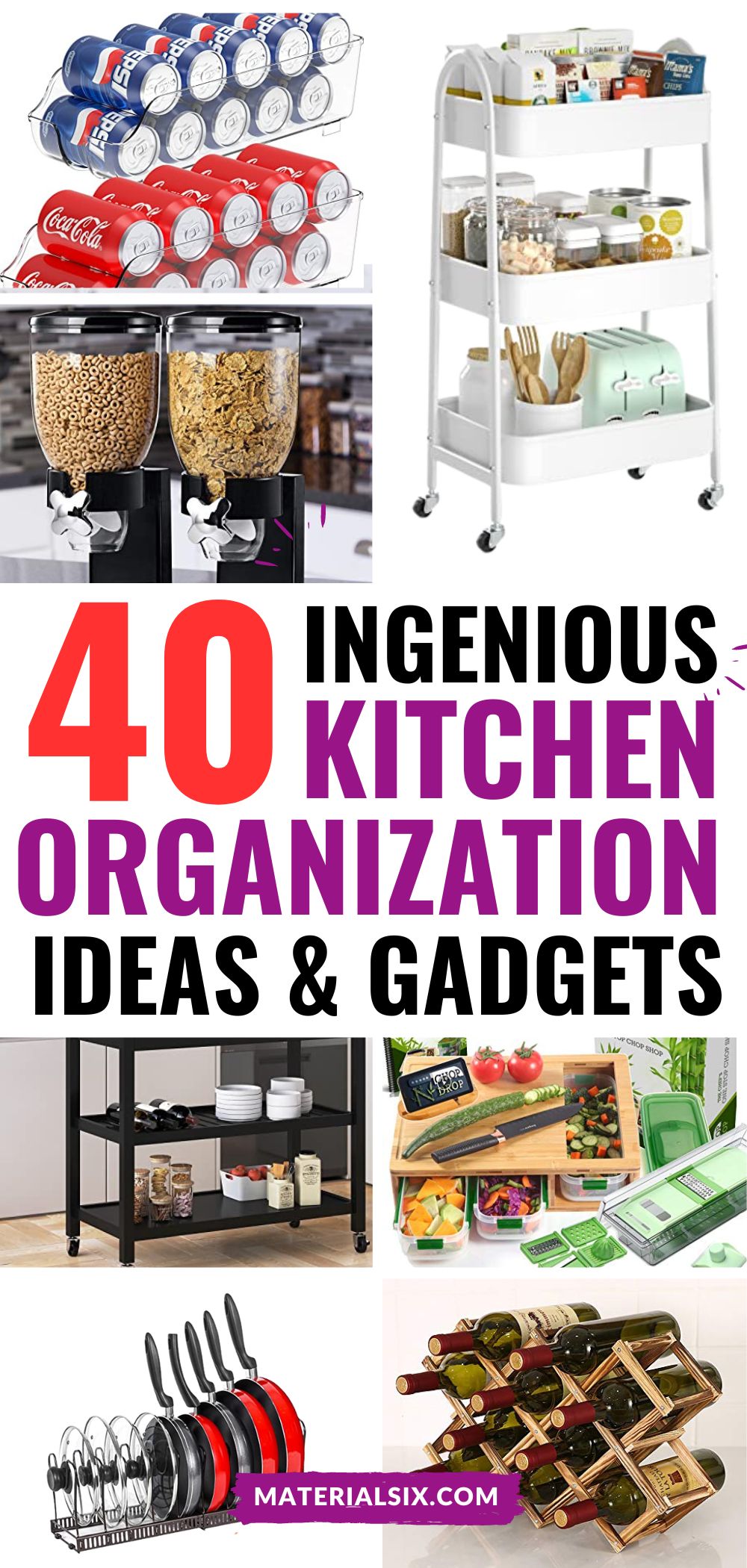 Kitchen Mastery: 40 Clever Organization Strategies and Game-Changing Gadgets
1. Enter the Realm of Drawer Dividers
Ever had a kitchen drawer that's the Bermuda triangle of utensils? Yeah, we've all been there.
Drawer dividers transform those spaces from endless voids into neatly arranged compartments, making your spatulas and whisks easy to locate when culinary inspiration strikes.
---
2. The Versatile Charm of a Pegboard
Ever wondered how to make use of your kitchen's vertical real estate? Say hello to pegboards.
Hang your pots, pans, or tools, and you've just decluttered your countertops and drawers in a breeze. Plus, it adds a touch of rustic charm to your kitchen.
---
3. Label Everything: The Art of Precision
Baking soda or baking powder? Penne or fusilli? When every second counts in your cooking spree, labels are lifesavers.
No more guessing games and taste tests. Use chalkboard stickers for a chic, reusable option that complements your kitchen decor.
---
4. Make Space with a Pan Organizer Rack
Pans stacked haphazardly is a disaster waiting to happen. Enter the pan organizer rack.
It streamlines your pan storage, making them easy to access and preventing those mini heart attacks when your stack inevitably topples.
---
5. The Lazy Susan: Your Silent Kitchen Assistant
Those pesky corner cabinets or high shelves can be a menace.
A Lazy Susan can turn those inaccessible corners into prime storage spots, making your olive oil or spices easy to reach.
---
6. Illuminate with Under-Cabinet Lighting
Peering into dark cabinets to find your favorite mug? A simple solution is under-cabinet lighting.
These nifty gadgets not only make your life easier but also add an extra layer of aesthetic appeal to your kitchen.
---
7. Maximizing Space with Over-the-Door Organizers
You open your pantry door every day, but have you ever thought of it as a storage space?
Over-the-door organizers can store your snacks, baking sheets, or even your spice collection, making use of every square inch of your kitchen.
---
8. Go Magnetic with a Knife Strip
Think of this as a magic trick for your knives.
Not only does a magnetic knife strip free up drawer or counter space, it also keeps your knives sharper longer by preventing dulling nicks in a crowded drawer.
---
9. The Simplicity of Stackable Storage Containers
Our love for these is transparent. Stackable storage containers bring order to your pantry while making your groceries easy to identify.
Bonus: they keep your food fresh longer!
---
10. A Dish Drying Rack: Your Washing-Up Buddy
Kitchen sink overflowing with dishes? A dish drying rack can take that extra load off, saving your counter space, and keeping your kitchen tidy.
---
11. The Spice of Life: Spice Rack
Hunting for oregano while your sauce overcooks isn't ideal.
A spice rack solves that issue, putting your array of spices at your fingertips and adding a dash of flavor to your kitchen organization.
---
12. The Humble Utensil Holder: No More Drawer Wars
Sick of battling your kitchen drawer every time you need a spatula? An utensil holder might be your new best friend, keeping your cooking tools within easy reach.
---
13. A Pot Lid Organizer: No More Chasing Runaway Lids
Chasing runaway pot lids can feel like a mad hatter's party. A pot lid organizer brings an end to that chaos, ensuring your lids stay in place and your cooking remains a smooth operation.
---
14. Rise Above with Cabinet Shelf Risers
Ever felt like you need more cabinet space? Shelf risers are a simple and affordable solution, effectively doubling your storage area and keeping your plates and bowls neatly stacked.
---
15. Invest in Clear Storage Containers
This is more than a simple space-saving trick. Clear storage containers bring order to your pantry while making your groceries easy to identify.
Plus, they're a minimalist's dream come true.
---
16. The Magic of a Rolling Cart
When you think of mobile storage, a rolling cart should come to mind.
Use it for your everyday kitchen essentials or turn it into a coffee or bar cart for entertaining. The possibilities are endless.
---
17. The Convenience of Pull-Out Cabinet Shelves
Pull-out cabinet shelves make your life a lot easier by bringing the back of your cabinet to you.
You can say goodbye to lost and forgotten items in the back of your cupboards.
---
18. Tame the Wraps with a Kitchen Wrap Organizer Rack
Does wrangling with cling wrap or foil feel like a boxing match?
A kitchen wrap organizer rack tames those unruly boxes and keeps them at your fingertips, making your food storage tasks a breeze.
---
19. A Coffee Pod Holder: A Must for Coffee Lovers
If you're a coffee lover with a pod machine, a coffee pod holder is a must-have.
Not only does it make your morning routine smoother, but it also adds a modern touch to your kitchen.
---
20. Storing Bread in Style: The Bread Box
A bread box is a classic kitchen item that serves a dual purpose: it keeps your bread fresh and your countertop clutter-free.
Plus, it lends a touch of nostalgia to your kitchen decor.
---
21. Hang Your Pots High with a Pot Rack
Overcrowded cabinets can be a thing of the past with a pot rack.
Hanging your pots and pans frees up much-needed cabinet space and makes your cookware easy to access.
---
22. Use a Can Organizer for Efficient Storage
A can organizer not only makes your pantry look neat and tidy but also prevents you from buying duplicates.
It's a simple yet effective solution to keep track of what you have in stock.
---
23. Slide into Efficiency with a Slide-Out Pantry
A slide-out pantry maximizes your kitchen space and makes your ingredients easily accessible. It's a game-changer for small kitchens, making every inch work harder.
---
24. Rein in the Chaos with a Utensil Tray
Do your utensils seem to have a life of their own, roaming around your drawers? It's time to introduce a utensil tray into their lives.
With separate compartments for different utensils, finding what you need becomes a cinch.
---
25. Up Your Chopping Game with a Cutting Board with Built-In Storage
This might just be the most genius invention ever. A cutting board with built-in storage compartments streamlines your prep process.
Chop, slide, and store your veggies all in one place. Efficiency, thy name is a cutting board with storage!
---
26. Make a Statement with a Hanging Basket
Perfect for storing fruits or veggies, a hanging basket clears your countertop and adds a stylish element to your kitchen. Plus, it encourages healthy snacking by keeping fruits in plain sight.
---
27. Ingenious Storage: Install Hooks Under Shelves
We often overlook the space under our shelves.
Installing hooks under them can work wonders for your kitchen organization, providing a spot to hang mugs, utensils, or dish towels.
---
28. Elegantly Display Your Collection with a Wine Rack
For the wine aficionados, a wine rack is a must. It protects your bottles, showcases your collection, and adds a sophisticated touch to your kitchen. Plus, it's an excellent conversation starter.
---
29. Optimize Space with an Over-the-Sink Cutting Board
An over-the-sink cutting board is an amazing space-saver. It provides additional prep space and makes cleaning up easier. Plus, you can easily slide your chopped veggies straight into your pot or pan.
---
30. Stack and Cool with Stackable Cooling Racks
For the home bakers, stackable cooling racks are a game-changer. They allow you to cool multiple batches of cookies or cupcakes without taking up the entire counter. Plus, they're easily storable when not in use.
---
31. Systemize with a Fridge Organizing System
Ever feel like your fridge is an arctic wilderness expedition?
A fridge organizing system will map out the terrain, keeping your perishables easy to locate and your fridge looking like a well-organized supermarket display.
---
32. Elevate Your Appliances with Appliance Lifts
Bulky kitchen appliances can take up precious counter space.
An appliance lift solves this problem by storing your appliance out of sight, then raising it to countertop level when needed.
It's like having your cake and eating it too!
---
33. Take Charge with a Baking Sheet Organizer
Baking sheets and cutting boards tend to sprawl out, taking up valuable cabinet space.
A baking sheet organizer arranges them vertically, allowing you to easily grab what you need without causing an avalanche.
---
34. The Magic of a Magnetic Fridge Rack
Utilize the often overlooked space on the side of your fridge with a magnetic fridge rack.
It's perfect for holding spices, cookbooks, or even a roll of paper towels, leaving your countertops clutter-free.
---
35. The Small but Mighty Sink Caddy
A sink caddy might not seem like a big deal, but it's a game changer.
It holds your dish soap, sponges, and scrub brushes, keeping your sink area tidy and making your dishwashing routine smoother.
---
36. The Folding Dish Rack: A Space-Saver's Delight
Living in a small space? A folding dish rack is your best friend. Use it when you need it, fold it up when you don't.
It's simple, efficient, and a boon for your counter space.
---
37. The Efficiency of a Trash and Recycling Pull-Out
Sorting trash and recycling is a necessity but often a mess. A trash and recycling pull-out keeps your bins out of sight but easily accessible, streamlining your waste management and keeping your kitchen looking sleek.
---
38. Breakfast Made Easy: The Cereal Dispenser
A cereal dispenser isn't just for hotel breakfast buffets. It's a clever way to store and serve cereal, keeping it fresh and your countertops clean. Plus, kids (and adults!) will love it.
39. The Versatility of a Hanging Rail System
With a hanging rail system, the possibilities are endless. You can hang utensils, pots, pans, and even plants.
It's a versatile solution that capitalizes on your kitchen's wall space and keeps your essentials within reach.
---
40. The Mobile Kitchen Island: A Movable Feast
A mobile kitchen island provides extra storage and counter space where you need it, when you need it. Plus, it can be rolled away when not in use, making it a perfect solution for small kitchens.
Conclusion
Your kitchen is more than just a place for cooking. It's a space where creativity flourishes and memories are made.
With these clever kitchen organization ideas and gadgets, you can create a space that's not only efficient but also enjoyable to be in. Now go forth, declutter, and cook up a storm!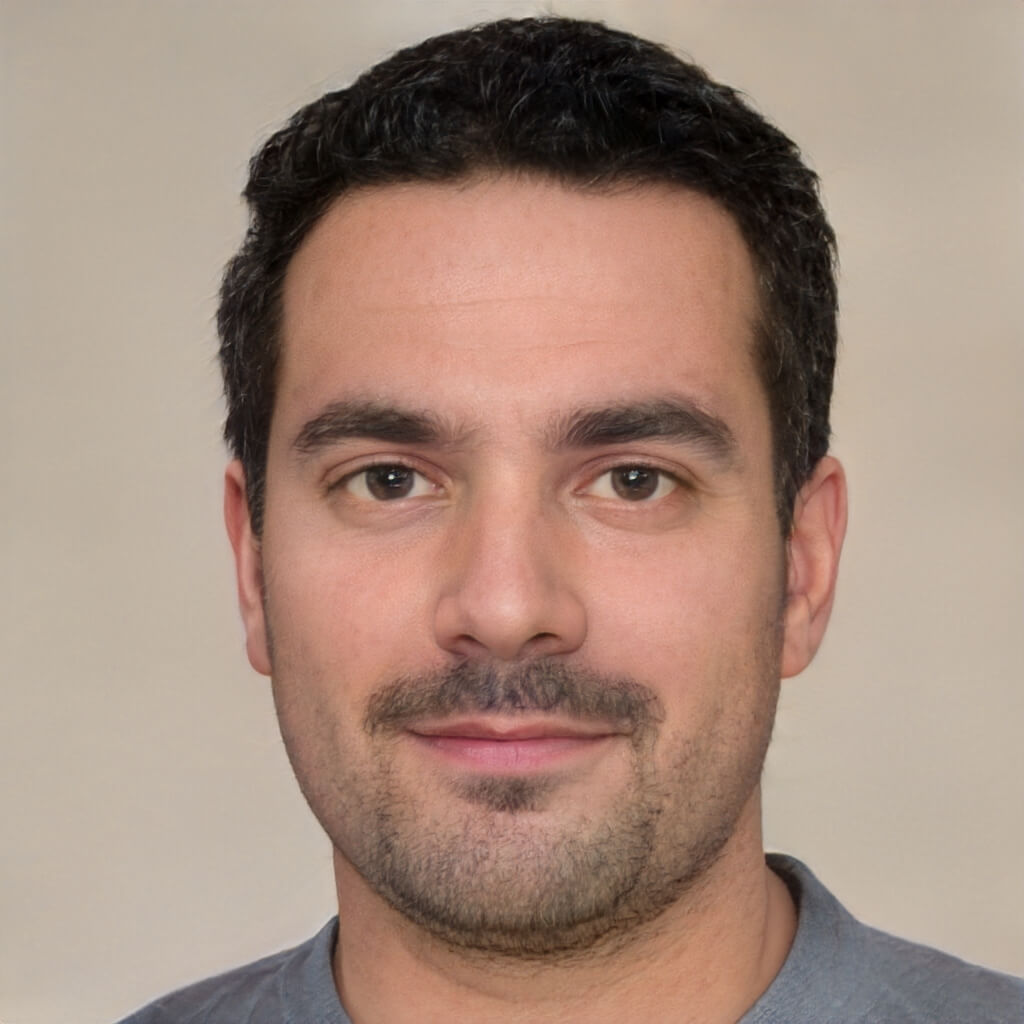 I'm a passionate home and garden enthusiast and the founder of Materialsix Home. With over 10 years of experience in the field, I've cultivated a deep love for all things related to home improvement, gardening, and interior design. Read more…