Have you been exhausted by scrubbing your shower tiles? Well, that's obvious because it is time-consuming, and results soar. Scrubbing is very energy-intensive and exhausting, and frequent scrubbing can damage your tiles permanently.
If you are tired of scrubbing and looking for an easy solution, then there is no need to look further. Here are the ten most effective ways to clean your shower tiles that require no heavy scrubbing, and there will be no damage to your tiles.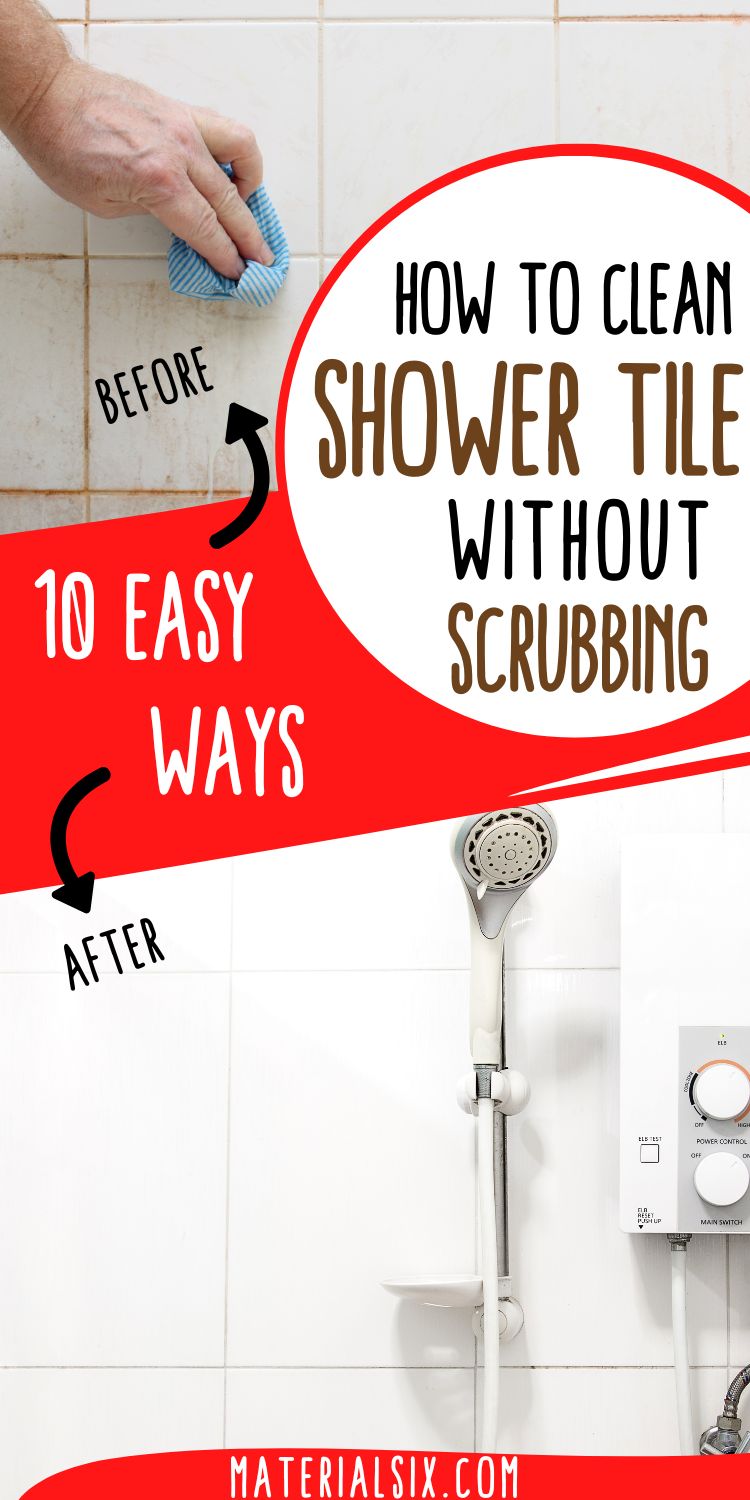 10 Easy Ways to Clean Shower Tiles without Scrubbing
Here are the easy ways to clean shower tiles without putting so much effort into scrubbing.
1. Hydrogen Peroxide
Using hydrogen peroxide on shower tiles is one of the most convenient and affordable solutions. It is best for cleaning mold and mildew from shower tiles. You can find this substance easily from the market at half the price of different branded cleaners. Its cleaning results are much better than brand cleaners.
How to Use:
Combine this substance and water in a 2:1 ratio.
Pour this blend into a spray bottle and spray it on stained tiles.
Leave it for a half-hour; it will open the pores, making it easy to lose the dirt/grime particles. You won't need to put much effort into rubbing, which will clean all the dirt from the tiles.
Related: How to Clean Grout on Tile Floors with Hydrogen Peroxide
2. Steam Clean
Steam cleaning is a simple way to clean shower tiles without heavy scrubbing. You need to open the hot water in the shower area for 10 to 15 minutes unless the shower area is full of steam. The steam will open the pores of the dirt particles, and then it will be quite easy to clean the dirt with a sponge without exhausting scrubbing.
3. Borax and Hydrogen Peroxide
If the stains on your shower tiles are very mulish and nothing is affecting them, and you are thinking of getting down and scrubbing yourself, hold on. Use the borax along with hydrogen peroxide. It will work to clean the stubborn stains.
How to Use:
Pour the borax on the stained tiles and ensure it reaches every stain.
Leave it for at least five hours. Borax will do its job, and you have enough time to do other house chores.
After five hours, spray hydrogen peroxide over the borax and leave it for two more hours.
Clear everything with warm water
You will see all the stains are disappeared, and your tiles are shining like new ones.
4. Clorox and Hot Water
If the stains on the tiles are years old and nothing is working on them, even heavy scrubbing is not working, then Clorox is the last hope. Clorox can clear high-strength stains easily, but you should not use it regularly as it can also damage the tiles.
How to Use:
Take a Clorox cup and mix it with 4 cups of water; mix it thoroughly.
Pour this mixture on the tiles and leave it for 30 minutes. Clorox will do its job and will remove all the stubborn stains.
You must be very careful, wearing gloves and a mask while handling the Clorox.
5. Oxygen Bleach
Before choosing Clorox for the tiles, you should try oxygen bleach first. Clorox is for the condition when nothing else is working. Oxygen bleach is also an effective way to clean the tiles without scrubbing.
How to Use:
Take two buckets of warm water and add three tbs of oxygen bleach them.
Mix it and then apply this to the tiles for 15 minutes.
Use a sponge or any brush to remove it. You will see the difference.
6. Bleach and Baking Soda
This is a very easy solution for the home's two most common items. Make a paste with baking soda and bleach and pour it on your stained tiles.
How to Use:
Combine these two substances with a 2:1 ratio.
Pour it on the stained tiles and leave it to dry fully.
Use cold water to clean it.
You can use a sponge to remove this mixture. But remember, if you have porcelain tiles in your shower area, do not use much bleach in the mixture, it may damage the protective coating on the tiles. Use gloves and a mask while dealing with this mixture.
Read: Mixing Bleach and Baking Soda: Is It Safe and Work for Cleaning?
7. Alkaline Cleaners
If you don't want to prepare any mixture, you can use alkaline cleaners from the market. Usually, they are less effective on the bathroom tiles, but each cleaner has its tendency to clear the stains. It is better to read the product's instructions and usage guidelines.
8. Vinegar and Baking Soda
Well, it's like a home remedy. You must have vinegar and baking soda in your home.
How to Use:
Apply a paste of vinegar and baking soda to the tiles.
Spray more vinegar on the applied paste. When the paste starts bubbling, the dirt leaves its grounds.
Wash the tiles with water and see the magic.
9. Vinegar and Dishwashing Detergent
Vinegar is an acidic content that is useful for removing stubborn stains. You can use this content along with any dishwashing detergent.
How to Use:
Mix vinegar and any dishwashing detergent in equal quantities.
Pour this mixture into a spray bottle, spray it on stained tiles, and leave it for one hour.
Wash the tiles with water, and you will see a clear difference.
10. Magic Eraser
A magic eraser is a modern solution for heavy scrubbing. If your shower tiles have stains, you can try a magic eraser to remove them. You don't need to scrub more. It will also work efficiently with gentle rubbing. Leave it for 10 minutes and then wash it with water. Magic Eraser will give the result of its name.
So these are the ten ways to clean your shower tiles.
Conclusion
Generally, people pay less attention to cleaning shower tiles. They think about cleaning it when they feel slippery on it. But the stain has been settled to the tiles. By determining the condition of your shower tiles, you can adopt any method from above. These methods will save you from heavy scrubbing, and your cleaning will be done in minutes.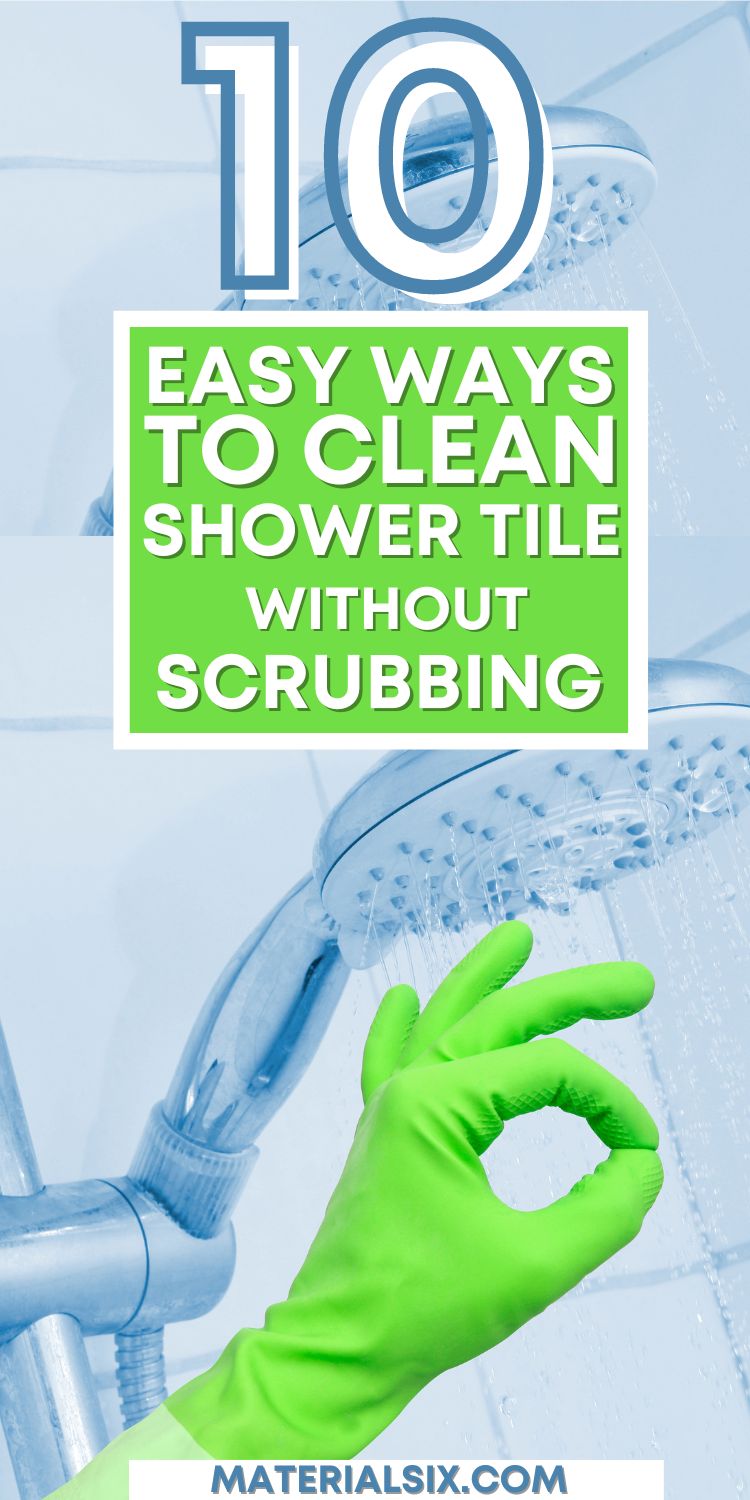 More from Materialsix.com: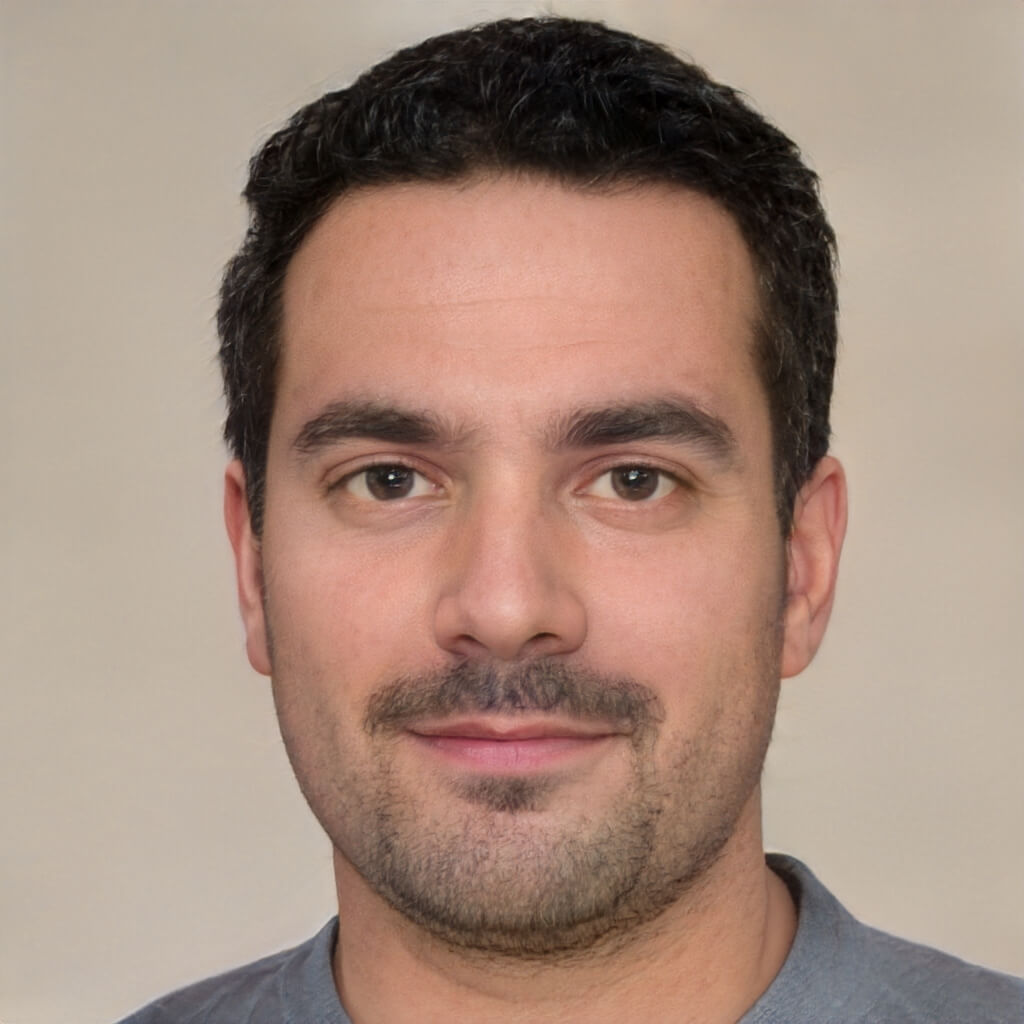 I'm a passionate home and garden enthusiast and the founder of Materialsix Home. With over 10 years of experience in the field, I've cultivated a deep love for all things related to home improvement, gardening, and interior design. Read more…