You've got mold problems, and you're probably looking for a remedy. You may be wondering – does Kilz kill mildew? Does Kilz kill black mold for good?
The answer is no. But, it's one of the best at preventing them.
You see, Kilz has been around since 1974. Since then, Kilz has styled itself as one of America's top paint and primer brands.
And it has been delivered. Kilz is considered a high-quality and reliable supplier by both private consumers and renovation businesses.
It also offers a lot in terms of combatting mold and mildew – but killing them off is not one of them.
So if Kilz Doesn't Kill Mold and Mildew – What Does it Do?
It prevents (essentially suppresses) their growth.
Kilz is a high-quality paint brand, and part of what it offers includes paints and primers that produce thick coats.
Thus, Kilz's undercoats are thick enough to hide and suppress mold stains. From there, the following coats you add aren't touched by those stains.
Painting over mold with Kilz is one of your best bets. It's one of the best products, and you'll never worry about the stains deforming your paint coat!
So if Kilz Doesn't Kill – Which Brand Does?
None really. There isn't a single paint brand that can boldly advertise their products as "anti-mold" or "anti-mildew."
Kilz for mold is the closest you'll find to dealing with those issues.
Its star product (which we recommend) is Kilz Mold and Mildew Primer. You can get it on Amazon, so you don't have to shop around much.
Plus, Kilz does offer a wide color selection for wall paint. Take your time to shop, and pick what fits you best!
Pros and Cons of Kilz
Let's start with the pros.
Kilz's primers come with a stain-blocking formula. It's also water-based, so it won't corrode your walls and is safe to apply.
Kilz's paints and primers are also humidity proof. If you live in a naturally humid environment, then this is for you.
Its primers also seal porous walls. This is key, as it'll help you deal with future mold and mildew without risking your wall's health.
It ensures that you can apply water-based solutions without the wall absorbing them, thus reducing the likelihood of cracks and parts of your wall coming off.
Also, Kilz can be used on almost all wall types. You can use them on exterior and interior drywalls. It works for plaster, paneling, woodwork, brick, and masonry.
That aside, it also doesn't drop easily, so there won't be an excess mess when painting. Plus, it dries fast, so you can move back in record time!
The only real negative is the odor. Kilz initially comes with a very strong odor, and you'll need to set up your workspace to accommodate that.
But How Do I Get Rid of Mold & Mildew?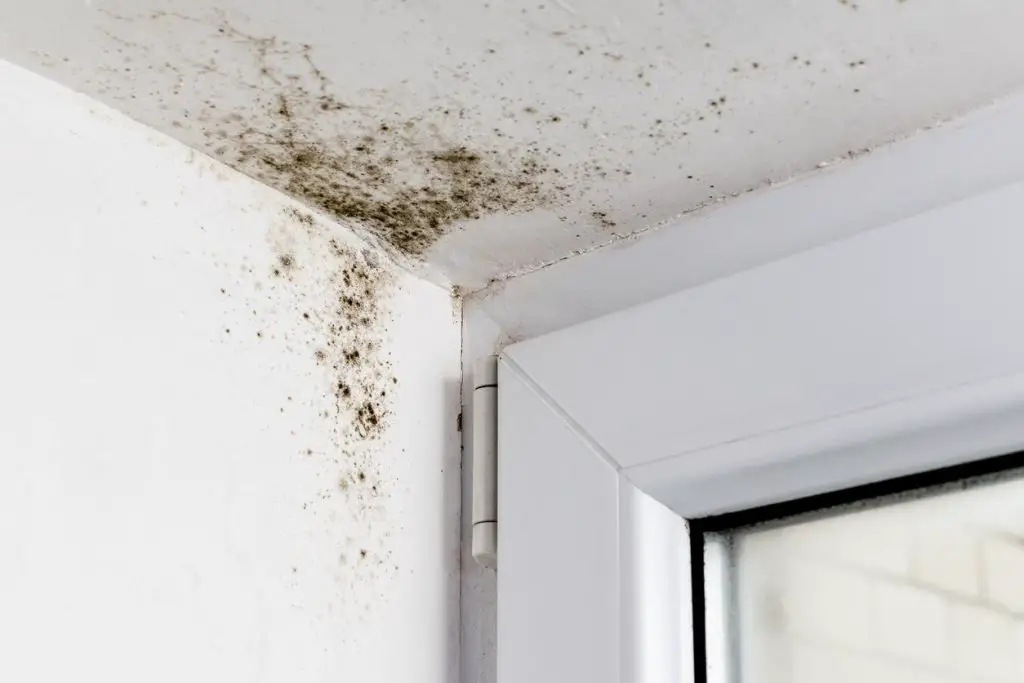 That'll require a few remedies outside of paint use.
There are multiple ways to approach that problem. Some are effective, others not so much. They are:
Bleach
Vinegar
Borax
Specialized Remover Agents
The first two options are home remedies that we don't recommend.
Bleach can be effective for minor cases. But in most situations, it'll simply change the mold color (or encourage it to migrate its roots elsewhere).
Vinegar is slightly effective since it carries anti-bacterial and anti-fungal properties. However, it won't kill every type of mold.
But those aren't the only problems with those remedies.
If your wall is porous, you risk having your wall absorb bleach and vinegar. That may cause parts of your wall to crack or fall off, requiring a drastic renovation later on.
You can try borax instead. You can combine two teaspoons with a cup of hot water, and apply to the plagued area.
The best part is, you can apply it on painted walls. Though take care that excess use may ruin the paint.
Specialized Agents
Your best bet is to use a specialized agent that protects your wall integrity. They're disinfectants specially designed to kill mold and mildew.
RMR-86 is a good option (it's cheap too, coming at $17 for lighter cases). And for serious mold and mildew spreads, you'll be paying $70 max.
If you can't apply them yourself (or fear you might mess up), we recommend calling a cleaner.
Just make sure they've got mold clearing expertise. They'll tackle the issue for you, all while dealing with the source of the mold.
What If I Want to Perform a DIY Job?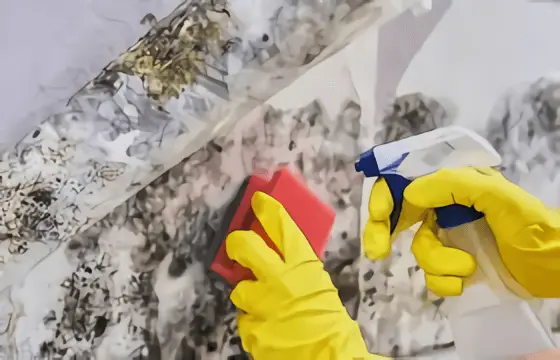 No worries. The process is quite simple, mostly involving precautionary methods. It starts by…
Securing Protective Items.
You'll need a facemask and thick latex gloves before starting.
You don't want to risk inhaling the mold or mildew. This may cause you breathing problems (or illnesses) down the line.
Also, if you already have sensitive breathing issues – then avoid a DIY job. Call a professional instead.
Always wear a mask when tackling mold and mildew. That'll also apply after you clean the problem off and are left with the stains. You may need to wear a mask as you paint your wall.
A simple mask won't do though. You'll need a respirator mask that'll filter mold and dust in the air.
You Might Want to Evacuate the Premise.
This only applies to serious problems.
If the mold problem is at home, then we recommend relocating yourself (and your family) for the next few days. You don't want them inhaling the mold. Nor should they be exposed to the paint chemicals you'll apply (which also have strong odors).
If the problem's in your office, then consider closing till the problem's fixed. Or, you can schedule the fix on non-business days.
Find the Source of the Problem.
What's causing the mold? Is it a water leak affecting a part of your wall? Or maybe it's excess humidity?
Detect the source and deal with it. Afterward, you'll have an easier time cleaning wall mold without risking it growing again.
Close All Ventilation.
You don't want mold spores spreading around your room. As early as the detection process, be sure to keep air conditioning and any fans off.
This also ensures that mold doesn't spread into your vents while growing there – which is a problem of its own.
While you're at it, be sure to clean out your vents. Disinfect them as you disinfect your walls (which is the next step).
Get a Thick Brush and Disinfectant.
Proceed to apply the disinfectant. Scrub lightly to remove the mold. Scrubbing too hard may damage your wall.
Spray as much as possible on the molded area. After scrubbing the mold off, dry the wall with a towel. Then, check if there are any mold stains.
If so, continue to spray and scrub the mold off.
Disinfect and Store Away.
When you're done, dispatch the gloves you used. Be sure you don't touch another area with your gloves (lest you spread the mold infection).
If you do that, you might find yourself on another cleaning project weeks later.
Try to keep the items you used in the same room before throwing them out. For example, if you were removing mold from your basement, keep your gloves and mask there.
As for more expensive items (like a respirator mask), you can't throw those away. Instead, apply the disinfectant to it, and let it sit for a while.
Next – Covering Up the Mold Stains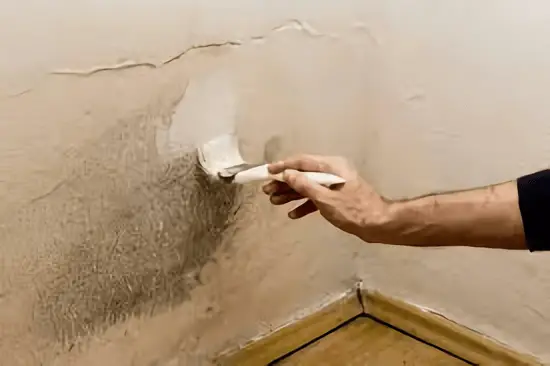 This is where Kilz's products come in.
Kilz specializes in all kinds of wall cover-ups, from rust and crayon marks, to smoke spots, bloodstains, and mildew blemishes.
When buying your Kilz products, here are some tips to follow:
But a little more primer and paint than needed. Kilz's products result in thick coats, so they run out fast. And the last thing you need is to run out when painting mold stains.
Prepare the necessary roller and brushes beforehand. With Kilz being considered high quality, we recommend getting high-quality equipment to match.
Don't forget the drop cloth, painter's tape, and face mask. Also, pick out the necessary clothes for the project. Expect to get stained, so pick out clothing items you don't need.
While painting, keep the room ventilated. Kilz's products have a strong odor that may be intolerable to you or others working with you. We also recommend a deodorizer as you work.
You shouldn't need multiple coats to cover up extremely dark stains. Painting over mold with Kilz is straightforward.
Kilz dries fast. You can expect to finish the job and move in quickly after you're done.
Final Words
If mold is an issue in your home, chances are good that you will need to hire a professional to treat your home. This could cost you hundreds or even thousands of dollars. One way to save money on treatment is by using natural remedies at home. You will have to do research to see which product is best for the particular mold problem you are dealing with.
More from Materialsix.com: