When it comes to an aesthetic room, adding a few knick-knacks would be great. Thus, they can turn your bedroom into a perfect space.
However, to make significant atmosphere changes in your bedroom, you do not need to do a massive makeover anyway.
Indeed, you can even play with a bit of mixing and matching some decorative stuff instead.
Otherwise, upcycled everything you have, like old records or some unique picture you got from the magazine as the wall decoration.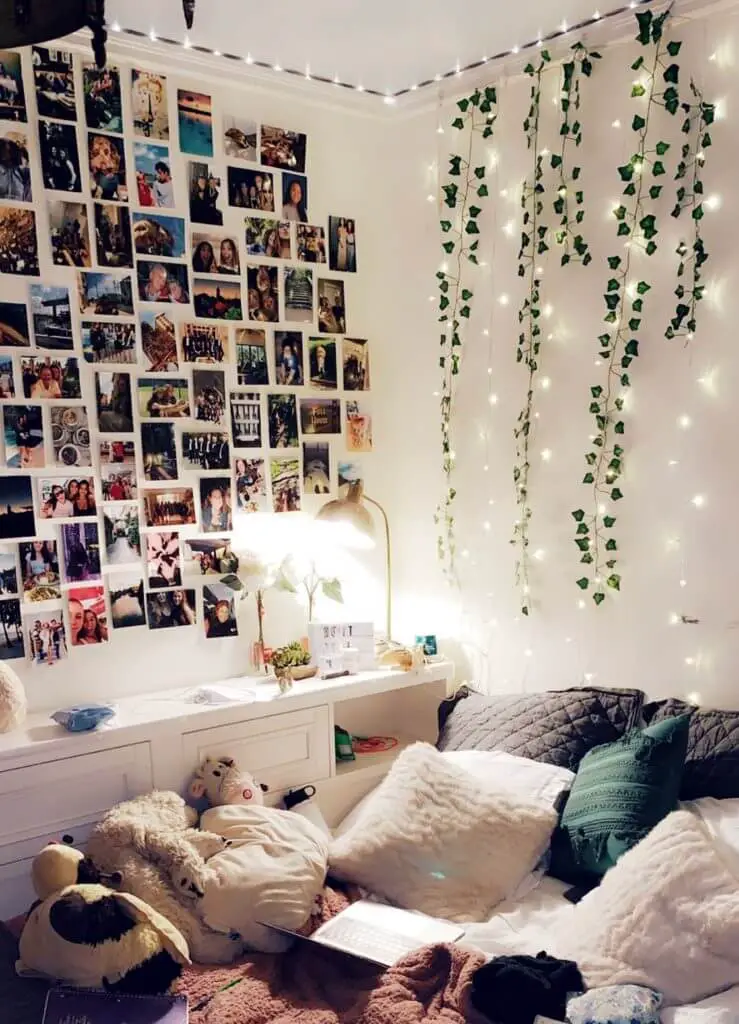 17 Great Aesthetic Bedroom Designs To Try
So, suppose you desired some aesthetic bedroom ideas. Below are the 17 design options to inspire you.
1. Dried Flower Wall Decoration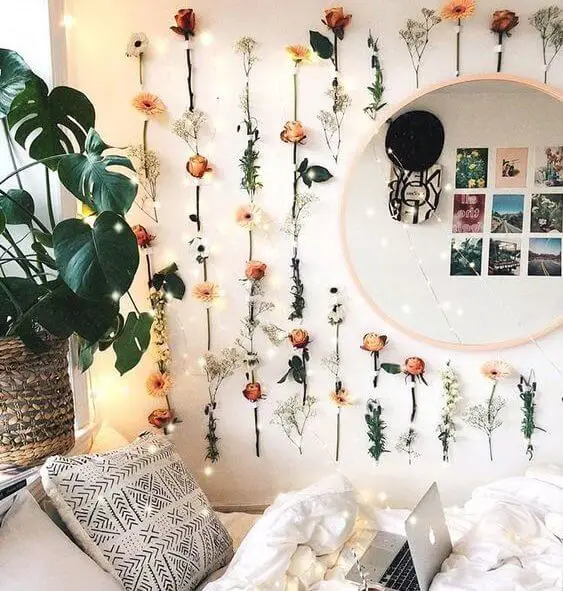 The first aesthetic room decor to beautify your bedroom is by sticking dried flowers on the wall. Also, alternatively, you can use artificial ones to prevent it from wilting, all according to your wishes.
2. Hanging Planters with Wicker Baskets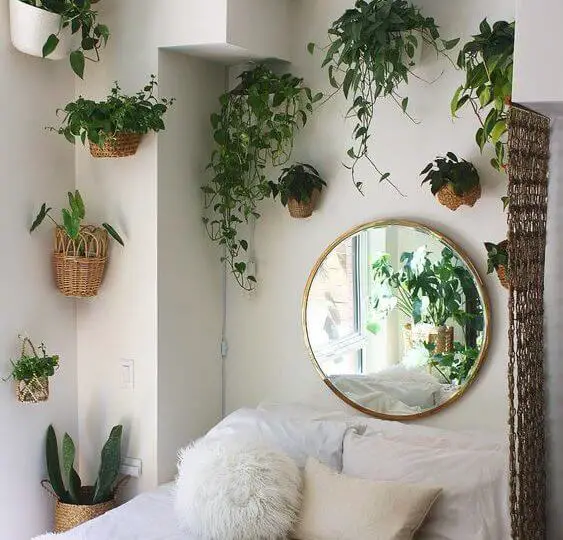 Suppose you like an eco-friendly theme for your space. Then, the hanging wicker basket planters will fit your preference perfectly.
3. Snow White String Lights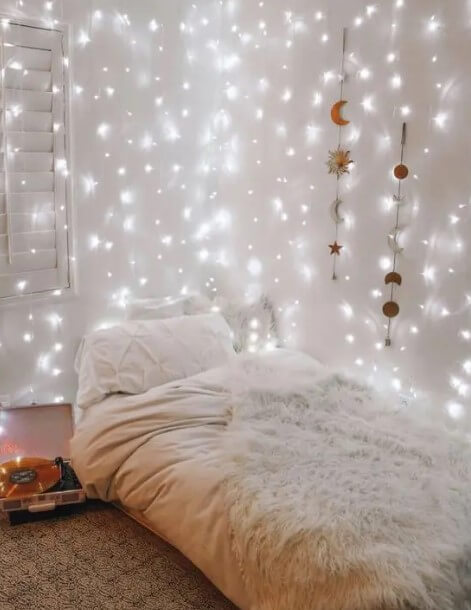 Who would resist a white-themed room decor? Apart from keeping the space clean, installing snow-white string lights will make you feel like in a fairy world at night.
4. Aesthetic Room with Vines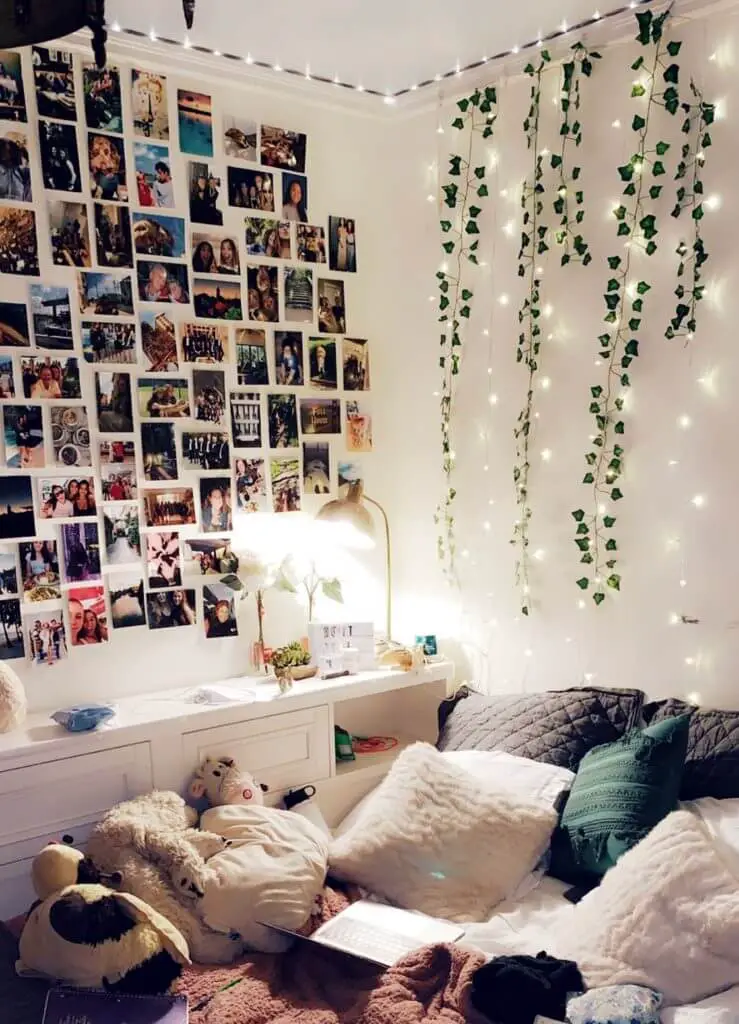 Furthermore, Faux vines are suitable for you who want to give a natural vibe. Otherwise, you do not have to be confused about maintaining the greeneries inside your bedroom.
5. Leaning Mirror with Warm White String Lights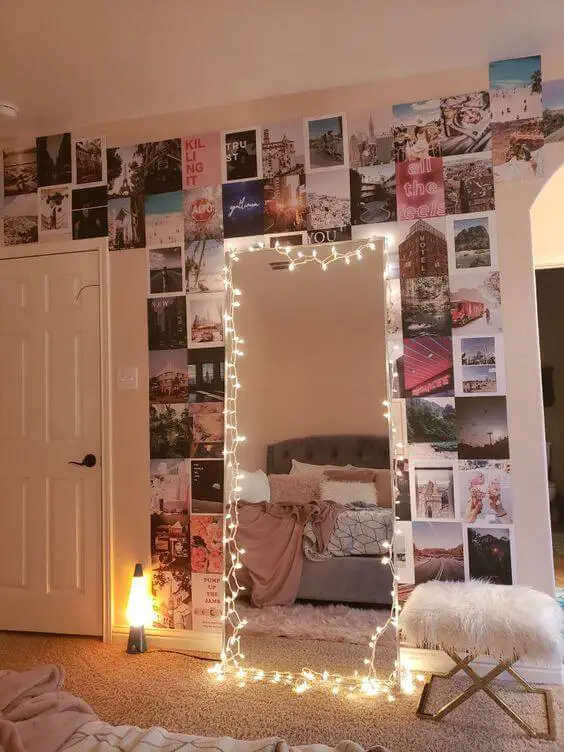 Instead of hanging your mirror vertically on the wall, it is better to let this item lean against your partition.
Moreover, to make the area look more aesthetic and warmer, attach warm-white string lights around it.
6. Hanging Greeneries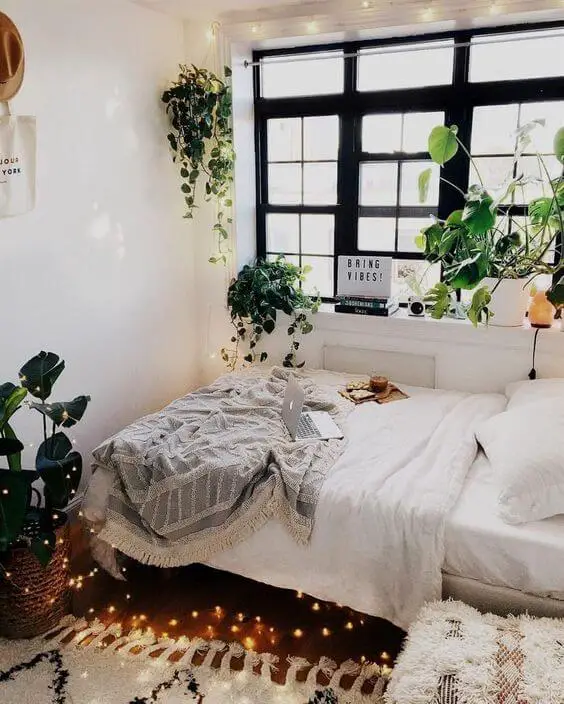 There are many ways to make your aesthetic room more earthy. One of them is by hanging greeneries in several spots in your bedroom.
Hence, the one by the window would be more refreshing.
7. Boho Tapestry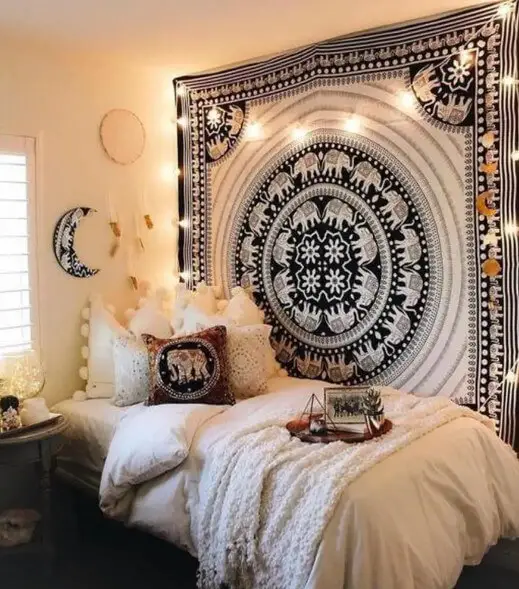 You will get a bohemian feel so quickly just by installing a tapestry in your room.
Further, whether it is right above your headboard or on the side of your bed, both choices are aesthetically pleasing.
Read also: How to Hang A Tapestry on the Ceiling
8. One Season Wallpaper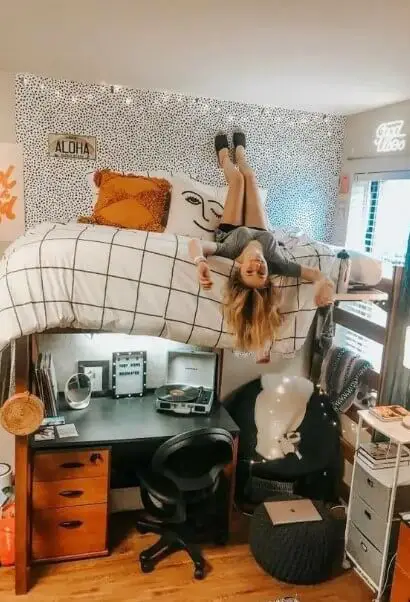 Having a different interior design to welcome each season is, indeed, an amusing idea. Therefore, consider choosing a removable wallpaper. Thus, this design is easier for you to change.
9. Blue Light Ambiance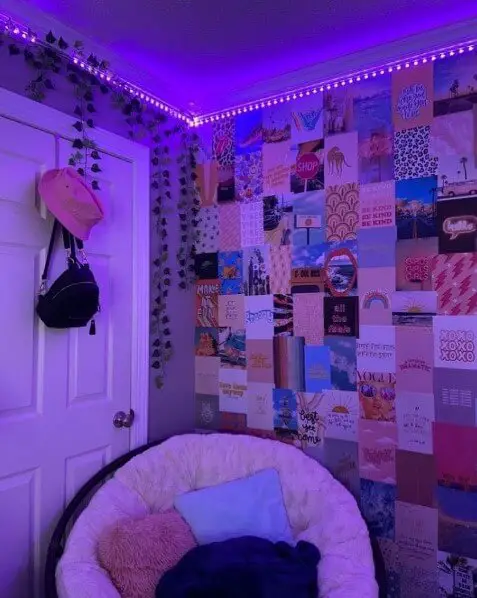 The next aesthetic room idea that inspires you is to install a blue string light in the corner of your bedroom ceiling.
Then, believe it or not, you will sleep well with minimal lighting.
10. Metal Open Clothes Hanger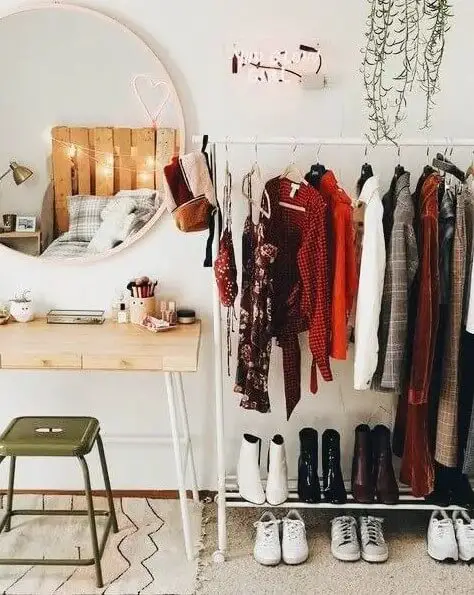 Organizing all your clothes in the closet is normal. Try to make it unusual by displaying them on an exposed hanger like above.
11. Old Records Wall Decor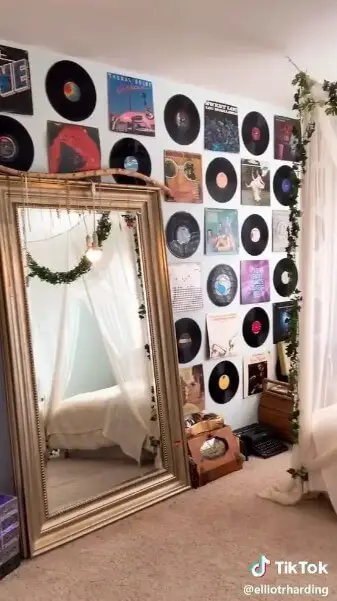 One of the most economical aesthetic room decors is to let your old records take care of everything.
Additionally, by hanging a cassette disc and a few old albums, now, you can create an interesting retro gallery in your bedroom.
12. Simple Aesthetic Room with Polaroids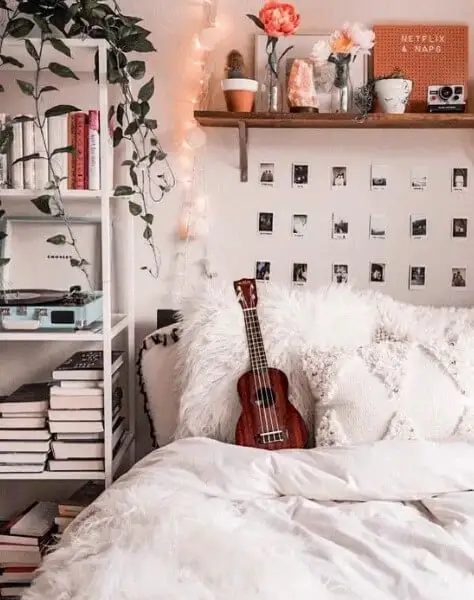 Capturing every best moment with your family, friends, and a loved one is a must. Thereupon, do not let all that memory be stored only on your cellphone.
Instead, create the best polaroid gallery in a specific spot in your bedroom to get pleasing wall decor.
13. Multi Patterned Bed Sheet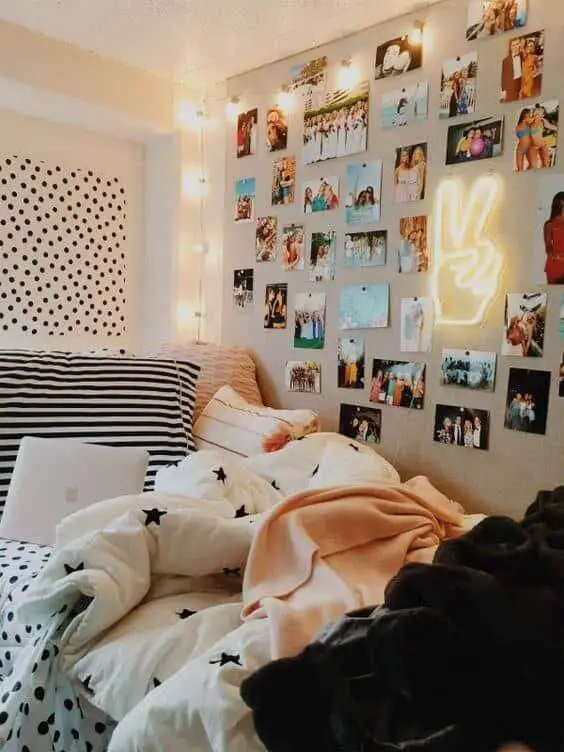 For a more creative impression, you can mix and match many motifs for your bed sheet. Besides, you can start with stripes, stars, and dots combining with other pastel colors.
Moreover, do not forget to ensure everything goes well and balance to avoid overblown patterns and cause an eyesore.
14. Trendy Wall Collages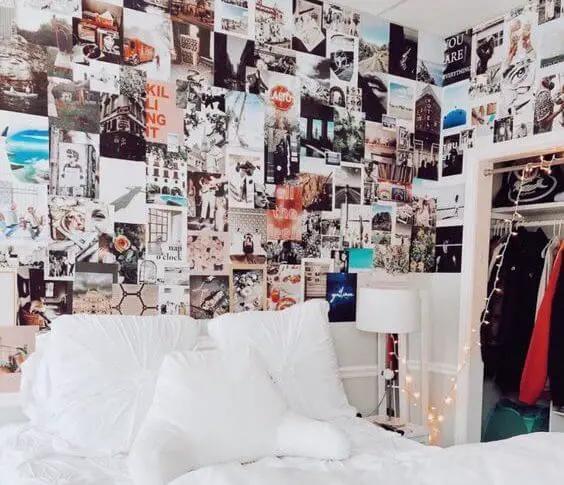 Besides photos and discs, you can also create an aesthetic room by gluing various unique pictures.
Then, you can get the pictures from used magazines to fulfill your empty spot. Stick them all on the wall to form a giant collage. Thus, this is your modern room.
15. Pastel Color Rugs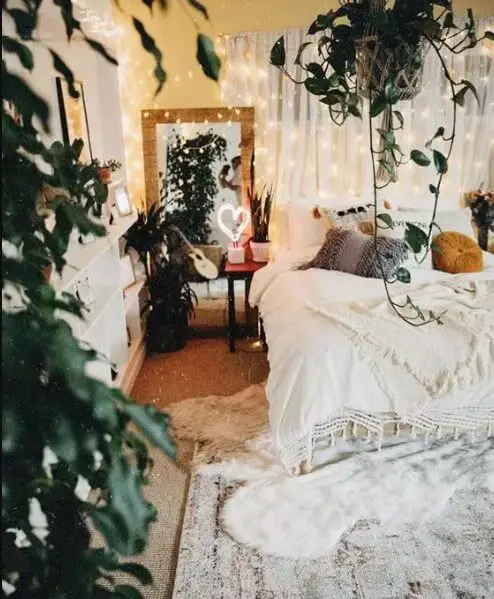 Installing a fuzzy rug on your flooring is commonplace. Then, to be more interesting, you have to be brave to make it layered.
Therefore, you can consider choosing a pastel or white color for the safest path.
16. Cute Neon Headboard Sign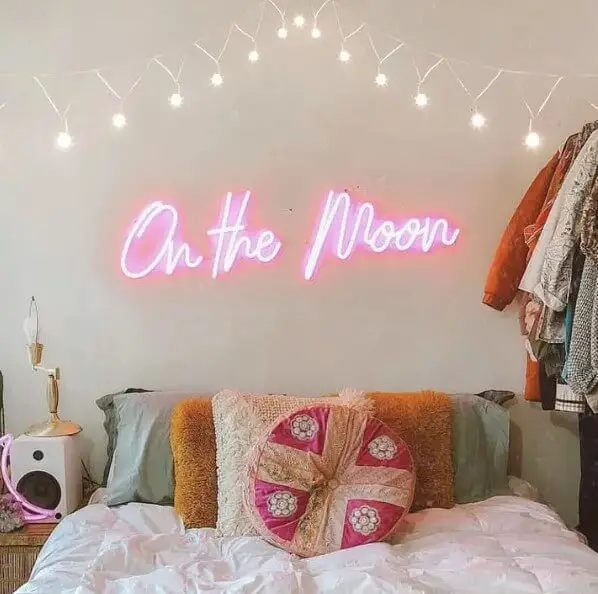 The trick of aesthetic room lighting does not just stop at fairy string lights. In addition, you can even go with neon signs to beautify your bedroom walls.
Likewise, the coloring choice certainly dramatically affects the comfort in your personal space. Thereupon, you need to choose the one that fits your character.
17. Handwoven Macramé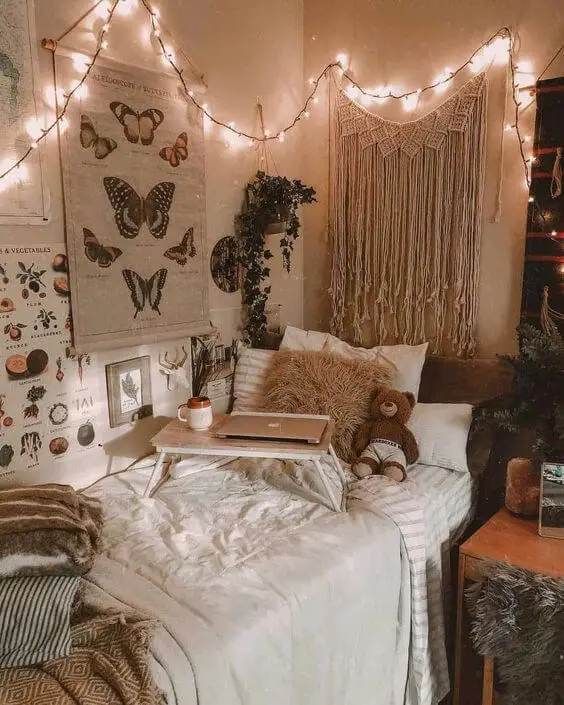 Last but not least, a handwoven macramé is the most popular among other decorative elements have mentioned above.
It is because this decorative item can provide an attractive texture to all bedroom themes.
Besides installing the macramé on the wall, you can also use it as a decoration for your window treatment.
Finally, those are 17 great aesthetic bedroom designs to try.  So, have you found the one that suits your character the most?