Picture this: you've just moved into your new city apartment. It's cozy, it's in the perfect location, and it has that modern charm you've been yearning for.
The only downside? Space, or rather, the lack thereof. But fear not, small space dweller, for we've compiled a list of 30 essential items that will transform your apartment into an organizational paradise.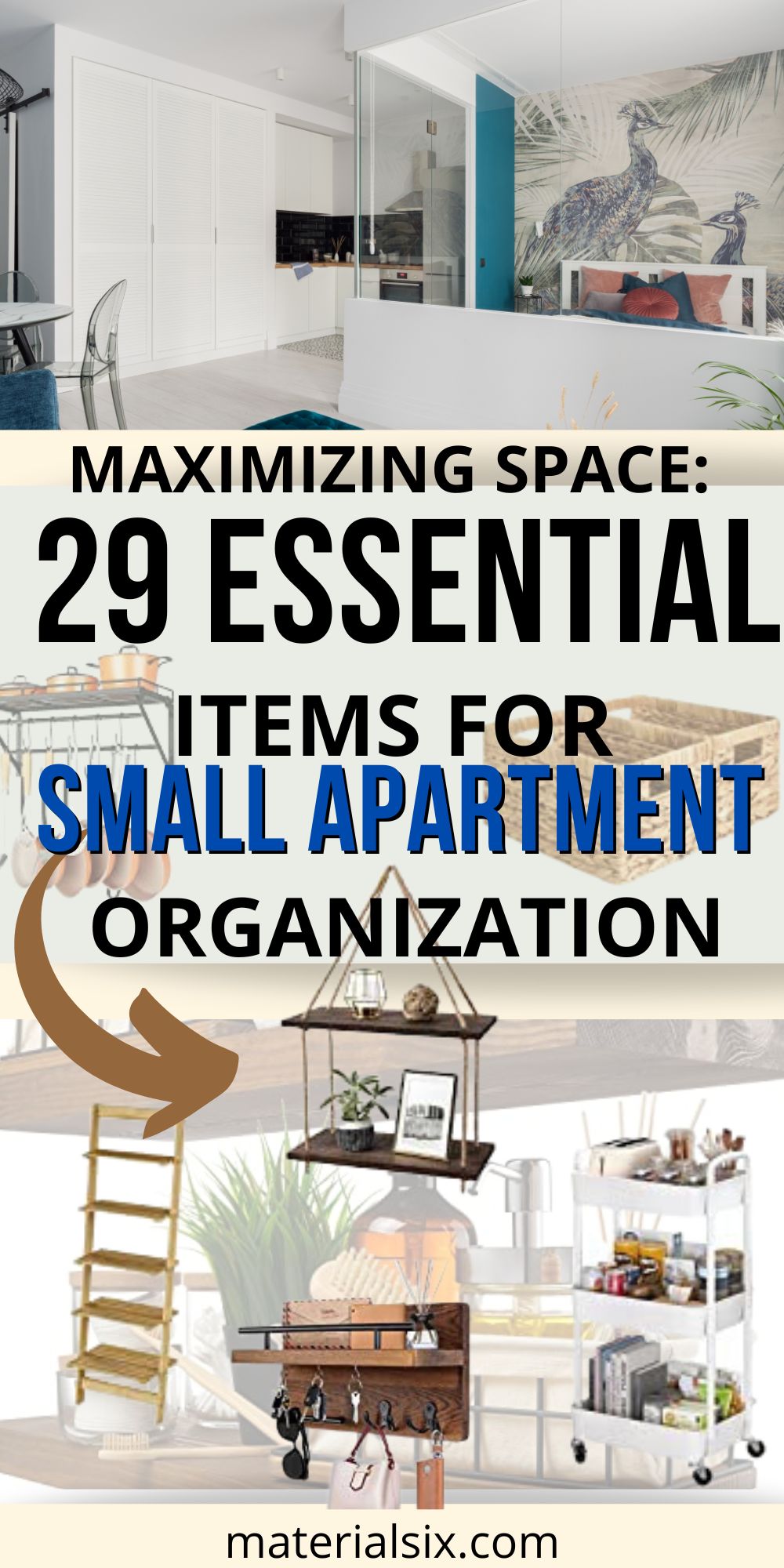 Maximizing Space: Essential Items for Small Apartment Organization
1. Organize Cabinets With Dividers
No more fumbling for the right pan or Tupperware. Cabinet dividers will help keep your pots, pans, and containers neatly arranged, saving you time and stress.
2. Hang an Entryway Shelf
An entryway shelf with hooks is perfect for keeping keys, hats, and jackets organized and off the floor.
3. Free Up Cabinet Space
Cabinet filled to the brim with pots and pans? Try installing a hanging pot rack. It adds character to your kitchen while saving that precious cabinet space.
4. Place Towels in a Basket
In the bathroom, instead of a bulky towel rack, use a stylish basket. It's a simple and attractive way to store towels and it can be easily moved around.
5. Utilize Wall Space
When square footage is minimal, think vertically. Installing simple wall shelves or wall hooks can add plenty of storage without compromising floor space.
6. Get Cleaning Tools Off the Ground
Let's face it, brooms and mops are a bit of an eyesore. Get them off the ground with a wall-mounted holder, and you'll free up some space while keeping your cleaning tools organized.
7. Switch to Slim Hangers
Does the closet seem too cramped? Slim hangers are a fantastic solution! A chunky hanger can take up a lot of valuable space. Swap those out for sleek, velvety, non-slip hangers. Your clothes will stay put, and you'll be shocked at the space you save.
8. Use Slim-Profile Shelves
Slim-profile shelves can be squeezed into tight spaces, like behind doors or next to the fridge, providing extra storage where you wouldn't expect it.
9. Hang Plants
Incorporating plants can make your space feel fresher and more alive. Hang them from the ceiling or on wall brackets to keep your floor and windowsill space clear.
10. Hide Clutter in Baskets
Baskets: the unsung heroes of small spaces. They're versatile, attractive, and perfect for hiding clutter. Stash one near your couch for throw blankets or under the coffee table for magazines.
11. Use a Storage Ottoman
An ottoman isn't just a place to rest your feet. Opt for a storage ottoman, and you've got a hidden gem. Perfect for storing books, games, or extra pillows, and it doubles as seating when you've got guests.
12. Add a Coffee Table With Storage
Like the ottoman, a coffee table can be more than meets the eye. A coffee table with built-in storage is perfect for tucking away remotes, coasters, and anything else you want to keep handy but out of sight.
13. Make Use of the Pantry Door
Your pantry door is an unused canvas. Hang a door-mounted organizer, and watch as your spice collection finds a new home.
14. Roll in a Tiered Cart
A tiered cart on wheels can be moved around as needed, making it a versatile storage solution. Use it in the kitchen for extra pantry space, or in the bathroom for toiletries.
15. Bring in Risers
Risers can add a new level (literally) of organization to your shelves and cabinets. They're perfect for dishes, canned goods, or even shoes.
16. Install Floor-to-Ceiling Shelves
In a small apartment, don't be afraid to go big. Floor-to-ceiling shelves can provide a wealth of storage and display space without encroaching too much on your living area.
17. Install a Tiered Shower Caddy
An easy way to increase storage in your bathroom is by installing a tiered shower caddy. It can hold everything from shampoos to razors, and it keeps your items accessible and tidy.
18. Add a Lazy Susan Turntable
From spices in the kitchen to cosmetics in the bathroom, a Lazy Susan turntable can be a small space dweller's best friend.
19. Double Closet Hanging Space
You've already swapped out your hangers, now consider a double-hang closet rod. You'll double your hanging space instantly.
20. Store Shoes in an Over-the-Door Rack
An over-the-door shoe rack can be a real space-saver. It keeps your footwear organized, and it frees up valuable floor space in your closet.
21. Throw Out Bulky Boxes
Product packaging can take up a lot of space. Unpack items and store them in sleek, stackable containers instead.
22. Give Floating Shelves Double Function
Floating shelves are trendy and functional. Use them for displaying trinkets, but don't forget they can also serve as a chic home for your books or storage baskets.
23. Bring in a Decorative Ladder
A decorative ladder can provide a stylish spot to hang towels, blankets, or scarves. It adds a touch of personality while being an incredibly practical accessory.
24. Use Multiple Organizational Containers
Baskets, bins, and boxes, oh my! Use a variety of containers to keep your items sorted and your space tidy.
25. Make Use of Wardrobe Doors
Wardrobe doors can hold more than clothes. Try hanging hooks for necklaces or a rack for shoes. It's about seeing potential in every nook and cranny.
26. Corral Things in a Tray
A tray can be a stylish way to keep loose items together. Whether it's perfume bottles on a dresser or cooking oils on a countertop, a tray keeps things neat and chic.
27. Purchase Multi-Purpose Furniture
Multi-purpose furniture, like a bed frame with built-in drawers or a desk that converts into a dining table, can make the most out of your space.
28. Use a Radiator Cover
If you've got a radiator taking up space, make it functional. A radiator cover can provide a surface for decor or a shelf for books.
29. Don't Forget the Tops of the Cabinets
The tops of kitchen cabinets can be used for items you don't often use. It's out-of-the-way storage that can make a big difference.
10 Smart Ways to Organize your Small Apartment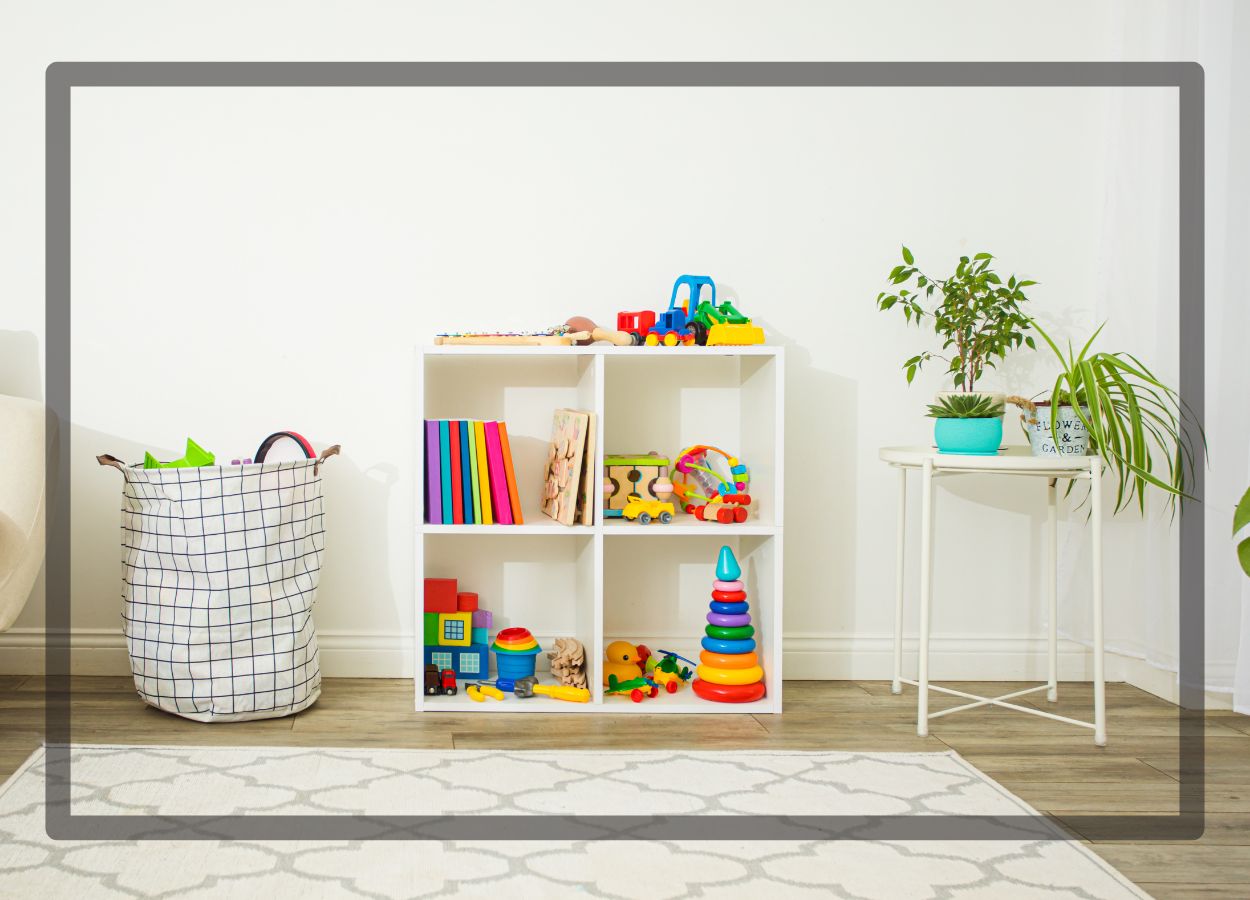 Living in a small apartment can be both a joy and a challenge. While the cozy charm is undeniable, finding a place for everything can sometimes feel like a puzzle. Here are 10 smart ways to organize your small space and make it work for you.
1. Streamline Your 'Stuff'
The first step to organizing a small space is streamlining your possessions. Do you really need five frying pans? Ask yourself what you truly use and need, then donate, sell, or recycle the rest.
2. Turn Every Inch Into Usable Space
In a small apartment, every inch counts. Use the backs of doors for hanging storage, make use of your vertical space with tall shelves, and consider under-bed storage for rarely used items.
3. Separate The Space Into Zones
Creating designated zones can make a small space feel larger and more organized. Even in a studio, you can create a bedroom area, a living area, and a workspace with clever furniture arrangement and decorative dividers.
4. Invest In Dual-Function Furniture
Dual-function furniture can be a lifesaver in a small apartment. Think beds with built-in storage, coffee tables with shelves, or ottomans that can double as seating or storage.
5. Double Up On Storage And Décor
Items that serve as both storage and décor are perfect for small spaces. Beautiful baskets, decorative ladders, or floating shelves can both store your items and add charm to your apartment.
6. Enlist Storage Helpers
Don't forget about the little helpers like drawer organizers, shelf dividers, and storage boxes. These tools can keep your space neat and your items easy to find.
7. Switch To A Storage Bed
A bed takes up a lot of real estate in a small apartment. Make it work harder by choosing a model with built-in storage underneath or around the headboard.
8. Maximize Closet Space
Use slim hangers, add a second rod, or try hanging shelves to make the most of your closet space. An over-the-door organizer can also provide extra room for shoes or accessories.
9. Go Vertical
When floor space is limited, go up. Tall bookshelves, stacking boxes, or wall-mounted storage can give you a lot more room to store your belongings.
10. Do A Daily Declutter
Staying organized in a small space means staying on top of clutter. Make it a habit to do a quick declutter each day, putting items back where they belong and tossing or donating anything you no longer need.
Key Takeaway
By using these clever storage and organizational ideas, you can transform even the smallest apartment into a functional and stylish home. Remember, living small doesn't mean living without. It's all about maximizing what you have!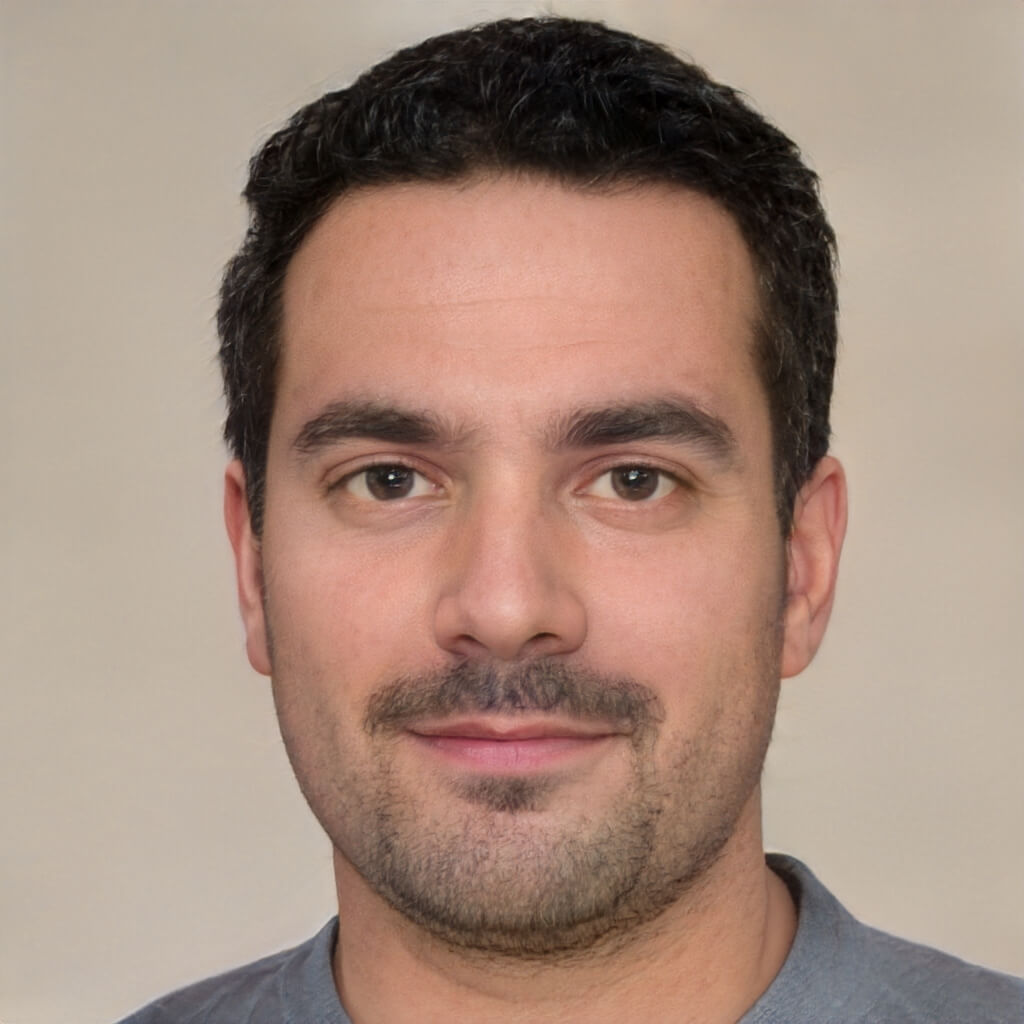 I'm a passionate home and garden enthusiast and the founder of Materialsix Home. With over 10 years of experience in the field, I've cultivated a deep love for all things related to home improvement, gardening, and interior design. Read more…