Are you contemplating crafting a bespoke DIY stock tank pool? This article will present you with an array of creative DIY stock tank pool ideas, intended to inspire you as you endeavor to create a unique backyard sanctuary.
We recently completed our own DIY stock tank pool and are thoroughly enjoying its refreshing benefits, especially during these weeks where temperatures soared close to 100 degrees!
If you're excited about constructing your personalized swimming pool, you're in the right place. Browse through this article for a selection of unique DIY stock tank pool ideas that are bound to spur your creativity.
Imagine the joy of possessing your private paradise in your backyard, a place to make countless memories with family and friends!
Stock tank pools are an appealing option because they are not only cost-effective and straightforward to assemble but also conveniently sized for a couple or a small family to indulge.
The beauty of a stock tank pool lies in the fact that you can own a fantastic pool without the necessity of excavating your entire backyard or accruing debt.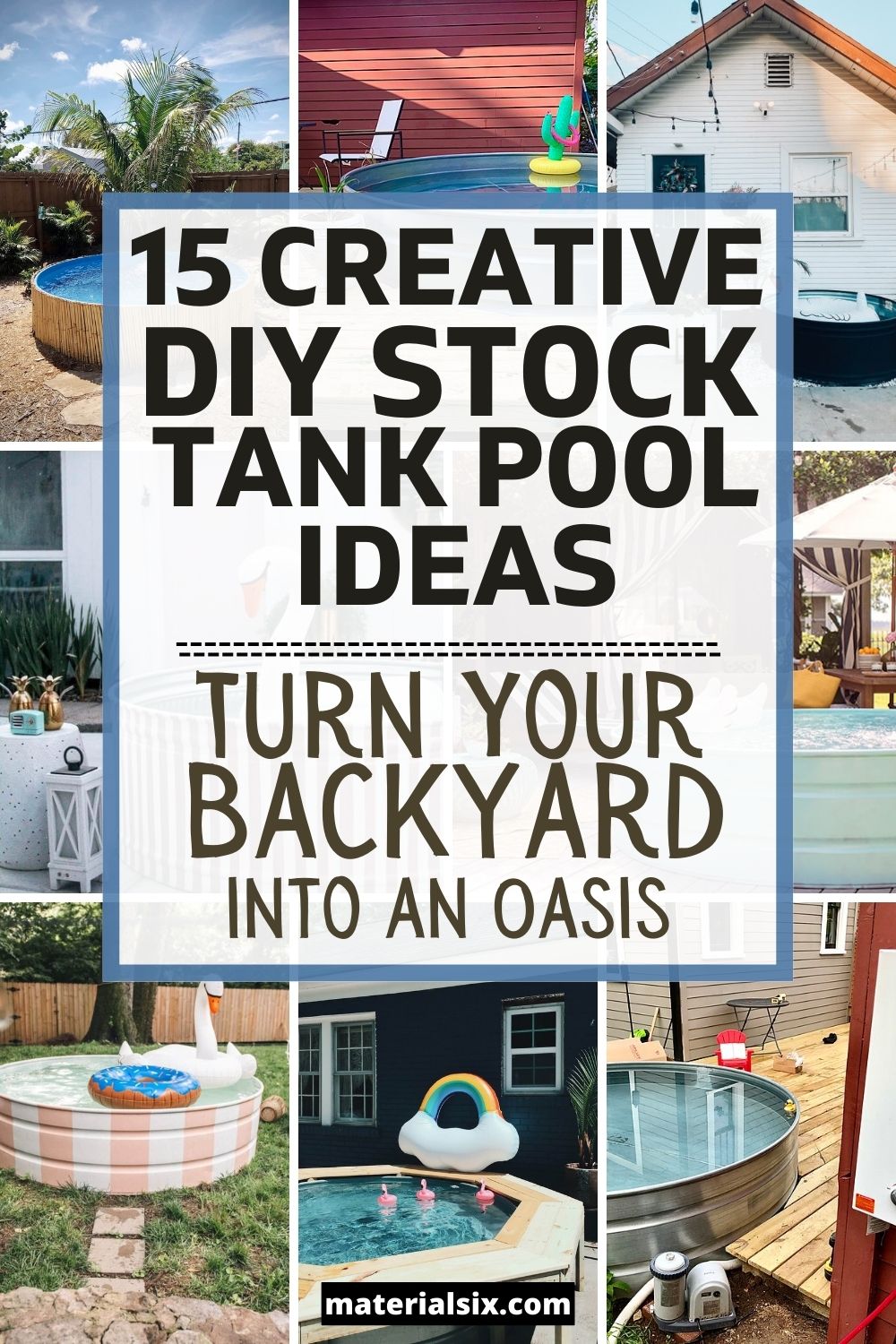 Dive into 15 DIY Stock Tank Pool Ideas for a Backyard Oasis
Having recently constructed our stock tank pool, we understand the value of research and drawing inspiration from various sources. Hence, we've curated this list of stunning DIY stock tank pools to help you shape a vision for your own backyard.
Stock tanks offer a wealth of possibilities, given their affordability and versatility. Available in poly or galvanized metal, they can be strategically placed in your backyard, integrated into a deck design, or even submerged into the ground.
Read on for an exploration of some truly innovative and entertaining ideas for your stock tank pool!
1. Vibrant Sophistication by the Pool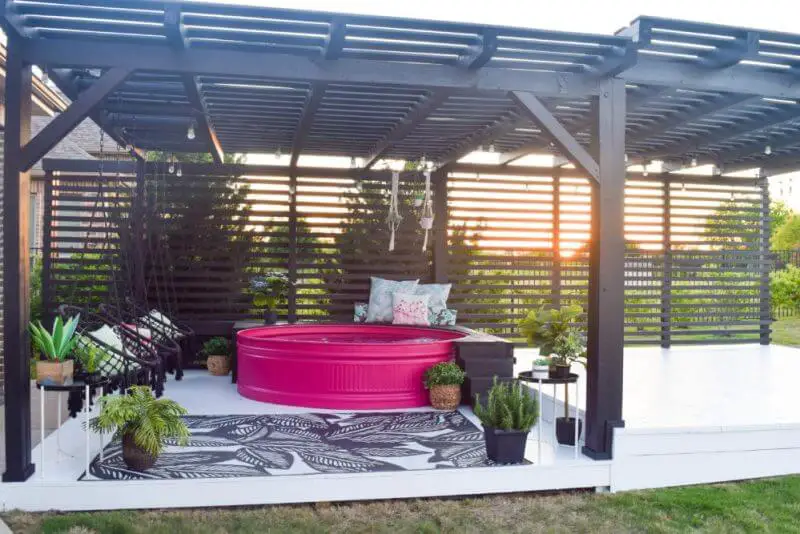 Fun and sophistication converge in this stock tank pool setup. The hot pink tank stands as a vibrant centerpiece, demonstrating how a bold color choice can add personality and excitement to your backyard.
Accompanied by tastefully chosen furniture, this setup screams 'summer fun' in a chic way.
2. Simplicity and Functionality United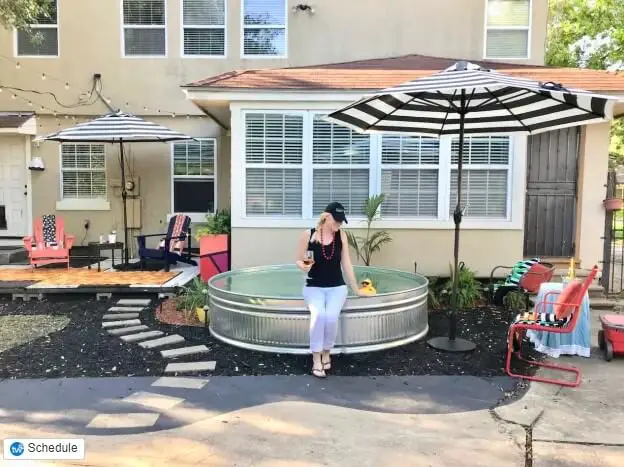 The earthy tones and the use of natural materials complement the stock tank pool, providing an authentic outdoor feel.
3. Tropical Stock Tank Oasis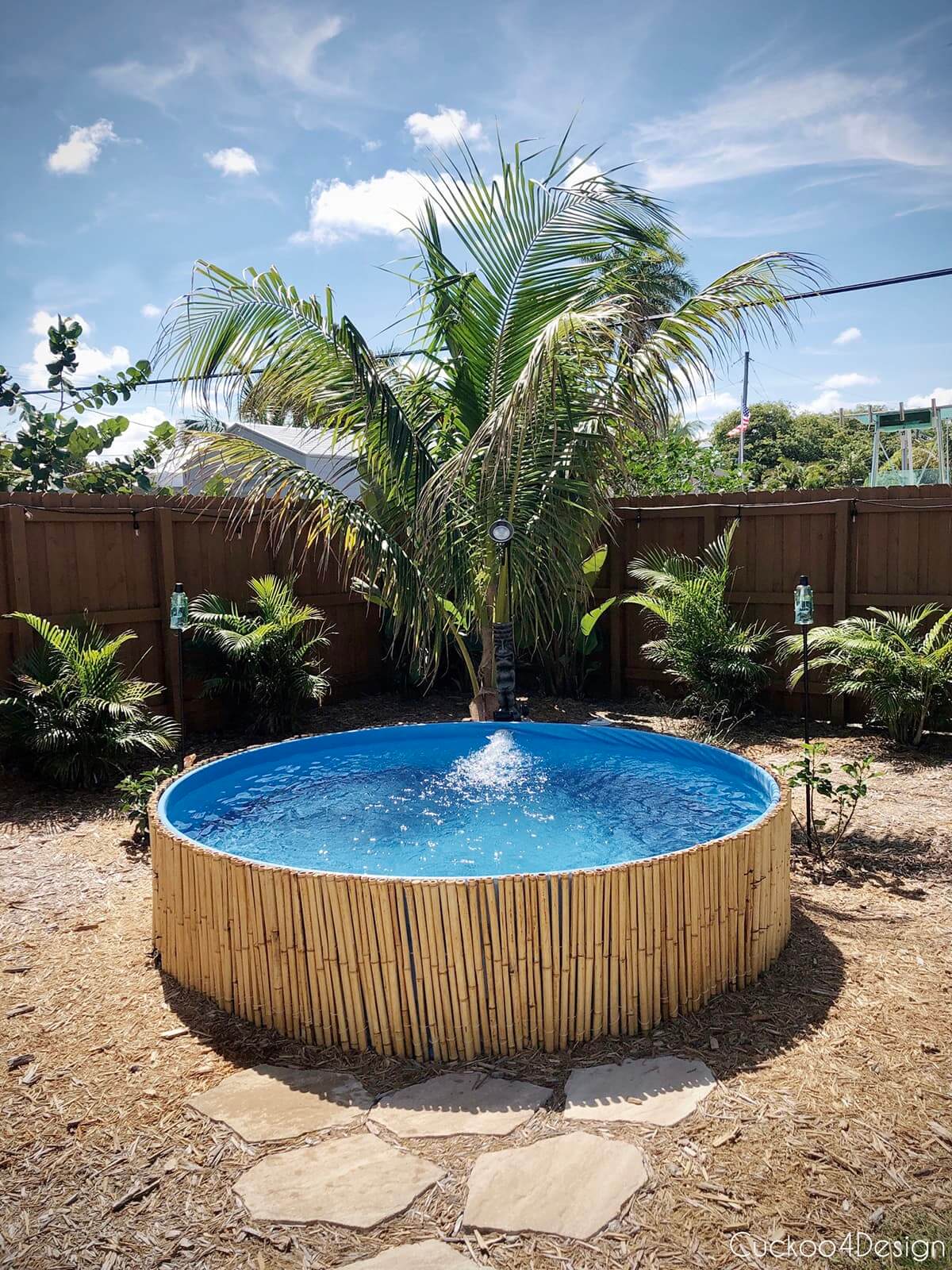 As stock tanks can rust over time, Cuckoo 4 Design proposes an intriguing solution: a pool liner. Not only does this add a fun visual element, but it also prolongs the life of your stock tank.
Complementing the liner with bamboo fencing around the pool introduces a tropical, beach-like feel to your backyard, making every dip feel like a vacation.
4. Mastering DIY: Pool Building Guide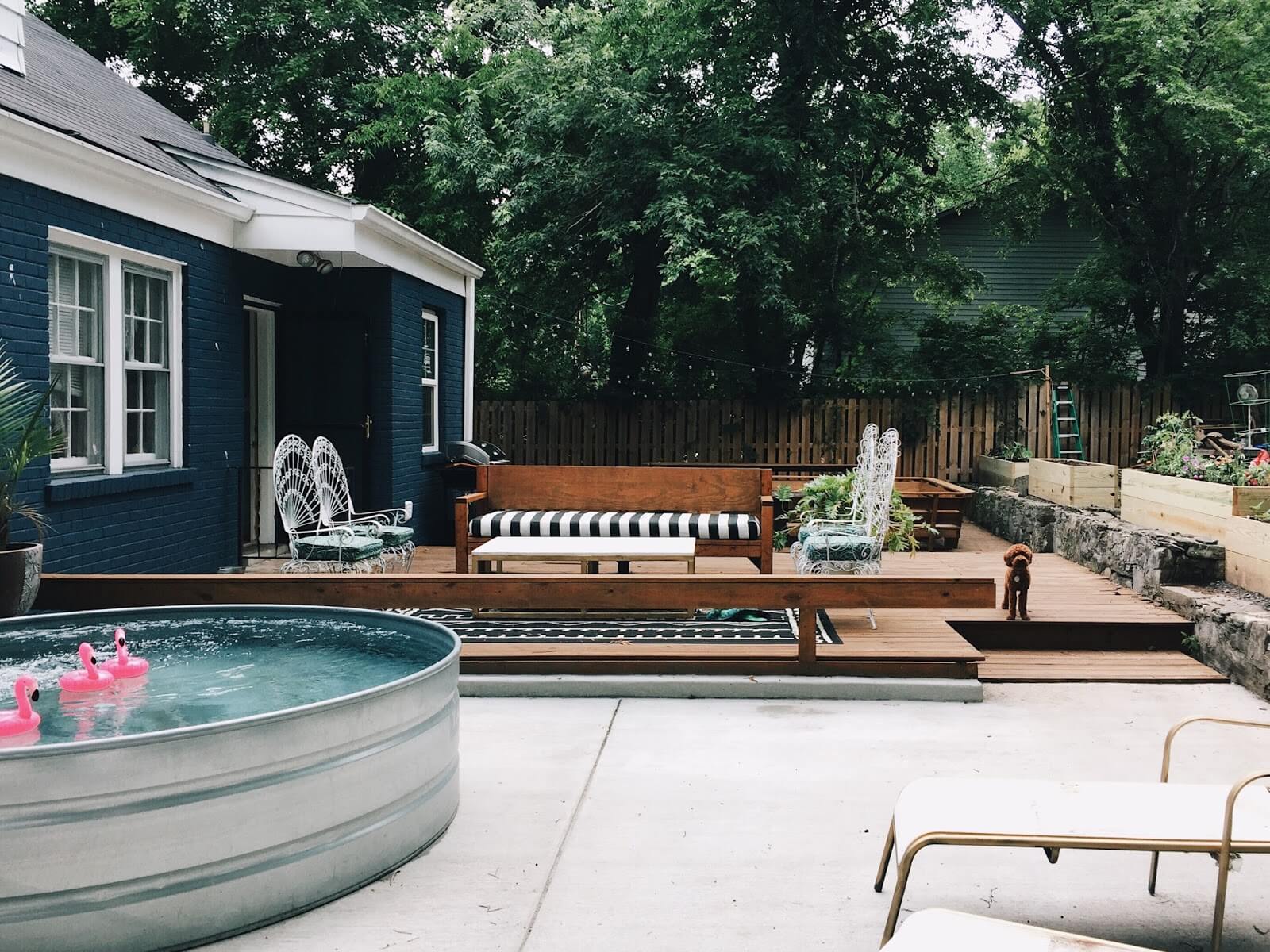 If you're considering crafting your own stock tank pool, Hey Wanderer is the ideal blog to start. They've crafted an insightful how-to guide with a step-by-step video that lays out the process with absolute clarity.
Their beautifully set up stock tank pool, surrounded by lush greenery, serves as both an inspiration and a tutorial. Be sure to consider their design elements while crafting your unique outdoor oasis.
5. Pool Painting with Style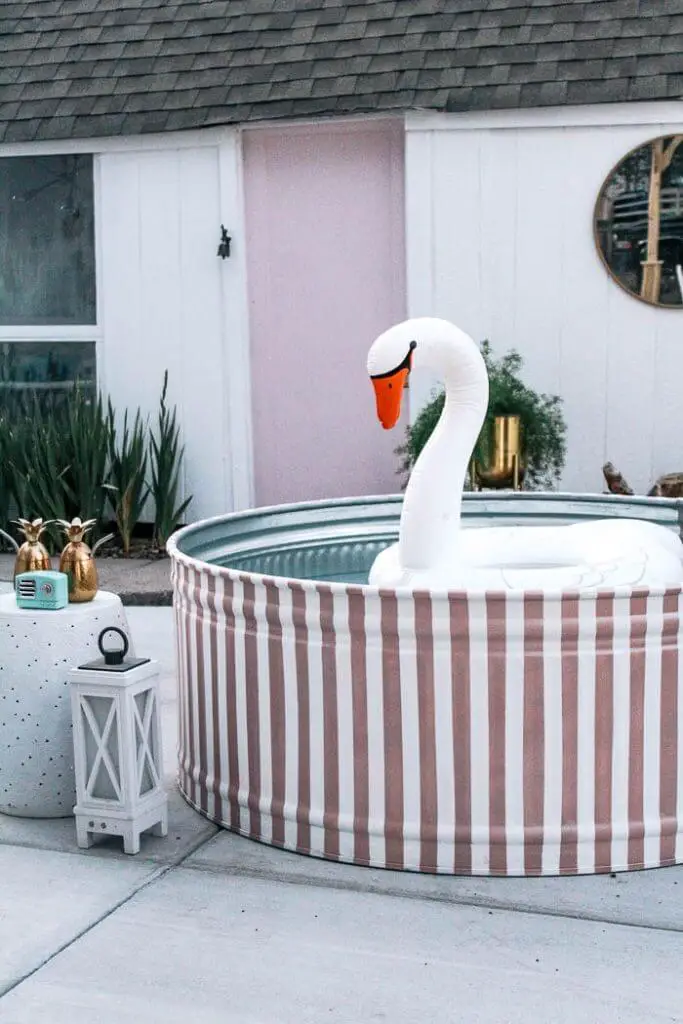 For those who enjoy DIY projects and personalizing their spaces, At Home With Ashley offers a step-by-step tutorial on painting your stock tank.
Their striped design, in soothing pastel colors, brings a modern, stylish look to the pool. With their guidance, you can turn your stock tank pool into a work of art that reflects your personal style.
6. Poolside Lounging Redefined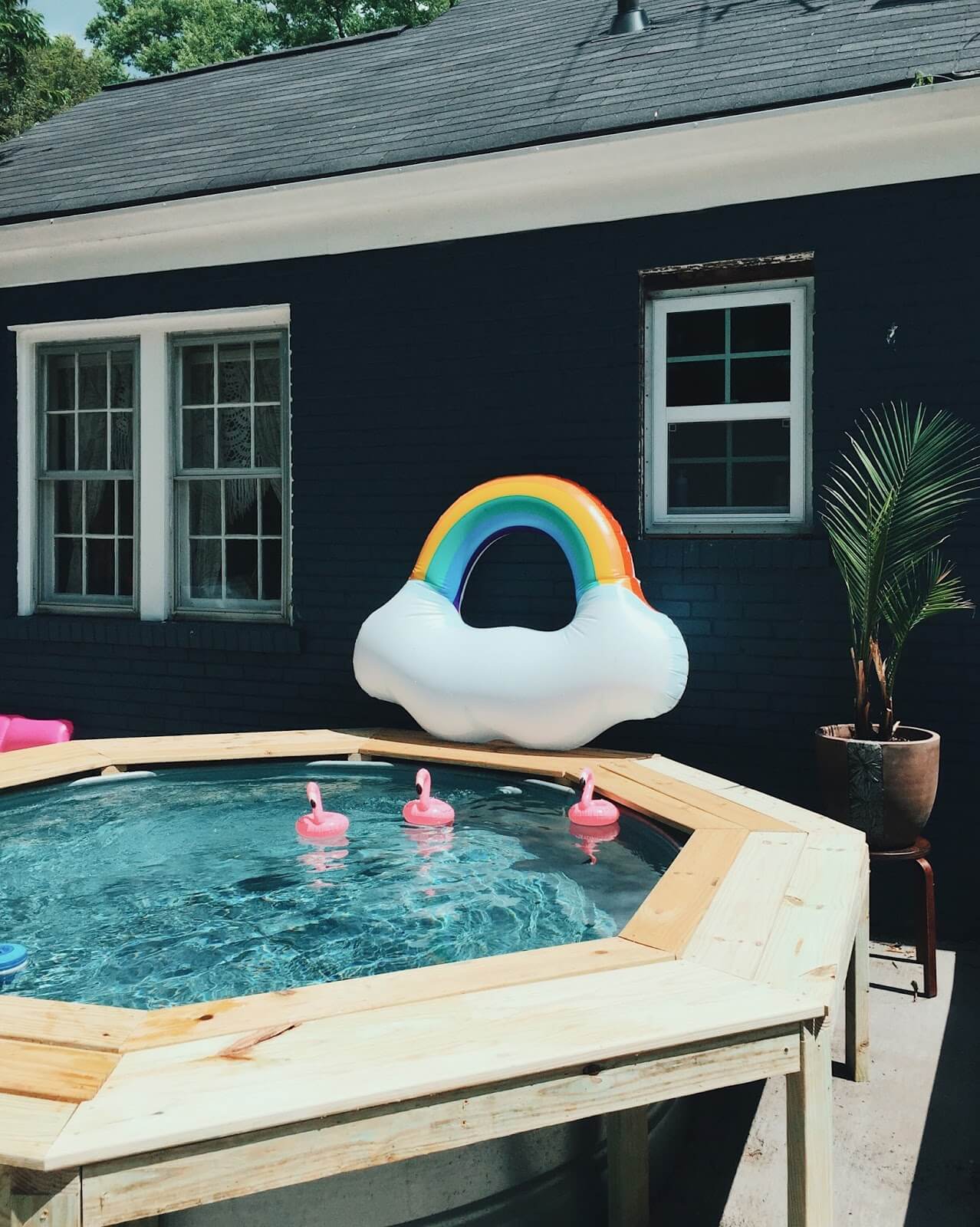 Combining utility with aesthetics, Hey Wanderer's idea incorporates a DIY bench surrounding the stock tank pool. It's the perfect spot for lounging, sunbathing, or simply dipping your toes in the water.
This bench becomes an integral part of the pool, enhancing its usability while adding a rustic touch to the setup.
7. Architectural Beauty by the Stock Tank Pool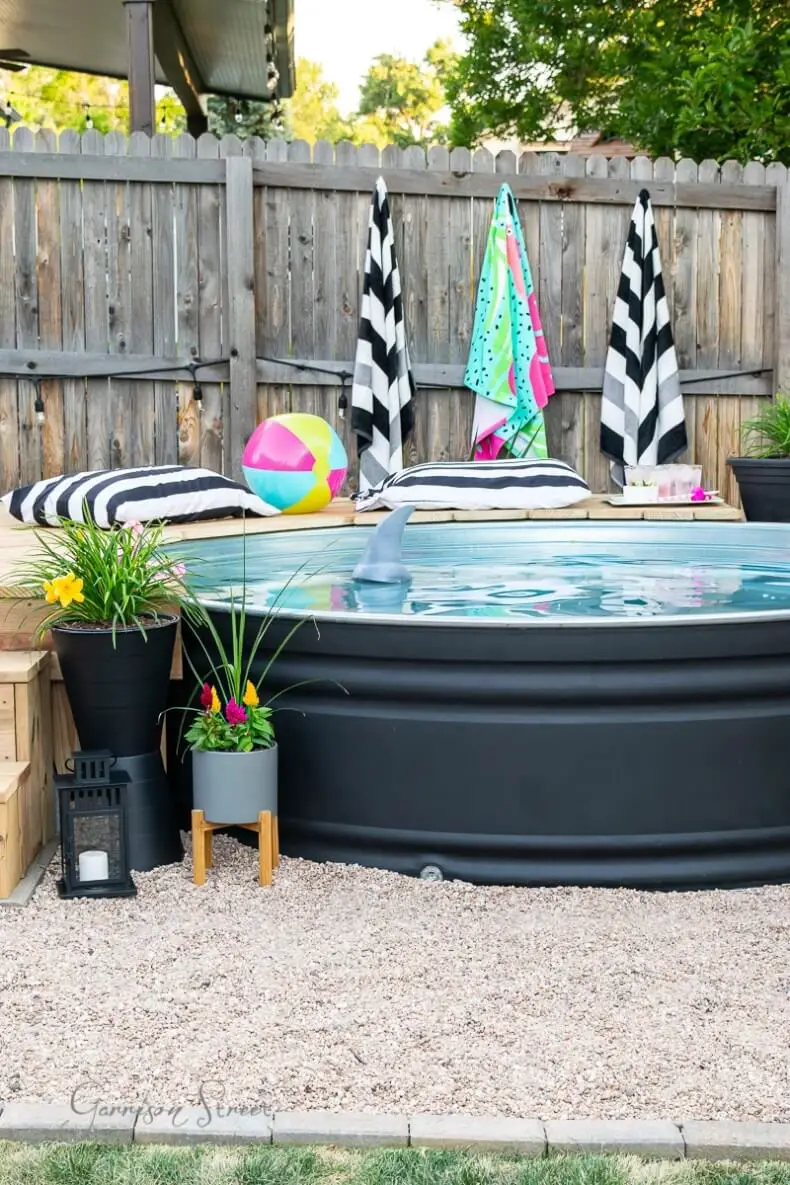 For those who love architectural elements, consider integrating a deck and stairs around your pool like Garrison Street Design Studio.
This design not only improves accessibility but also provides a platform for lounging and poolside activities. The deck serves as a great vantage point to admire your pool and provides a safe and comfortable area for those not in the water.
8. Charm in Small Sizes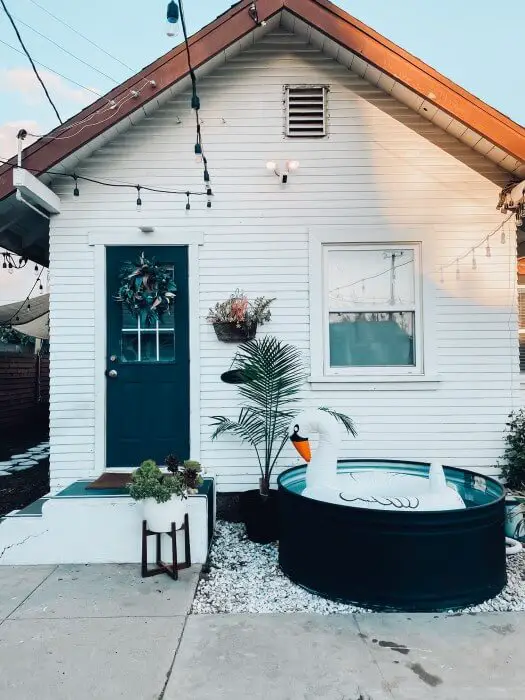 For small yards or those who desire a more intimate setting, a smaller stock tank like the one showcased by Uniquely Taylor Made might be a perfect choice.
It's a delightful reminder that a small space can still exude charm and coziness. Accompanied by tastefully chosen outdoor furniture, the area transforms into a perfect spot for a romantic evening or a quiet afternoon.
9. Cozy Backyard Transformation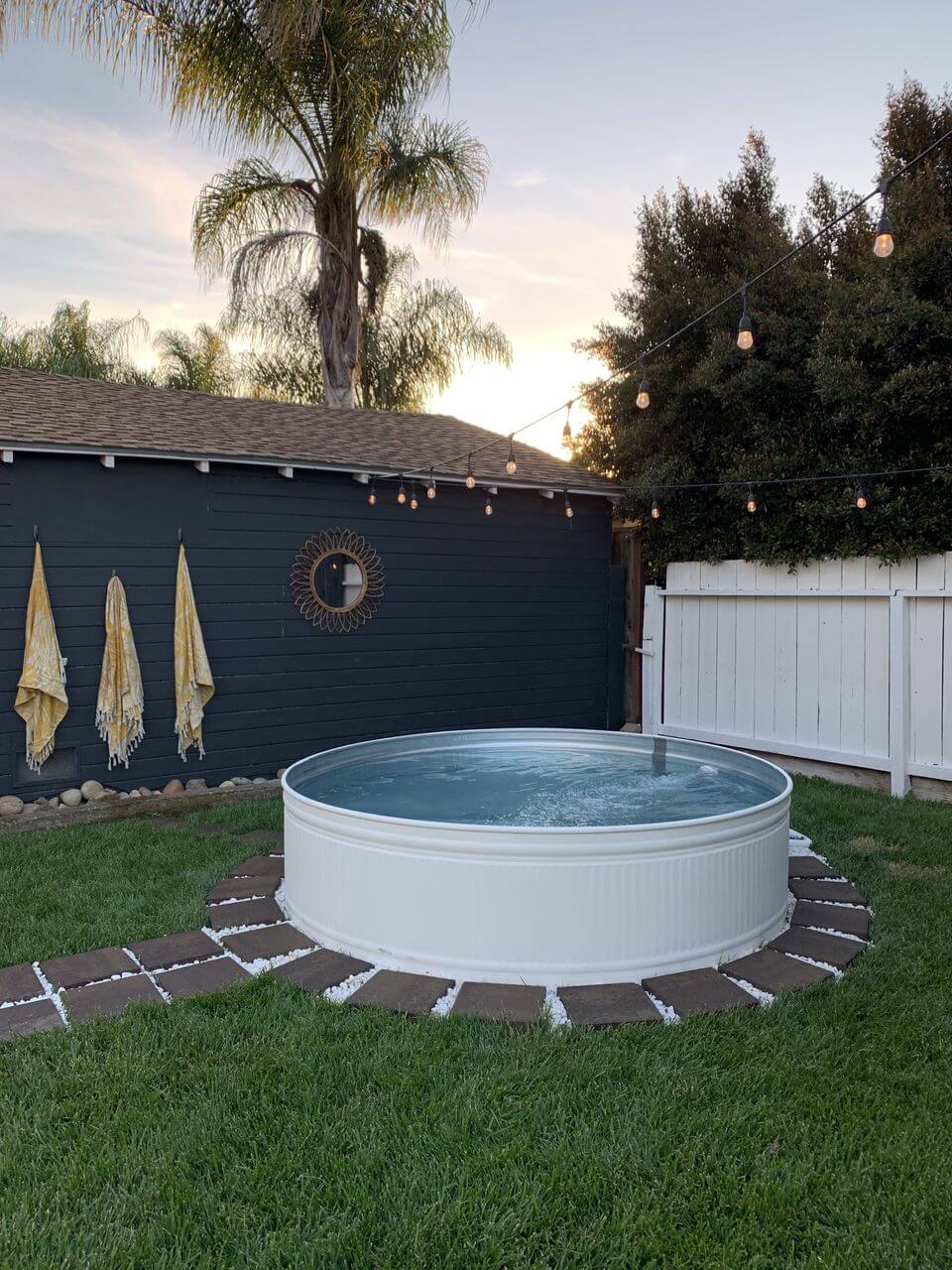 This setup transforms your backyard into a cozy oasis. The interplay of string lights, trees, and color-coordinated towels create an inviting ambiance for night swims and summer parties.
It's an excellent example of how small additions can enhance the overall aesthetic and functionality of your pool area.
10. An Ethereal Backyard Retreat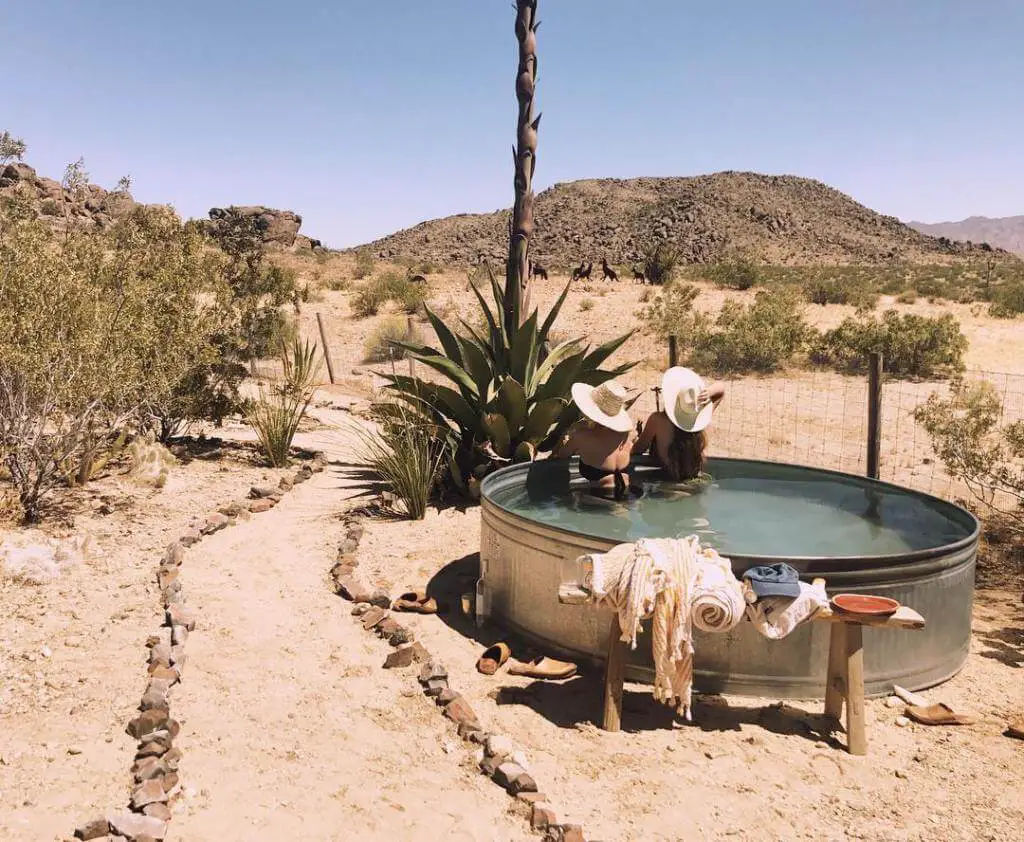 Emphasizing that a stock tank pool can virtually be set up anywhere, The Joshua Tree House showcases a dreamy pool setup against a beautiful rocky backdrop.
With the right lighting and placement, your pool can become an ethereal focal point of your backyard, providing a serene space for relaxation and escape.
11. Landscaping Meets Aquatic Charm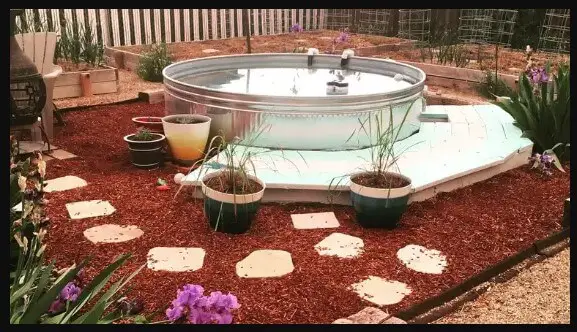 Rooted Revival offers innovative landscaping ideas around the stock tank pool, utilizing a mix of stones and plants that offer a balance of rustic charm and contemporary style.
By incorporating similar ideas, you can seamlessly blend your pool into your backyard's natural environment.
12. Elegance in Minimalism Backyard Stock Tank Pool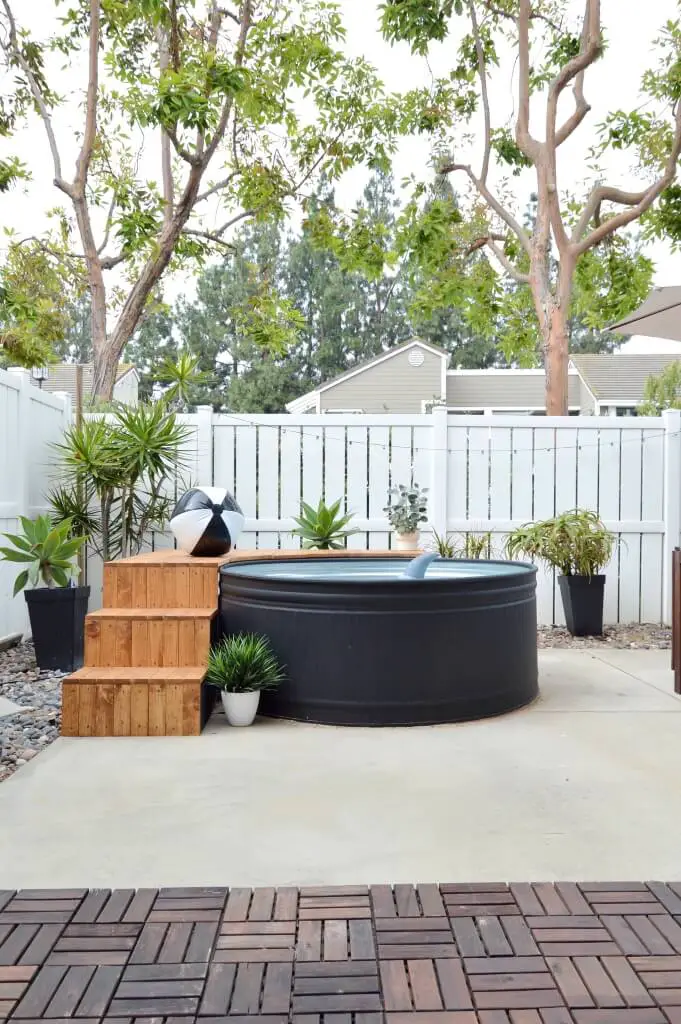 For those who adore minimalist designs, this elegant stock tank pool setup will appeal to your taste.
The pool's stark white surrounding contrasted with the rustic, metallic tank creates a sophisticated, modern look that's effortlessly chic. This setup proves that sometimes, less is indeed more.
13. Patio and Pool: Perfect Fusion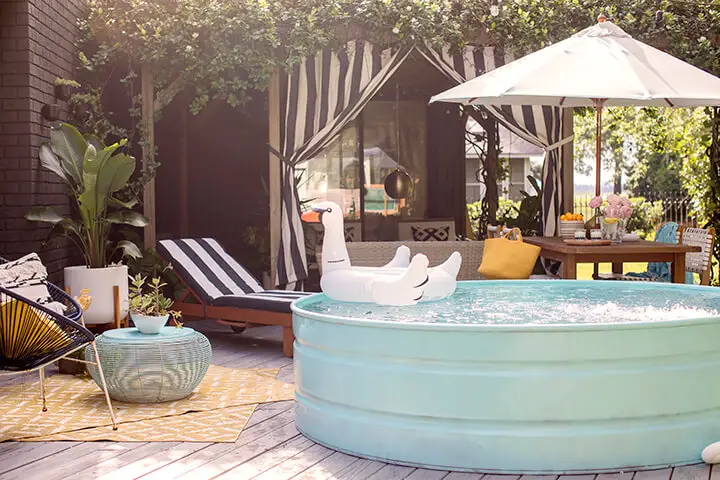 This idea takes stock tank pools to a new level by integrating the setup with the patio.
The result is a seamless transition between your indoor and outdoor spaces, allowing you to enjoy your stock tank pool without disconnecting from the comforts of your home.
The vibrant colors and unique design elements also contribute to creating a fun and enjoyable space for everyone.
14. Whimsical Poolside Color Explosion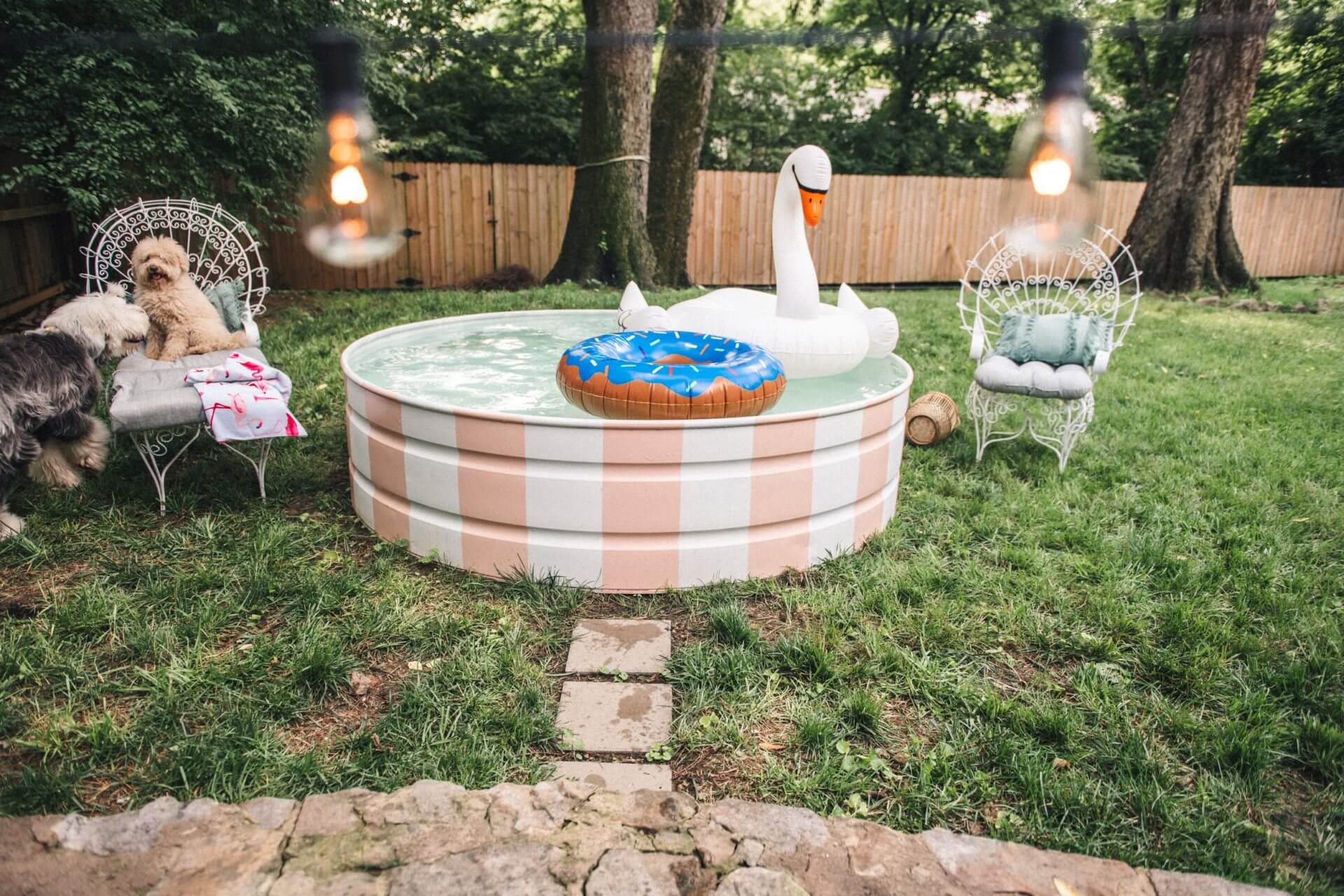 If you love a bit of whimsy and color, Hunter Premo's striped painted stock tank might be your go-to inspiration.
The colorful floats and matching chairs complement the tank's bright colors, adding to the overall fun and playful vibe of the space.
It's a perfect setup for those who love hosting pool parties or family gatherings.
15. A Natural Waterfall by the Pool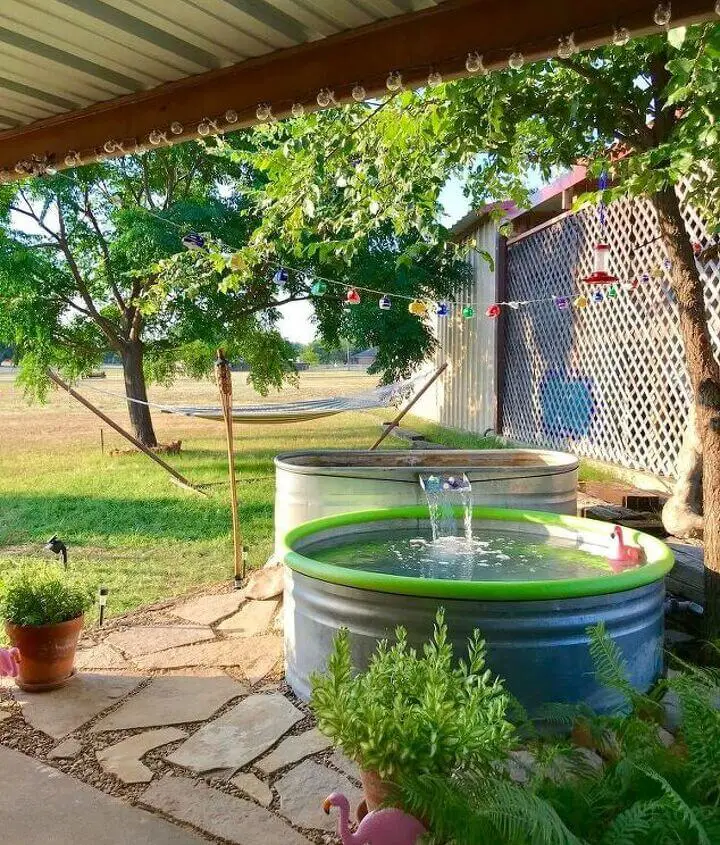 For those wanting to bring a touch of natural beauty to their backyard, Hometalk presents a unique setup with a small waterfall cascading into the stock tank pool.
This addition transforms a simple pool into a tranquil lagoon. The calming sound of flowing water enhances the pool's relaxing atmosphere, making your dips more rejuvenating.
Conclusion
These inspirational stock tank pool ideas are sure to assist you in creating a unique backyard oasis. Do check out each design for invaluable tips and tricks to implement in your own setup.
In conclusion, these 15 imaginative DIY stock tank pool ideas are designed to inspire you to create your dream backyard sanctuary. We hope you feel motivated to establish your own stock tank pool, offering endless enjoyment for your family and friends!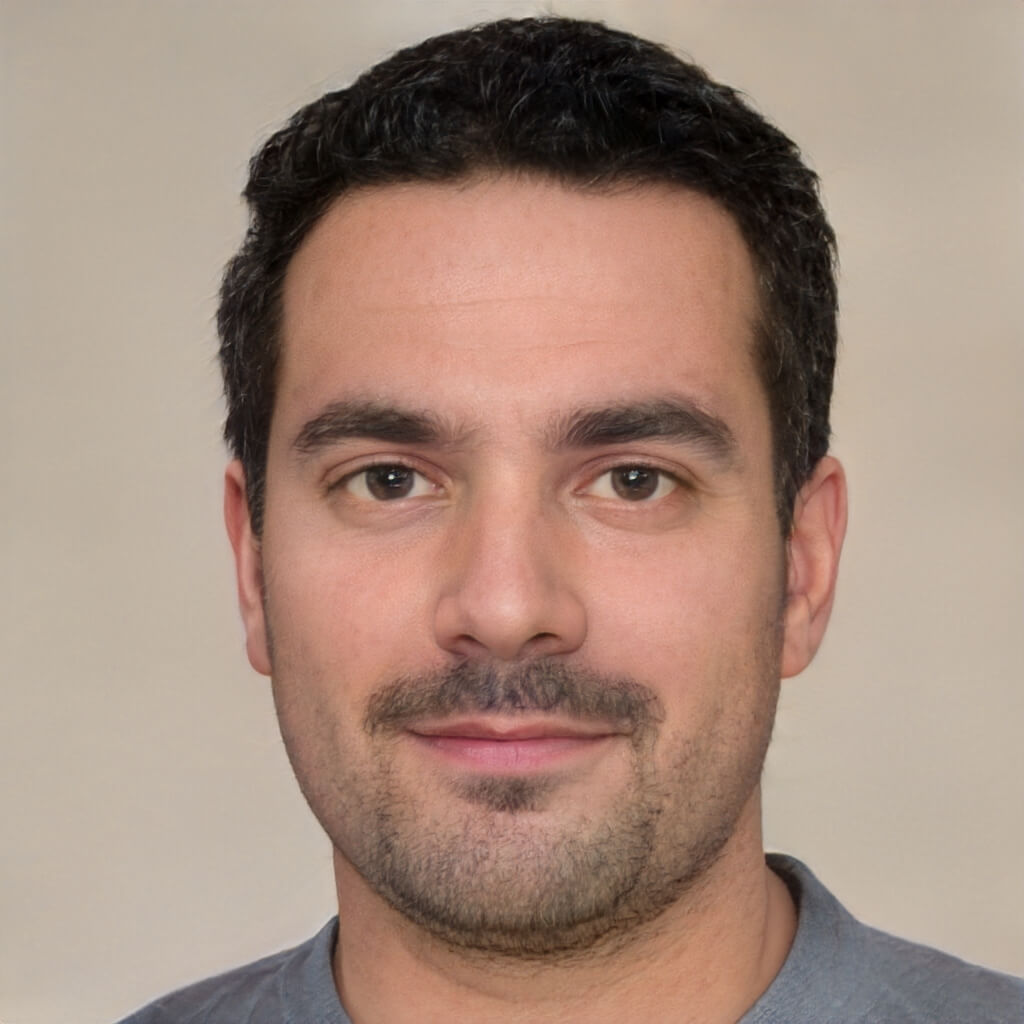 I'm a passionate home and garden enthusiast and the founder of Materialsix Home. With over 10 years of experience in the field, I've cultivated a deep love for all things related to home improvement, gardening, and interior design. Read more…