Are you looking for a unique and stylish way to enhance your bathroom? One of the trendiest and most versatile design options today is wallpaper. With a wide range of patterns, colors, and textures available, wallpaper offers endless possibilities for creating a stunning and personalized space.
Whether you prefer a bold statement wall or a subtle touch of pattern, incorporating wallpaper into your bathroom decor can add personality, color, and texture. In this article, we will explore ten stunning bathroom wallpaper ideas that will transform your bathroom into a stylish and inviting space.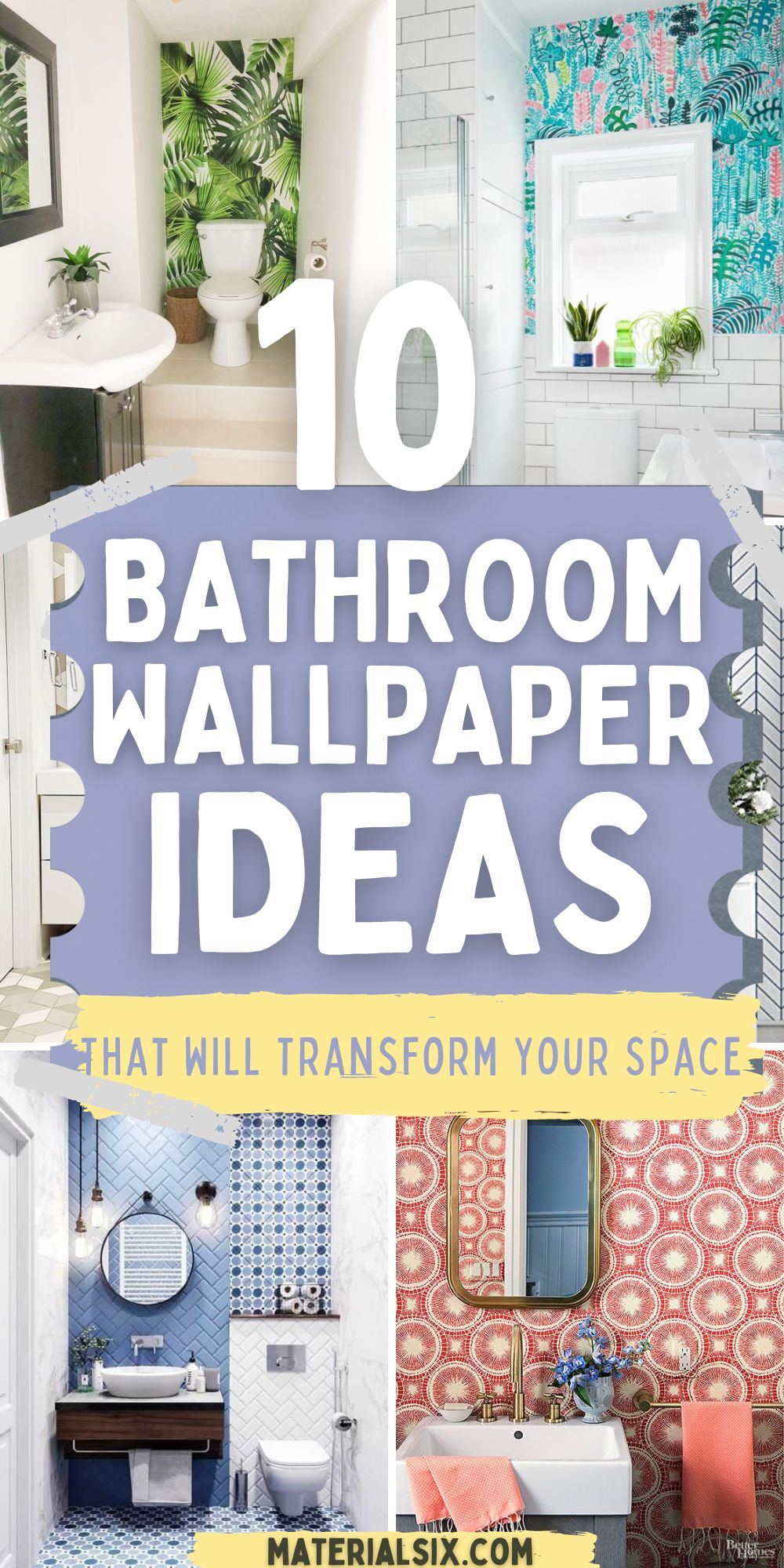 Beautiful Bathroom Wallpaper Ideas
1. Creating a Statement Wall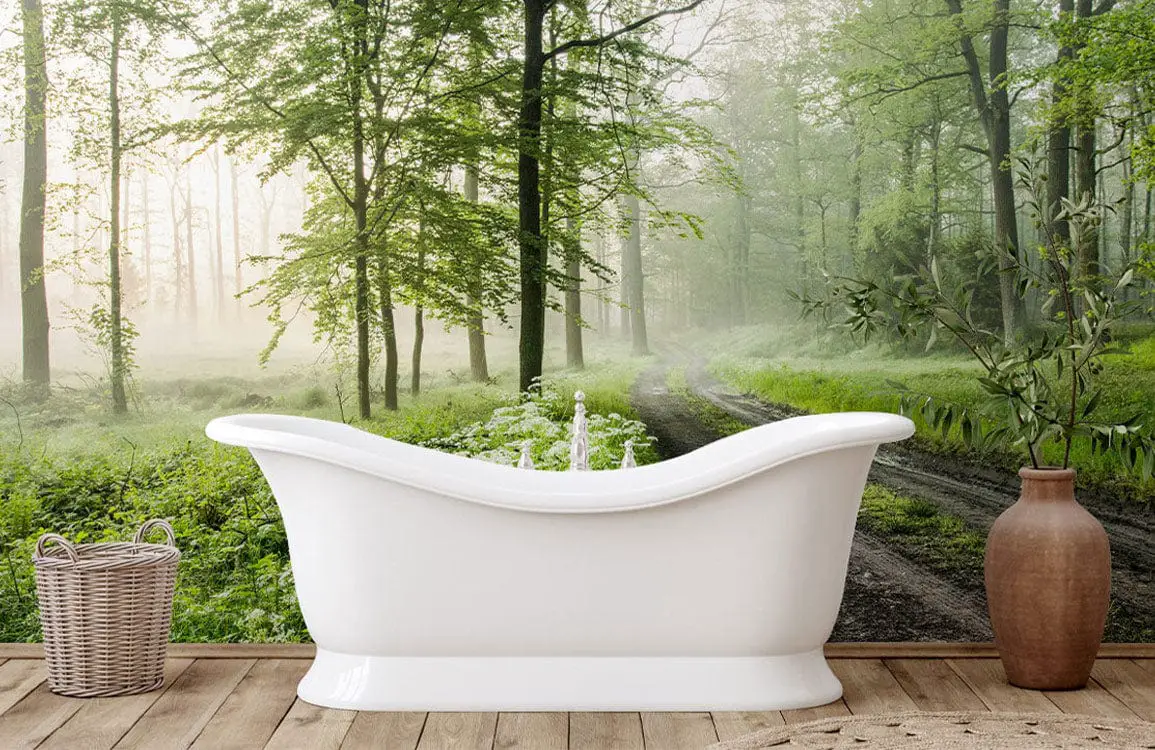 If you want to make a bold and dramatic statement in your bathroom, consider creating a statement wall with wallpaper. Choose a vibrant and eye-catching pattern or a mural that reflects your personal style and complements the overall theme of your bathroom.
The statement wall can be behind the vanity, bathtub, or even on the ceiling, adding a focal point that will instantly grab attention and make your bathroom stand out.
2. Choosing the Right Pattern
When selecting wallpaper for your bathroom, it's essential to choose the right pattern that suits your taste and style. If you prefer a more traditional and classic look, opt for floral or damask patterns.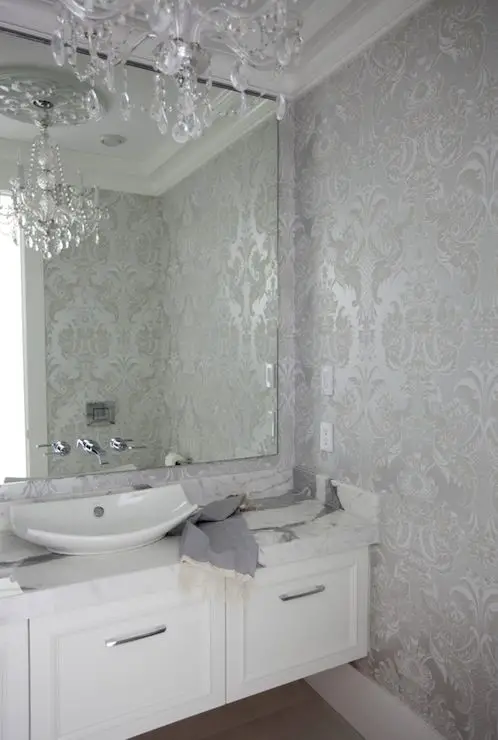 For a modern and contemporary feel, geometric or abstract designs are an excellent choice. Consider the size of your bathroom and the overall color scheme when selecting the pattern, ensuring it complements the existing decor and enhances the visual appeal of the space.
3. Adding a Pop of Color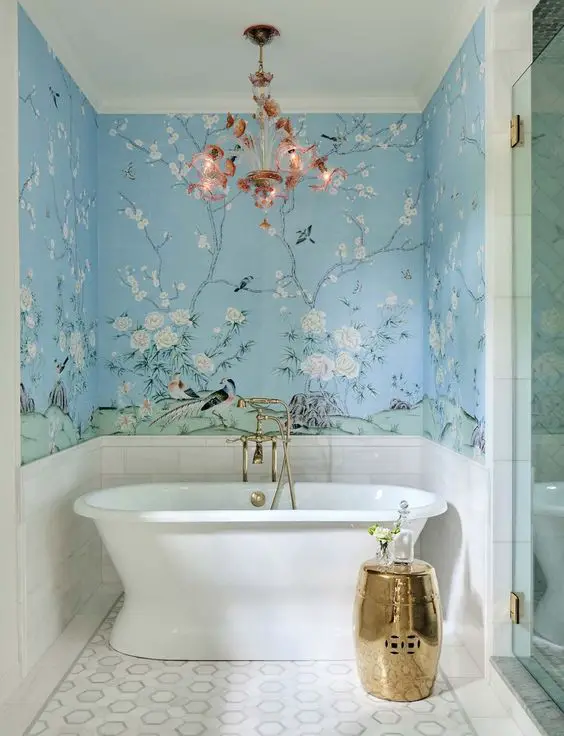 If you want to introduce a vibrant and energetic vibe into your bathroom, adding a pop of color through wallpaper is a perfect option. Choose a wallpaper with bright and bold colors that contrast with the existing color scheme.
This can be achieved through patterns, such as stripes or chevron, or through a solid-colored wallpaper that adds a visual burst of color to the space. The pop of color will instantly liven up your bathroom and create a cheerful atmosphere.
4. Incorporating Metallic Accents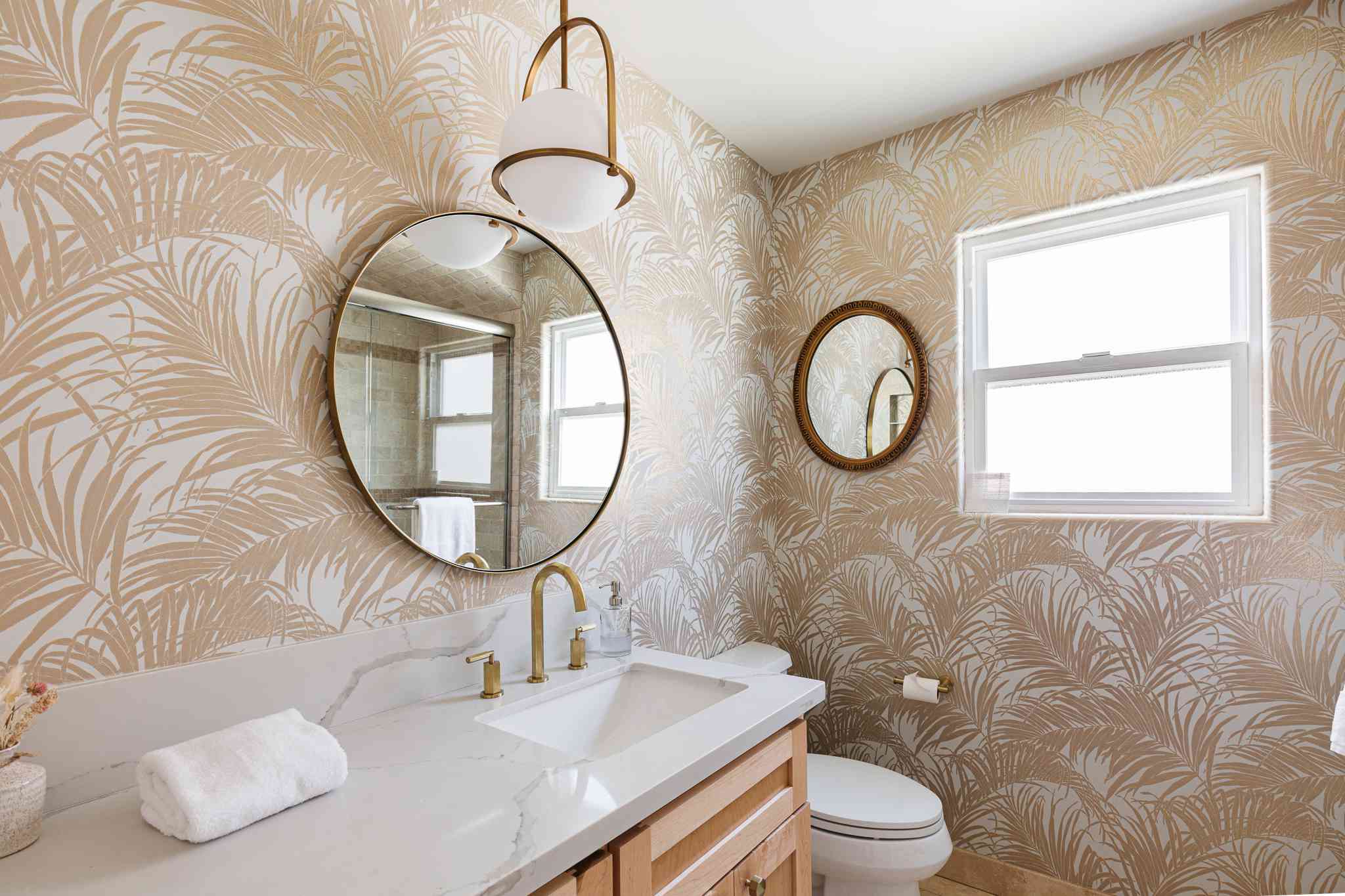 For a touch of elegance and sophistication, consider incorporating metallic accents into your bathroom wallpaper. Metallic wallpapers come in a variety of textures, such as foil or metallic ink, creating a luxurious and glamorous look.
The metallic accents add depth and shimmer to your bathroom, making it feel more opulent and stylish. Whether you choose gold, silver, or copper accents, these wallpapers will instantly elevate the aesthetic of your bathroom.
5. Opting for Nature-Inspired Designs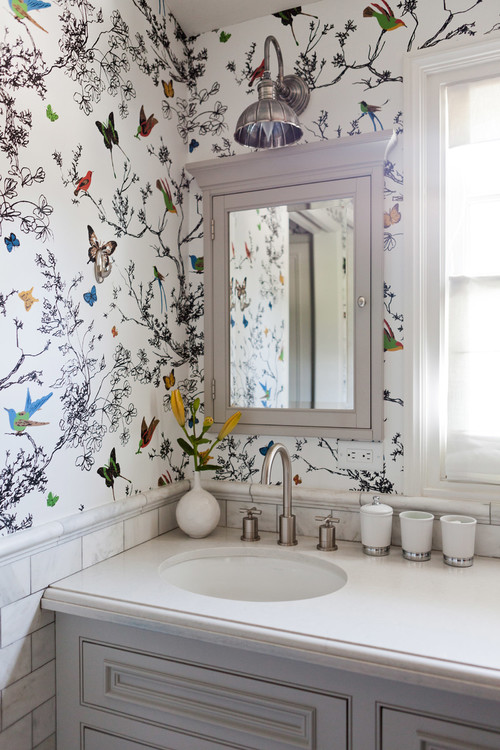 If you want to create a calming and tranquil atmosphere in your bathroom, consider opting for nature-inspired wallpaper designs. Choose wallpapers with botanical prints, such as flowers, leaves, or trees, to bring a sense of the outdoors into your bathroom.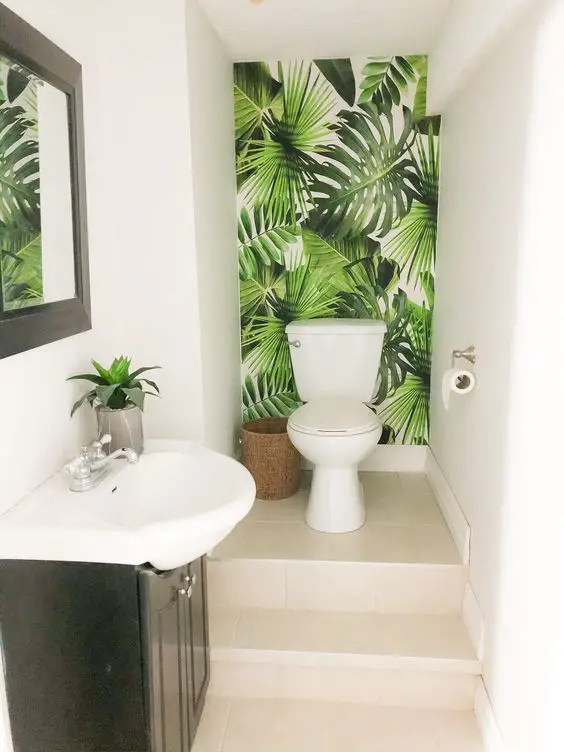 These designs create a serene and peaceful ambiance, making your bathroom feel like a private oasis. Natural colors, such as greens, blues, and earth tones, further enhance the calming effect.
6. Going Bold with Geometric Patterns
Geometric patterns have become increasingly popular in interior design, and they can make a bold and striking statement in your bathroom. From hexagons and triangles to squares and circles, geometric patterns add a contemporary and modern touch to any space.
Choose contrasting colors or opt for a monochromatic palette to create a visually stunning effect. These wallpapers will instantly add visual interest and a sense of dynamism to your bathroom decor.
7. Using Wallpaper as a Backsplash
Another creative way to incorporate wallpaper into your bathroom is by using it as a backsplash. Traditionally, tiles are used for backsplashes, but wallpaper can offer a more unique and customizable option.
Choose a water-resistant wallpaper or add a clear sealer to protect it from moisture and water splashes. The backsplash area, usually above the vanity or bathtub, is an ideal spot to introduce a pop of color, pattern, or texture that complements the rest of your bathroom decor.
8. Mixing and Matching Patterns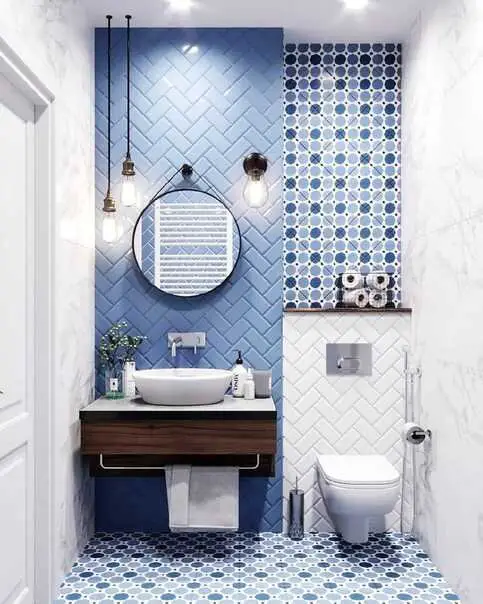 If you want to create a visually dynamic and eclectic look in your bathroom, don't be afraid to mix and match different wallpaper patterns. Choose wallpapers with complementary colors or patterns that share a common theme.
This technique adds depth and visual interest to your bathroom, creating a vibrant and unique aesthetic. Be mindful of the scale of the patterns to ensure they work together harmoniously without overwhelming the space.
9. Creating a Tranquil Spa Atmosphere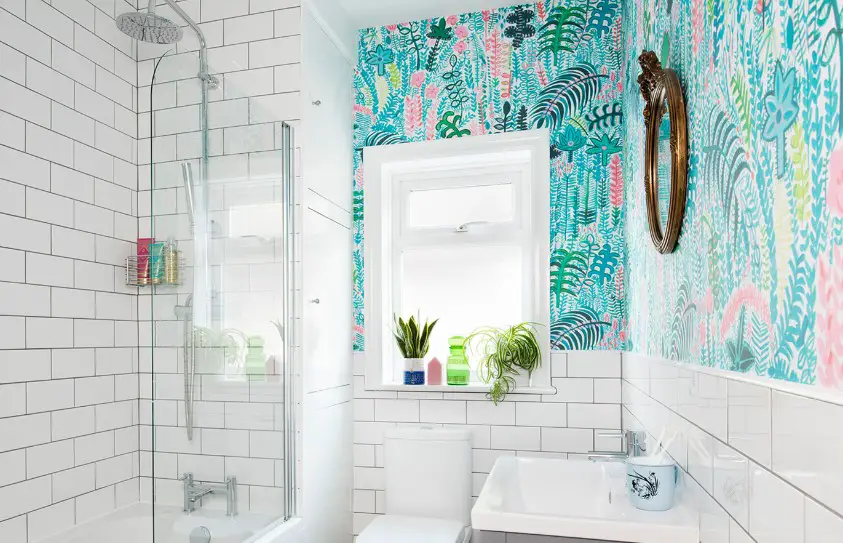 Transform your bathroom into a tranquil and spa-like retreat by choosing wallpaper that evokes serenity and relaxation. Opt for wallpapers in soft, muted colors, such as pastels or neutrals.
Consider designs with water motifs, such as waves or water droplets, to create a calming atmosphere. Enhance the spa-like ambiance by adding plants, scented candles, and soft lighting to complete the serene oasis feel.
10. Considering Easy-to-Clean Options
When choosing wallpaper for your bathroom, it's essential to consider practicality and easy maintenance. Look for wallpapers that are specifically designed for bathrooms and are resistant to moisture and humidity.
Vinyl or washable wallpapers are ideal choices as they can be easily wiped down, ensuring their longevity and preserving their beauty. This way, you can enjoy the aesthetics of wallpaper in your bathroom without the worry of excessive wear and tear.
Conclusion
Enhance your bathroom with these stunning wallpaper ideas and transform it into a stylish and inviting space. Whether you prefer a bold statement wall or a subtle touch of pattern, there are endless options to suit your taste and style.
By incorporating wallpaper into your bathroom decor, you can add personality, color, and texture, creating a truly unique and beautiful aesthetic. Don't be afraid to experiment and have fun with different patterns, colors, and textures to create a bathroom that reflects your personal style and enhances your daily routine.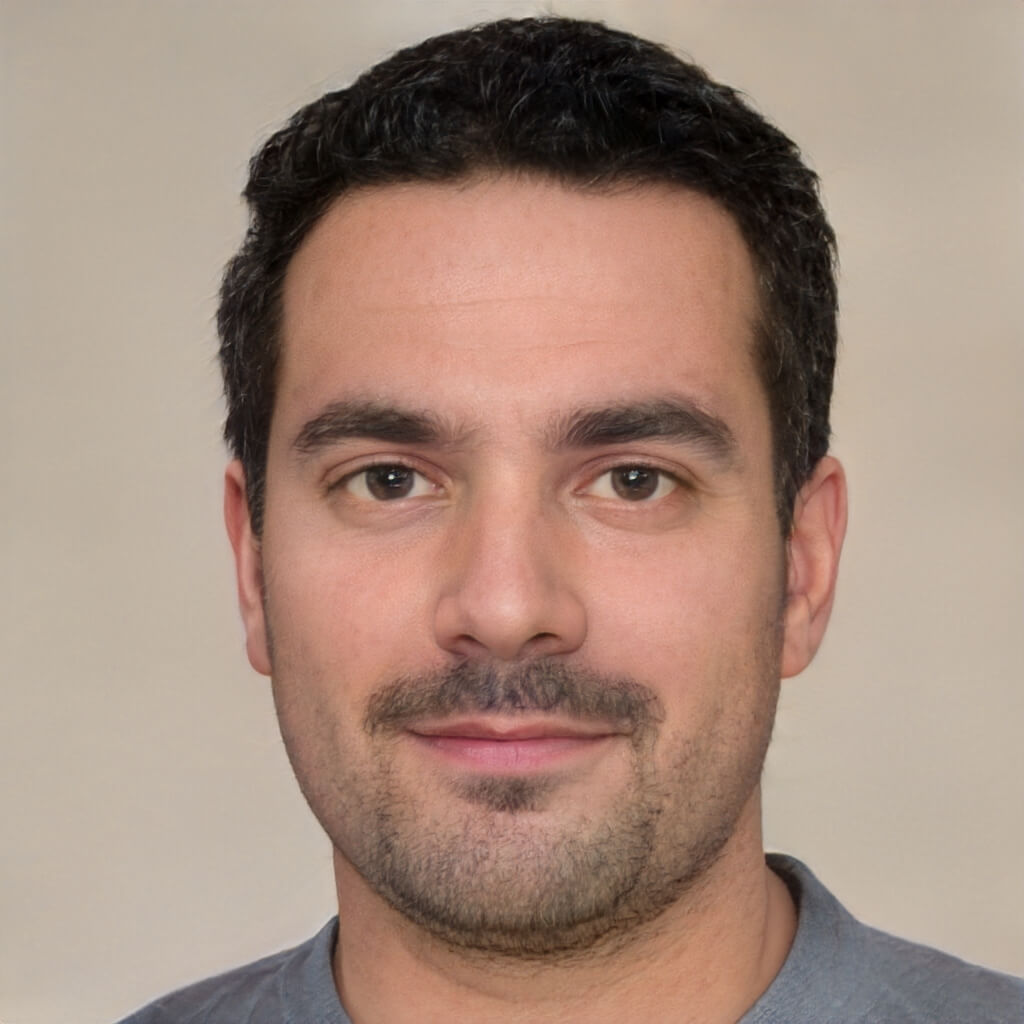 I'm a passionate home and garden enthusiast and the founder of Materialsix Home. With over 10 years of experience in the field, I've cultivated a deep love for all things related to home improvement, gardening, and interior design. Read more…