Looking to create a modern living room that's both stylish and inviting?
Look no further! Our guide to the 7 essential elements for a modern living room design is here to inspire you.
From sleek furniture to statement lighting, we'll show you how to achieve that effortlessly chic look you've been dreaming of.
Get ready to transform your space and wow your guests with these must-have design tips!
1. Wall Paints
For a modern living space, selecting the right interior wall finishes is vital for creating an immersive and cohesive atmosphere. Colors, textures, and patterns you pick will affect the overall look of the room.
Neutral Hues: A popular trend in modern living room design is having a neutral color palette. Shades of white, beige, and gray provide a sleek backdrop for furniture and accessories.
Bold Accents: Adding a bold color to one or two walls is increasingly common. Accent walls create character and visual interest.
Texture Paint: For those wanting to add dimension to walls, textured paint is a great choice. It adds depth by creating a tactile feel.
Wallpaper: Wallpaper is a go-to option for adding pattern and texture. From geometric prints to delicate floral designs, wallpaper can totally transform a space.
Glossy Finish: High-gloss is becoming a favorite among designers for interior wall finishes. High sheen reflects light making the room look brighter.
It's important to consider how the wall finishes complement other aspects of the living room. Plus-sized paintings across full-length curtains will draw attention.
When exploring options, remember wall paints are not only functional but also artistic. Choose possibilities that fit your style while being cohesive with other elements.
2. Furniture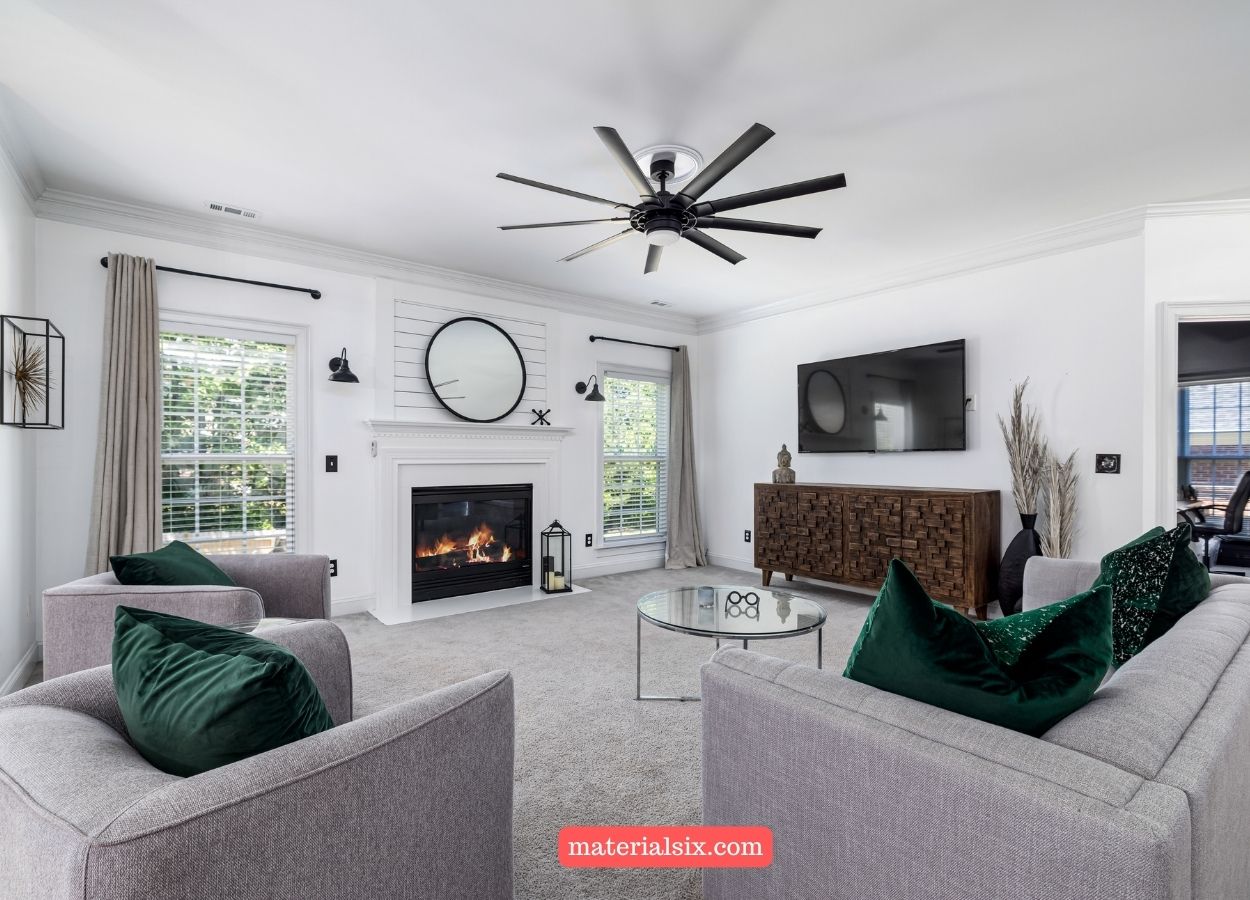 Furnishings are the centerpiece of a modern living room. They can create a comfortable space for relaxation, socializing, and entertainment.
To ensure a well-designed living room, there are specific furniture elements to consider, such as:
Seating: A sofa or sectional provides comfortable seating for guests or family members.
Coffee table: A low table in front of the seating allows for drinks, snacks, and books.
Accent chairs: Additional seating can be added through accent chairs, which can also add to the room's style.
Storage: Cabinets or shelves can be used to store books, DVDs, and other items.
Lighting: Floor lamps, table lamps, or ceiling fixtures can provide both functional and decorative lighting.
Rug: A rug can define the living space, create warmth, and provide a softened surface.
A crucial aspect to consider while selecting furniture pieces is to ensure the pieces are proportional to the room size. If the furniture is too large, it can make the room feel cramped, and if it's too small, it can feel empty. It's essential to maintain balance and harmony between the furniture and the living room's size.
Don't miss out on designing a well-furnished living room that can create a warm and inviting atmosphere while entertaining guests or relaxing with family members. Take inspiration from the latest furniture trends and create a space that reflects your personality and unique style. Start designing your dream living room now!
Your statement sofa should be so comfortable that even your enemies would want to sit on it.
A Statement Sofa is a bold and impressive investment piece for any home. It can instantly transform the look of a room to stylish.
These sofas come with unusual shapes and proportions, like curved backs or asymmetric designs. Plus, luxurious materials like velvet or leather, in bright colors or patterns. Add throw pillows that complement the sofa's style for extra impact. Combining with more subtle furniture items will balance the room, avoiding it from getting too much.
A Statement Sofa brings a cozy atmosphere to your home, inviting guests to gather. Its unique aesthetic and comfortable seating make it a great conversation starter.
Tailor-made solutions are achievable with a unique, custom-crafted table. , tags can be used to craft a table for specific requirements. For instance, if one needs a work table to hold a computer and other writing or drawing materials, columns can be put in place to accommodate these.
Adding features like drawers, shelving, or different surface textures is an option. Customized tables provide versatility in both design and function.
Alternatively, an old piece of furniture can be upcycled with new legs or a refurbished tabletop. This allows entirely new designs to be created while being sustainable by repurposing furniture that would otherwise go to waste.
When it comes to making furniture that fits particular needs, creativity and customization are key. Everyone has their own unique specifications, and customizable options offer the flexibility to tailor furniture according to those demands. With thoughtful consideration of design and function, personalized furniture offers limitless possibilities for creating bespoke household items that suit your lifestyle.
3. Window Treatments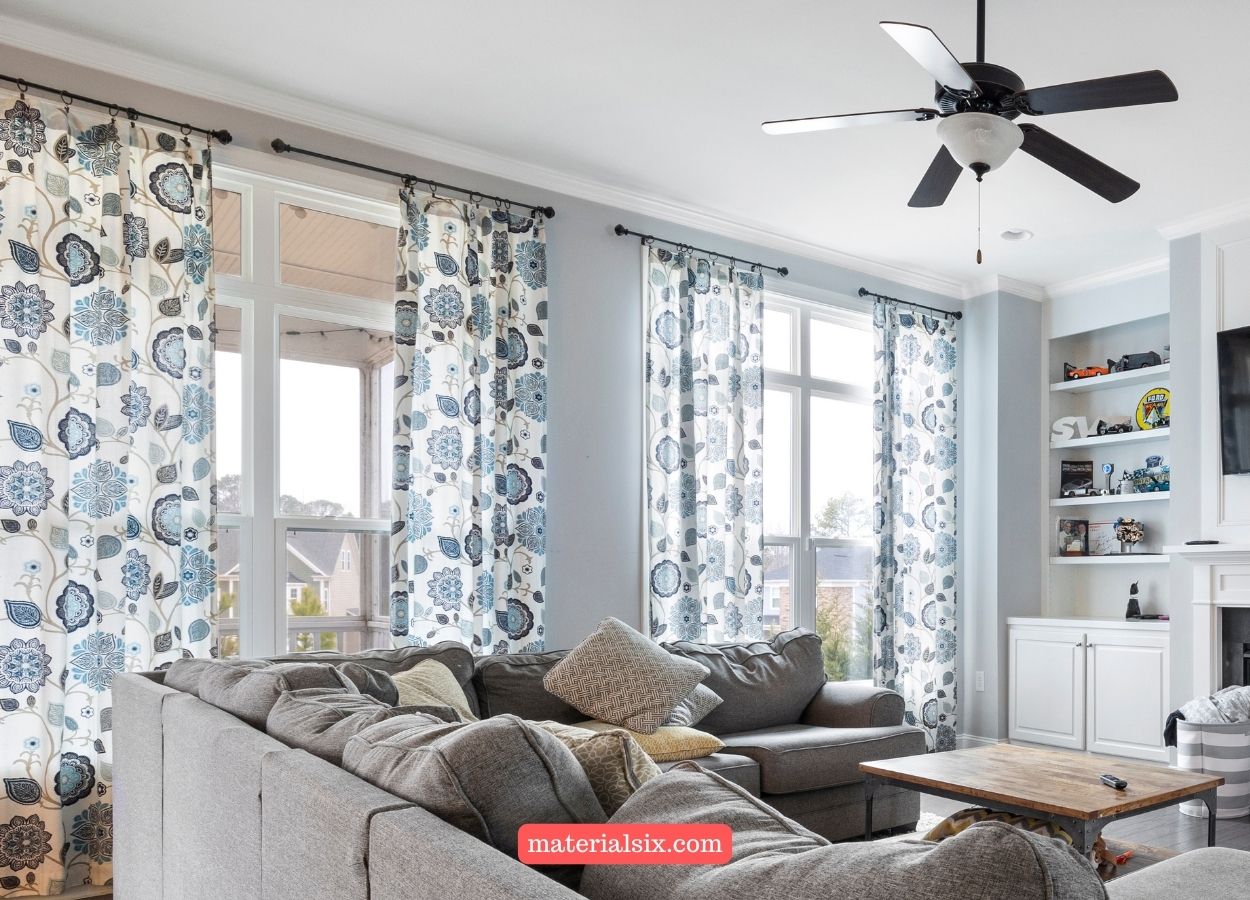 Maximizing natural light is important in creating a well-designed living room. An important factor to consider are the adornments that can be placed on windows to control the amount of light and privacy.
| Type of window treatment | Material | Pros | Cons |
| --- | --- | --- | --- |
| Curtains | Lightweight fabrics | Soften and add texture to a room, versatile | Needs regular cleaning |
| Roman Shades | Light filtering or blackout fabric | Energy efficient, sleek, and modern design | Can be expensive |
| Blinds | Different materials such as wood, plastic, and metal | Provides light control, low maintenance | Can be noisy |
Be mindful of the placement of furniture in relation to the windows and the type of treatment. For example, if you are considering floor-length curtains, be cautious of them being too close to furniture.
Pro Tip: Consider layering different treatments, such as a blackout roller shade behind light filtering curtains, for extra light and privacy control.
"They say drapes are the eyes to the soul of your living room, so make sure they're not giving off a creepy stare."
When it comes to window treatments, fabric window coverings like drapes are a must for any room. Drapes are fabric panels that hang from a rod or pole. They can control light, temperature, and provide privacy.
It's important to know the key details about drapes:
| Type | Material | Style | Functionality |
| --- | --- | --- | --- |
| Full Length Drapes | Silks, Velvets, Cottons | Pinch Pleated, Grommet Top, Rod Pocket | Block Light & Heat Well |
| Café Curtains | Cottons, Lace, Linen Blend | Tab Top or Tie Top | Bring in Ambient Natural Light |
| Sheers | Linen Bends, Voile Fabrics | Grommet top or Rod Pocket | Diffuse Light while providing privacy |
Drapes also enhance the look of a room. They come in many textures, colors, and patterns. They can transform a simple room into something special.
Choosing the right drapery for your windows is important. It adds to the character of your living space.
They give you privacy, light filtering, and insulation. Blinds come in wood, vinyl, aluminum, or fabric. Vertical, horizontal, roman, and roller blinds are all available.
You can find corded or cordless to fit your safety needs. Colors, patterns, and sizes can be customized for your decor. Installation is not hard and maintenance is minimal. Plus, some kinds like cellular or honeycomb blinds are energy-efficient, so you can save on heating and cooling bills.
4. Lighting
Optimizing Illumination in your Modern Living Room Design
One crucial component of modern living room design is illumination. Proper lighting can transform a space, creating a warm and inviting ambiance while also enhancing its functionality.
Various Lighting Options for Modern Living Room Design
| Type of Lighting | Its Purpose in the Living Room |
| --- | --- |
| Ambient Lighting | Provides overall illumination to the room |
| Task Lighting | Serves a specific function or task |
| Accent Lighting | Directs focus to a particular object or area |
These lighting options can be used in combination to achieve the desired effect in your modern living room design.
It is important to consider the placement of light sources to avoid casting harsh shadows or creating glare. One option is to incorporate a dimmer switch to adjust the lighting levels according to the time of day or mood. Wall sconces can also be used to add a decorative element while also providing ambient lighting. Additionally, consider energy-efficient lighting solutions, such as LED bulbs, to reduce environmental impact and lower energy bills.
Don't miss out on the opportunity to create the perfect modern living room design by neglecting the importance of proper lighting. By considering the various lighting options and strategically placing light sources, you can elevate the ambiance and functionality of your space. Take action now to transform your living room into the perfect modern oasis. Overhead lighting should be carefully chosen to ensure your living room doesn't resemble a prison interrogation room.
Lighting placed overhead can affect the atmosphere of a room. Whether it's brightening or dimming, the right placement and brightness is key to getting the desired feel. The style and character of the space are also affected by the type and design of the fixtures.
Picking the right size and number of lights makes sure the light is evenly distributed. Overhead lighting is great for making a standout point in a room or illuminating specific areas like counters or desks. You can pick from pendant lights, chandeliers, track lighting, and recessed lights for overhead lighting that looks good and is practical.
To avoid harsh shadows or glares, use light bulbs with the correct wattage. LED, fluorescent, incandescent, or halogen bulbs can all create different levels of warmth or coolness. Think about fixtures with adjustable brightness, so you can change it to your liking.
In the end, the right kind of overhead lighting will make sure your indoor spaces have enough light and a nice atmosphere. There are plenty of designs available, so you can add a layer of character to your interiors with overhead lighting.
Task lighting is a must for any well-lit space. It provides bright and focused light, perfect for activities like reading, writing, or cooking. Desk lamps, under-cabinet lights, and floor lamps are great sources of task lighting. Place them carefully to avoid harsh glares or shadows.
Choosing the right task lighting depends on the activity. Reading may need brighter, direct light while watching movies require dimmer lighting. Lamps with adjustable necks work great for directing light. Lighting temperature can also influence productivity. Cool white light is stimulating, while warm white light soothes the eyes.
Go for bulbs with a color rendering index (CRI) of 90/100 or above. This helps avoid eye strain and boosts color perception. You can also use dimmers to control the intensity and atmosphere of the lights conveniently.
Combine task lighting with other ambient lighting sources to create a comfortable space that meets all activity needs.
5. Artwork And Accessories
Decorating the Living Room with Fine Art and Decorative Pieces can elevate the overall decor of a contemporary living room.
Here are six points that pertain to Decorating the Living Room with Fine Art and Decorative Pieces:
Choose art pieces that complement the theme of the living room
Experiment with different sized and shaped art pieces for a varied visual appeal
Keep the decorative pieces minimal for a clutter-free look
Showcase any prized possessions or souvenirs as statement pieces
Use statement area rugs as an art piece
Use plants as decorative accents as well as air purifiers
Unique details about Decorating the Living Room with Fine Art and Decorative Pieces can enhance the decor's unique personality.
I recently visited an art gallery where the owner had beautifully embellished the living room with exquisite works of art, exotic lamps, and vibrant rugs. The decor looked stunning yet had a cozy feel, creating an inviting ambiance that left an indelible impression on me.
Add some personality to your living room with unique art pieces, but be warned – your friends might start questioning your taste level.
When it comes to art, there are many options. These one-of-a-kind pieces can bring character to a room.
To find the right art, decide which medium best suits your taste. Different mediums evoke different feelings. So, choose one that fits with your vision.
For example:
Metal or glass sculptures for a contemporary feel.
Paintings on canvas, antique figurines, or bronze statues for a classic look.
Here is a table of popular unique art pieces:
| | |
| --- | --- |
| Metal Sculptures | Welded metal pieces |
| Glass Art | Hand-blown glass |
| Paintings on Canvas | Painted directly on canvas |
| Antique Figurines | Historical figurines |
| Bronze Statues | Majestic creatures or inspiring individuals |
You could also choose something more individual such as mural paintings or ornamental items.
Investing in Unique Art Pieces is a great way to show off craftsmanship and add personal style.
Enhance any room with ornamental accents! These decorative items liven up your space and make it more cozy.
Wall hangings, flower vases, paintings, and photo frames add a personal touch. Lighting fixtures like lamps, chandeliers, and candles create a special ambiance. Throw pillows, rugs, and curtains can totally transform the look.
Adding these items not only boosts character but also makes it look amazing. Using items that fit your style gives you a unique home.
6. Textiles And Rugs
The Importance of Soft Furnishings in Modern Living Room Design
A living room is the heart of any home, and it should be comfortable, cozy and inviting. The right textiles and rugs can make all the difference in creating a welcoming and stylish space.
| Textiles | Rugs |
| --- | --- |
| Pillows | Area Rugs |
| Throws | Runner Rugs |
| Curtains | Persian Rugs |
| Upholstery | Shag Rugs |
Soft furnishings such as pillows, throws, and curtains can add color, texture, and pattern to a living room. Upholstery also plays a significant role in creating a comfortable and stylish environment. When selecting soft furnishings for a modern living room, it is essential to consider the color palette and material choices.
Rugs are also an essential element in modern living room design. Area rugs can help to define a space and add an extra layer of texture and warmth. Runner rugs can be used to anchor furniture and create a cohesive flow throughout the room. Persian rugs add an element of luxury with intricate patterns and vibrant colors, while shag rugs add a cozy and tactile feel to the space.
In the past, rugs were often overlooked in interior design, but now they are an integral part of creating a modern living room. A true story illustrates the significance of rugs in modern living room design. A homeowner who had been struggling to create a welcoming and stylish space finally found the perfect area rug that tied the design together and made the room feel complete. The right rug can transform a room and elevate the overall feel of the space.
Wrap yourself in a cozy throw and forget about all your problems…until you have to get up and face them again.
Warmth and comfort? Nothing beats a plush and snuggly Cozy Throw! They come in various materials – wool, fleece, cotton, or synthetic fibers – and offer myriad benefits. Like draping over a couch, chair, bed or lap, they make great additions to any living space. Plus, they come in a wide range of colors and sizes, so they'll fit any interior style.
Fall and winter months are a particularly popular time for them. Furthermore, Cozy Throws make perfect gifts for birthdays or housewarmings, adding texture and color to any room without overpowering other features.
Luxurious Rugs boast an amazing design that adds grace to any area. They use top-notch materials which enhance the softness, durability and look of these rugs. Plus, customers can pick their desired size.
The weaving process polishes the rugs, making them unique.
Further, these lavish rugs come in various colours, themes and styles. They can be used to decorate living rooms, bedrooms or even offices, giving them a graceful touch.
If you want to give your home an exclusive beauty, then Luxurious Rugs are ideal for you!
7. Plants
Plants play a pivotal role in modern living room design. They provide a fresh, natural aesthetic that enlivens the space and improves air quality. Incorporating a variety of plants also creates a sense of balance and harmony within the room. Consider adding hanging plants, larger floor plants, or even a living green wall to truly elevate the space.
Additionally, plants can be used strategically to enhance particular design elements. For example, a tall plant can help to draw the eye upwards, emphasizing high ceilings and creating a sense of spaciousness. Plants with colorful foliage can add a pop of color to an otherwise neutral space. And plants with interesting textures or unique shapes can add visual interest and dimension to the room.
It's important to note that choosing the right plants for your living room requires some research and consideration. Factors such as lighting, humidity, and maintenance requirements should all be taken into account. Consulting with a professional landscaper or interior designer can be helpful in ensuring you choose plants that thrive in your particular space and fit seamlessly into your overall design scheme.
Don't miss out on the benefits that plants can bring to your modern living room design. Incorporating them into the space can create a refreshing and inviting atmosphere that you'll enjoy for years to come. Who needs a pet when you can just have a giant, oxygen-producing houseplant that silently judges you?
Potted Plants of Considerable Size – A Must-have!
Potted plants are a popular choice for decor and gardens. But if you need big plants for your home or outdoor landscaping, there are plenty of options. Here are five key points to consider when selecting large potted plants:
Size: Big potted plants come in various sizes. Choose one that fits the space and look you want.
Pot Size: Get the right pot size for healthier growth and better looks.
Type: Trees, palms, flowering shrubs, etc. come in large pots.
Maintenance: Larger potted plants need more care than small ones – regular pruning, watering, and re-potting.
Light and Water: Know a plant's lighting and watering needs before you buy it. Drought-tolerant or shade-tolerant plants may be best for your location.
Big potted plants have many uses. They can: fill up empty corners; improve exterior views; create visual effects; and increase oxygen levels. Put the right pot with the right soil to get an attractive ambiance and healthy plants. Enjoy the tranquility!
Hang Greenery for a Brand-New Atmosphere!
Spruce up your space with some hanging greenery! Not only will it bring life and freshness, but also a unique feel.
Why should you hang plants? Here's three reasons:
They remove pollutants and toxins, purifying the air.
They make use of vertical space, even in small places.
As well as looking stunning, they bring peace and relaxation.
Also, plants come in plenty of shapes, sizes, colors and textures, so they can go with any interior design. With proper care, they can thrive indoors or outdoors.
Ultimately, hanging plants give more than just beauty. They change the atmosphere and have a positive effect on our wellbeing.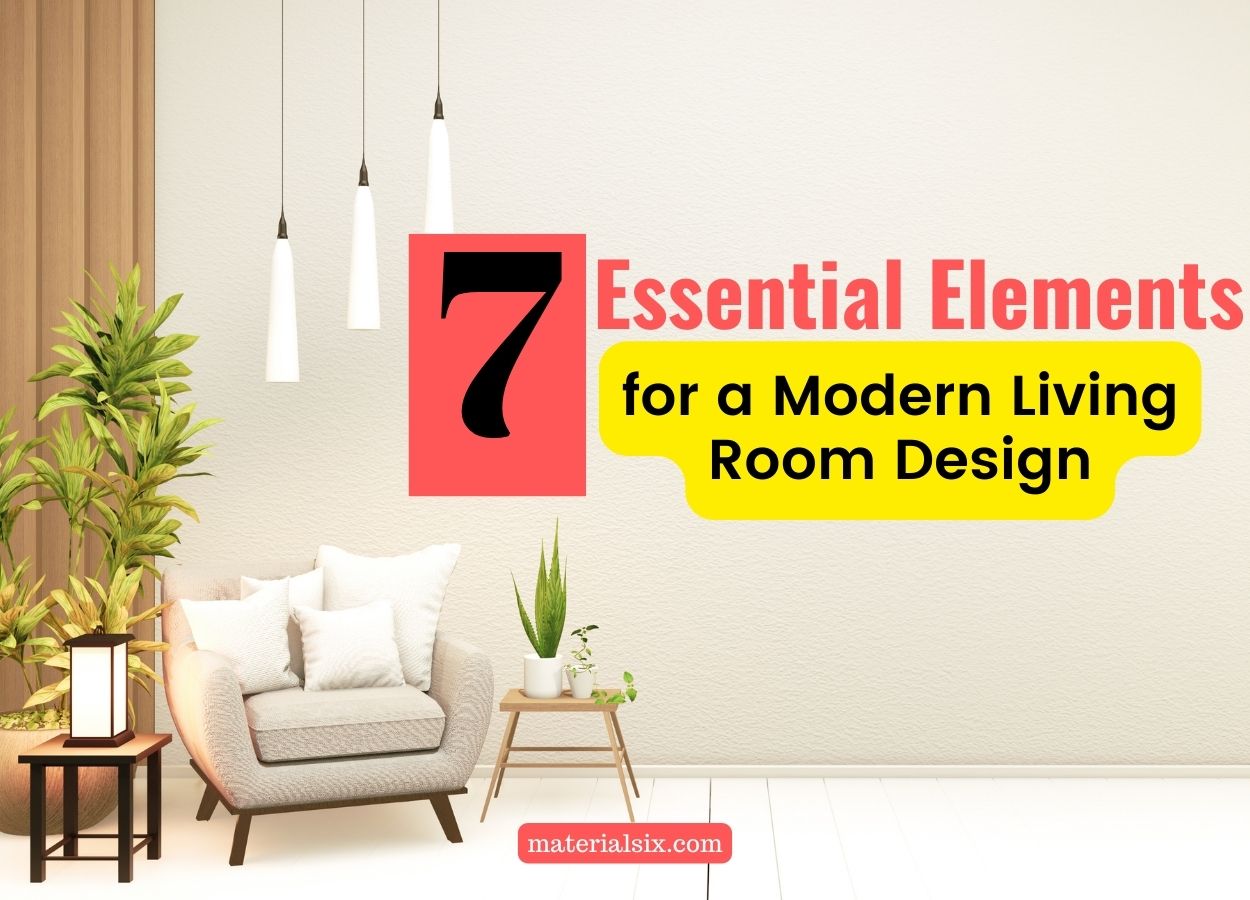 Frequently Asked Questions
Q: What are the 7 essential elements for a modern living room design?
A: The 7 essential elements for a modern living room design are comfortable seating, ample lighting, storage space, a focal point, artwork, plants, and a rug.
Q: What kind of seating is best for a modern living room?
A: Comfortable seating that complements the style of your living room is ideal. Modular sofas, armchairs, and ottomans are popular choices for modern living rooms.
Q: How can I ensure good lighting in my modern living room?
A: Natural light should be maximized with sheers or blinds. Layered lighting with a combination of overhead lights, floor lamps, table lamps, and accent lighting is key for a well-lit modern living room.
Q: Is it important to have storage space in a modern living room?
A: Yes, ample storage is important to eliminate clutter and maintain a clean, contemporary look. Built-in cabinets, stylish bookcases, and hidden storage options are great solutions for modern living rooms.
Q: What should be the focal point of a modern living room?
A: The focal point of a modern living room can be a statement piece of furniture, a piece of artwork, or a striking feature like a fireplace or bold accent wall.
Q: Can plants be incorporated into a modern living room design?
A: Absolutely! Plants can add color, texture, and life to a modern living room. Use tall plants in corners, small potted plants on tables, or hanging plants to add a touch of greenery to your space.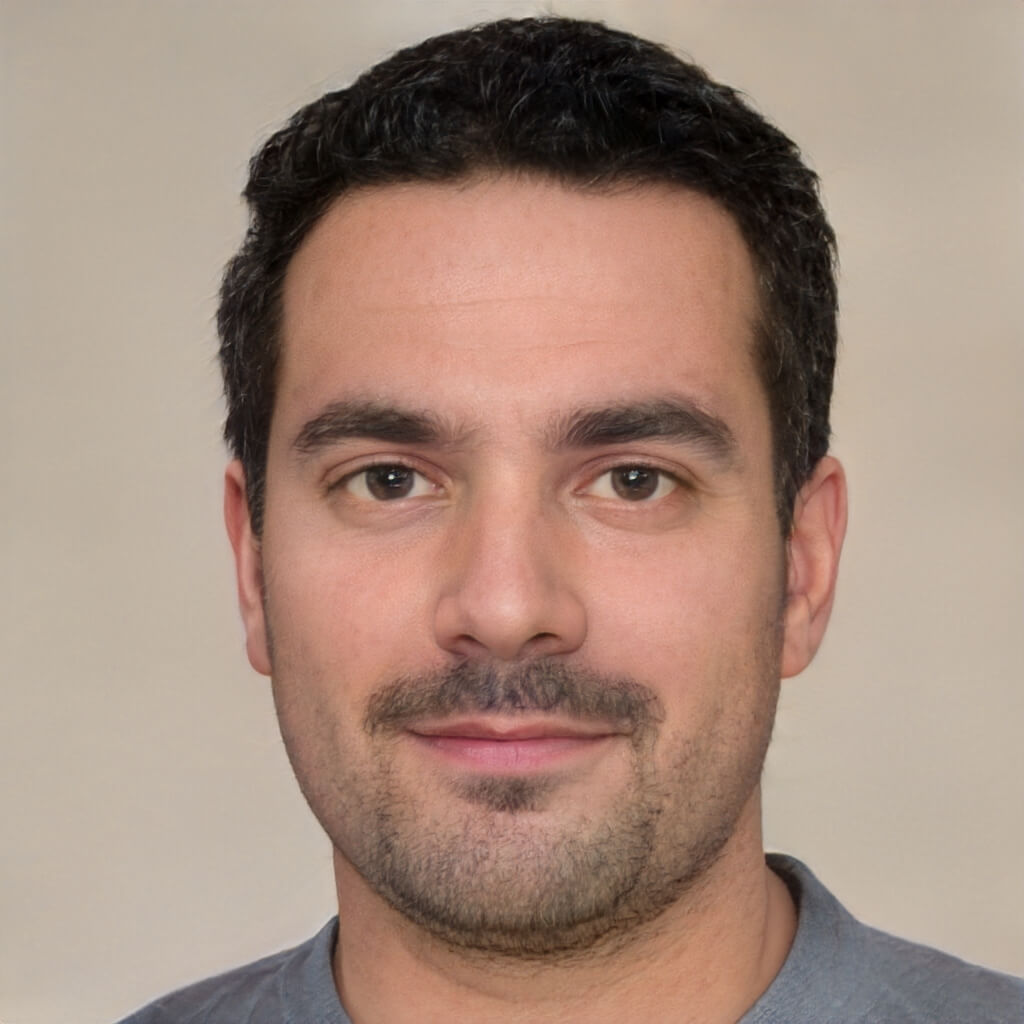 I'm a passionate home and garden enthusiast and the founder of Materialsix Home. With over 10 years of experience in the field, I've cultivated a deep love for all things related to home improvement, gardening, and interior design. Read more…